During the summer, I enjoy letting the kids explore the outdoors and take a break from traditional school year routines. They love it! Having go-to, real-food snacks keeps the kids and myself fueled throughout the summer. Today, I'm sharing the ultimate summer snack list: my top 31 healthy summer snacks for the pool, park, beach, lake, or backyard. The snacks are easy to make and put together, nutrient-rich, and kid and adult approved.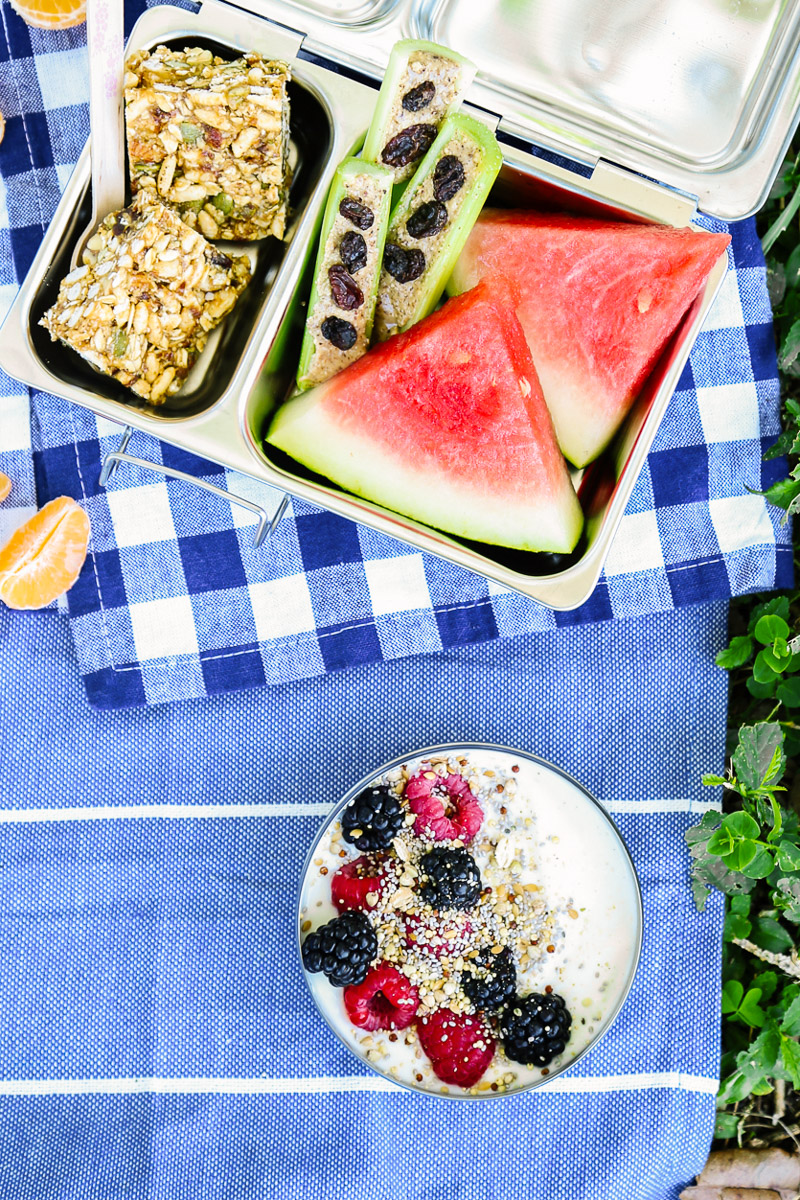 Summer Nutrition
My goal for snacks is to make every bite count. Sounds kind of "deep" for a post about snacks, but hear me out!
I don't want summer snacks to just be filler. Snacks typically include a protein, a healthy fat, some fiber, and carbs. All those things a growing (or fully grown) body needs to thrive.
This way, you'll avoid the the blood sugar spikes and crashes that lead to mood swings and temper tantrums from hangry people.
Summer is meant to be fun. There is definitely junk food and favorite summer treat options served (like ice cream). It's not all healthy summer snacks.
But 80%ish should be healthy snacks with a focus on real food. We keep our fridge stocked with ingredients and foods that make this easy.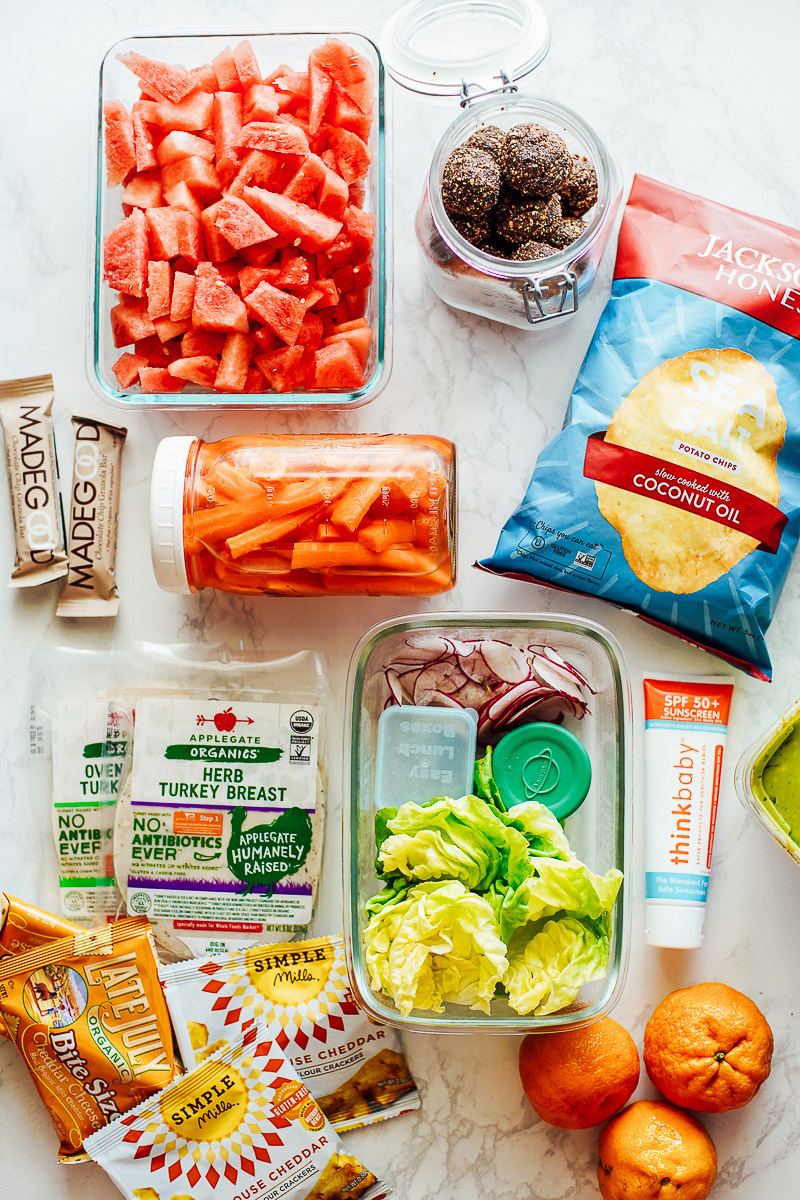 31 Summer Snack Ideas
The easy snack ideas on this list are perfect for hot weather summer months: refreshing and simple!
And summer means travel. Finding nutritious snacks that you can take on the road or pack for summer camp isn't always easy. The good news is that many of the ideas on this list will work perfectly!
Tip: Invite your kids to help make these healthy summer snacks. It's the perfect time to get them involved in the kitchen! And it's a great time to develop healthy eating habits, and even introduce new foods in a fun way.
31 Healthy Snack Ideas Cheat Sheet
Seasonal fruit and cheese
Ants on a log
Granola bars
Fruit and Yogurt Cups
Banana-Oat Snack Cookies
Mango Pineapple Smoothie
Fruit and Nut Bites
Crackers or Pretzels and Hummus
Veggies and Homemade Ranch Dip
Trail Mix
Yogurt Bark
Fruit Kebobs and Yogurt Dip
Cottage Cheese & Pineapple
Banana Sushi
Cherry Tomato & Mozzarella Kabobs
Apple Sandwiches
Muffins
Tortilla Chips and Salsa or Guacamole
Homemade Rice Crispy Treats
Chocolate Peanut Butter Overnight Oats
Yogurt Sticks
Oatmeal Cups
Peanut Butter Crackers
Cherry Berry Smoothie
Homemade Popsicles
Beef Jerky
Rice Cake, Peanut Butter, & Banana
Energy Bites
Snack Board
Turkey & Cheese Roll Ups
Omelet Cups
1. Seasonal Fruit and Cheese
Grabbing a quick banana and slicing a few handfuls of cheese takes less than a minute. Fruit, like bananas and apples, come in their own packaging. These fruits make travel easy. Use stainless steel travel containers for strawberries or sliced pineapple, cantaloupe, and watermelon.
If someone in the family has a dairy allergy, try fruit and coconut butter, or fruit and nuts (seeds if you have nut allergies) for a healthy fat and protein pairing.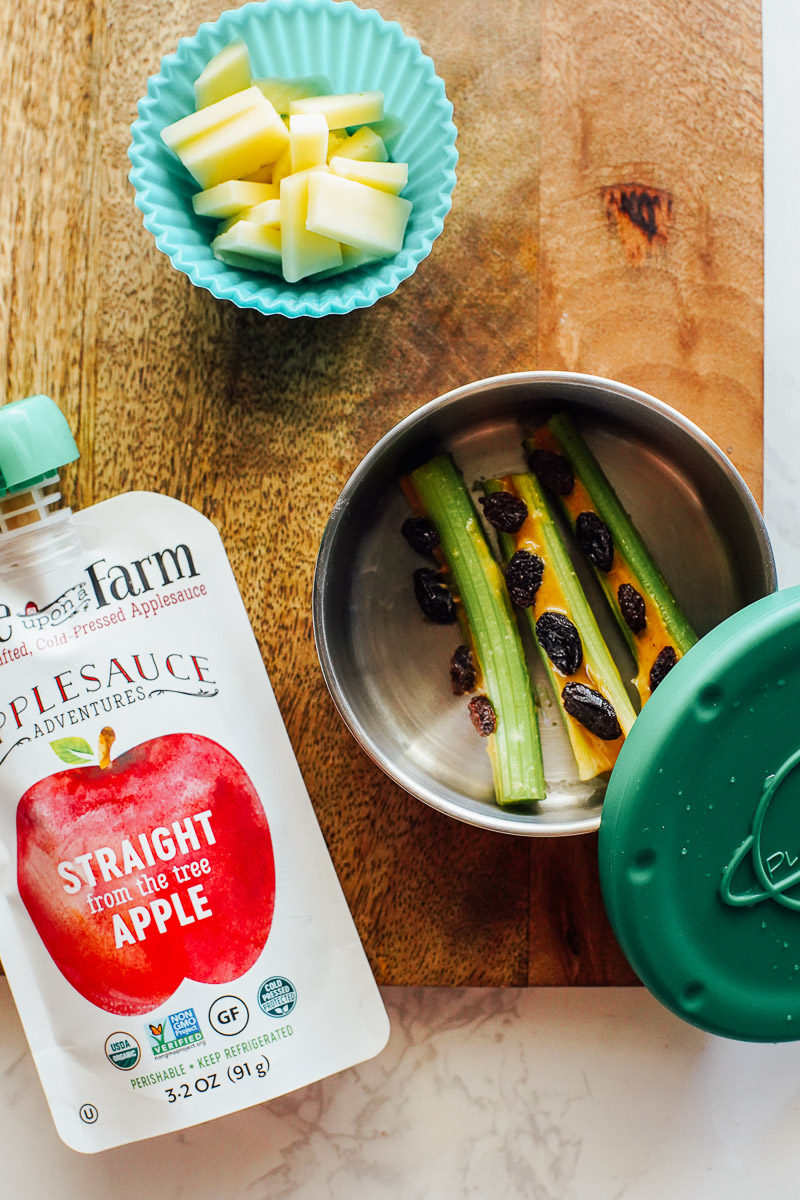 2. Ants on a Log (Peanut Butter, Celery, Raisins)
A classic, right? Kids and adults love this stuff! If you have peanut allergies, use sunflower butter. To make, spread nut or seed butter inside celery sticks and top with raisins.
Tip: Store cut celery in water so it's easy to grab and eat. Celery stays crisp for weeks when stored this way.
3. Granola Bars
If you have a Saturday with an hour or two where you will be at home, pop a batch or two of homemade granola bars in the oven, and then store them in the freezer for later. Pull them out as you are running out the door.
If you don't want to make your own, keep your pantry stocked with real food options: Clif Kit's Organic (just this variety of Clif Bars, not the others), Lara Bars, Primal Kitchen Bars, and Costco's Harvest Gold Grain-Free Granola Bars (my favorite).
Homemade Granola Bars
Make your own granola bars with oats, nuts or seeds, and natural sweetener. Freezer friendly!
Make This Recipe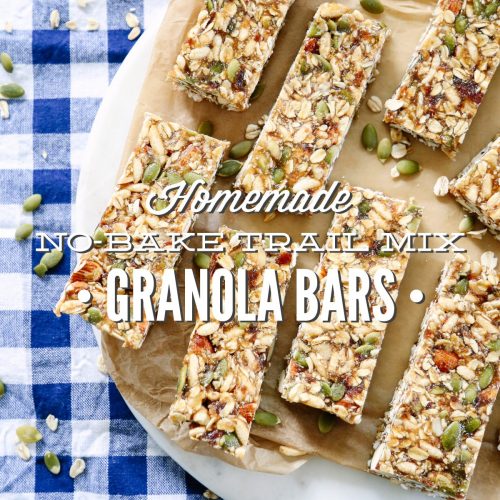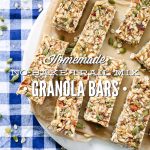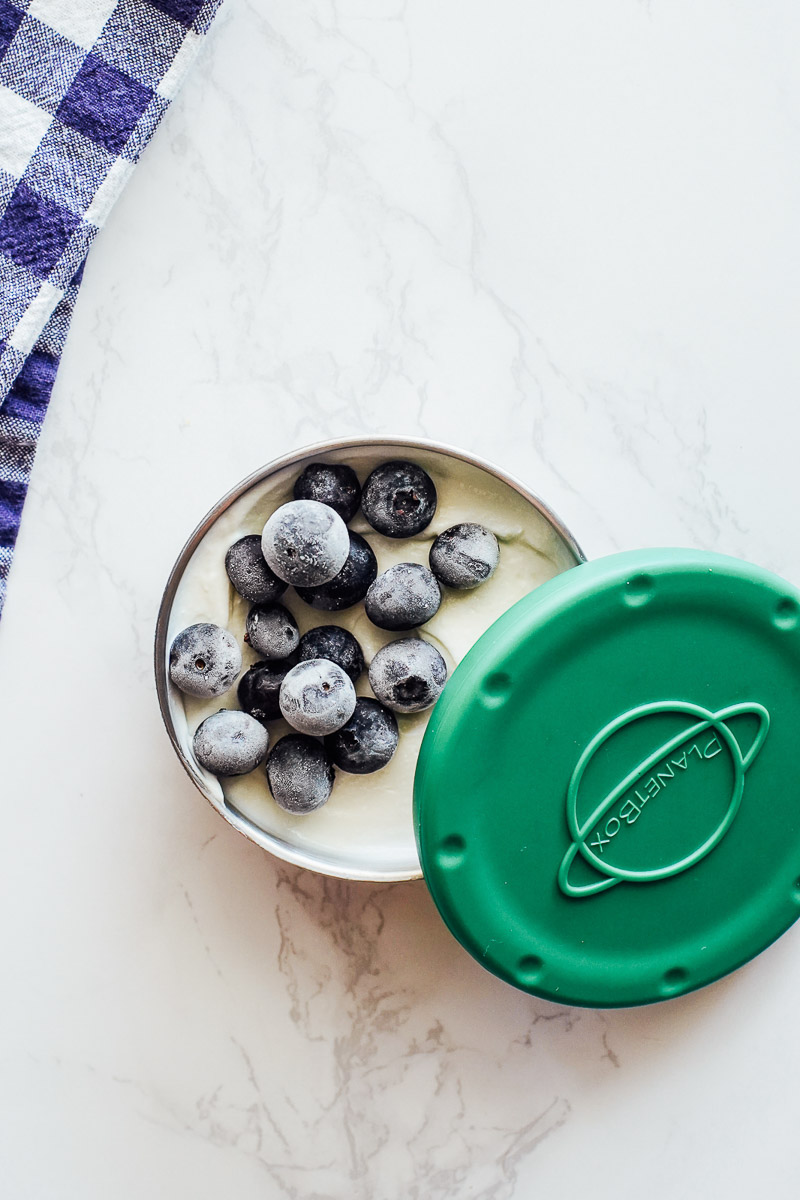 4. Fruit and Yogurt Cups
Fruit and yogurt cups at the store are so convenient, but man, they are full of sugar. I have seen some with 20 grams or more of sugar per serving. Instead, make your own this summer. We love to make healthy yogurt bowls with 17 different toppings.
On-the-go, put fruit and raw honey or maple syrup at the bottom of some travel containers, or mason jars, with lids and pile on the yogurt. Add frozen berries because they're squishy when thawed. Pack a small container of granola to stir in. I have this master granola recipe stocked in the freezer for healthy summer snacks and breakfast.
Tip: A fun summer project is to make your own yogurt. Use a slow cooker or Instant Pot.
Healthy Yogurt Bowls
Make your own yogurt bowls with fruit, yogurt, granola, and other toppings. Prep the yogurt bowls in advance for an on-the-go snack in a thermos. Or enjoy for an at-home breakfast or snack.
Make This Recipe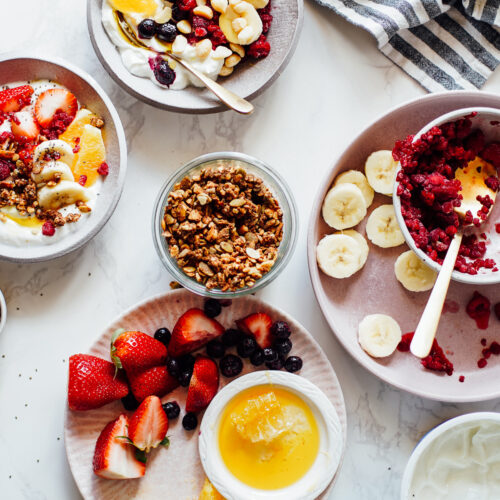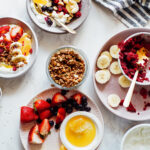 5. Snack Cookies
I know a baked good seems daunting to use for a snack, but when you make a double batch for breakfast on a weekend and then freeze the rest, it's easy to grab a snack filled with nutrient-dense ingredients. And the kids (both big and small) think they are pretty hot stuff for getting a "cookie" for snack.
Banana-Oat Snack Cookies
Oat-based snack cookies that taste like homemade banana bread with chocolate and nuts. Freezer-friendly!
Make This Recipe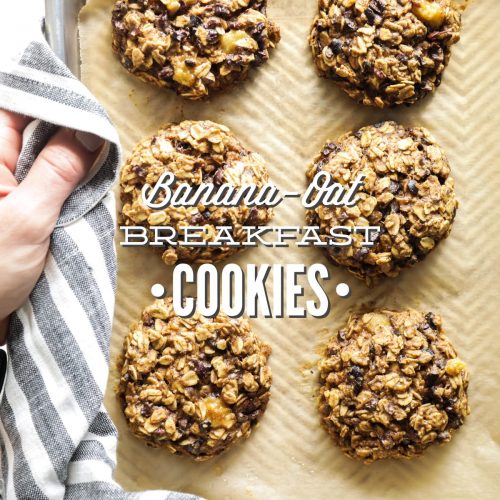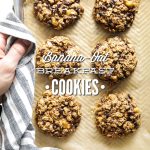 6. Mango Pineapple Smoothie
Smoothies are a great way to get a little extra fruits and veggies in our diets. Add protein powder (this is my favorite), half an avocado, or some nut/seed butter for a healthy fat and extra grams of protein before blending.
On-the-go, pour the smoothie into cups and take it with you. Or prep smoothies in advance to save time.
At home, blend a smoothie and enjoy or pour into a popsicle mold and freeze.
Mango Pineapple Smoothie
This smoothie is a beautiful rainbow of healthy fruit goodness – with a hint of sweet! Simple and healthy. What's not to love? This tropical smoothie recipe is made with coconut water (or regular water) and is rich in vitamin c.
Make This Recipe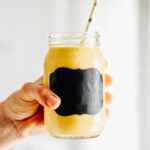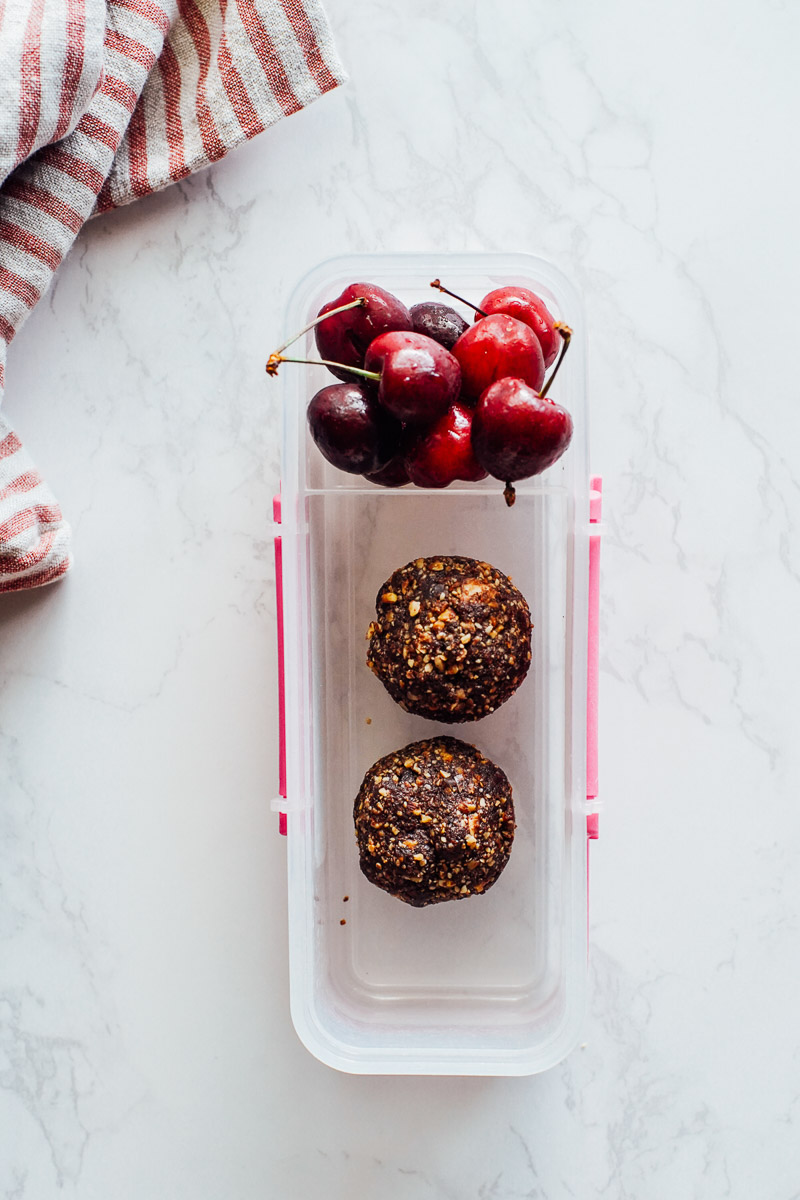 7. Fruit and Nut Bites
We love the convenience of Larabars in our house. I keep a stash on hand just in case, but did you know how simple (and inexpensive) homemade fruit and nut bars are to make? All you need is dried fruit and nuts and a food processor! Make them into snack bites or fruit and nut bars, and they freeze well for later.
10 Minute No-Bake Snack Bites
Made with nuts and dried fruits in less than 10 minutes! Make a batch for a week of easy snacking or freeze for later.
Make This Recipe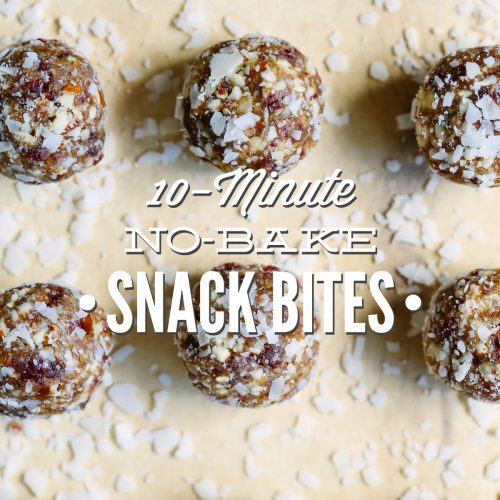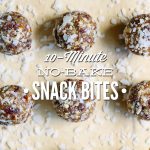 8. Trail Mix
There are many days when I take a couple handfuls of whatever nuts or seeds are in the pantry, sprinkle in unsweetened shredded coconut and a handful of raisins, and call it good. Snacks don't need to be fancy! Kids love having their own little container with this nutrient-rich snack. You can also make this baked trail mix for a sweet and salty mixture. This is a favorite snack for road trips!
Sweet and Salty Trailmix
Made with nuts, dried fruit, and chocolate for a sweet and salty homemade snack mix! A great make-ahead road trip snack.
Make This Recipe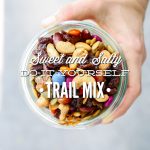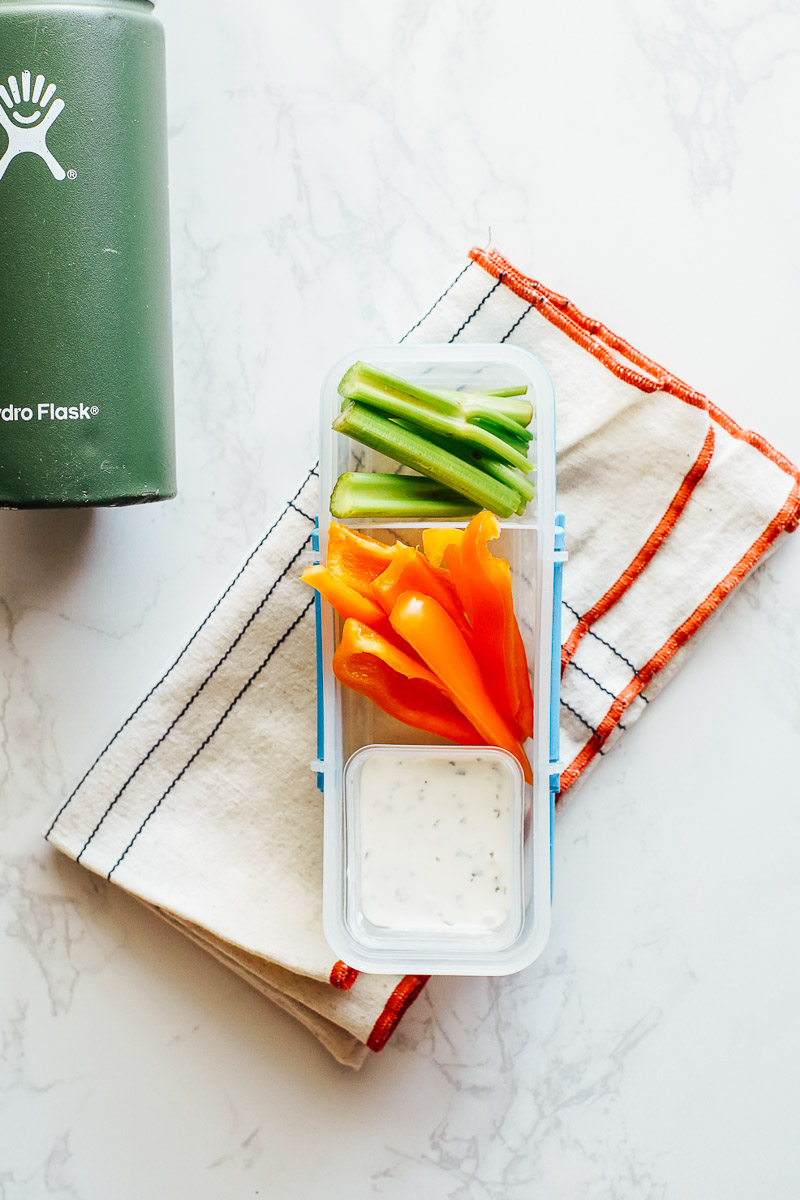 9. Veggies and Homemade Ranch Dip
My family loves a big container of cut-up veggie sticks and a container of homemade ranch dip served family-style at the beach or in the backyard. The kids hover over this stuff like a pack of wolves.
Pick a variety of colors and textures to make this snack really fun: mini peppers, carrots, beet chips, snap peas, cucumbers, celery. Add ranch dip to a travel container and you're ready to go!
Tip: Use this dip for snacking and a salad dressing. Cut carrots and store them in water so they're easy to grab and snack on with this dip. And store cut bell peppers for days in the fridge (here's how).
Homemade Ranch Dip
Made with probiotic ingredients and pantry spices, this ranch dip is a healthy and fun way to snack on veggies this summer. Bonus, doubles as a salad dressing!
Make This Recipe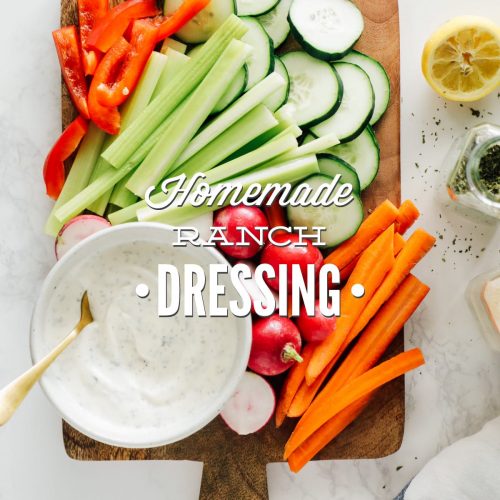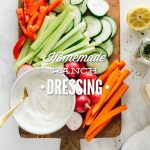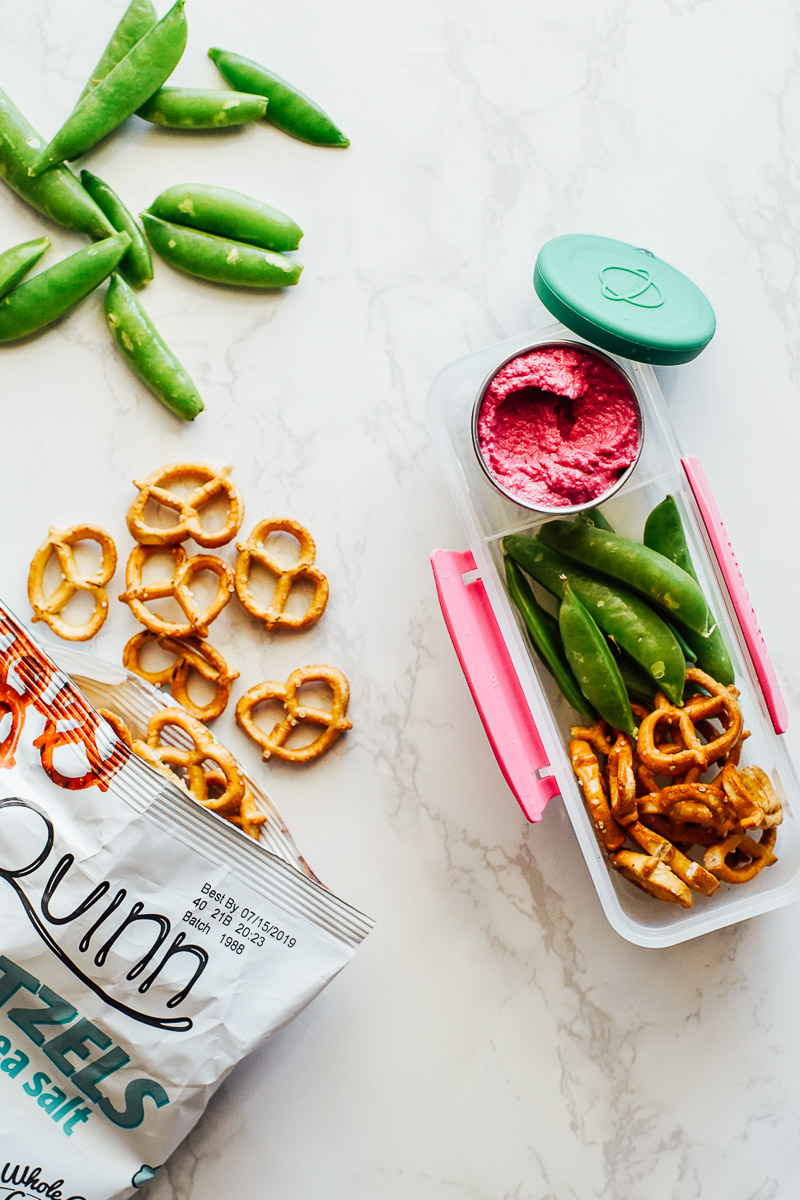 10. Crackers or Pretzels and Hummus
Keep real-food crackers or pretzels in the pantry, like: Mary's Gone Crackers or Jovial's Sourdough Crackers, Quinn, or Simple Mills. Dip the crackers in a dip that has protein and fat, such as: guacamole or hummus (or beet hummus) for a great snack.
For store-bought hummus, always read the ingredient list (here's how). Some brands have iffy ingredients like canola and soybean oil.
Classic Homemade Hummus
Make this hummus with home-cooked beans or use canned chickpeas. Store for up to 5 days in the fridge for an easy snack with crackers, pretzels, and veggies.
Make This Recipe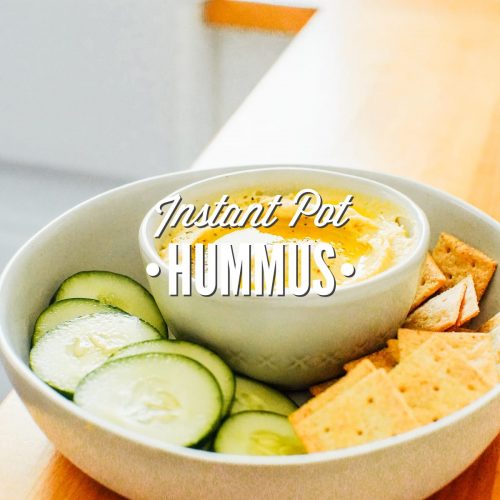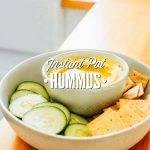 11.Yogurt Bark
Freeze yogurt on a sheet pan with fruit, then break into pieces. This is a great snack to keep in the freezer for a hot day when you want something sweet and refreshing. There are so many different ways make this: add seasonal berries, homemade granola, or chocolate chips.
Frozen Yogurt Bark
Simple and quick to make, this healthy frozen yogurt bark recipe is the perfect summer treat. Topped with fresh berries and crunchy granola.
Make This Recipe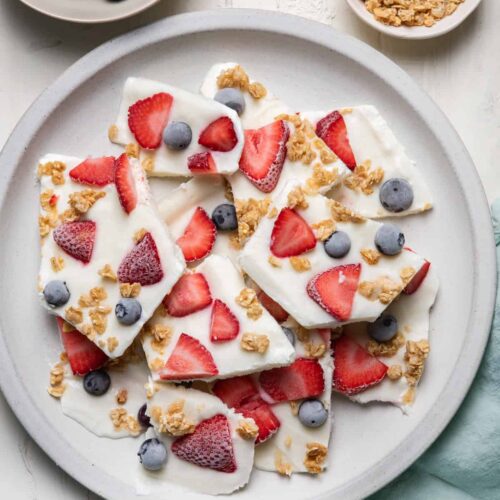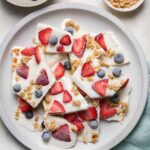 12.Fruit Kabobs & Yogurt Dip
Fruit kabobs? Who has time? We're not talking anything over-the-top. Fresh fruit on a stick makes your favorite fruits feel extra fun and special for the kids or a summer party. Add berries to a skewer and make a yogurt dip with plain Greek yogurt, honey, vanilla extract, and cinnamon. You can make this dip in advance and keep it in the fridge for a week.
13. Cottage Cheese & Pineapple
Cottage cheese has many health benefits. It's rich in protein, healthy fat, and probiotics. Adding fresh pineapple chunks to cottage cheese is a great addition during the summer. Good Culture and Nancy's are a great choice as both brands are traditionally fermented with probiotic bacteria. (Here's why fermented foods are so good for you.)
On the go, spoon cottage cheese into a thermos and top with pineapple.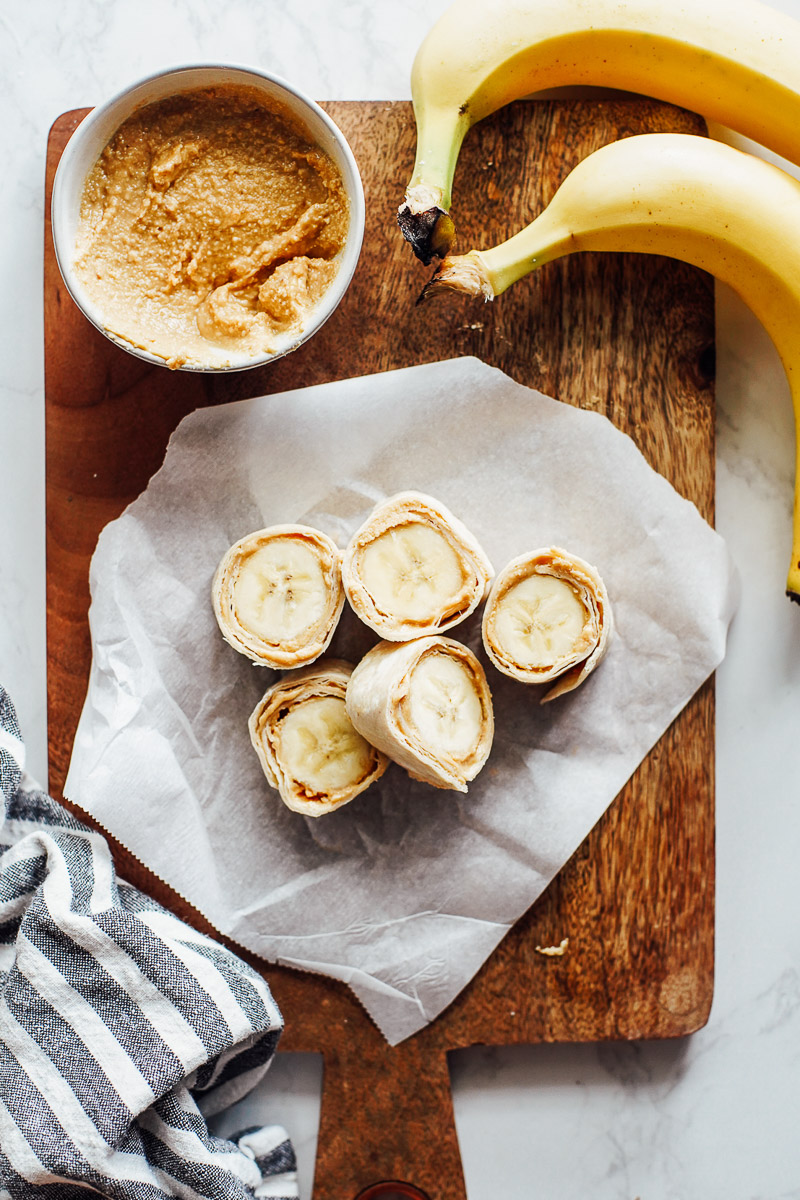 14. Banana Sushi
A fun summer snack for little hands (kiddos). Take a tortilla, spread it with your favorite nut or seed butter (peanut butter, almond butter, sunflower butter), then add a whole banana on one side. Roll up the tortilla, over the banana. Cut the tortilla to make "banana sushi." I know, it sounds silly, but kids love it! This takes your average snack and elevates it in a fun way for summer. This also makes a great summer camp lunch.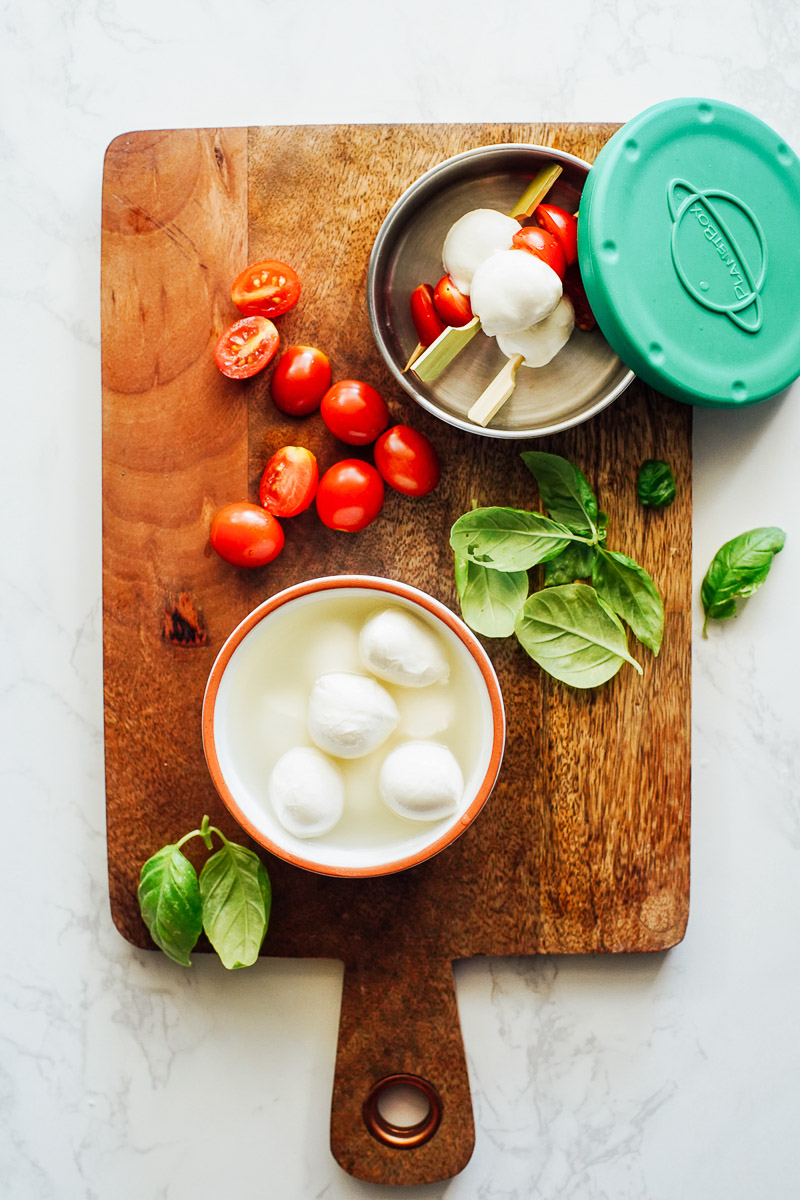 15. Cherry Tomato & Mozzarella Kabobs
Warmer weather means tomato season is here! Enjoy seasonal tomatoes for snack by placing cherry tomatoes, basil leaves (optional), and small mozzarella cheese balls on a skewer. There's something fun and refreshing about this healthy summer snack.
16. Apple Sandwiches
Core an apple, then cut the apple into slices. Spread cream cheese or your favorite nut butter (almond butter, peanut butter, sunflower butter) on one apple slice, then top with another apple slice. If you're making these to enjoy later in the day (packing for the beach, summer camp, etc.) sprinkle the apple slices with cinnamon or a squeeze of lemon juice to prevent browning. Enjoy as a fun fresh fruit sandwich, with healthy fat and a bit of protein and fiber!
17. Muffins
I make muffins and freeze the rest so they're always ready to enjoy. Muffins are definitely a healthy summer snack when they're homemade with real ingredients. Add butter or a nut butter for healthy fat, or enjoy with a piece of fruit, cheese, or rolled up turkey or ham.
There are a ton of favorite muffin recipes on the blog. A few of my favorites: Einkorn Muffins, Flourless Almond Muffins, Einkorn Banana-Maple Muffins, Almond Flour Banana Muffins, or Almond Flour Banana Bread.
Einkorn Muffins
Customize this "master recipe" with your favorite flavors: blueberry, chocolate chips, etc. SO many options with this one healthy muffin recipe, made with easy to digest einkorn flour.
Make This Recipe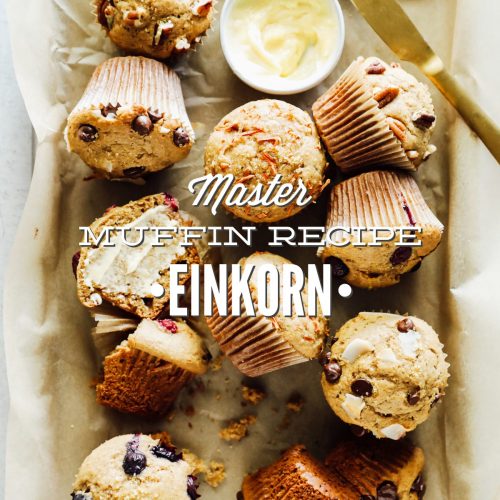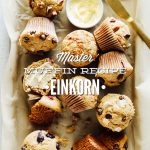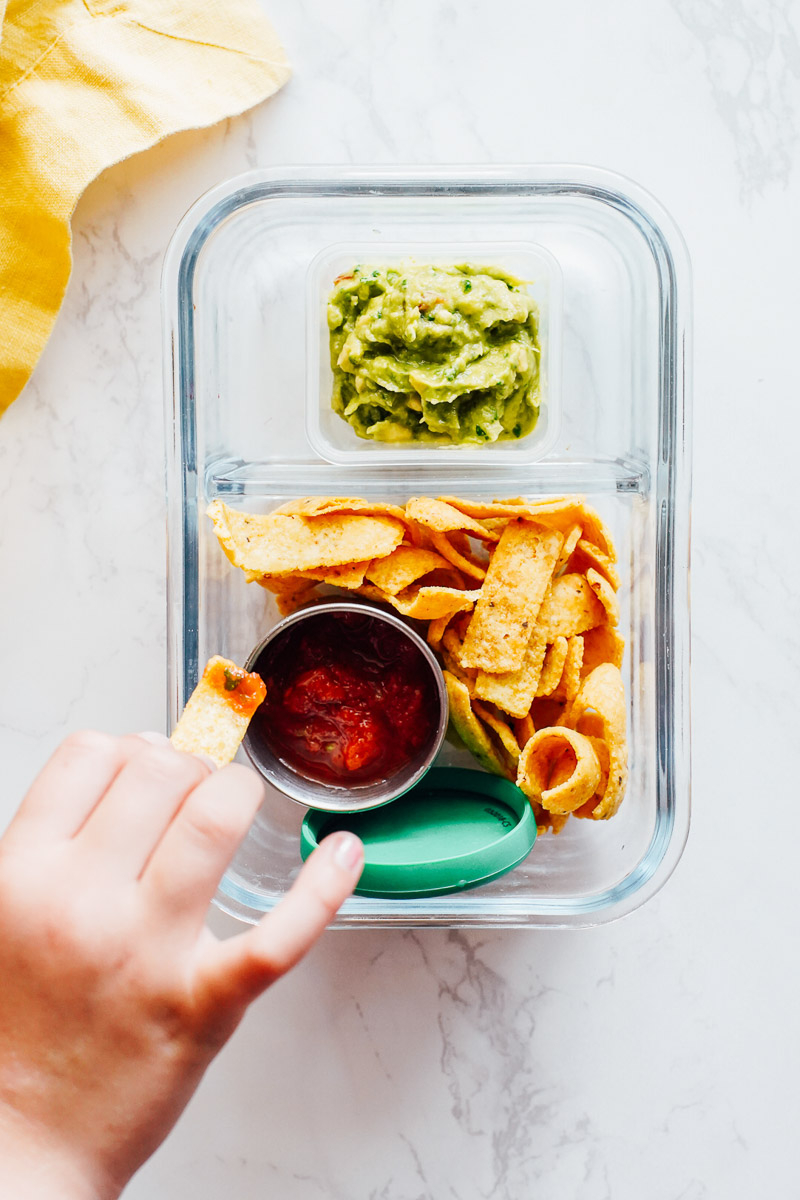 18. Tortilla Chips or Corn Chips, Salsa, Guacamole
A classic summer snack! And the best part? It's totally healthy! Make homemade guacamole (or buy one with real ingredients in the produce section at the grocery store) and store-bought salsa or homemade salsa (fermented salsa or this quick chunky salsa). Serve with tortilla chips (I like Siete brand or Costco's organic tortilla chips) for an easy snack.
Easy Homemade Guacamole
An easy homemade guacamole to serve with chips! Just avocados, lime juice, salt, garlic, and tomatoes.
Make This Recipe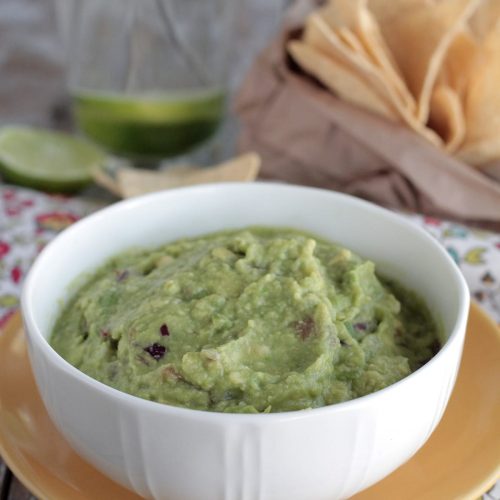 19. Homemade Rice Crispy Treats
Don't forget about a sweet treat! These homemade rice crispy treats are different than the marshmallow version. They're made with real butter, nut butter, and puffed rice. A fun summer snack when you want something sweet.
Naturally-Sweetened Crispy Rice Treats
Sweetened with honey and made with peanut butter and puffed rice for a fun and healthier summer treat.
Make This Recipe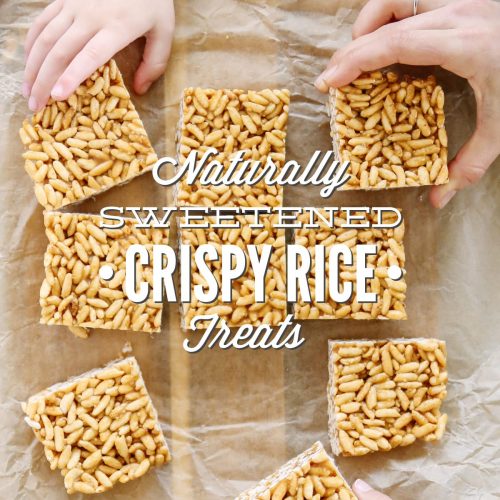 20. Chocolate Peanut Butter Overnight Oats
This recipe is my favorite treat for breakfast or snacking. Made with oats, milk of choice, protein powder, and peanut butter. It checks all the boxes: protein, fiber, complex carbs, and healthy fat! Make a few jars to enjoy throughout the week for an easy breakfast or quick snack!
Chocolate Peanut Butter Overnights
A protein-rich snack made with rolled oats, chocolate protein, and peanut butter. Like a healthy peanut butter cup! Add to a thermos for an on-the-go snack.
Make This Recipe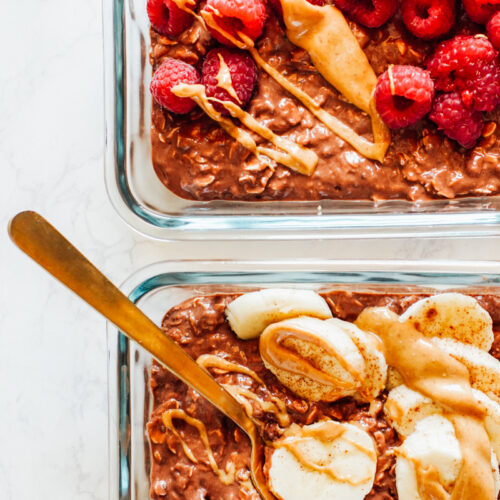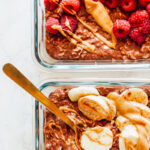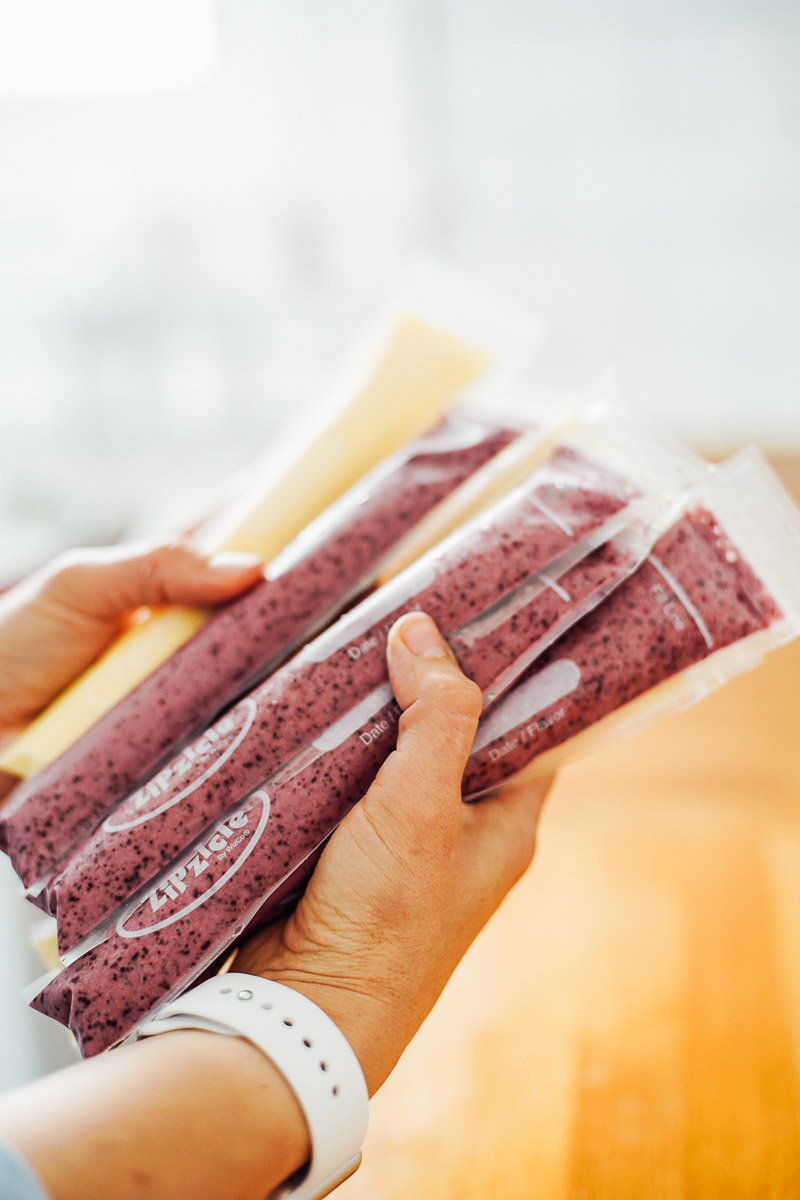 21. Yogurt Sticks
Most store-bought yogurt sticks have tons of added sugar along with artificial dye and zero nutritional value. Make your own yogurt sticks this summer by combining fresh fruit and plain yogurt with a bit of honey. The best part is you can freeze the sticks for a refreshing snack on a hot day.
Homemade Yogurt Sticks
Made with fresh or frozen fruit, yogurt, and honey for a probiotic, protein-rich snack.
Make This Recipe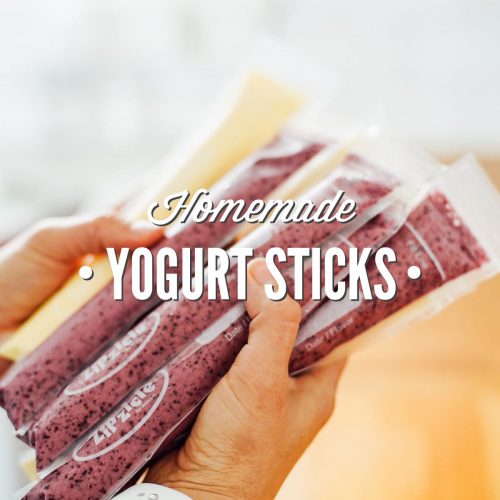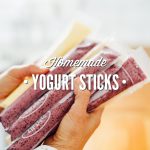 22. Oatmeal Cups
Combine rolled oats with applesauce, milk of choice, honey, and coconut oil and then bake in a muffin tin. You'll end up with on-the-go style oatmeal that's a mix between a cookie, granola bar, and muffin. Perfect to freeze and grab on busy days when you need a healthy breakfast or snack.
Enjoy alone or pair with different eggs, fruit, cheese, rolled up turkey or ham, or fruit and yogurt.
Baked Oatmeal Cups
Oatmeal baked in a muffin tin for an easy grab-and-go snack or breakfast. Egg-free and dairy-free for an allergen-friendly snack.
Make This Recipe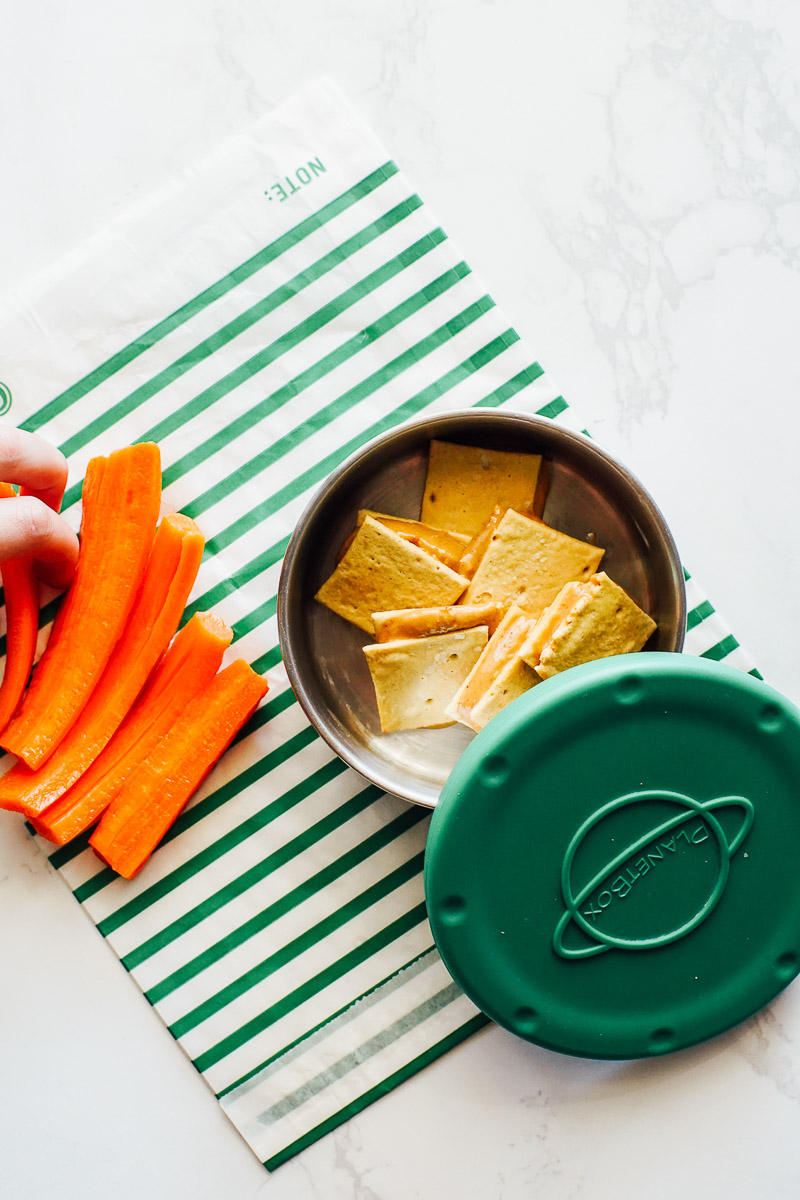 23.Peanut Butter Crackers
Skip highly processed peanut butter crackers and make this healthier alternative snack with nutritious foods. Jovial Foods make my favorite sourdough crackers. Add a small amount of peanut butter to one cracker, then top with a second cracker. The nutritional value is far superior. Simple Mills and Mary's Gone Crackers are also great cracker options.
24. Cherry Berry Smoothie
Cherries and berries are in peak season during the summer. Combine these fruits to make a naturally-sweet berry smoothie.
On-the-go, pour the smoothie into cups and take it with you. Or prep smoothies in advance to save time.
At home, blend a smoothie and enjoy or pour into a popsicle mold and freeze.
Cherry Berry Smoothie
Made with summer fruits: cherries and berries! Add spinach for leafy greens. Blend it all up and pour into a cup for an easy on-the-go summer snack.
Make This Recipe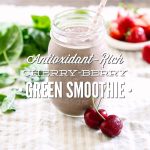 25.Homemade Popsicles
This may not be the most on-the-go friendly, but if you're headed to the backyard or pool, why not grab a popsicle snack?
There's nothing like a popsicle on a hot summer day! Homemade fruit popsicles are super easy to make, just blend coconut milk with different fruits, pour into popsicle molds, add a popsicle stick, and freeze. Learn how to make 10 new flavors at home.
10 Homemade Popsicles
How to make homemade popsicles from fudge pops to creamiscles to fruit and yogurt pops. 10 recipes to rotate this summer!
Make This Recipe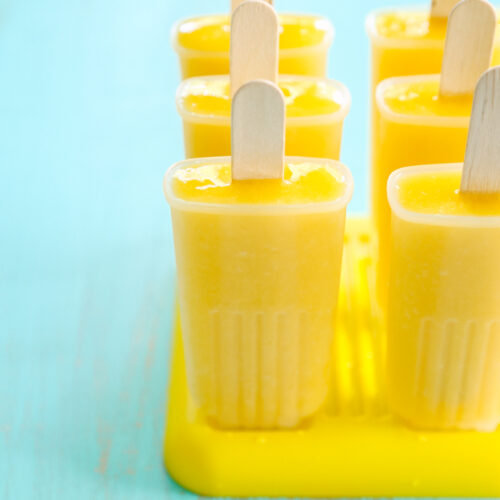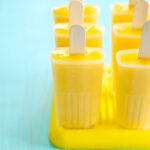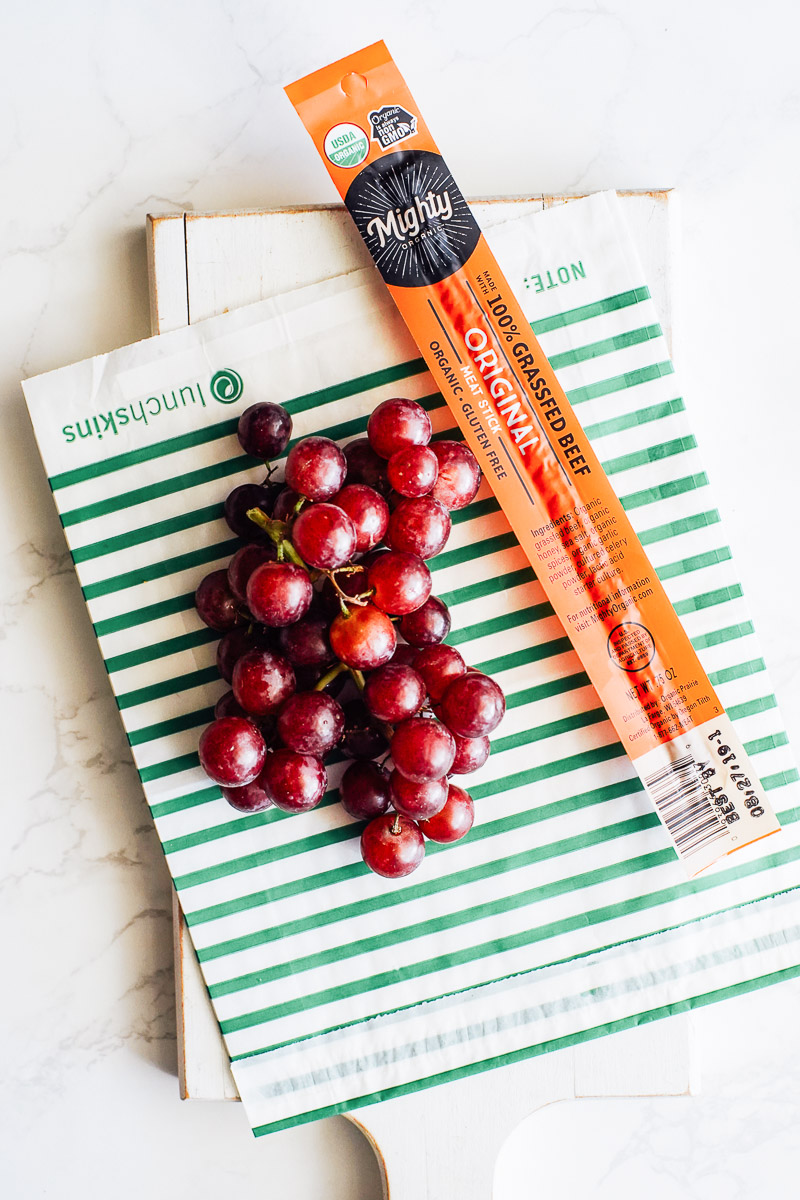 26. Beef Jerky
Beef jerky sticks (or turkey or pork jerky) prove that healthy snacking doesn't have to be hard work. Jerky sticks are the perfect snack to pack in your purse, beach bag, or the kids' camp bag. Add a fruit, like apple slices, banana, a clementine, or grapes for a complete snack with carbs, fat, and protein.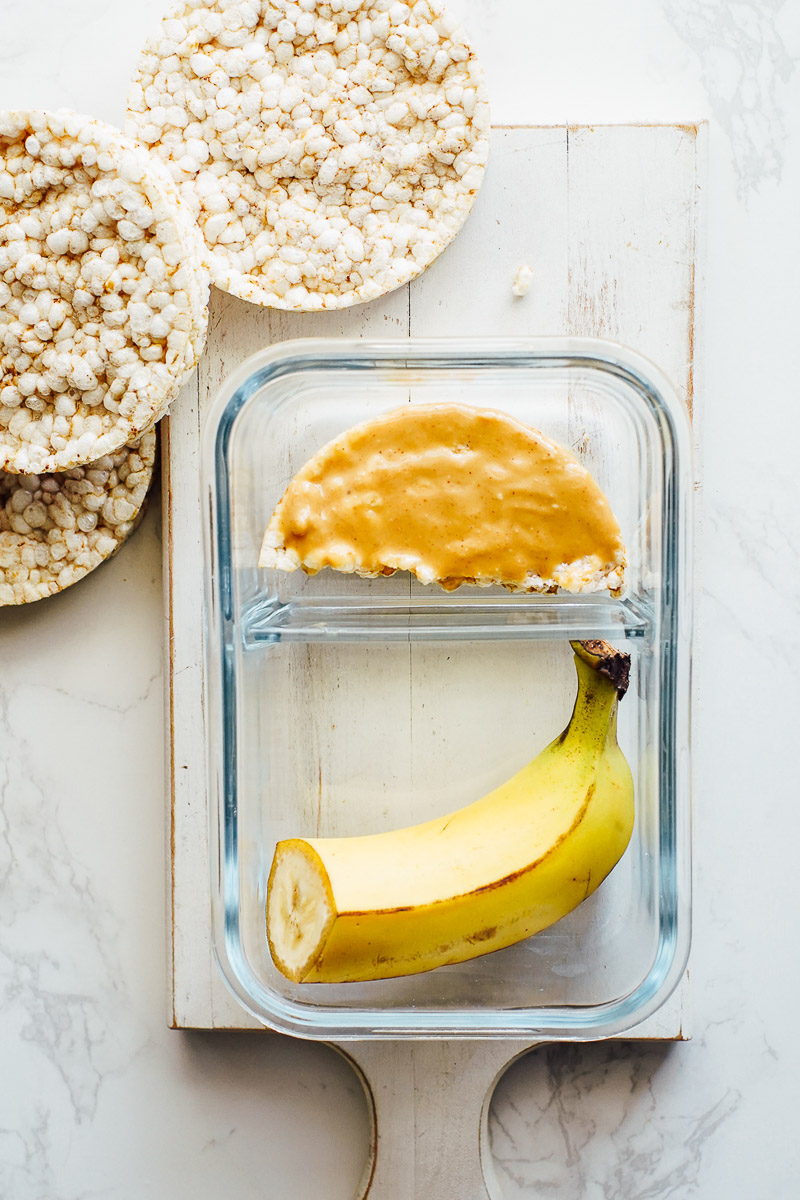 27. Rice Cake, Peanut Butter, and Banana
One of my favorite healthy summer snacks: a rice cake (Lundberg is my favorite brand) with 1-2 tablespoons peanut butter, then top with banana slices and sprinkle with salt and cinnamon. The best flavor with complex carbs, fat, and protein. Pair this snack with some rolled up turkey and cucumber slices and you have an easy summer lunch.
On-the-go, pack the rice cake, a little pouch of peanut butter (like Justin's brand), and a whole banana and a plastic knife. Assemble the rice cake on a road trip, at the park, or the beach in under 2 minutes.
28. Energy Bites
I love this easy energy bites recipe made with seeds, seed butter, and oats. The kids are also obsessed! Energy bites take just 10 minutes to make and last for at least a week in the fridge; longer in the freezer. Double the recipe, because they likely won't last long.
Easy No Bake Energy Bites
Made with oats, nut or seed butter, and honey. An easy snack to prep in advance and enjoy all week!
Make This Recipe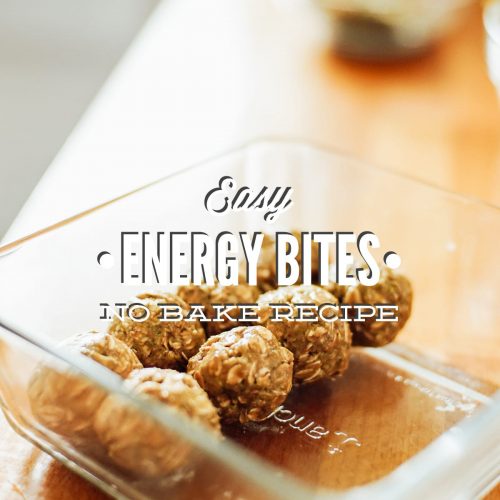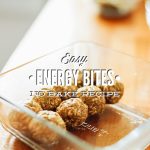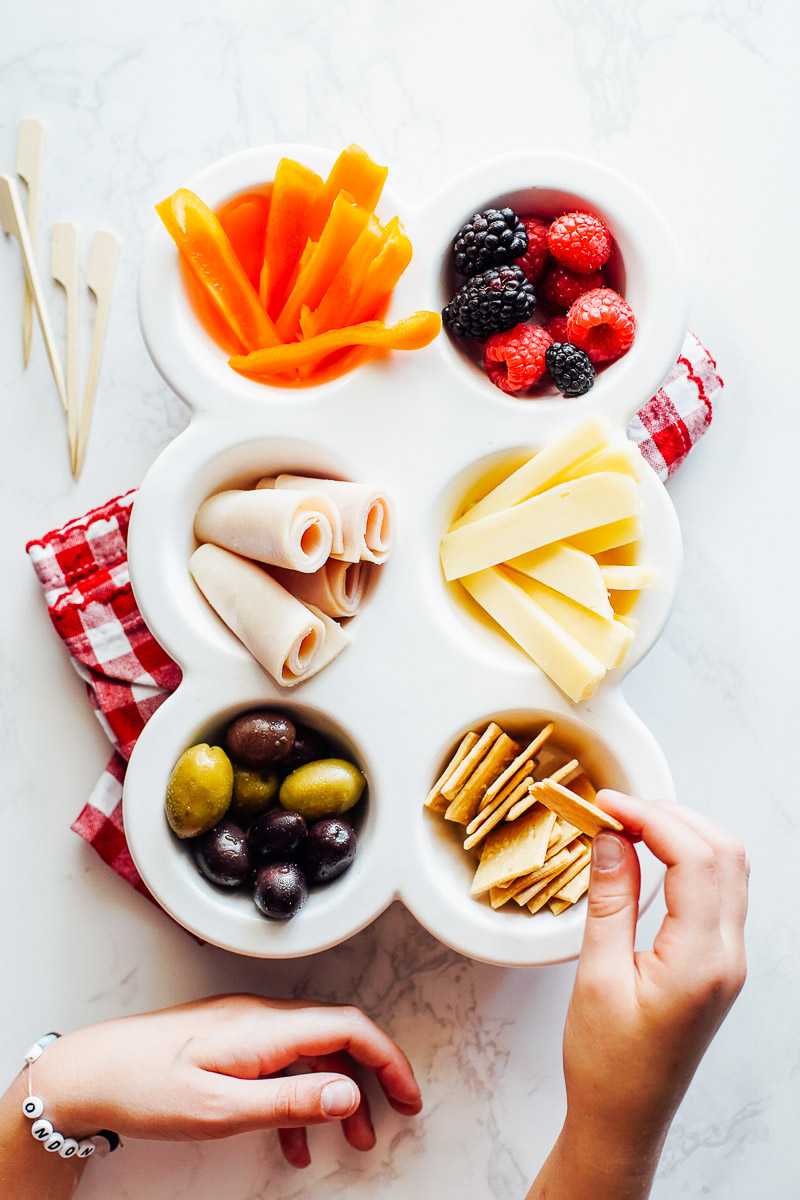 29. Snack Board
One of my favorite ways to serve lunch or dinner during the summer is a summer snack board (or grazing board). Make this on-the-go-friendly by adding a few foods to a bento-style lunchbox. Snack boards are also a fun way to serve food at a pool party.
Add whatever you have in the pantry or fridge to a cutting board, muffin tray, or bento lunchbox. Add a few veggies (cucumber slices, chopped bell peppers, carrot sticks, etc.), cheese, maybe a dip (ranch, hummus, eggplant dip, etc.), crackers, rolled up turkey or ham, salami, nuts or seeds, trailmix, olives, or something sweet like chocolate or dried fruit.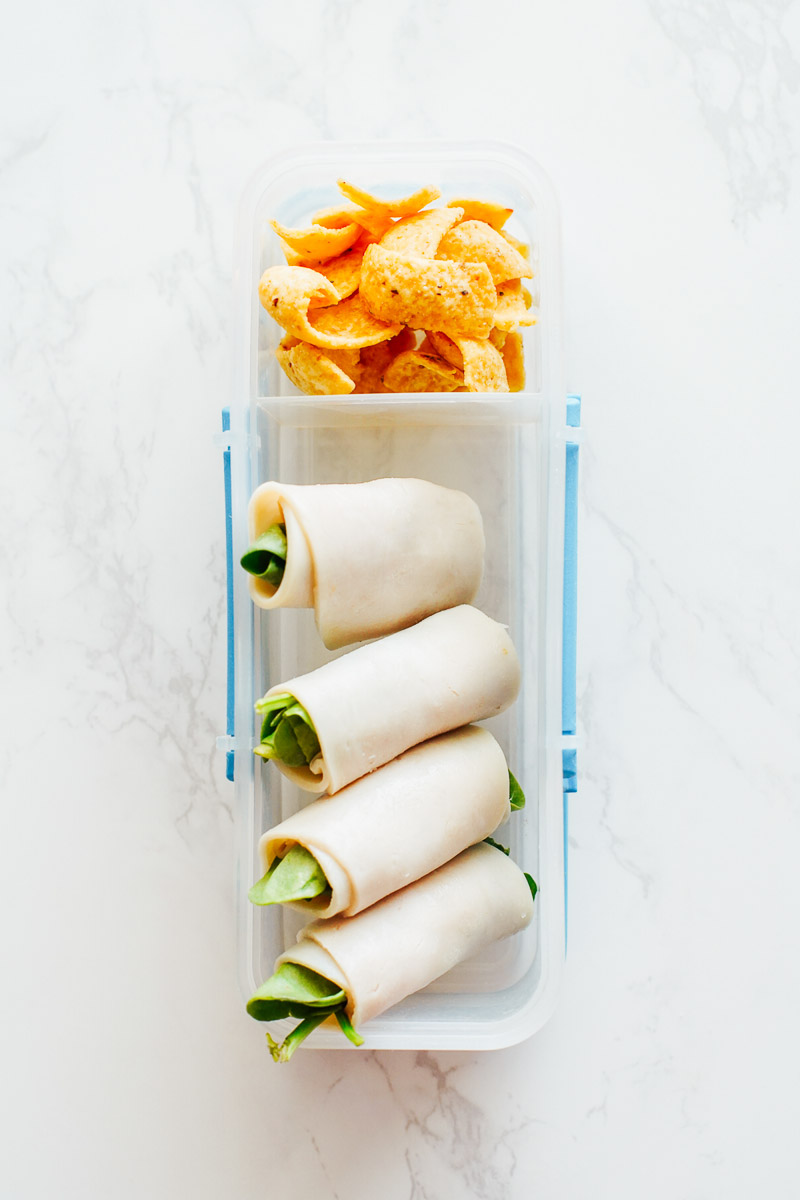 30. Turkey and Cheese Roll Ups
One of the easiest protein snacks! Lay out a few slices of sliced turkey or ham (I love Applegate brand) and place either spinach leaves or a slice of cheese on top. Then roll it up! Take it to go with an ice pack or enjoy for an at-home snack.
31. Omelet Cups
I love protein-rich snacks because they keep you full! Omelet cups may be a great breakfast (one of 16 different egg breakfasts on rotation in our home), but they also work great for a healthy summer snack. On-the-go, pack an ice pack to keep them cool. No need to reheat.
Make-Ahead Omelet Cups
A protein-packed snacked made with eggs, bacon, veggies, and cheese. Make these omelet cups in advance to enjoy all week!
Make This Recipe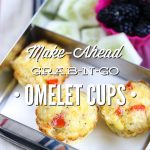 Best Snack Containers
To make on-the-go snacks, you'll need…
Take the Guess Work OUt of meal planning
Free 64 Rotational Meals Ideas Cheat Sheet
Breakfast, lunch, dinner, and snack recipes to rotate week after week. Put healthy meals on auto-pilot.
Chocolate bar marzipan jujubes jelly-o carrot cake caramels. Tootsie roll cookie jujubes powder icing lemon drops. Pastry brownie topping oat cake chocolate cake jelly candy gingerbread tart.