This post may contain affiliate links. Affiliate links come at no extra cost to you. These links allow me to share the products I authentically recommend (and use) and support Live Simply by receiving a small commission.
This post is sponsored by Simply Organic, as part of the #OrganicMoments campaign. The opinions and photos expressed are completely my own. For more recipes, menus and party ideas, visit http://holidays.simplyorganic.com/.
Growing up, my mom had a special way of making this time of year a season to remember. Mom has always had a way of creating and enjoying the most magical, organic moments; from lingering all afternoon in a pumpkin patch to find that special pumpkin, to cooking seasonal recipes together or sharing a meal with family around a festive table.
Now that I'm a mom myself I often think about the organic memories I cherish from my childhood, the memories my mom helped to encourage and foster during this season of togetherness. It's my desire to recreate many of the same moments and experiences with my children, but let me be totally honest: the holidays, for me and Dustin, can be a tad bit crazy (okay, more like full-on crazy) and far from simple. There are multiple family gatherings, performances to attend, and parties to host or visit.
All that crazy busyness can distract from the simple moments and memories that I want to create with my family. It's simply hard to think about enjoying the process of the season when I'm so focused on figuring out how to decorate our table for our family's Thanksgiving gathering (which I'm hosting for the first time ever in my home!) or finding the perfect, real food holiday recipe for next week's Christmas party get together.
Amen?
Amen!
Over the summer, as we were in the middle of our kitchen remodel, Simply Organic (an organic spice company I work with) asked me to participate in creating recipes for their Organic Moments celebration. I was excited to take part in this special project. With the help of Simply Organic, and my custom garage kitchen, I developed a large spread of seasonal, holiday recipes to make this season of food and family extra special.  The recipes were created to help take the guesswork out of some of the more complicated elements of the season, like what to cook and even how to decorate (thanks to Oh Happy Day's creative party planning skills to simplify the planning and decorating experience). With these tools, the cooking and planning that are often so complicated just got a whole lot simpler.
Since the real food recipes and decor are deliciously taken care of, we can now focus on spending time in the kitchen creating new and old recipes and memories with our family, enjoying the pumpkin patch just a little bit longer, or chatting and laughing at the big family dinner. We can enjoy the moments and memories of the season!
Since I hold each of the Organic Moments' recipes near and dear, since hours and days went into lovingly creating each one, I would love for you to check them out on Simply Organic. The recipes are so easy to make you don't even need to host a special dinner party to enjoy them. Most of the recipes in the collection are perfect for a simple Sunday meal around the table with your children or parents, or a special Saturday morning brunch. Here's a sample menu I put together for a Sunday meal we recently enjoyed with my parents using the recipes:
Organic Smoked Paprika Roasted Chicken
Organic Brussels Sprouts with Sage Brown Butter
Organic Harvest Salad with Cinnamon Cranberry Vinaigrette
Organic Parsley and Garlic Mashed Potatoes
Easy Apple-Pear Galette (recipe below)
Along with sharing this plethora of seasonal recipes, I have one more treat for you today: Easy Apple-Pear Galette. Made with cinnamon and nutmeg, this galette recipe has been a family favorite for years, and one that always helps our family stop and enjoy time together in the kitchen, around the stove, and later on the couch with a warm slice of cheater's pie (another way to think about a galette, but don't worry this kind of cheating is totally legal!). A recipe, that just like the others, simplifies this busy season and encourages us to slow down and enjoy the organic moments and memories all around us.
Easy Apple-Pear Galette
Servings 8 slices
Calories 265 kcal
Instructions
Preheat the oven to 350F.

In a large bowl, whisk together the flour and salt. Add the cold butter and crumble with a pastry blender or your fingers. Add the cold water, one tablespoon at a time, until the dough comes together into a ball (about 3-4 tablespoons). Place the dough on a piece of parchment paper. Then top the dough with another piece of parchment. Roll the dough into a large circle. You'll need to pull up the edges of the dough, so don't roll it so thick that it's impossible to peel away from the parchment. Remove the top parchment paper. Transfer the crust (still on the bottom parchment paper) to a baking stone or cookie sheet.

Make the filling by gently combining the pear, apple, honey, flour, and spices. Pour the filling into the center of the galette, until the filling covers most of the crust. Leave about an inch of space from the outside of the crust to fold over the filling.

Fold the edges over.

Whisk together the egg and 2 tablespoon of the remaining cold water. Brush the folded crust with the egg wash.

Bake the galette, uncovered, for 50 minutes. Allow the galette to cool for 10 minutes before serving. Serve plain or with homemade whipped cream or

vanilla ice cream

.
A galette is meant to be rustically simple and elegant, so no perfection here. In fact, this is the perfect recipe for encouraging little ones to join in the kitchen to create holiday baking memories!
If you make this recipe, be sure to snap a photo and hashtag it #LIVESIMPLYBLOG. I'd love to see what you make!
My Free Crash Courses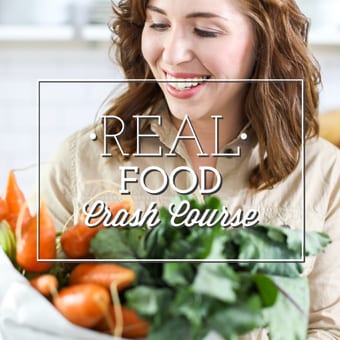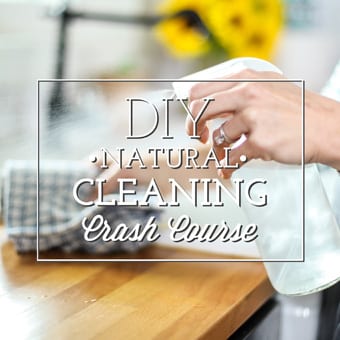 Subscribe to download the Courses