This post may contain affiliate links. Affiliate links come at no extra cost to you. These links allow me to share the products I authentically recommend (and use) and support Live Simply by receiving a small commission.
Does anyone else experience lightbulb or epiphany-type moments while performing some of the most mundane acts of the day, like dishes or drying your hair?
If you're now thinking, "I came for the eggnog, honey, what are you talking about…epiphany? Dishes?" Just hang with me for a second. Of course, you may also skip right to the eggnog recipe. No hard feelings. I did promise you a big glass of homemade eggnog…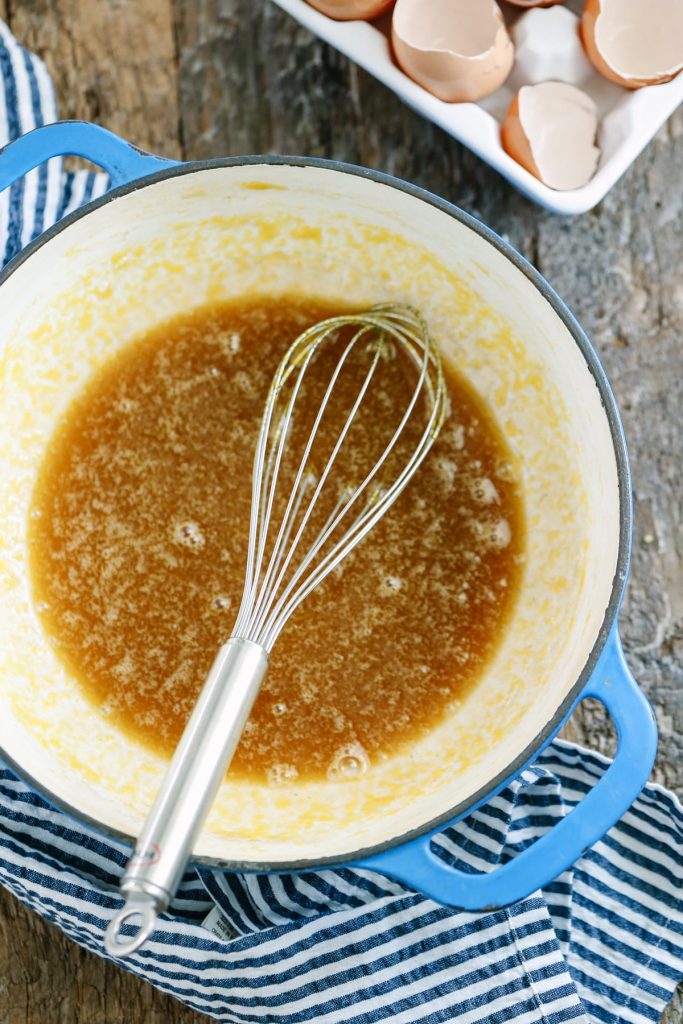 Back to epiphany moments. Then, eggnog.
The quiet moments I spend doing the dishes and drying my hair provoke some of the most insightful thoughts of my day. No joke! I've thought long and hard about why this happens, and I'm pretty sure the answer can be found in two little words: peace and quiet. While I stand over the sink full of dishes, or in front of the bathroom mirror with the hair dryer doing its thing, I can actually hear my own thoughts. Yes, sometimes those thoughts are a bit scary, but many times they are surprisingly good. In fact, some of the best recipes and DIYs on Live Simply have come after a good 15 minute date with my sink and lots of dirty dishes.
This morning I woke up early to enjoy a few moments to myself with my coffee and the dishes I let "soak" overnight. As I thought about today's recipe and the story I might share with you, my mind also drifted to the fact that today is December 14th. This means there are still presents to make (because I haven't started on a single one yet), cookies to bake for Christmas Eve and Piper's teacher, Christmas light ceremonies to attend, and so much more. It was at that very moment that I started to question sharing today's recipe, "Why do holiday recipes require so much time? It's only the busiest time of the year!"
There are more important questions to ask at 7am, like "Did I make Piper's lunch yet? Does Piper have any socks to wear today?" Clearly, trying to figure out the time issues surrounding holiday recipes was more important this morning.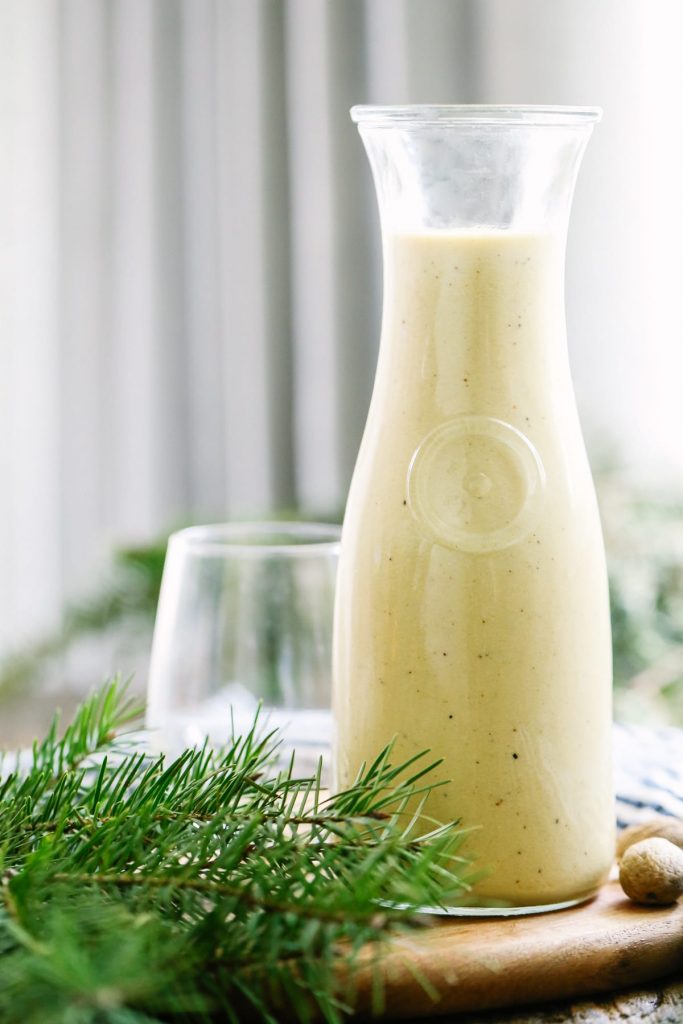 As I picked up the next plate in the sink, a lightbulb went off in my tired mind: This season is about slowing down and enjoying life with family and friends, and that's exactly what the more time-consuming holiday recipes make us do…slow down and wait for the dough to chill or stand over a pot of simmering eggnog while enjoying the sights, sounds, and company of the season. Maybe the coffee was brewed extra strong this morning, or someone spiked my homemade coffee creamer with too much homemade vanilla extract. Whatever it may be, my 7am epiphany was enough to talk me down from the stress I was feeling over my holiday to-do list.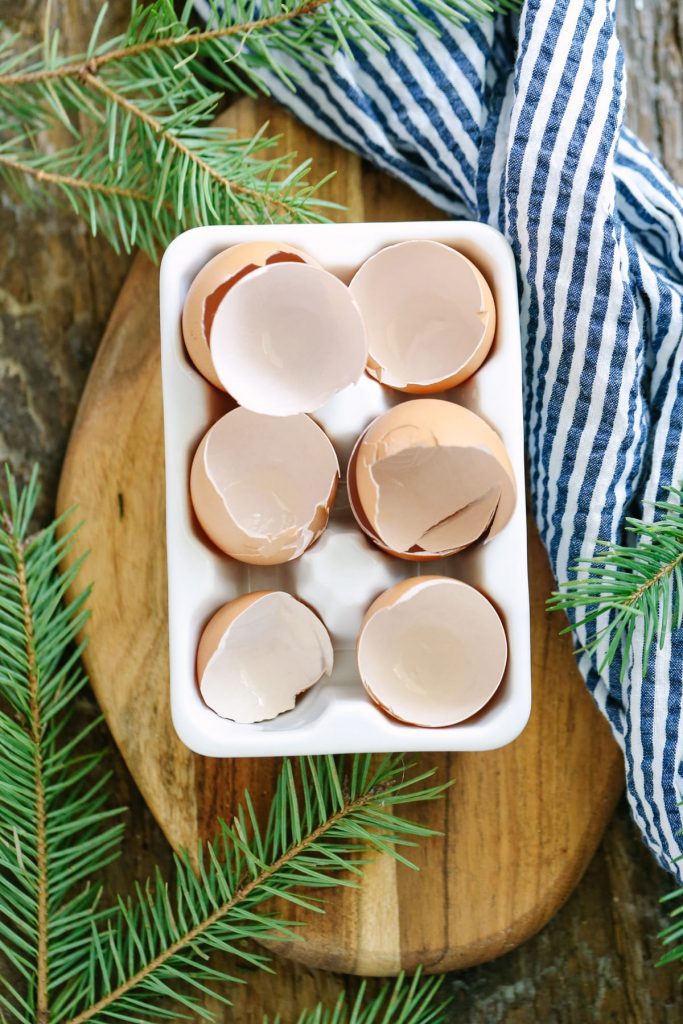 While homemade eggnog is super easy to make, it is a more time-consuming recipe since it does require a bit of watching, waiting, and then chilling. But, I promise, the wait is good for us–it's a reminder to slow down and chill. The best "things" in life are always worth slowing down for!
Homemade Eggnog
Servings 1 /2 liter
Calories 1741 kcal
Ingredients
5 egg yolks preferably from pasture-raised chickens
1/3 cup pure maple syrup
1 cup heavy cream
2 cups whole milk
1/2 tsp nutmeg + extra for sprinkling
1 TB pure vanilla extract
Instructions
In a Dutch oven or large saucepan, with the heat off, whisk together the maple syrup and egg yolks. Add the milk, pinch of salt, and cream, whisking until combined. Turn the heat to medium, whisking every few seconds, until the eggnog is warm to the touch.

Once the eggnog is warm to the touch (but not boiling!), reduce the heat to low and continue to stir the eggnog until it thickens. This will take 10-15 minutes. The eggnog can quickly turn into scrambled eggs if it becomes too hot, so watch the it carefully.

Once slightly thickened (but still a drinkable consistency), remove from the heat and stir in the nutmeg and vanilla extract.

Refrigerate the eggnog for 2-3 hours, until chilled. Serve with a sprinkle of nutmeg.
Ingredient Note: I recommend using cream and milk made from grass-fed cows. Natural By Nature brand sells a great store-bought whole milk and heavy cream that aren't ultra-pasteurized.  Organic Valley sells a "Grass Milk" that's not ultra-pasteurized; however, their heavy cream contains carrageenan. Always read ingredient labels!
More You May Like:
Healthier Homemade Sugar Cookies
How To Make Homemade Coffee Creamer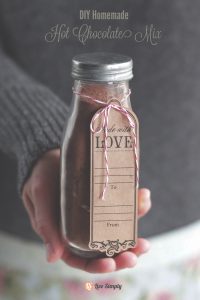 If you make this recipe, be sure to snap a photo and hashtag it #LIVESIMPLYBLOG. I'd love to see what you make!
My Free Crash Courses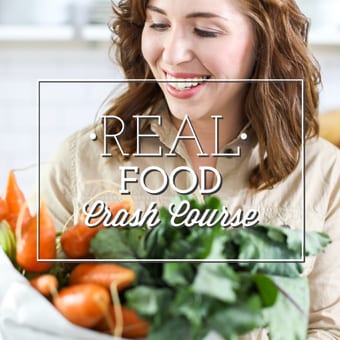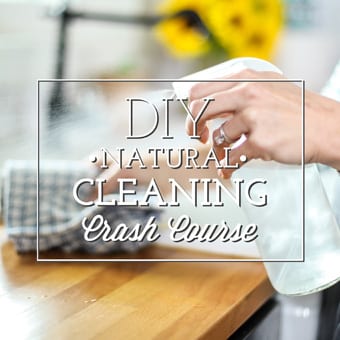 Subscribe to download the Courses