This post may contain affiliate links. Affiliate links come at no extra cost to you. These links allow me to share the products I authentically recommend (and use) and support Live Simply by receiving a small commission.
This post is sponsored by Simply Organic. The opinions and photos expressed are completely my own. Thank you Simply Organic for helping me get the word out about real food, and warming these muffins with your spices. 
My family is very united when it comes to food, but there is one food subject that always brings out a variety of strong opinions: breakfast!
Each family member has a different idea of what a weekday breakfast should look like.
For me, a warm bowl of oatmeal with cinnamon, whole milk, and maple syrup is ideal, or even a bowl of yogurt and berries with a drizzle of raw honey. Yum–I'm hungry just thinking about those options!
Piper, my almost six year-old, is more of a hard-boiled egg kind of guy; he likes breakfast as fast and as simple as possible. Hey, he's almost six and has way too much to explore in life. Who's got time for breakfast?
Londyn, my three year-old, is a lover of slow breakfast meals, like stacked pancakes or warm muffins. She also loves to take her time drizzling honey or smearing butter over her warm "baked" goods, and then enjoying every single bite in s-l-o-w m-o-t-i-o-n (her new favorite phrase). Slow and steady wins Londyn's breakfast heart and taste-buds.
And finally, Dustin. He's more of a savory and hearty breakfast eater. The kind of foodie that loves carefully poured and flipped omelets with lots of cheese, and a side of toast and bacon.
Mornings are very busy for our family: getting kids out the door for school and visiting Grandma (Londyn's preschool), morning responsibilities at home, and work projects that need time and attention. The last thing Dustin and I want (or really need) to do is spend a lot of time cooking a variety of breakfast meals each week. What's a family to do? Let me rephrase that question: What's a family to do without compromising sleep or giving into the drive-thru?
Well, sleep is definitely sacred when you're a parent, and we're not going back to the fast food days (and my digestion system quietly mumbles, "thank you!").
You know where we're going with this chat, right?!
Yes, prep time! It's definitely an activity that's worth chatting about again, because it really is a huge help for our family. Let's recap the importance of prep time….
I dedicate an hour or two each week (or bi-monthly when life gets very busy) to prepping a few make-ahead breakfast options. By using this make-ahead method, we are able to enjoy a variety of breakfast options throughout the week without feeling overwhelmed with cooking each morning. For example:
Monday: oatmeal (YES!!! The best option EVER!)
Tuesday: omelet cups or breakfast casserole and toast
Wednesday: muffins and hardboiled eggs
Thursday: smoothies and muffins
Friday: oatmeal pancakes and fruit
Today's recipe is just one more make-ahead breakfast option that helps save time and nourish my family on busy mornings.
Muffins, thankfully, are one breakfast food everyone in the family loves. Plus, muffins can be paired with multiple easy breakfast options: smoothies, hardboiled eggs, and even a cheesy omelet. Basically, the humble muffin is a huge breakfast winner, and that's why you'll always find my freezer stocked with one or two bags of ready-to-enjoy muffins.
Now that I've shared about our personal breakfast issues and chatted about my current solution, I think it's time for a muffin recipe.
Today's One-Bowl Whole Grain Morning Glory Muffins only require one bowl, a food processor, one muffin pan, and thirty minutes of time. That is called breakfast simplicity! Morning glory muffins are packed full of nutrient-rich veggies (carrots) and warm spices (cinnamon and nutmeg). They are also naturally-sweetened with raisins and honey. Now that, my friend, is a glorious breakfast we can all enjoy!
One-Bowl Whole Grain Morning Glory Muffins
Servings 16 -18 muffins
Calories 216 kcal
Instructions
Preheat the oven to 350F.

In a large bowl, whisk together the melted butter, honey, applesauce, eggs, vanilla extract, cinnamon, and nutmeg.

In a food processor*, pulse the oats for 40-60 seconds, until they are ground into a grainy, flour-like consistency. Add the oats to the liquid ingredients, along with the whole wheat flour, baking powder, baking soda, and salt. Then add the grated carrots, raisins, and (if using) chopped nuts. Fold the ingredients together until combined.

Let the muffin batter rest for about 5-10 minutes. Grease a muffin pan, or line a muffin pan with muffin liners.

Scoop the muffin batter into the muffin pan (I use an ice cream scooper). Bake for 22(ish) minutes, until the muffins are cooked through. Allow the muffins to cool for about 10 minutes before serving. Leftover muffins freeze very well for a quick and easy breakfast.
Recipe Notes
PS: You can find a store coupon for Simply Organic's Spices, here.
*The oats can be ground ahead of time and mixed with the flour, baking soda, baking powder, raisins, nuts, and spices in a baggie or mason jar.  Just label your bag or jar and place it in your pantry for a pre-made muffin mix. Easy peasy! When you're ready to make the muffins, simply combine the remaining ingredients with the wet ingredients in "one bowl."
While you have the food processor out, you can also toss carrot chunks (I use 3 carrots cut into chunks) in the bowl after the oats are poured into the batter, and pulse the chunks until you get shredded carrots.
Whole Wheat Flour Note: I use a scoop-and-level-off-with-a-knife method for measuring flour, so the flour is compact within the measuring cup.
If you make this recipe, be sure to snap a photo and hashtag it #LIVESIMPLYBLOG. I'd love to see what you make!
My Free Crash Courses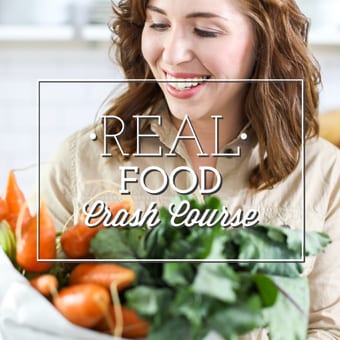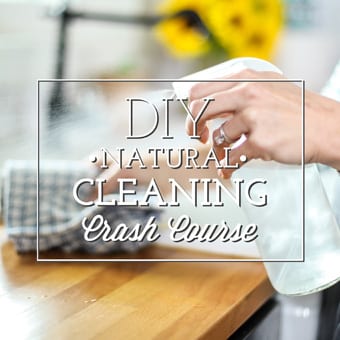 Subscribe to download the Courses