Despite all my planning and prepping, there are nights when life just happens. A child unexpectedly needs to visit the doctor, errands take hours to run, or I just need a night "off" from the stove.
That's the reality of real food for our family. In order to make real food a doable lifestyle, I'm learning how to adapt to the busy days by having simple, quick, and wholesome meals easily accessible. This often means doubling portions of favorite meals that are kept in the freezer and stocking pantry and freezer essentials that are easy to toss together to create healthy, maintenance-free meals.
Before the busy holiday season, Simply Organic approached me about working with them on developing recipes and photography for a new product called "Steam Gourmet." A product designed to take the stress out of creating real food meals by using a traditional French cooking technique called, "en Papillote" (in parchment).
I know, it sounds fancy and complicated, but the idea of cooking in parchment is as simple, yet delicious and wholesome as a meal can get. Each Steam Gourmet Parchment and Seasoning Kit comes with two parchment bags and two organic seasoning packages which can take a weeknight from "What am I going to cook tonight?" to "What an amazing meal!" in 30 minutes or less. The best part is that very little cooking experience (or time) is needed to create a real food meal using the "en Papillote" method, so even real food newbies can experience instant success at creating nourishing, junk-free meals.
Now, I get it. This may seem a bit unusual. "You're recommending that I cook my family's dinner from a box?"
Trust me, I was skeptical at first too. But after working with Steam Gourmet and Simply Organic (a spice company I already love and regularly purchase spices from), I can say this is not a regular ol' box meal. Far from the "helper" meals I grew up with. Each Steam Gourmet box comes with two parchment bags and organic seasoning packages, organic seasonings prepared according to four different flavor profiles: Sesame Ginger Salmon, Paprika Chicken, Cajun Chicken, and Garlic Herb Chicken.
For two weeks during my winter holiday,  I worked on developing and shooting recipes for Steam Gourmet meals. (Remember when I mentioned working on a big project over Christmas break? Yep, this was it!)
The project could not have come at a better time, as the busy holiday season was in full swing and between holiday parties and family get togethers my regular meal planning and prep days were a bit off (AKA: non-existent). Thanks to the simplicity of the Steam Gourmet Parchment and Seasoning Kits, our family enjoyed meals that were simple and wholesome. I simply sprinkled a protein (chicken, salmon, pork chops) and a veggie with the organic seasoning package and placed the ingredients in the provided parchment bag(s) to bake in the oven for 30 minutes. And voila — I made a perfectly steamed, wholesome meal.
Today, I'm excited to share the meals I developed alongside Simply Organic for busy families (and couples…read on) looking for an easy, yet real food solution to busy weeknights. Simply Organic and I developed eight meals that pack nutrients and flavor using Steam Gourmet. Each meal takes 40 minutes or less to prepare and cook. The meals are also family-friendly and made with 100% real food ingredients. The perfect combo for a busy weeknight win.
Below the recipes you'll also find two free meal plan printables — one for families and the other for couples. Each meal plan also includes a shopping list. The lists are perfect for printing out and keeping in your Meal Plan Binder or Folder for extra busy weeks when meal planning just doesn't happen.
8 Simple Wholesome Meals for Busy Weeknights
Note: Click the image box for my full recipe and directions. 
Tips for Creating Quick and Wholesome Weeknight Meals
1. Prep in Advance. Save time in the kitchen by chopping/slicing vegetables in advance. Store vegetables in an airtight bag or container in the fridge for 3-4 days, or freeze for later use. Label the bag or container with the date and ingredients needed to complete the meal.
2. Encourage Family Participation. Encourage children to participate in washing and chopping vegetables (with a child-safe knife), and sprinkling food with the Steam Gourmet seasoning. Children are more willing to explore new flavors and foods when they have a part in the preparation process.
3. "Cook Once, Eat Twice." Cook a double portion of meat and veggies for a future no-fuss lunch or dinner. For example: Cook four Garlic Herb chicken breasts, serving two for dinner over a big Greek salad, shredding the other two for seasoned lunch meat for sandwiches or salads. Cook extra peppers and onions in Paprika Chicken Seasoning to enjoy with grilled steak fajitas on a busy weeknight.
4. Meal Plan. I'm a huge meal planner (I even wrote a book, Real Food Planning Challenge, to help others navigate the simplicity of planning for real food). Meal planning is vital for creating meals that are wholesome and quick. To compliment the recipes above, Simply Organic and I created two printer-friendly meal plans with ready to go shopping lists. Find the meal plan for couples here and for families here.
Disclosure: This post was written as a collaboration with Simply Organic. The opinions, recipes, and photos expressed are completely my own. As a blogger, I'm privileged to partner with companies making a difference in the natural and real food world.  I only endorse and develop recipes for companies and products I 100% love and believe in. 
More Real Food You May Like: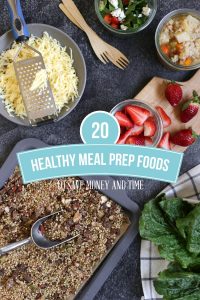 20 Healthy Meal Prep Foods to Save Money and Time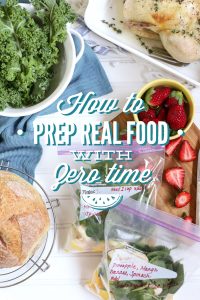 How to Prep Real Food with Zero Time