I'm guessing you're a big fan of cookie dough? Me too!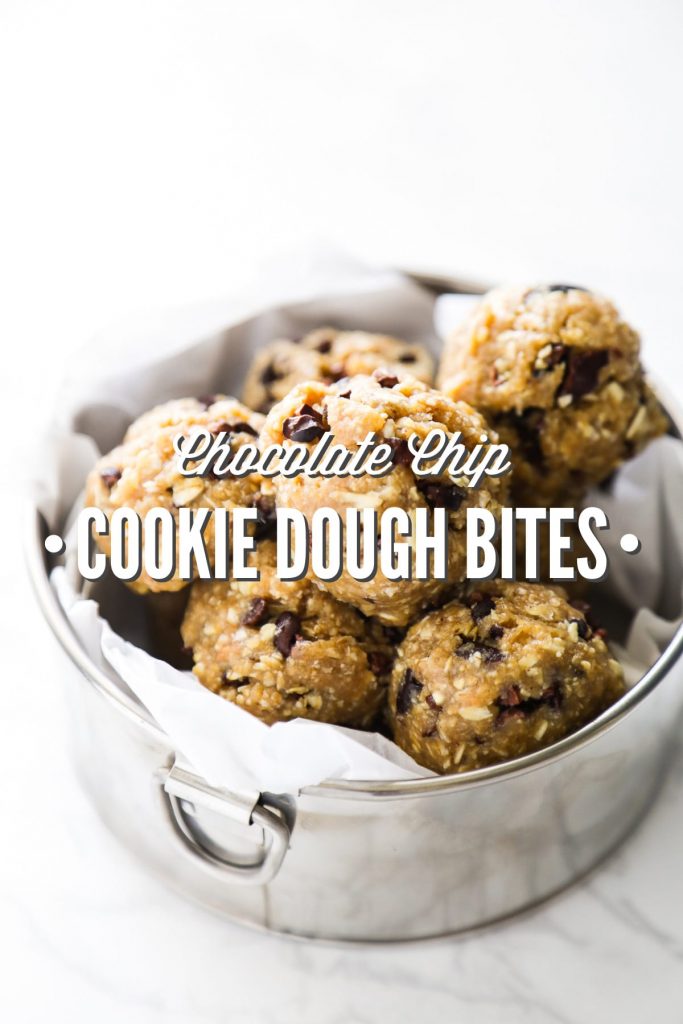 I have fond memories of making chocolate chip cookies with my mom, and sneaking tiny bites of cookie dough every time she turned her back to grab an ingredient from the pantry or fridge. This was before cookie dough was "unsafe" to eat. After all, it was the late '80s and early '90s. Everything was "safe" back then. Even the Velveeta that regularly made an appearance in mom's pantry was deemed "safe." Overalls and tie-dyed shirts were also considered "safe." That says a lot about that time period.
I have strong feelings about the whole "cookie dough is unsafe to eat" statement, particularly if you're purchasing eggs from a trusted source (like a local farmer with pastured chickens), but that conversation will have to wait until another day. Today, we're going to talk about a cookie dough that's edible no matter what side of the cookie dough debate you choose to be on.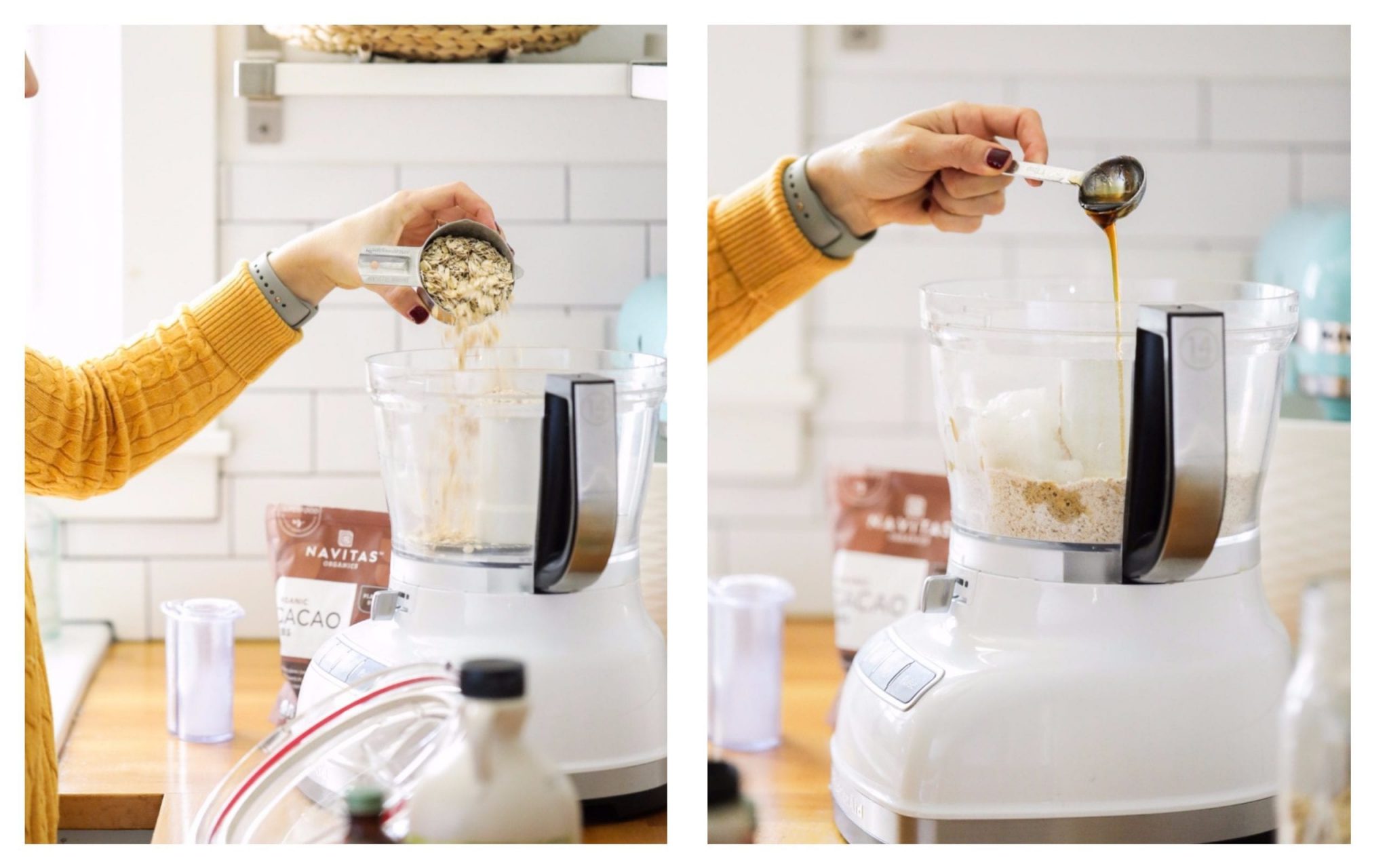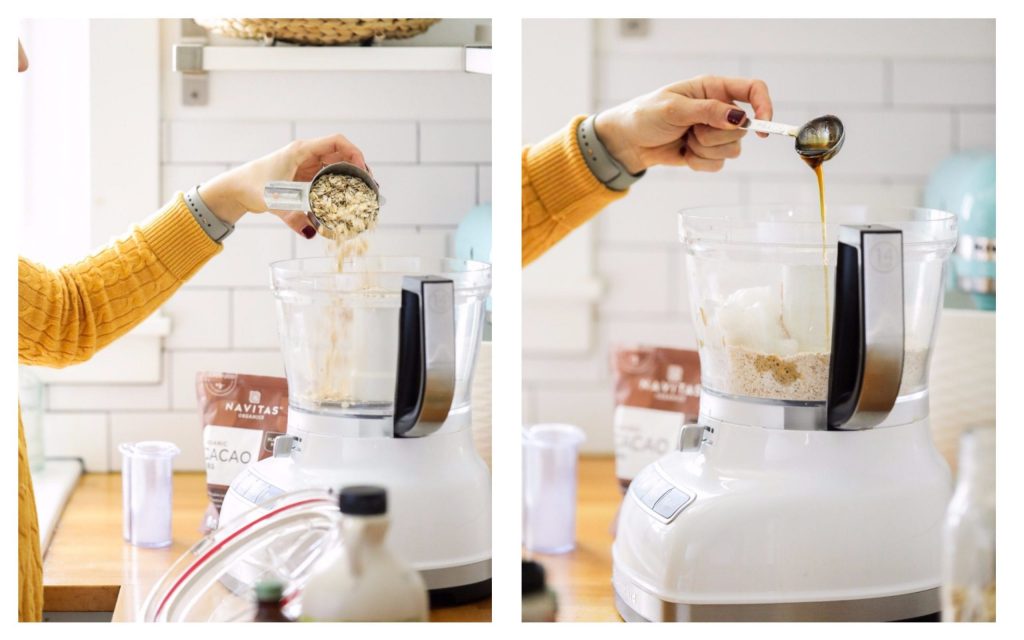 There's a local juice bar that I love to visit called, Good Vibes Juice Co. The charming little store, in a sorta neglected part of the county, makes fresh juices, the best acai bowls, unique smoothies, and a few vegan snack foods.
Now, I'm not a vegan (although I was at one point), but I have a weak spot for vegan snacks and desserts. Since vegans don't consume eggs, dairy, or any other animal product, their homemade snacks and desserts tend to be made with nuts, oats, and other plant-based goodies. I personally find many of these creations incredibly delicious and unique.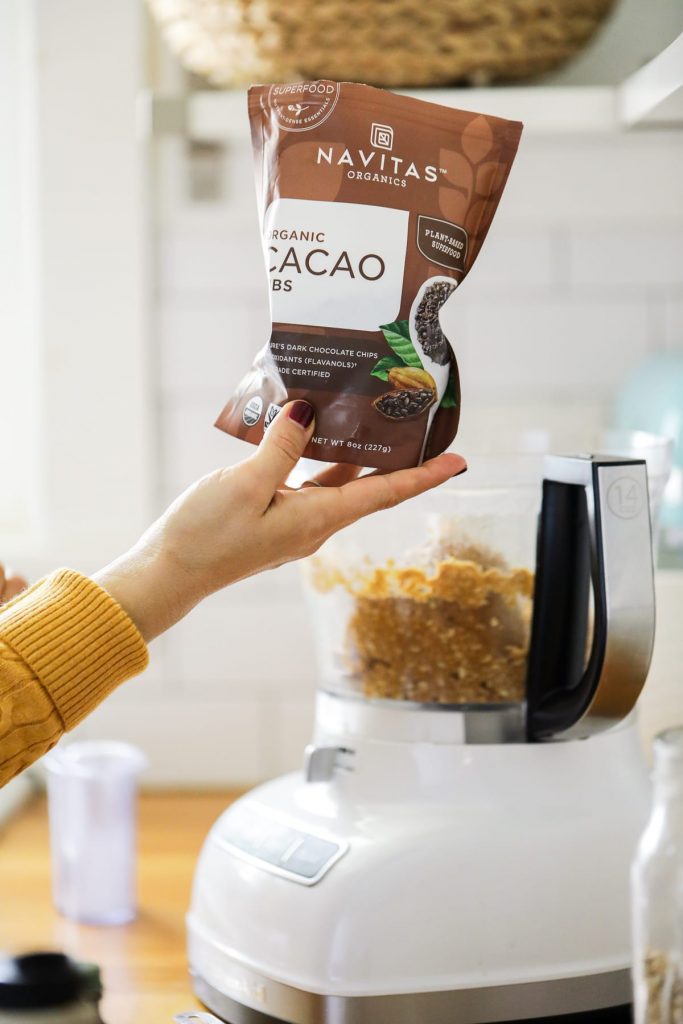 A few weeks ago, when I visited Good Vibes to pick up a few ginger shots (this mama was feeling a cold coming on, and every mama knows that no one's got time for that nonsense), I spotted a raw chocolate chip cookie in the snack case. I picked up the package and read the ingredient list to myself: cashew butter, oats, coconut oil, maple syrup, cacao nibs, and salt. Two thoughts immediately rushed through my head…
"You need this!"
"This would be so easy to make at home."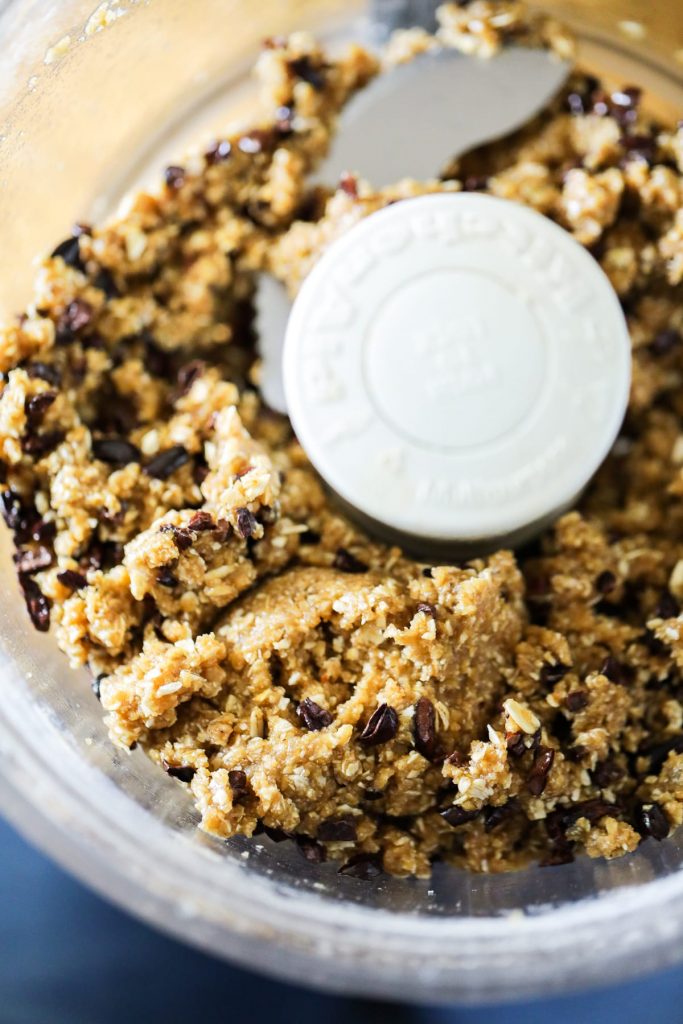 Naturally, I purchased the ginger shots and the pricey little cookie. <–Totally worth it, Good Vibes, but that was the most expensive chocolate chip cookie I've ever purchased. Just sayin'.
The cookie was incredible. The ginger shots were horrible, but they helped fight off the cold. Aren't you glad today's recipe is for the cookie (dough) and not the ginger shots?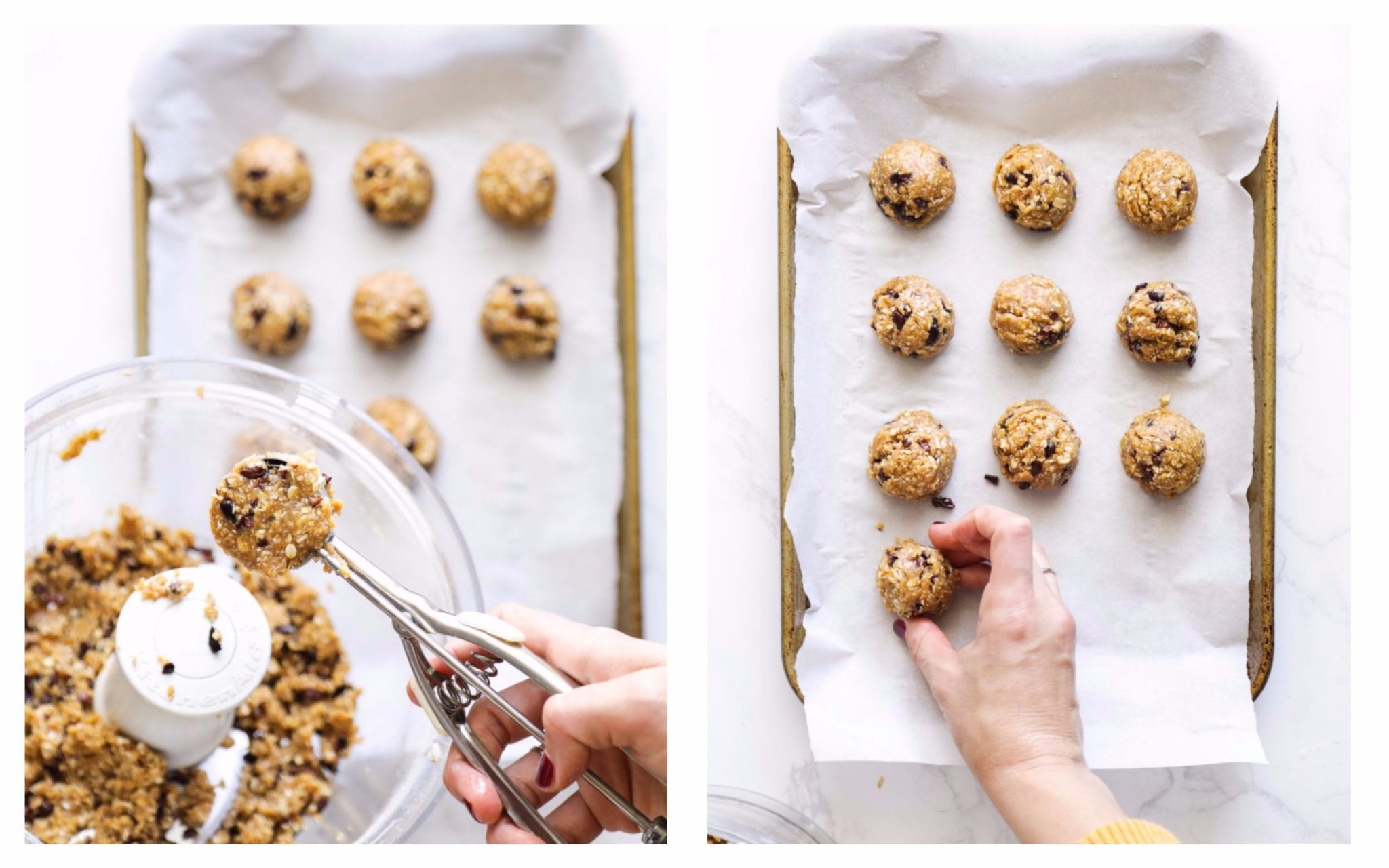 I decided to recreate the cookie, turning the single cookie into smaller bites, using the ingredient list on the package. The cookie bites have been a popular snack/treat in our home ever since, and I can see (taste) why. These bites have the flavor and texture of chocolate chip cookie dough. And who doesn't love cookie dough?
If you choose to use peanut butter in the recipe, the cookie bites will taste like a peanut butter chocolate chip cookie. If you go with the cashew butter, the cookie bites will have a mild flavor–more like a chocolate chip cookie. I personally like the peanut butter version, and Dustin prefers the cashew butter version. The kids love both options. I think almond butter would also work well in this recipe.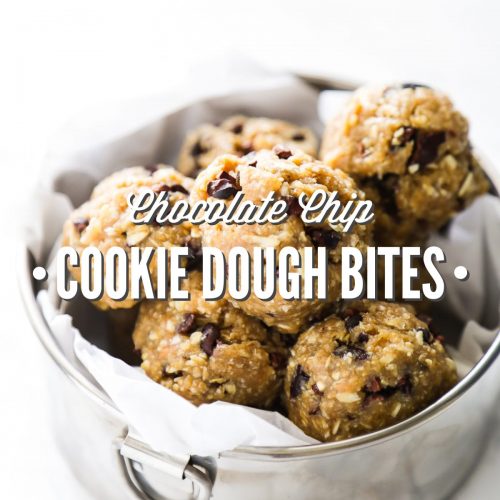 Chocolate Chip Cookie Dough Bites
Oat snack or dessert bites that taste just like chocolate chip cookie dough.
Instructions
Add the oats to a food processor bowl. Pulse until the oats are finely chopped into small pieces.

Add the remaining ingredients to the bowl, and pulse until the ingredients form what resembles a dough ball.

Add the cacao nibs and pulse just for a few seconds until the nibs are thoroughly mixed throughout the dough.

Scoop the dough (I use a cookie scoop) into individual bites, and place the bites on a parchment-lined baking sheet. Refrigerate the bites until firm (a couple of hours), or freeze (30 minutes).

Once the bites are firm, remove them from the baking sheet and store in an air-tight container in the fridge for up to 2 weeks, or in the freezer for several months.
Notes
*If your nut butter contains salt, skip the salt. Taste the cookie dough once formed, and add salt to taste. I don't use salted nut butter to make the bites so I've found that 1/2 teaspoon of salt is the perfect amount. 
**Cacao nibs are basically unsweetened chocolate chips. If you don't want to use cacao nibs, or can't find them, use mini chocolate chips (Enjoy Life Mini Chocolate Chips would be perfect). If you have cacao nibs and want to make another recipe, I recommend my chocolate granola. 
Nutrition
Calories:
162
kcal
Carbohydrates:
13
g
Protein:
3
g
Fat:
11
g
Saturated Fat:
5
g
Sodium:
109
mg
Potassium:
109
mg
Fiber:
1
g
Sugar:
5
g
Calcium:
16
mg
Iron:
0.6
mg