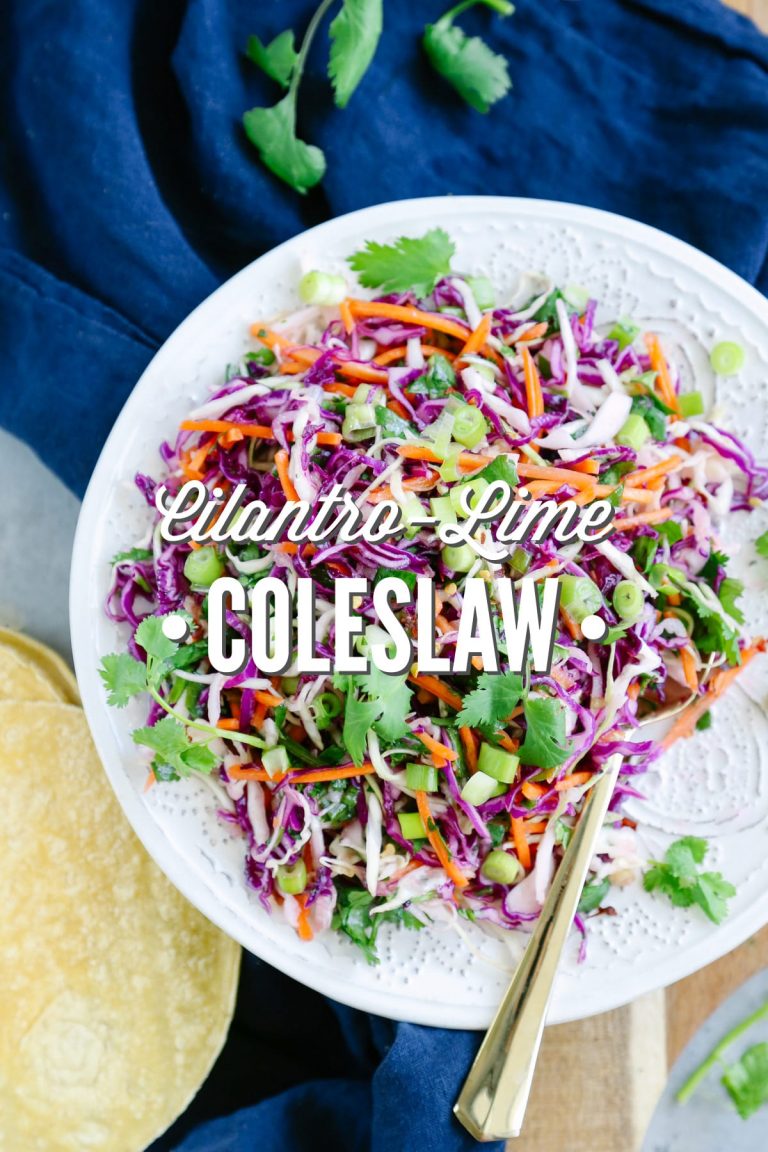 It's birthday week in our house. My baby boy turns six on Saturday, which means the birthday celebrations started on Monday of this week. When you're six, there are a lot of people who want to celebrate with you: classmates, teachers, grandparents, friends, and mom and dad!
To kick off the celebration, Piper's Montessori class hosted a morning celebration for him during circle time. During the twenty minute celebration, the kids sang about the seasons and months. Then, after spreading out a giant carpet resembling the sun, Piper walked around the "sun" while holding the Earth (well, a miniature globe) for each year he's been alive. After each passing, representing one year of his life, Dustin and I were asked to share a memory from that age.
It was difficult to randomly think of memories for ages one and two. Those ages felt like the survival years, not because we struggled with parenting; rather, we struggled with a lack of sleep (we had two children in two years). I'm so glad I kept a baby book for each child, so that in the midst of sleep deprivation, we can someday revisit the memories that were made during those precious early years. Anyway, back to the birthday celebration…
After the walk around the sun, representing six years of life, and a really cool lesson about the seasons and months, Piper shared his favorite snack with his classmates: homemade applesauce muffins and cheese sticks. And guess what? The kids loved the applesauce muffins. Yep, they loved whole wheat flour, oats, and honey!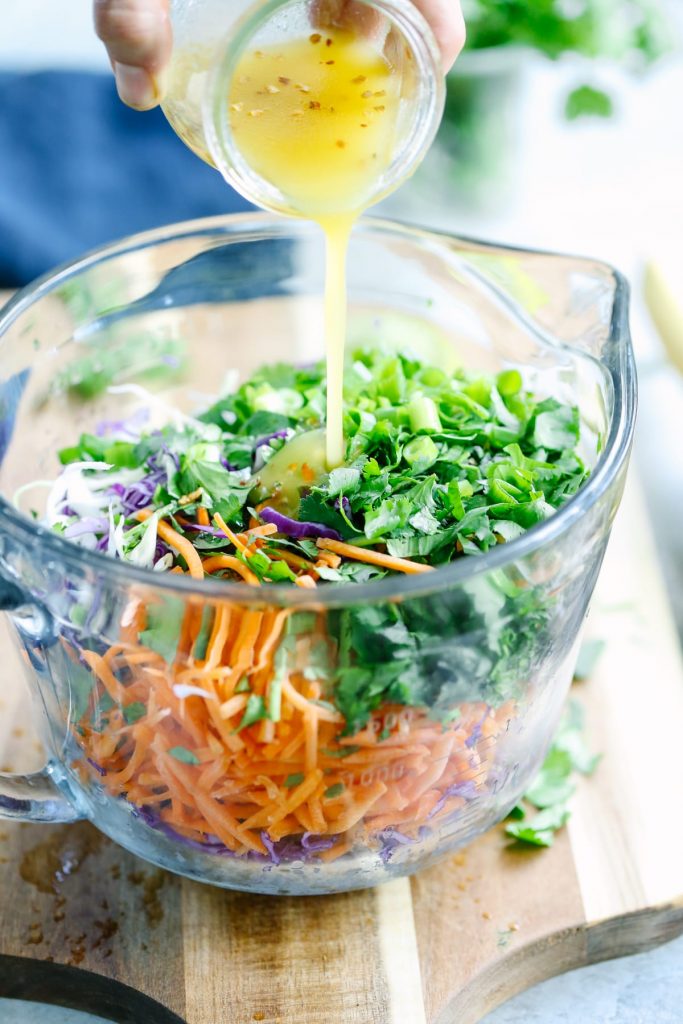 Later in the week, we plan to celebrate with a barn-themed birthday party with a few close friends and family. When it comes to parties, I tend to have this over-achieving habit to recreate an entire Pinterest board in real life. This year, I'm holding myself back, and trying to remember that perfection isn't what a birthday party is all about, nor is it about the cutest little invites or table decor. This week is about celebrating my "baby" boy and the amazing six years we've enjoyed together so far. So, friend, this is my accountability check: I will not go overboard on this party. I'm going to enjoy this week, and keep things simple and enjoyable (AKA: stress-free).
And now, onto coleslaw…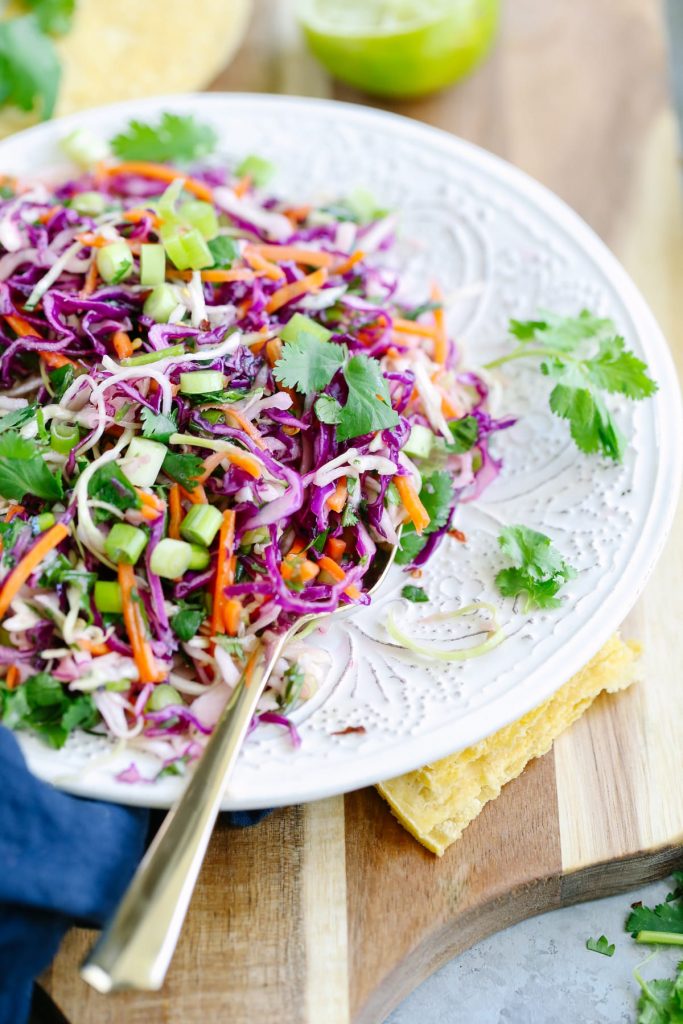 Today's recipe has nothing to do with Piper's birthday, other than the theme of keeping life simple and enjoyable. Hey, I tried to bridge the gap between the two ;).
This Cilantro-Lime Slaw is the perfect example of a simple and enjoyable real food recipe. The simple combination of fresh coleslaw ingredients (cabbage, green onions, carrots, and cilantro) are combined with a dressing that takes less than 60 seconds to make. And now for the big question (because I've never really understood the point of traditional coleslaw…I know, that's probably very UnAmerican to say): How in world do I use this coleslaw?
Over the last few months, I've found no shortage of ways to use this coleslaw, from a topping on barbecue chicken sandwiches (use these homemade buns for the ultimate real food sandwich!) and tacos, to a simple side salad for black beans and rice (one of my favorite meals). Since there's no shortage of ways to use this recipe, it's not uncommon to find a large jar of Cilantro-Lime Coleslaw sitting in our fridge and ready to be used throughout the week with a simple dinner (like the tacos or pulled barbecue sandwiches), or enjoyed as an on-the-go lunch option.
Before I share the recipe, I think a little disclosure is needed: I'm sharing this coleslaw recipe in preparation for next week's crock-pot chicken tacos. Trust me, you'll want this slaw with the spicy taco meat and a stack of corn tortillas. Now that, my friend, is about as simple and as fresh as a meal can get!
Cilantro-Lime Coleslaw
This Cilantro-Lime Slaw is the perfect example of a simple and enjoyable real food recipe. The simple combination of fresh coleslaw ingredients (cabbage, green onions, carrots, and cilantro) are combined with a dressing that takes less than 60 seconds to make.
Ingredients
Coleslaw:
1 1/2

cups

shredded green cabbage

I use a mandolin to shred the cabbage, or you can use just one type

1 1/2

cups

shredded purple cabbage

1

cup

shredded carrots

1/2

cup

chopped fresh cilantro

1/2

cup

sliced green onions
Dressing:
1/4

cup

extra virgin olive oil

1

lime

juiced

1

TB

honey

1

garlic clove

minced

1/4

tsp

red pepper flakes

optional

1/8

tsp

salt

or more to taste
Instructions
In a large bowl, combine the coleslaw ingredients: shredded cabbage, shredded carrots, chopped cilantro, and sliced green onions.

In a small bowl or jar, whisk together the dressing ingredients: olive oil, lime juice, honey, minced garlic, red pepper flakes, and salt. Pour as much dressing over the coleslaw as desired. The dressing is also delicious over a salad if you have have leftovers.

Toss the coleslaw and dressing together. Serve the coleslaw over tacos, on sandwiches (a barbecue chicken sandwich is divine with this coleslaw), or serve as a side salad. The coleslaw may be prepped in advance and refrigerated, or used immediately after preparation.
Nutrition
Calories:
235
kcal
Carbohydrates:
19
g
Protein:
2
g
Fat:
18
g
Saturated Fat:
2
g
Sodium:
152
mg
Potassium:
386
mg
Fiber:
4
g
Sugar:
11
g
Vitamin A:
8055
IU
Vitamin C:
51.3
mg
Calcium:
67
mg
Iron:
1.1
mg
I usually add more cilantro than 1/2 cup. Feel free to add more of an ingredient to reach the taste desired. I've also added tangy variety to this dressing by adding 1 tablespoon of white wine vinegar to the mix-YUM!