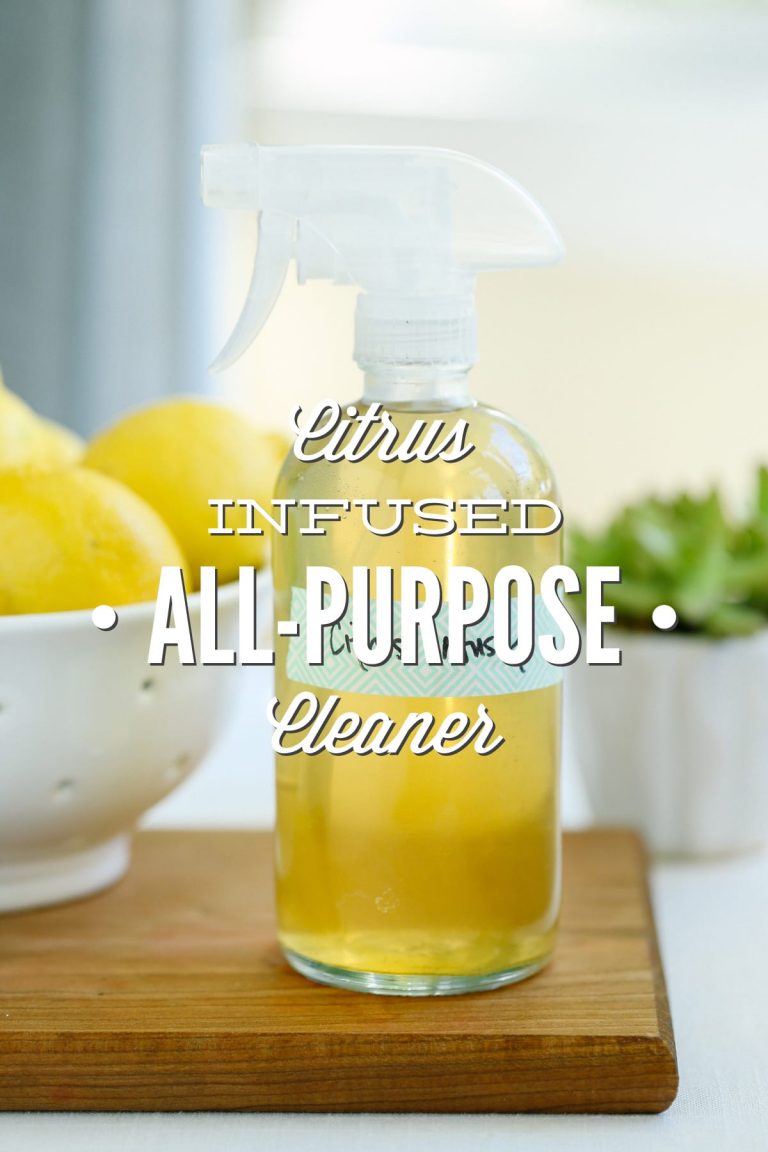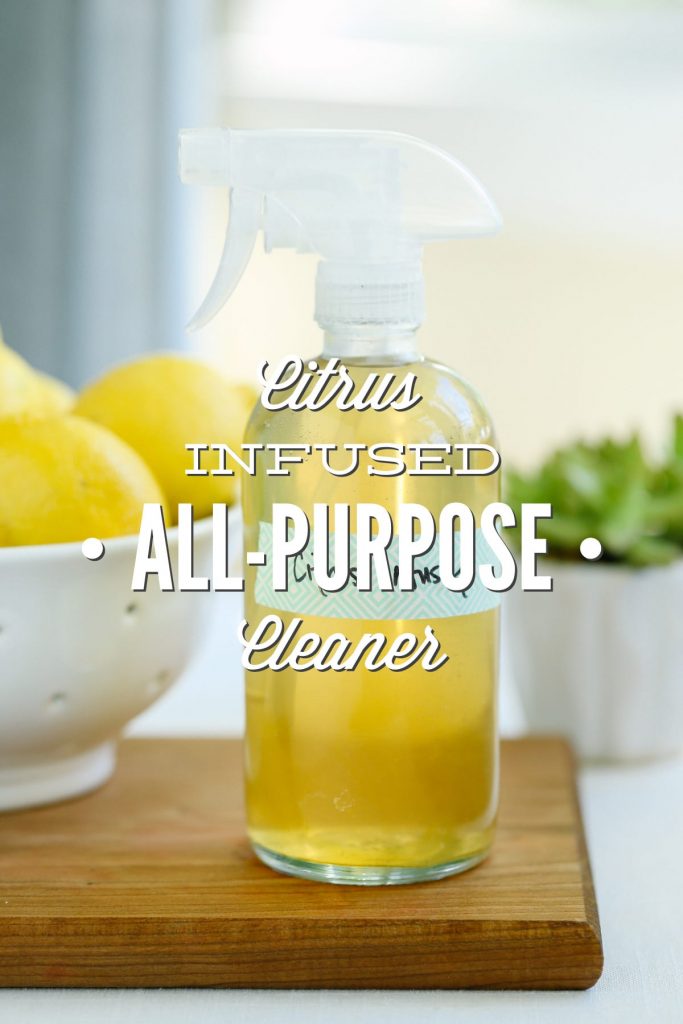 As we approach the launch of the DIY Natural Cleaning Challenge my head has been filled with all-things natural cleaning. In fact, reading and rereading the eBook has deepened my love for natural cleaning, and I'm the author! PS: I promise, we will get back to more food (recipes and tips) and body-care soon. Thank you for joining me this month for a heavy-duty dose of natural cleaning! I hope you've been inspired to give natural cleaning products a chance in your home.
So, in the spirit of natural cleaning, let's talk about one more super easy and inexpensive do-it-yourself cleaner that you'll find in my cleaning toolkit: Citrus-Infused All-Purpose Cleaner.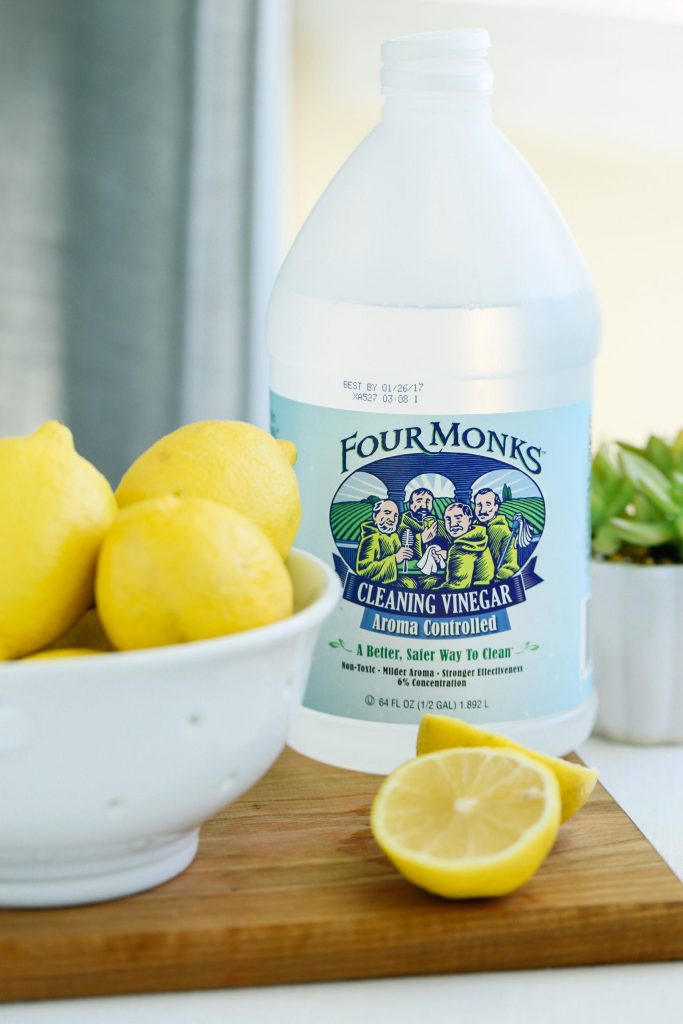 I'm a practical gal, so when it comes to making my own products at home, I always want to know that my time and money are being used wisely. Making the majority of our cleaners at home has been one of the most practical investments I've made on our quest to simplify our natural lifestyle. Let's take a look at just a few of the reasons why I'm such an advocate for DIY cleaning products:
1. Versatility. There's a bit of an investment required when you first "take the plunge" into making cleaning products, but here's the amazing news: the same cleaning ingredients can be used in multiple ways! With one bottle of vinegar you can make Citrus-Infused All-Purpose Cleaner, window cleaner, a toilet disinfectant, laundry softener, garbage disposal pods, and even a fridge deodorizer. $4 (that's a guess, my friend, prices always vary) goes a long way when it comes to cleaning a home.
Let's take a look at another ingredient: baking soda. Yep, the stuff you add to your favorite banana bread recipe! With a single package of baking soda you can remove odors from the fridge, scrub your oven back to a sparkle, deodorize carpets and rugs, and clean a toilet. $4 goes a long way once again.
2. Confidence. We've talked about this in the past, but it's worth mentioning again, many cleaners (since cleaning products aren't considered food) don't list the ingredients on bottles or packages. As a real foodie, an ingredient list is a valuable tool that helps me determine if a packaged food is something I want to bring into my home or not. I use the same discretion when purchasing and using cleaning products. By making cleaners at home, I know about the ingredients I'm spraying in my home and around our kids.
3. Simplicity. The phrase "make your own cleaning products" doesn't sound like a simple or easy task, but friend, I'm here to say that there's simplicity in DIY cleaning. Making homemade cleaning products has a bit of a learning curve at first, but once you determine what you actually need to clean your home, there's amazing simplicity in knowing how to create a cleaner in less than five minutes that can then be used in multiple ways.
Today's do-it-yourself recipe, Citrus-Infused All-Purpose Cleaner, fits all three of my practical reasons for why I choose to make homemade cleaning products.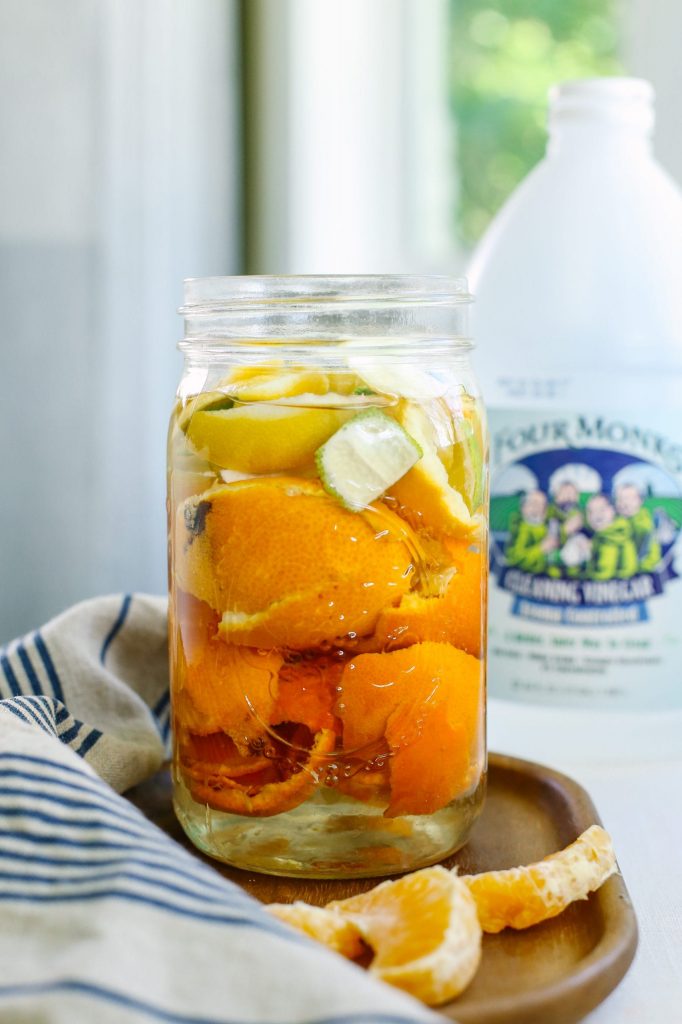 What exactly is Citrus-Infused All-Purpose Cleaner?
I'm glad you asked!
This cleaner is made with just a few basic household ingredients: white vinegar, leftover citrus peels (grapefruit, lemon, orange, or lime peels work great), a cinnamon stick, and cloves. The citrus and spices are infused in the vinegar for two weeks, and then strained. After a two week infusion, the final result is a beautiful, natural orange-colored cleaner with a scent of citrus and warm spices. This cleaner is considered a "concentrate" since it's not used as-is for cleaning. The concentrate can be added to just about any homemade cleaner recipe calling for vinegar. And since this recipe is concentrated, and it's basically made with just (clean) kitchen "scraps," this recipe is both a multi-use product and money-saver.
I particularly enjoy using this concentrate in my kitchen since the citrus and spices offer a clean scent to an area that can be a breeding ground for multiple odors.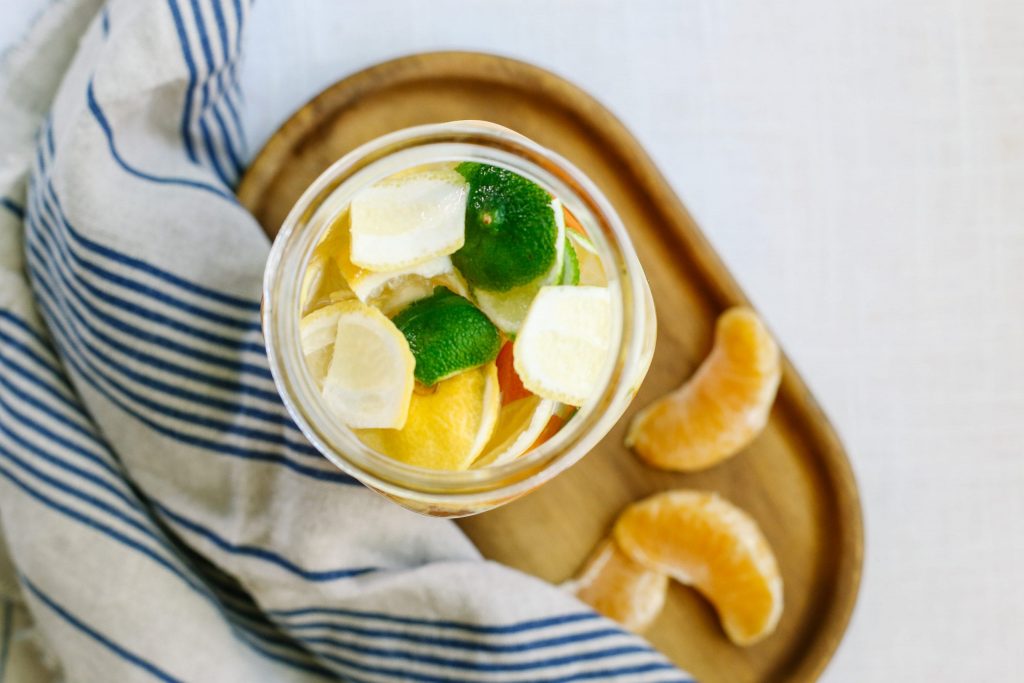 Let's get started!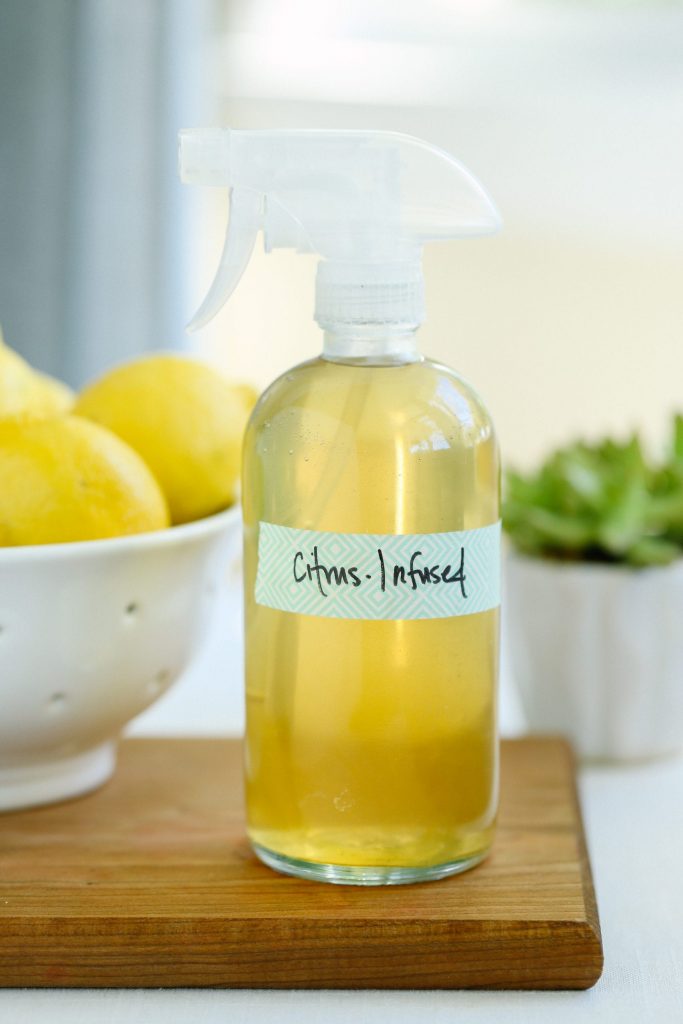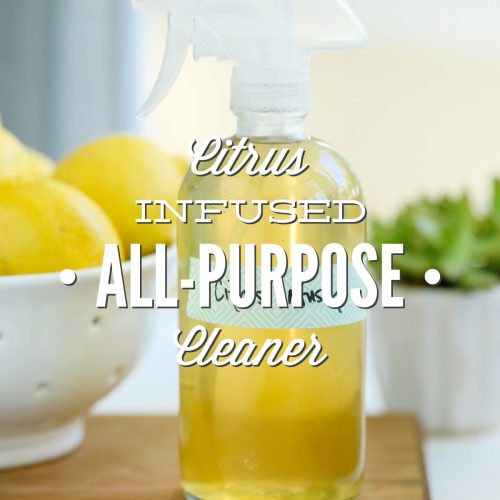 Citrus-Infused All-Purpose Cleaner
How to make an antibacterial all-purpose cleaner spray made with citrus-infused vinegar.
Ingredients
8-12

clean citrus peels

depending on the size of the peels: lemon, lime, grapefruit, and/or orange peels (enough to fill the jar)

1

cinnamon stick

optional, but highly recommended

10

whole cloves

optional, but highly recommended

2

cups

white vinegar

enough to cover the peels/spices and fill the jar
Instructions
Add the citrus peels and spices to a quart-size glass storage container. There should be enough peels to fill the jar. Pour the vinegar over the peels and spices. The vinegar needs to rest, preferably in an area with lots of sunlight, for 2 weeks. Gently shake the container every few days to stir the ingredients. I've found that vinegar will slightly rust metal lids, so I use a heavy towel and rubber-band over my storage jar, or a

Weck jar

with a glass lid.

After 2 weeks, strain the citrus and spices from the liquid. Pour the infused vinegar into a clean storage container and store at room temperature.

To make an all-purpose cleaner, use the vinegar at full strength or add 1 cup of water and 1 cup of orange peel vinegar to a 16-ounce glass spray bottle (my favorite bottles), and shake the bottle to combine the ingredients.  Use on counter-tops, the sink, cutting boards, the tub, a shower, the garbage can, or inside the fridge. Always wipe the surface with a clean, damp cloth. Caution: Never use vinegar (which is acidic) on granite or marble surfaces.
Nutrition
Calories:
7
kcal
Carbohydrates:
2
g
Sodium:
2
mg
Fiber:
1
g
Calcium:
24
mg
Iron:
0.3
mg