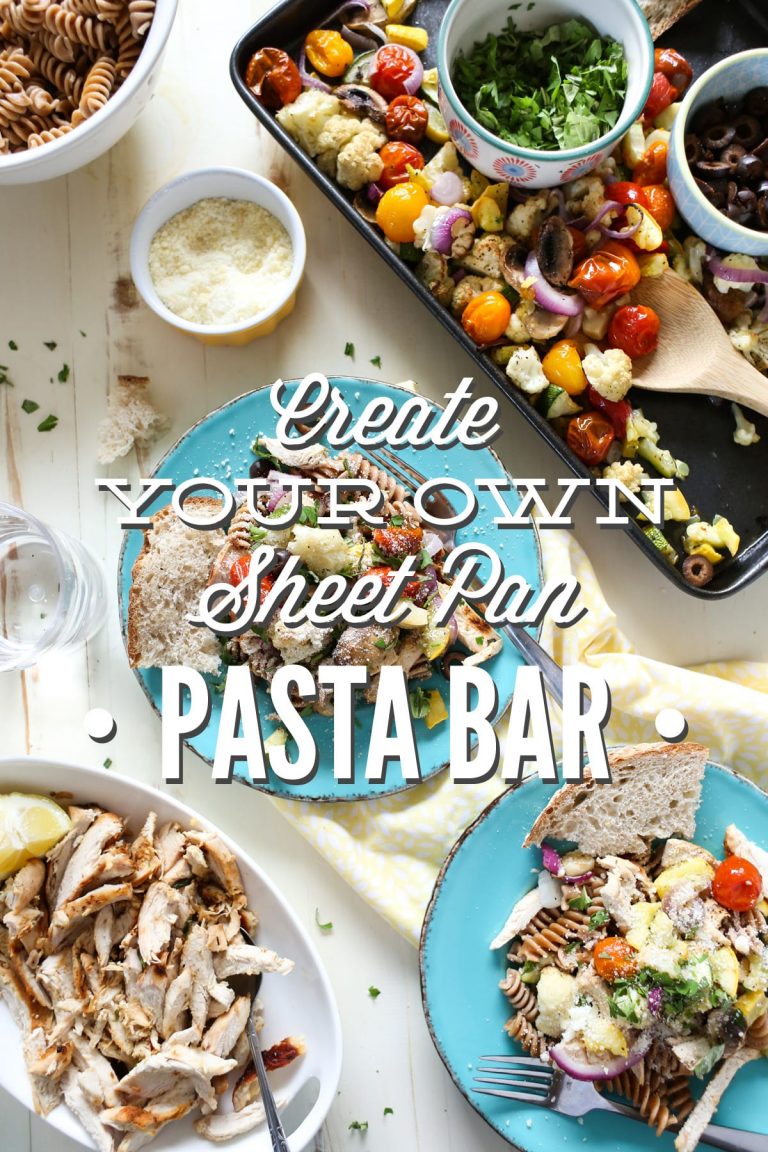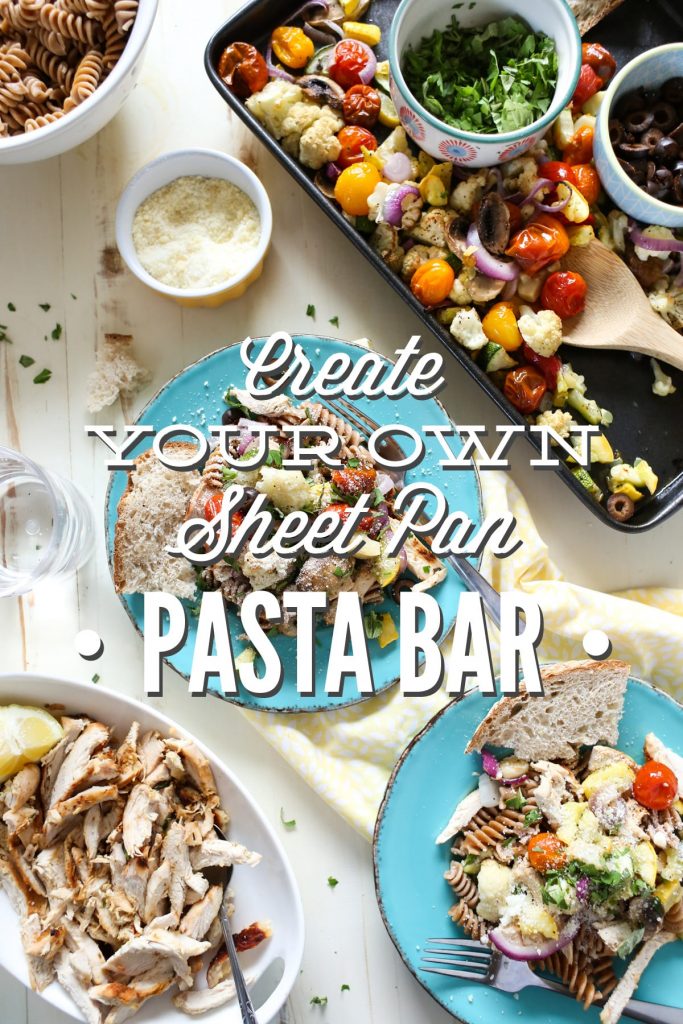 I promise our weekly time together won't be filled with constant kitchen remodel talk, but…
My life is currently filled with saws, boxes, cabinets and drywall. It's a bit hard to think about anything else at the moment.
Before the first wall ever came down, I pictured a kitchen remodel project to be a bit more "clean" and quick. Denial, anyone? Who me? No way. We're approaching our third week of kitchen remodeling, and the dust and constant traffic of workers coming in and out are kind of getting to me. Honestly, the whole process is really stressing me out.
My brain must be a very organized place, and in order to fully function, the same order is needed in my physical environment. This is probably the reason I "brain-dump" at night and label my fridge. I thrive on the existence of Target's organization/box aisle and the creation of The Container Store. Heaven on Earth! I'm now convinced that kitchen remodels, at least the messy phase (there will be a clean phase, right?) aren't a very good fit for container-store-loving people like myself.
Of course, every "problem" needs a solution.
My solution?
A bar.
Woah, woah. Not that kind of bar. Oh no, this kind of bar is so much better.
One of my favorite nights on my regular meal rotation is called "Bar Night." No worries–no bars are actually involved. "Bar Night" simply means I create a favorite meal, but skip the last step, the actual assembly of the food. For example: A potato bar starts with baked potatoes and lots of toppings. Instead of the cook (that's me!) creating leaning towers of potatoes for each person, the ingredients are laid out on our dinner table and each family member works to create a potato to their liking. I know, mind-blown.
Over the years, we've created many versions of "Bar Night," from a potatoes to wraps. As long as a meal includes multiple options, a "bar style" is possible.
A pasta bar is one of my family's favorite summertime meals. While a pasta bar requires a few steps, the bulk of the work is taken care of with one roasting pan, which is covered in a bounty of summer veggies. Chicken is cooked and shredded, and pasta toppings are placed in individual bowls. The final result is a pasta bar spread with summer's bounty, a happy family, and a bowl of steamy noodles… and cheese!
See, I told you this bar was so much better–family participation, cheese, pasta and veggies!
With a kitchen remodel taking over my organized space (both mentally and psychically), we've been enjoying multiple bar nights. The good news is you don't need to be in the middle of a kitchen remodel to recreate a summer pasta bar. In fact, you don't need any excuse to load your dinner table with pasta, cheese, and fresh summer veggies. Just keep it organized, please!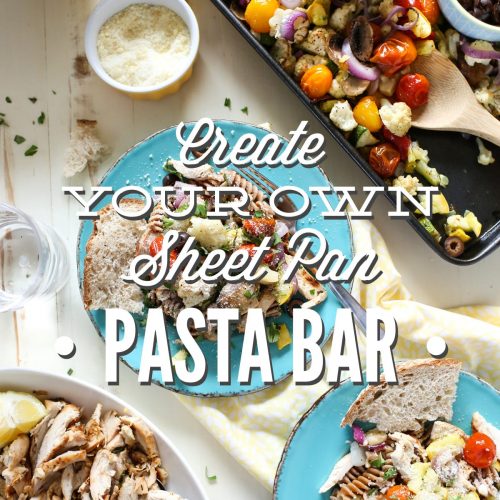 Create Your Own Sheet Pan Pasta Bar
A pasta bar is one of my family's favorite summertime meals. While a pasta bar requires a few steps, the bulk of the work is taken care of with one roasting pan, which is covered in a bounty of summer veggies.

Ingredients
Roasted Veggies:
2

cups

squash

zucchini and/or yellow squash

1

small

cauliflower

chopped

2

cups

grape tomatoes

or cherry tomatoes

1

cup

white mushrooms

or cremini, or portobello mushrooms, sliced

1

cloves

head of garlic

separated and peeled (an entire head!)

1/2

medium

red onion

sliced (about 1/2 cup)

2

TB

extra virgin olive oil

1/2

tsp

salt

1/8

tsp

black pepper
Chicken*:
2-3

chicken breasts

boneless speeds up the process

1/4

cup

extra virgin olive oil

1/2

lemon

juiced

1

tsp

oregano

1/2

tsp

onion powder

1/2

tsp

garlic powder

1/2

tsp

salt
Extras:
1/2

cup

sliced black olives

1/2

cup

chopped fresh herbs

basil, dill, parsley, mint, rosemary, thyme - or an assortment

1/2

cup

grated parmesan cheese
Instructions
In a large bag or shallow baking pan, whisk together the chicken marinade: olive oil, lemon juice, oregano, onion and garlic powder, and salt. Place the chicken in the marinade and toss to evenly coat. Allow the chicken to marinate for at least 30 minutes, or up to 24 hours in advance.

Preheat the oven to 425F.

In a medium skillet, over medium-high heat, brown the chicken on each side for 5 minutes (discard the marinade). Place the chicken (in the skillet) in the oven and cook for 25-30 minutes, depending on the size of the chicken breasts, until no longer pink in the center.

Spread the veggies across a large sheet pan. Toss the veggies with olive oil, salt and pepper. Cook the veggies until soft and tender, about 35 minutes.

While the veggies and chicken cook, boil the pasta according to the directions on the package, and prepare the "extras" in small bowls.
Notes
To Serve: Shred the chicken with two forks or cut into small strips. Lay out the chicken, veggies, pasta, and toppings buffet style. Encourage family/guests to build their own pasta salad.
Find my favorite kitchen essentials, here.
Nutrition
Calories:
519
kcal
Carbohydrates:
54
g
Protein:
29
g
Fat:
20
g
Saturated Fat:
4
g
Cholesterol:
55
mg
Sodium:
800
mg
Potassium:
892
mg
Fiber:
5
g
Sugar:
5
g
Vitamin A:
5515
IU
Vitamin C:
44.1
mg
Calcium:
156
mg
Iron:
2
mg
*A whole roasted chicken may be substituted for the shredded chicken breasts, if desired. Follow this cooking method.
More Real Food You May Like: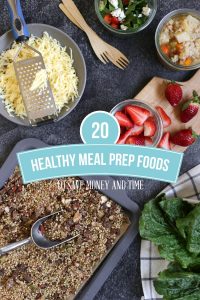 20 Healthy Meal Prep Foods to Save Money and Time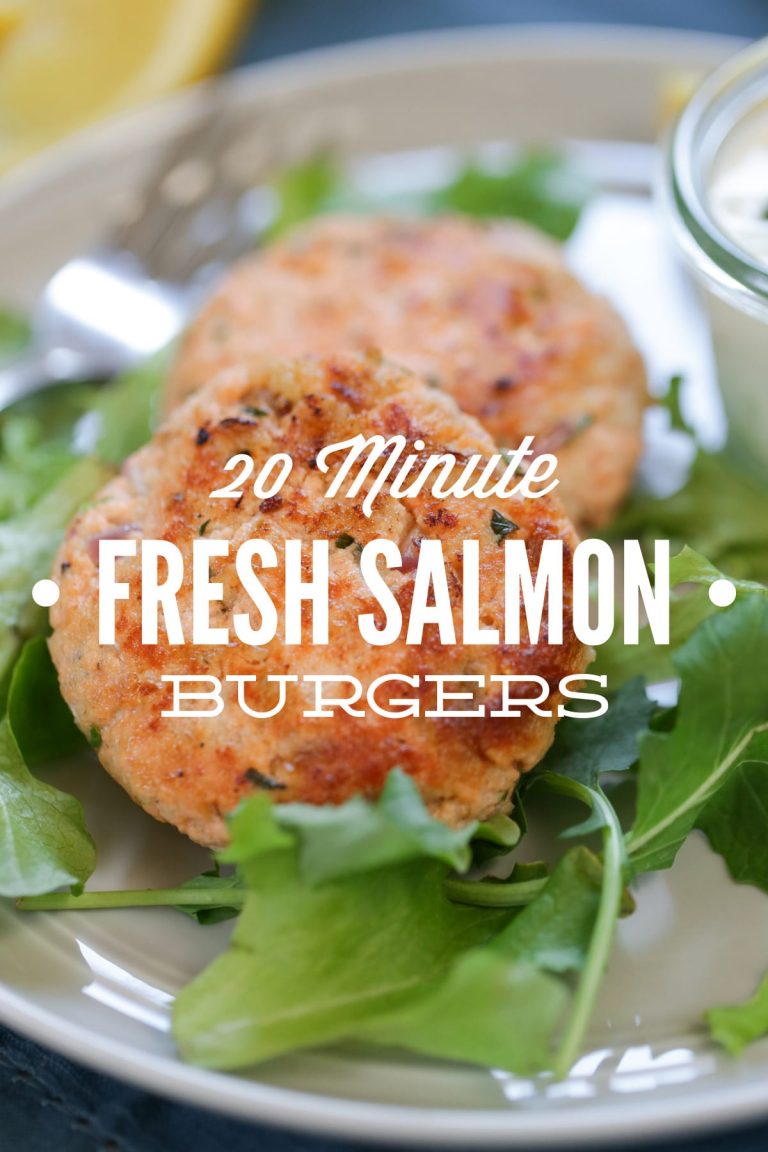 20-Minute Fresh Salmon Burgers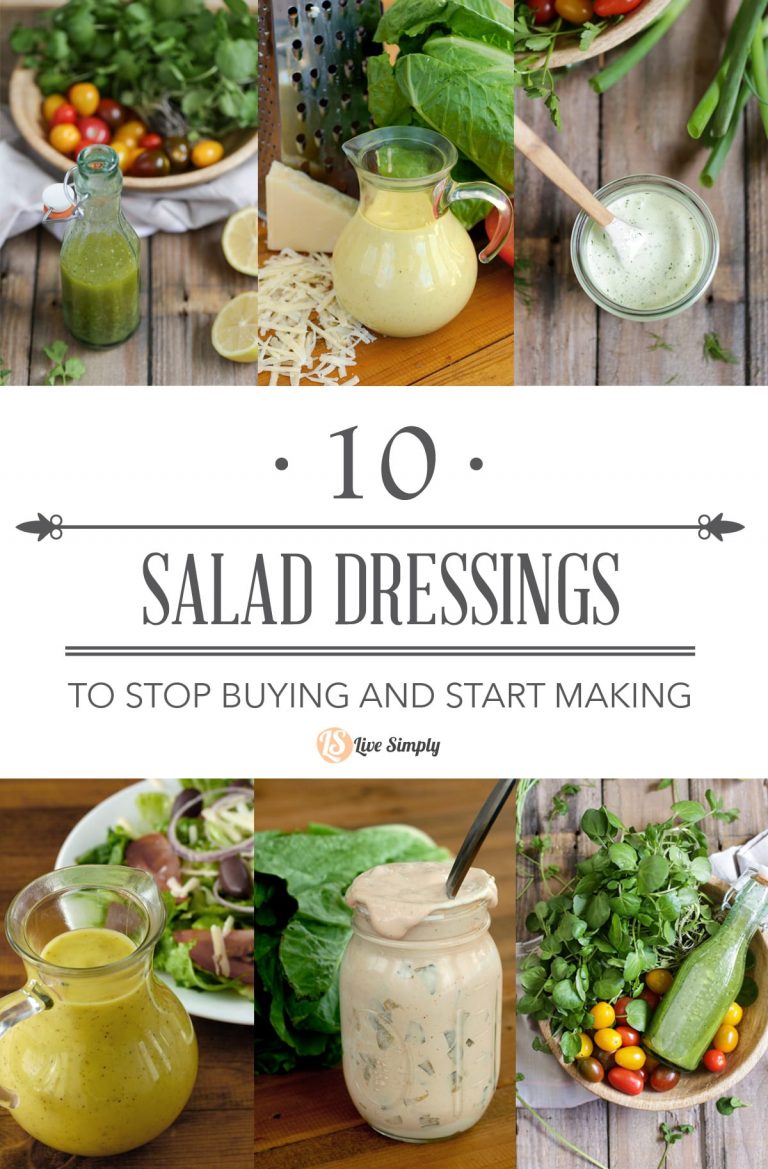 10 Salad Dressings to Stop Buying and Start Making