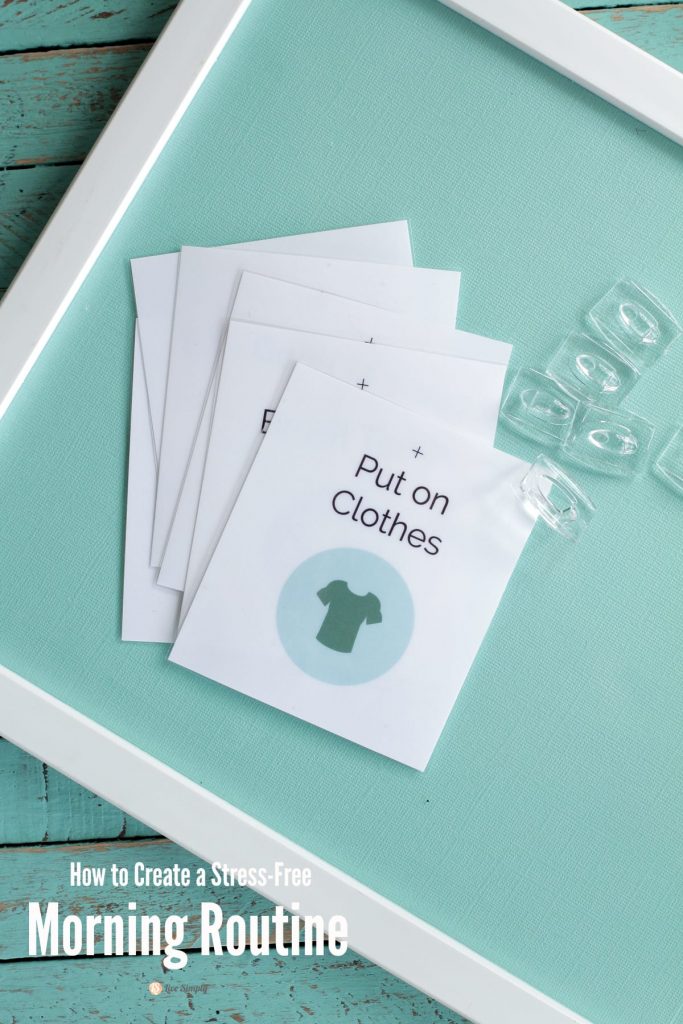 Set down the latte and homemade hand soap, it's time to talk about creating a practical routine (also known as a simple schedule).
Oh don't worry, we won't need to break out the black leather day-planner or the red pen. Schedules are designed to motivate, inspire, and give us that little kick to get going. And truthfully, without a good schedule in place it's hard to get "everything" done, or at least the essentials. Keep the day-planner on your desk, we're going get creative and organized!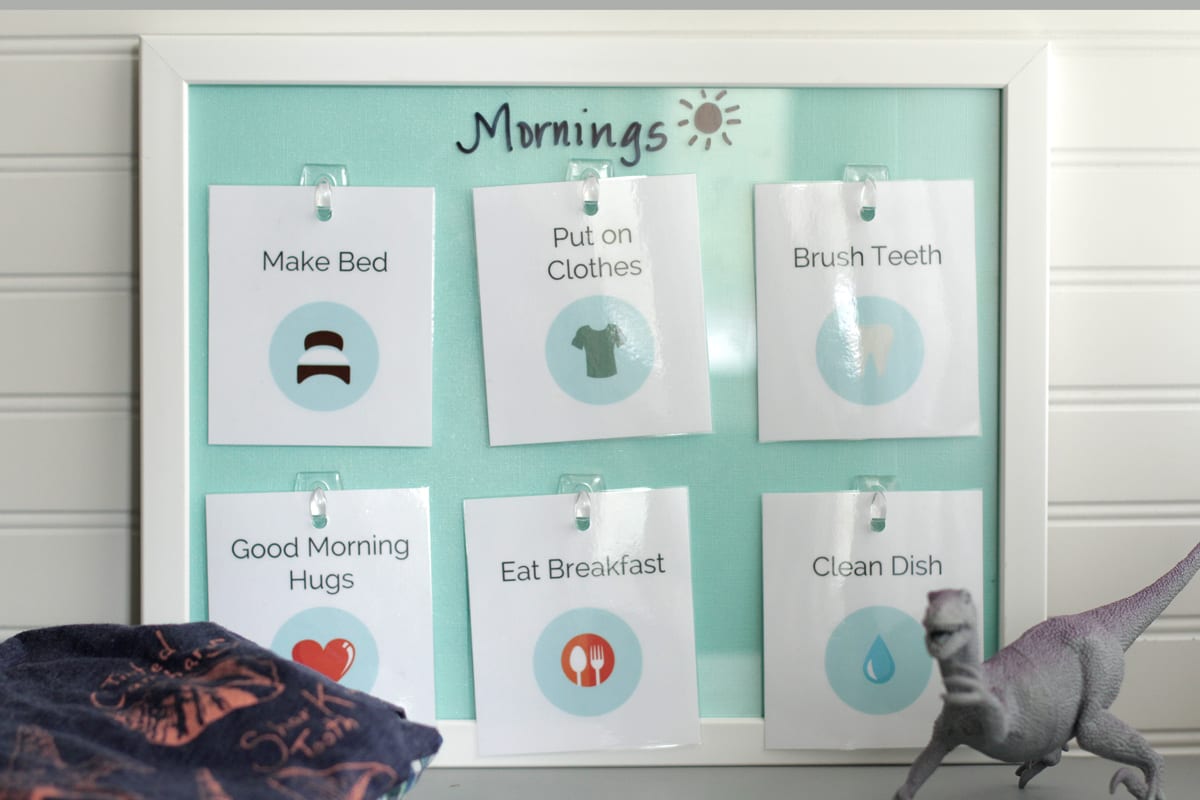 I'm a schedule kind of person. If I have a schedule in front of me, dictating exactly how to spend my day or what to cook (no wonder I'm a meal plan junkie), then my days are productive. Well, except the laundry. I'm still looking for the magical motivator for that beast of a task. I'll let you know when I find it.
With a written schedule (daily routine), life flows beautifully–simple and organized. Without a schedule, nothing but Pumpkin Spice Lattes and Downton Abbey occur in my 12 hours of daylight. There's nothing wrong with classic drama and a good (okay, uh-amazing) cup of joe, but I also have tasks which must be accomplished to keep my family healthy, clean, and fed.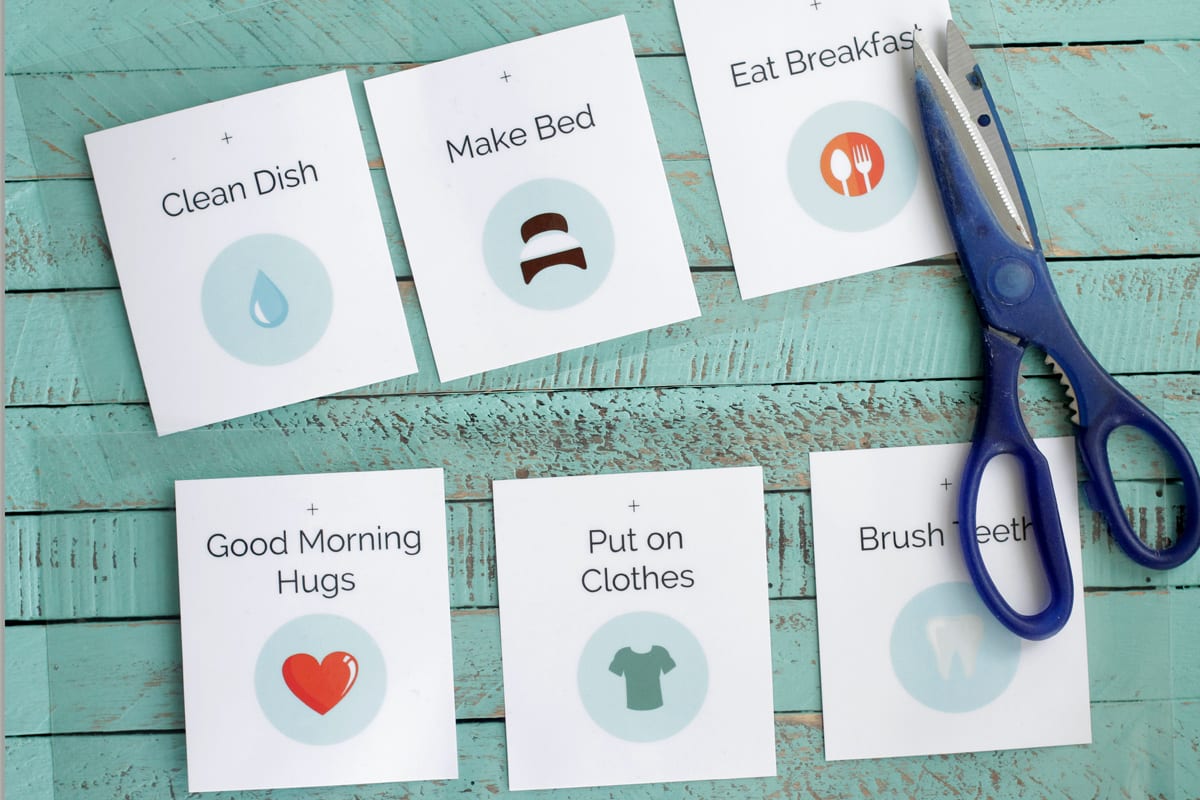 I wake extra early in the morning to accomplish my chores, starting with the garden, then the chickens, and finally ending my morning with a hearty breakfast and a chance to chat with to you. Clockwork!
Once the kids are awake, my morning goes from running seamlessly to pure crazy. My two year-old wants food immediately, while my four year-old wants to start his morning in solitude with a PBS show (introvert?). Suddenly I feel pulled in every direction and my mind can't work, "What should we do first? How am I going to get these children ready for the day?"
Without a plan I simply can't think and soon 8am turns into 11am, and I stand looking in the fridge with my meal plan wondering how I'll ever get dinner on the table and still run errands and find time to play, clean, and sip that latte.
Depressing, right? Or maybe it's just what we call the blessings of motherhood?
After creating a simple morning routine the early hours are cheery again and run like clockwork . Sure, we still have mornings that stretch on until 11am, but we have a plan in place. The kids and I know what must be done before starting our day and enjoying the beauty of life together.
How to Create a Stress-Free Morning Routine: 
1. Brainstorm: On a quiet evening, after the kids went to bed, I sat down and brainstormed a few tasks which I wanted to accomplish in the morning. Here's what I came up with: make the beds, get dressed, brush teeth, morning hugs, eat breakfast, and clean the dishes. To break down the tasks in a kid-friendly way, I created a card for each task. A simple, doable, and fun approach to completing the morning necessities.
2. Family PowWow: I called a short (like five minutes short) meeting with the family. Dustin and I shared each routine card with the kids and talked about each task. We talked about why each task was important.
3. Test Run: I created a board for the cards with hooks, so each card could easily flip over once the task is completed. For one week the kids and I practiced each task.
I showed Piper exactly how to find his clothes (stored in kid-friendly baskets at his level) and how to put homemade toothpaste on his toothbrush. Londyn (two) will need my help completing each task for some time, but she's also enjoying the beauty of a schedule and knowing exactly what to do when she wakes up.
Today I'm sharing my morning routine cards with you, because I know I can't be alone in my desire for mornings to flow in a more organized fashion. These cards are designed for toddlers and preschoolers and can be printed on card stock or laminated for everyday use. I'm excited for you to create your own morning routine. I'll be sharing our evening routine with printable cards next week.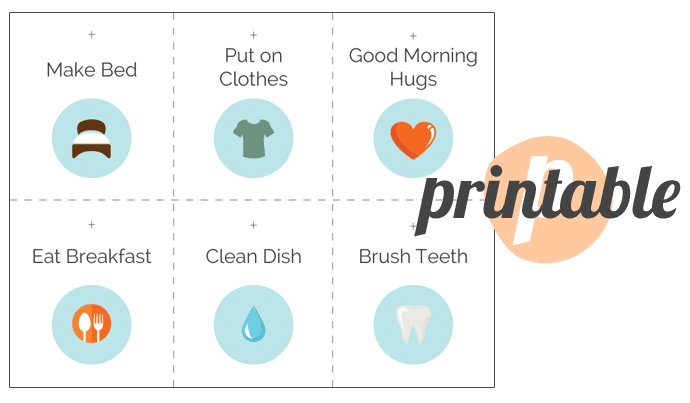 Ingredients
Morning Routine Cards (printable)
picture frame
scrap book or construction paper (for the picture frame background)
command hooks (where to buy)
Instructions
Print the morning cards on card stock or printer paper. Laminate if desired. Punch a whole in each card.
Place the scrap book paper in the picture frame. Secure the paper in the frame.
Peel and stick the hooks on the glass of the frame.
Place one card on each hook.
After your child completes each task, ask him/her to flip the card as a sign that the task has been completed.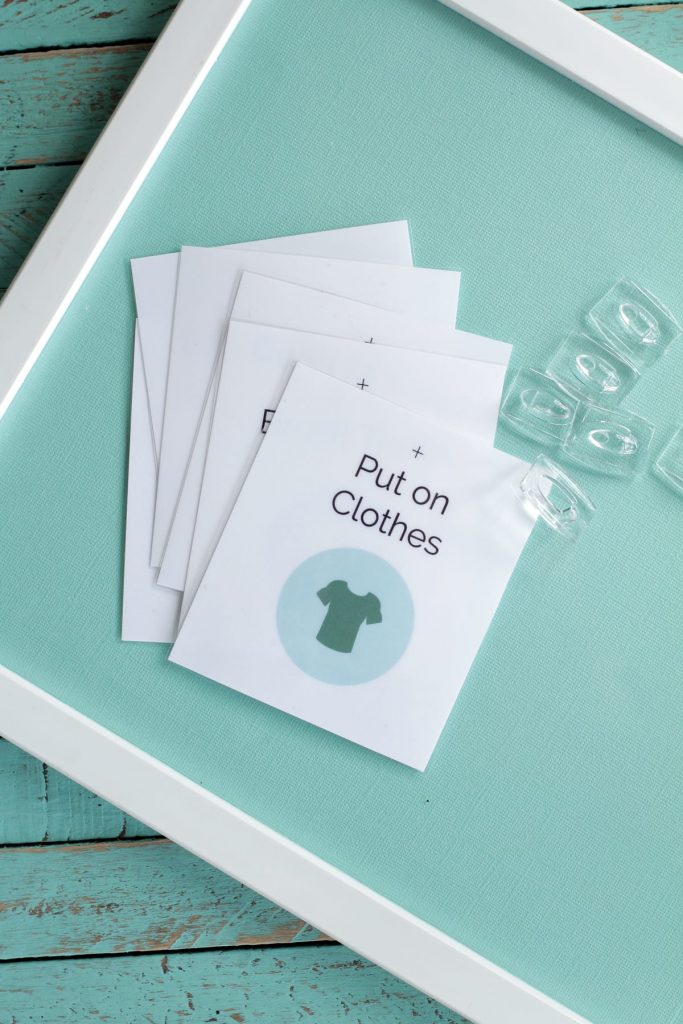 If you're interested in developing more routine in your life, I've written a 128 page book walking you the nitty gritty of how to plan, prepare, and eat real food. This book not only teaches you how to develop a schedule (routine) by planning and preparing meals, but also includes over 20 beautiful printables. You can learn more here.
More Planning Tips You May Like:
 Planting a Real Food Garden & Planning Printable
 Healthy Lunch-Packing Tips & Printable