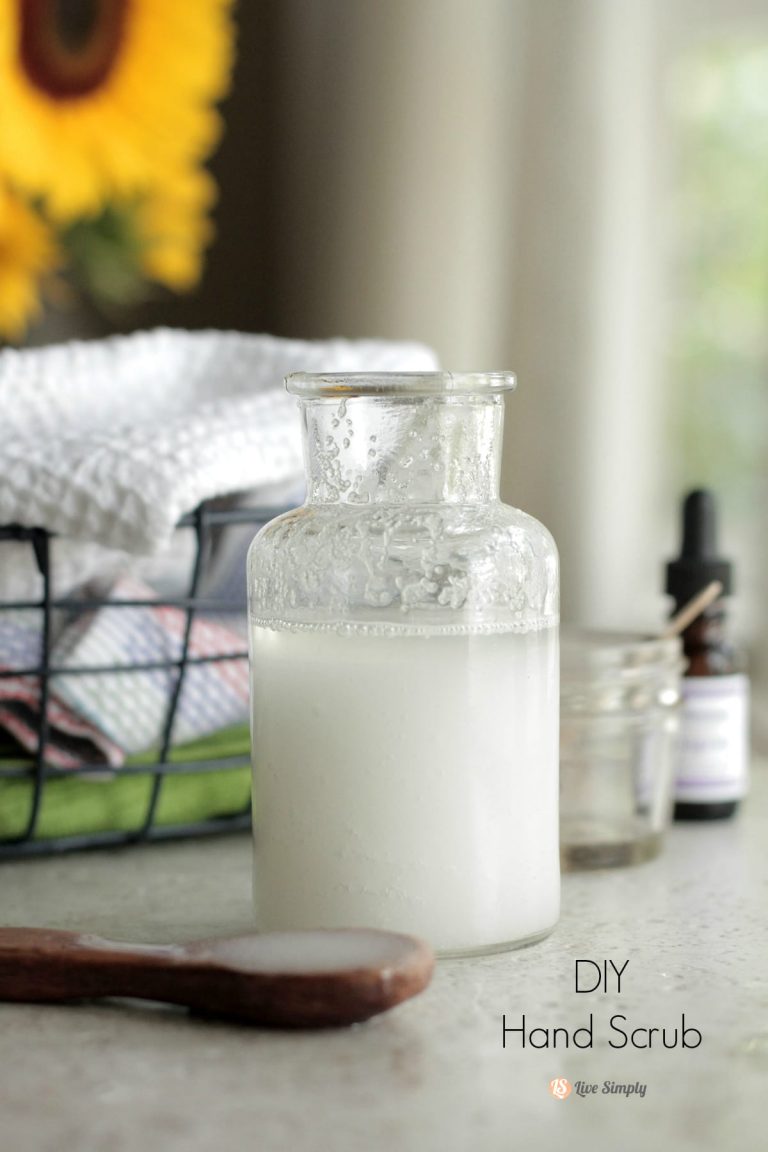 I've never been much of a "dirty" person. In fact, I much prefer living in the city… the lack of dirt and abundance of Target stores sells me on the need for city life.
Lately, I've felt a rustling, a changing at my very roots. I blame the flock of nine hens roaming my city backyard. Those egg-layers are slowly turning my heart from "I need paved roads and a Target shopping trip" to "Give me the country and maybe a cow." Crazy, I know!  My longing for land, a large garden (despite my black thumb), chickens, and even a cow has awakened. Dustin's not fully there, yet. I'll give him some time.
Of course, every good country gal (or wanna-be) needs a garden…rows of fresh veggies, an orchard, and window sills lined with herbs. Each season I set out to build such a garden (minus the orchard).
Our garden consists of a thirty-foot-long raised bed, packed with life-giving dirt. It's the perfect garden size for a city dweller. Over the past couple of years it's enjoyed a fair share of success and failure. Really, if I'm honest, much more failure than success. I've learned gardening is all about: planning, strategy, patience, and diligence. It's much more than just planting a seed and reaping an edible harvest.
Three years into gardening and I'm finally starting to master the art of growing a few veggies and herbs. I'm enjoying the warmer weather and a bit of dirt under my nails (it's the chickens' fault). My focus this season is tomatoes. With the anticipation of summer, I planted five tomato plants late in March (planning and strategy). They are just starting to produce the juiciest tomatoes you've ever tasted.
Who needs Target when you have tomatoes and chickens?
Between gardening and outdoor summer activities, my hands suffer lots of punishment. A price I'm willing to pay for juicy, home-grown goodness.
This hand scrub was created after receiving a jar of coconut oil and salt hand scrub for Mother's Day (thank you, grandma).  After just one scrubbing I was hooked. My clean and moisturized hands longed to be scrubbed one more time. Since I'm always thinking of you, my dear friend, I decided to recreate that luxurious scrub and share. Scrubs for everyone!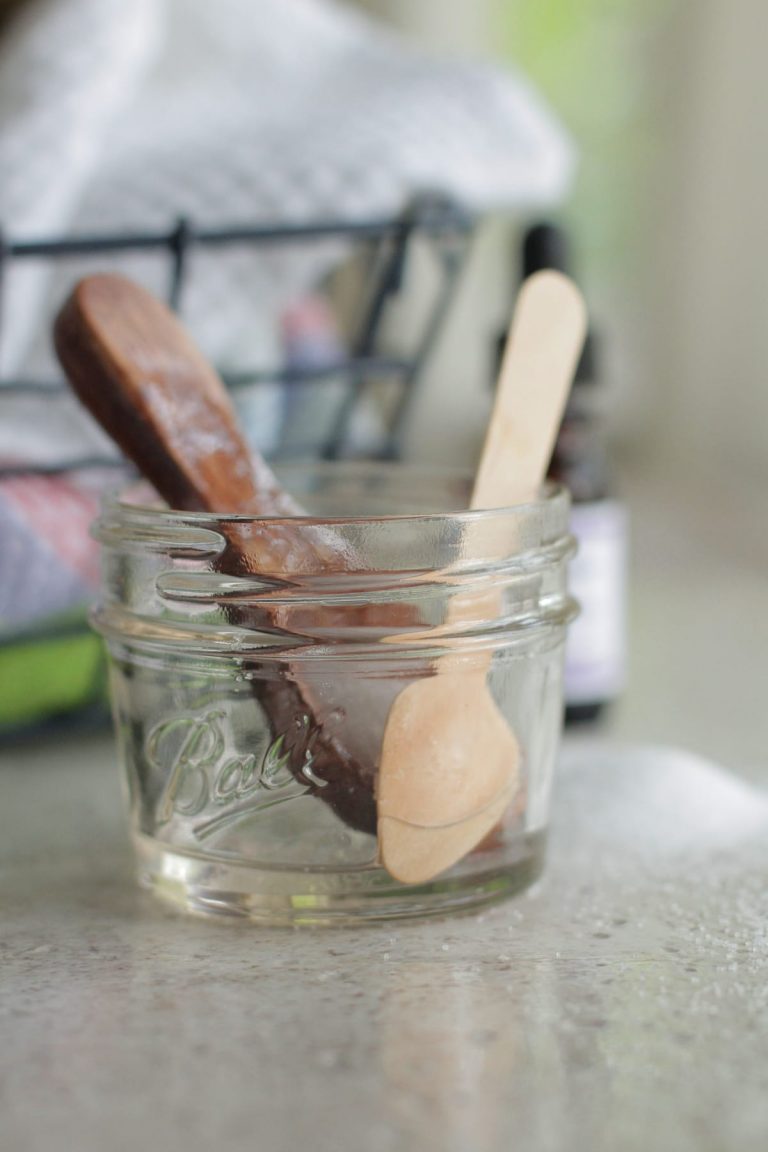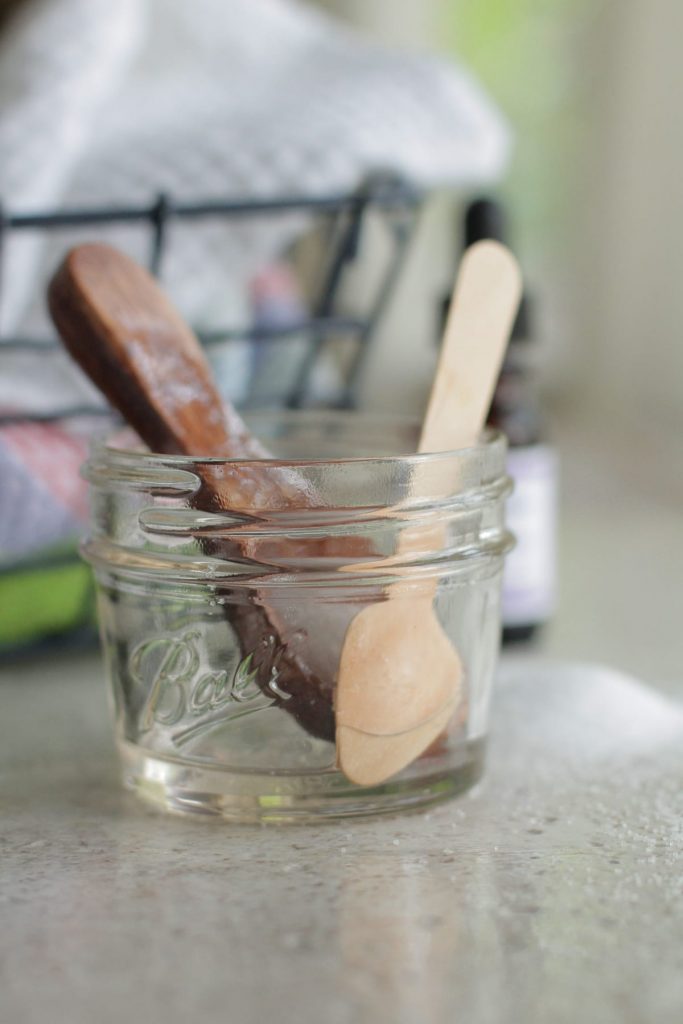 Today, I bring you my new favorite hand scrub (perfect for a wanna-be gardener's hands) made with just three simple ingredients for the ultimate pampering experience: coconut oil, sea salt, and lemon grass essential oil. The coconut oil hydrates overworked hands while the salt softens and vanishes dead skin cells. The lemongrass is a personal preference due to its sweet scent.
Here's to getting dirty, knowing a sweet pampering experience is just a scrub-a-dub away.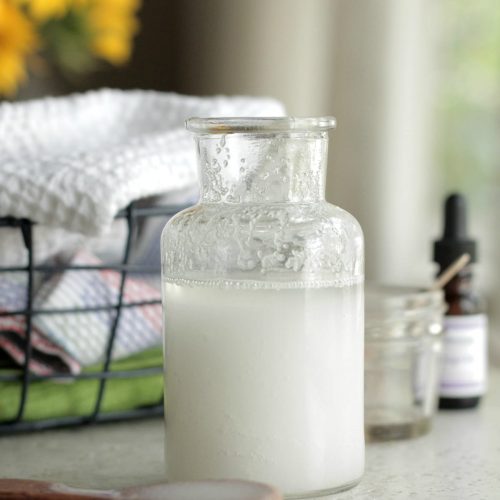 DIY Hand Scrub
The coconut oil hydrates overworked hands while the salt softens and vanishes dead skin cells. The lemongrass is a personal preference due to its sweet scent, but also works as a bactericidal (AKA: bad-to-the-bone bacteria killer).
Instructions
Melt the coconut oil.

In a storage jar (I use a

glass mason jar

), add the sea salt. Pour the coconut oil and lemongrass over the salt. Mix together with a spoon.

To use: scoop a small amount with a spoon or your fingers. Rub all over hands (and/or body). Rinse with warm water. Do not use this scrub on the face or neck, only the body.
Notes
*Coconut Oil Note: If you live in a cold climate, where plumbing pipes get cold, I recommend using either olive oil, grapessed oil, or fractionated coconut oil. The problem with coconut oil is that it returns to a solid state when cold, so this can cause issues if your home gets cold or there is coconut oil sludge in your pipes.