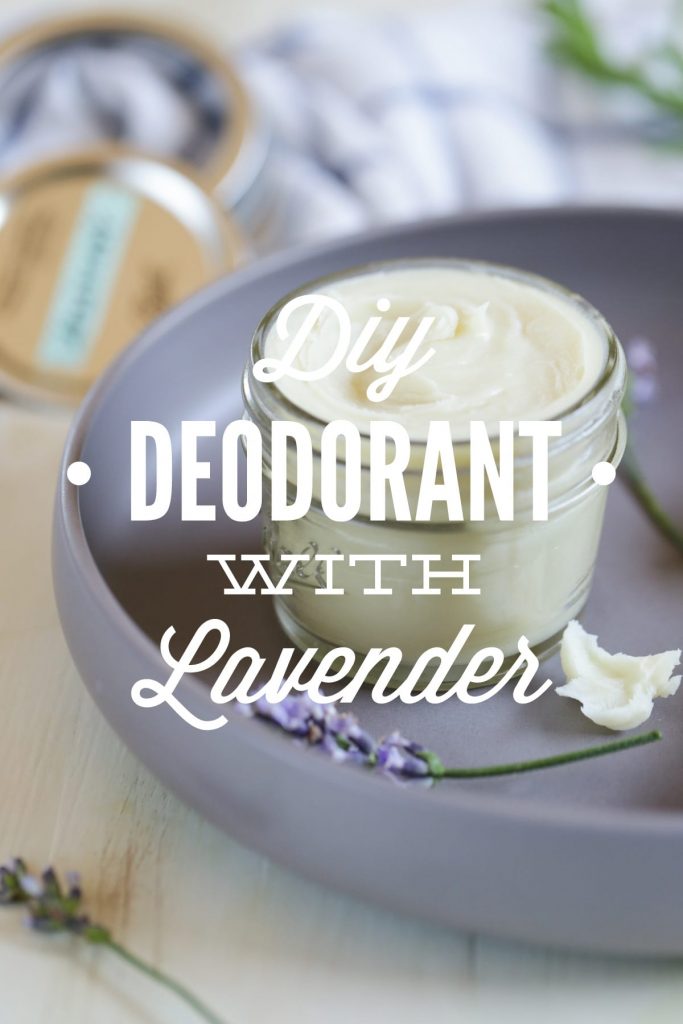 True friends care about the way you smell, which is why I'm writing today– I care about you! 
For many years, I was hesitant to stray away from commercial deodorant (think: Dove and Secret). My hesitation was rooted in two main issues: my physical address and a deep commitment to avoid body odor at all costs. When you put the two together–Florida and body odor– the results are far from lovely.
A couple of years ago, as I sat on my living room couch nursing my second child, my new mama alarm sounded. Now, this alarm wasn't of the panic variety. More like a good alarm that triggers great change.
I had known for many years that most commercial deodorants were loaded with less than ideal ingredients, particularly formulas with aluminum, but due to the two factors we talked about earlier, I was hesitant to try alternative choices. My thinking changed as I sat staring into the blue eyes of my nursing baby. I thought about the number of times Londyn nursed a day (too many to count…she was quite the milk drinker) and the deodorant that was applied close to my breasts, and therefore, my nursing babe. Change had to be made!
Research commenced. I knew a natural, effective deodorant must exist, and making my own was definitely out of the question at the moment. After much research, I discovered a brand called Primal Pit Paste.  The ingredients were super clean and the deodorant was produced in Tampa (AKA: a Florida deodorant!). I purchased my first bottle of lavender deodorant and instantly fell in love. For over two years now I've been faithfully purchasing Primal Pit Paste from my local health food store or online.
Since my first natural deodorant purchase, I've learned how to make many (not all, but many) homemade products. After my latest jar of deodorant ran out, I decided to take a look at the ingredient list before tossing the bottle in the trash: shea butter, coconut oil, beeswax, baking soda, arrowroot powder, lavender, vitamin E oil. The "I can do it" spirit burned within my body as I read each ingredient. Because I make lotion, toothpaste, and bake muffins/bread, I already owned every single ingredient needed to make a copycat of my favorite natural deodorant.
The thought of conquering an activity I once deemed impossible was such a huge celebration (once the recipe was perfected) that I couldn't just stop with one jar. Oh no, I created deodorant for family, friends, and neighbors. Yea, don't make your neighbors deodorant; they will think you're crazy!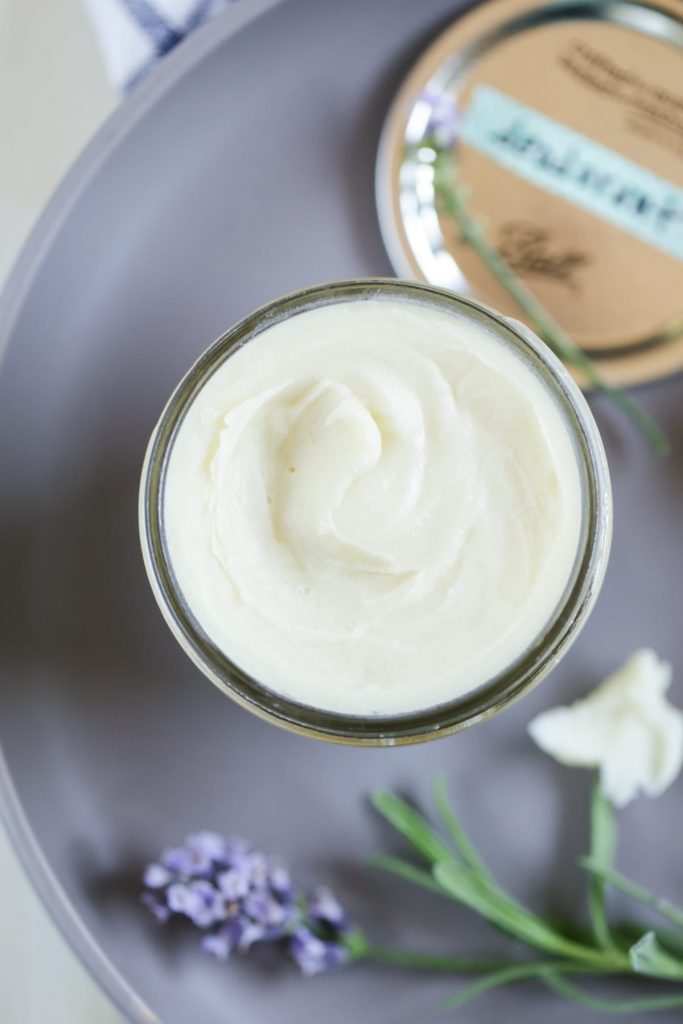 "True friends care about the way you smell, which is why I'm writing today– I care about you!" Drumroll….
And now for the homemade recipe that says, "I want you to smell amazing, naturally. I love you!"
DIY Homemade Deodorant with Lavender
DIY deodorant that makes you smell nice!
Instructions
In a double broiler (or a bowl placed over a pot filled 1/4 way full with water), over medium-high heat, bring the water (underneath the bowl) to a slight boil.

Add the shea butter and coconut oil to the top bowl. Once the shea butter and coconut oil melt, add the the beeswax and stir frequently until all the ingredients are liquid. Remove the bowl from the heat.

Quickly add the baking soda and arrowroot powder/flour. Stir the baking soda and arrowroot into the liquid ingredients. Add the essential oils, stirring to combine all the ingredients.

Pour the deodorant into a

4-ounce Mason jar

. The deodorant will solidify as it cools.
Notes
To Use: Scoop a small amount of deodorant from the jar and apply to your armpits. I avoid using this deodorant after shaving due to the baking soda. I opt to shave at night so I can use my deodorant in the morning.
The "where to buy" links provide links to the actual products I use. As always, I recommend shopping around online and at local stores for the best prices and products you love. Find my favorite DIY ingredients and tools, here.
Adapted from Primal Pit Paste.
Baking Soda Note: I've been using a baking soda deodorant (Primal Pit Paste) for over two years without any issue. My homemade copycat recipe also includes this ingredient. If you're concerned about irritation, replace the baking soda with additional arrowroot powder/flour. I personally need the extra "protection" baking soda provides thanks to my extra sweaty and stinky genes and the Florida heat.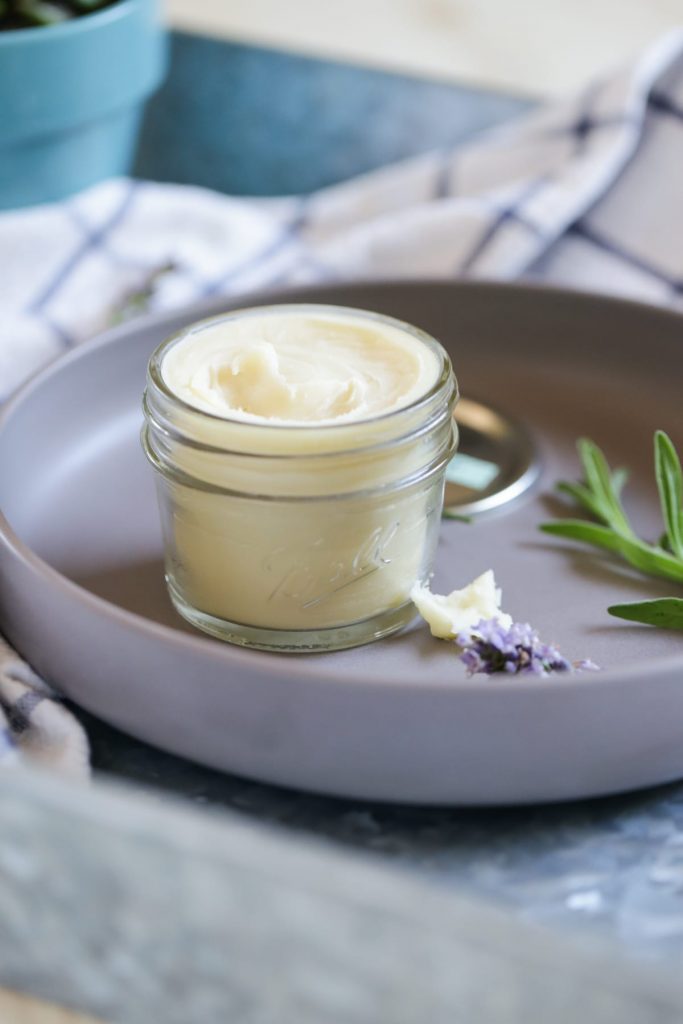 More DIYs You May Like: