This post may contain affiliate links. As an Amazon Associate I earn from qualifying purchases.
This time of year I love to spend some of my precious free time (you know those two minutes every night before crashing in the bed) skimming Pinterest. Oh, how addictive that world can be. Seriously, the moment I open the big world of Pinterest I am immediately sucked in.  The gorgeous photos, the countless crafts, sewing projects, and children's masterpieces. I just get so giddy inside. It's a dangerous, wonderful world. In those compulsive moments of Pinterest I find myself magically forgetting that I can't sew, I can barely work a hot glue gun, and I barely have enough time in the day to quietly use the ladies room, let alone plan millions of super cute DIY crafts and projects.
A few weeks ago I could just feel that fall itch. It's as though September 22nd hits and by pure instinct I want all things fall. I broke out the pumpkin puree, put up the scarecrows, planted the fall garden, and searched high and low for fun fall activities for my two littles.  Of course, I turned to Pinterest for the latter.
I spent all night scouring ideas. I pinned, I liked, I shared. There were lots "ewww" and "awww" moments.  So many cute ideas.  But there was one big issue: multiple step masterpieces just don't work around here. At least not just yet.
Right now, we are in a simple stage of life. Fully embracing simplicity. Not only in food, but life in general, even in the crafty hands-on department.  You know what I've found in all this simplifying? Kids actually dig simplicity. They really do!
A cardboard box? Oh, what a perfect house, mom!
A huge pile of dirt? What a perfect city to build, climb on, and roll trucks through.
Simple wax crayons and paper? What masterpieces can be created!
Children love and embrace simplicity which allows them to explore, create, and imagine. Exactly as young minds and hands should be doing.
After all the searching I decided on playdough. What could be simpler than good old fashioned playdough?  I shudder at the amount of chemicals and dyes in store-bought playdough so I decided to make our own.  Homemade playdough is made with just a few key ingredients and takes just minutes to whip up. The result are amazing. Playdough that's safe for little hands and tummies (just think of the yucky ingredients in the store-bought stuff) that lasts for weeks and can be played with over and over again.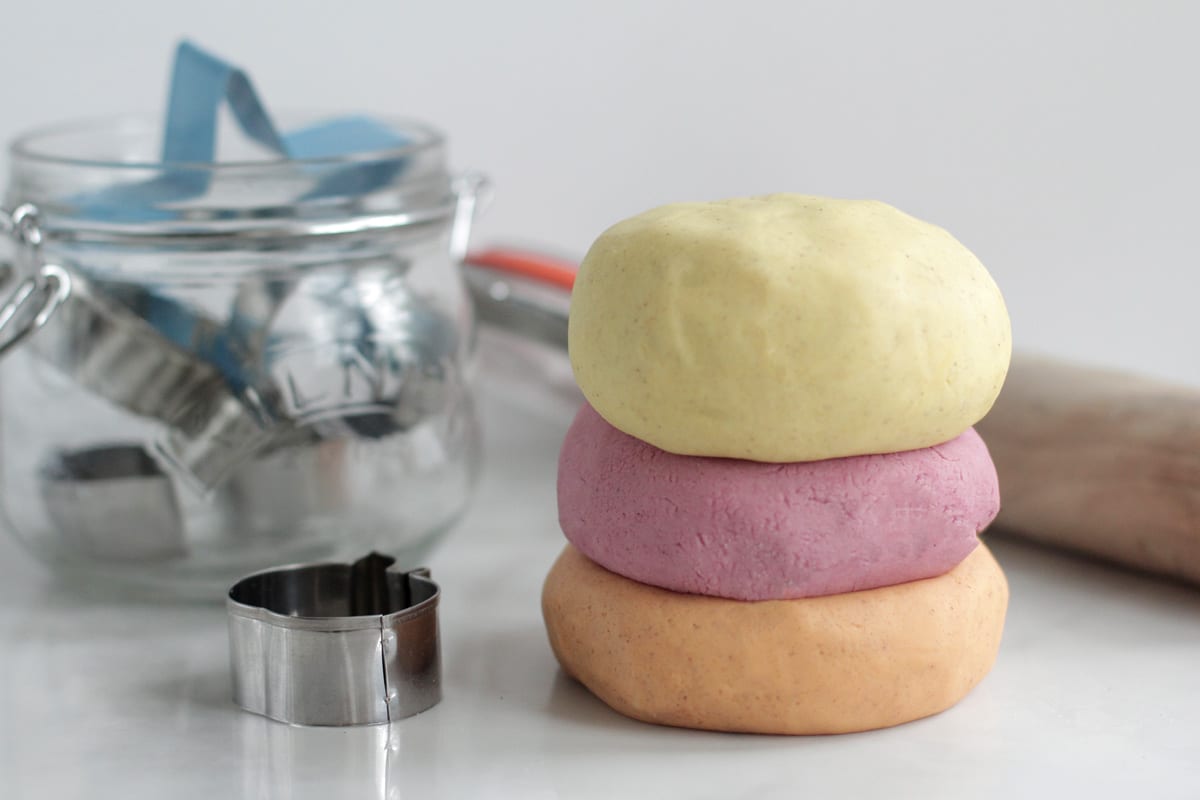 With fall in mind we added pumpkin spice and cinnamon flavor to create the ultimate fall sensory experience. Playdough that delights the senses. To add beauty we used various spices and homemade juices to add the perfect fall color touch. Beautiful shades of natural crisp apple red, pumpkin orange, the changing leaves of yellow and green, and toasty brown.
My children have happily been playing with this naturally-dyed sensory playdough for weeks reminding me that simplicity is often the key to success even with children.

DIY Playdough
My children have happily been playing with this naturally-dyed sensory playdough for weeks reminding me that simplicity is often the key to success even with children.
Ingredients
1 1/2

cups

flour

white, wheat, spelt, your choice!

1/2

cup

salt

1

TB

cream of tartar

1

cup

water

boiling

1

TB

extra virgin olive oil

1

TB

pumpkin pie spice

or cinnamon, optional
Instructions
In a medium-sized mixing bowl, add flour, salt, cream of tartar, and pumpkin pie spice.

Heat 1 cup of water. Add the water to flour mixture. Now, mix! Mix, mix, mix.

Once the dough is firm enough to handle, scoop the dough with your hands and knead until you have a firm playdough.

Divide into three small balls and add the food coloring of choice. Knead the dye into the dough, adding more dye to achieve the color desired.

During play time provide extra pumpkin pie spice or fall spices in small bowls (cinnamon, allspice, ground cloves) for children to sprinkle on their dough and experience fall.
*Check your local natural food store for dyes made from food, such as the brand listed above. If you're using natural spices (or juice) for dye add the spice (or juice) during the mixing of the wet and dry ingredients.
Homemade playdough will last several weeks (if using fresh dye made from juice in your juicer) or months if using store-bought natural dyes.  If your playdough begins to dry out, you can easily revive it by adding oil and kneading. Good as new.