I wasn't sure what to expect. After all, I hadn't been camping in 30 years, so technically I don't even remember my only camping experience. And Dustin hadn't been camping since his pre-teen years. (Wow, just writing that sentence makes me feel like this whole aging thing is happening way too quickly–slow down there, Time!)
When we randomly decided to book a camping site at a local park (an hour away from our home, in the country), seven months ago, we didn't know what to expect when the time came to actually go camping.
Would we survive? I mean, joyfully, happily survive?
Would the kids like camping? Would the weather be nice, or would it rain the entire weekend? 
Over the next few months, we purchased our gear: sleeping bags, a tent to sleep four people comfortably, a cooler, and a little gas cook-top. "Cook-top" is a generous term ;).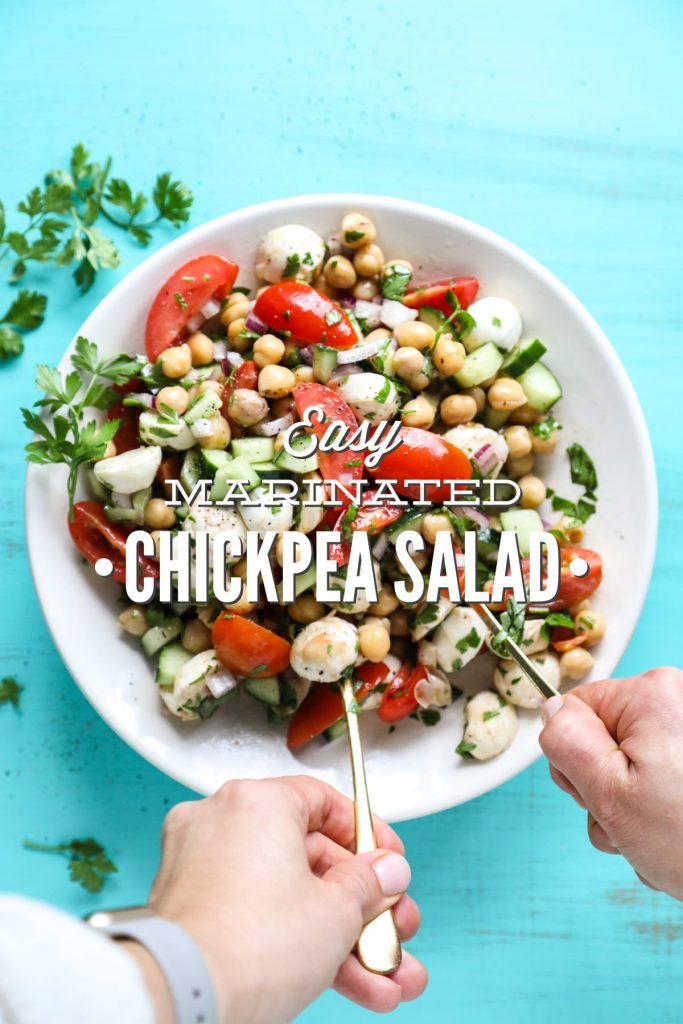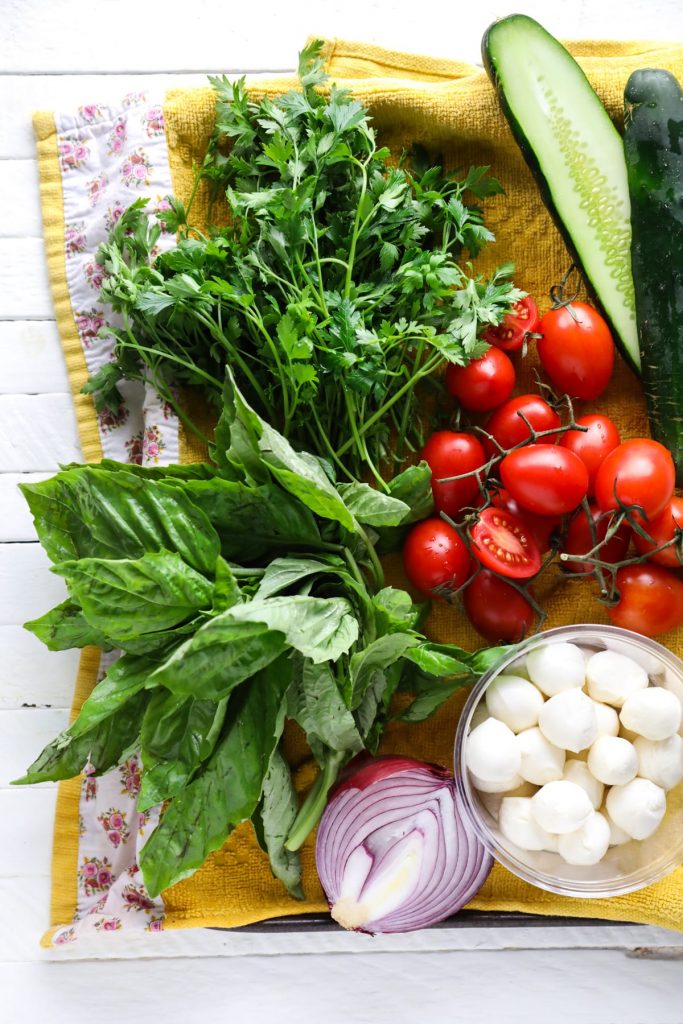 Last weekend, which happened to be the coldest weekend of the year in Florida, we packed our bags full of warm clothes and loaded Dustin's truck with what seemed like the entire Cabela's catalog. And off we went to answer all of our camping questions. Oh the unknowns. The suspense and excitement.
We're now back from our camping trip, so obviously we survived (yay!).
Friend, we did so much more than just survive.
We loved every single minute of our time "roughing it" in the woods. The kids loved spending the cold nights by the carefully constructed fire. We loved the quiet simplicity that came from spending time in the woods, away from the hustle and bustle of city life. We stood in awe of the white-tailed deer that grazed near our campground in the early morning hours, and we took deep breaths–the kind of breaths that may only be taken when you're outside the city–during our afternoon hikes.
What I'm trying to say is that we loved camping! We've decided that camping needs to be an annual Marr family tradition. We should call it, "The Marr's Great Escape from City Life."
I prepped most of our food ahead of time. I didn't want to chop veggies or form hamburger patties, or even whisk eggs, so I decided that prepping as much as possible in advance was the way to go. We packed a large cooler with Applegate hot dogs, berries, cut pineapple and veggies, dips (cashew cheese and hummus), pre-made turkey sandwiches, tuna, pre-formed hamburger patties, and chickpea salad.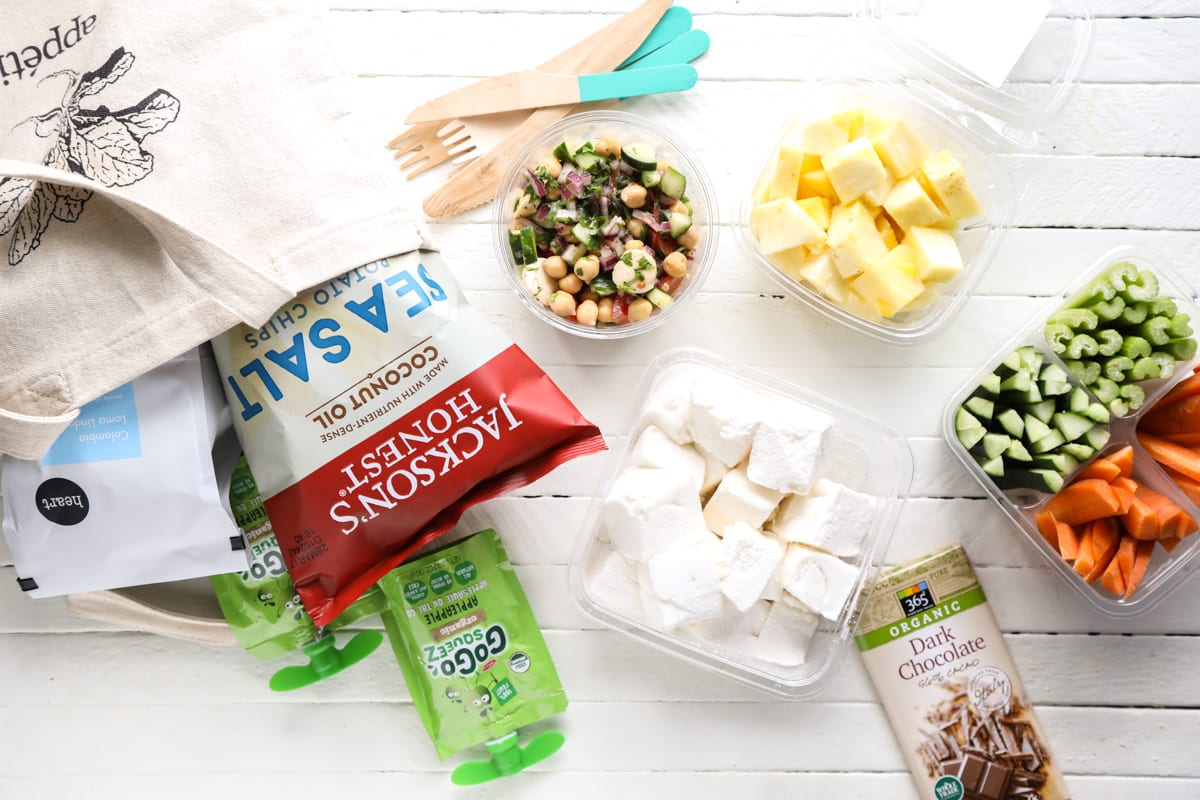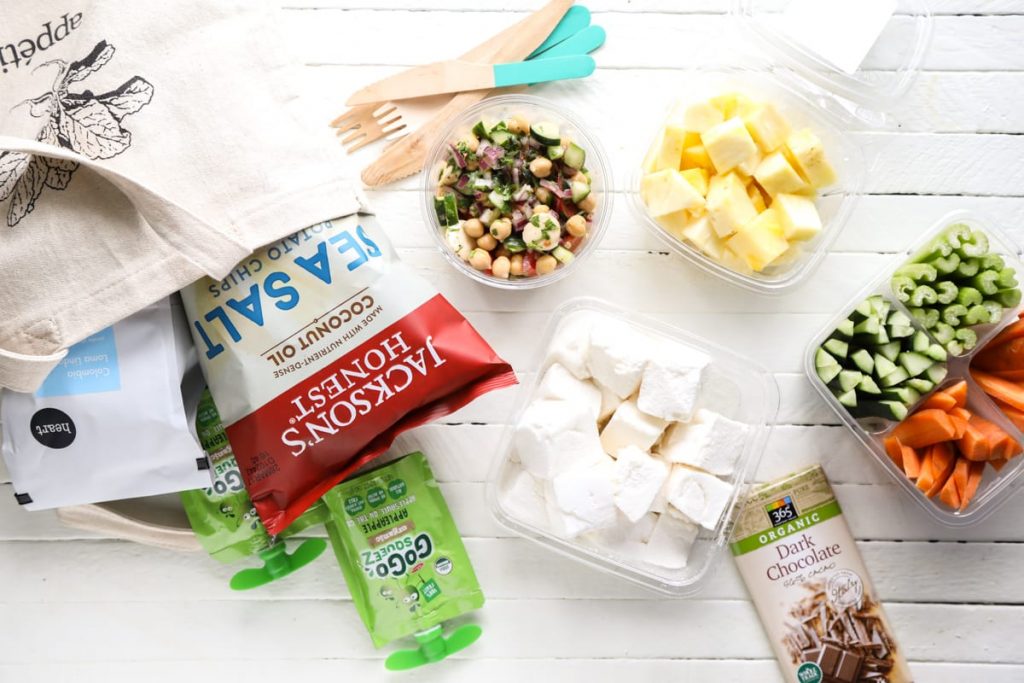 I'm going to share more about our real food-style camping adventure, such as the food we packed and what I learned from this trip (as far as enjoying real food while camping, yet still enjoying the full camping experience) in a future blogpost–similar to this recent vacation post.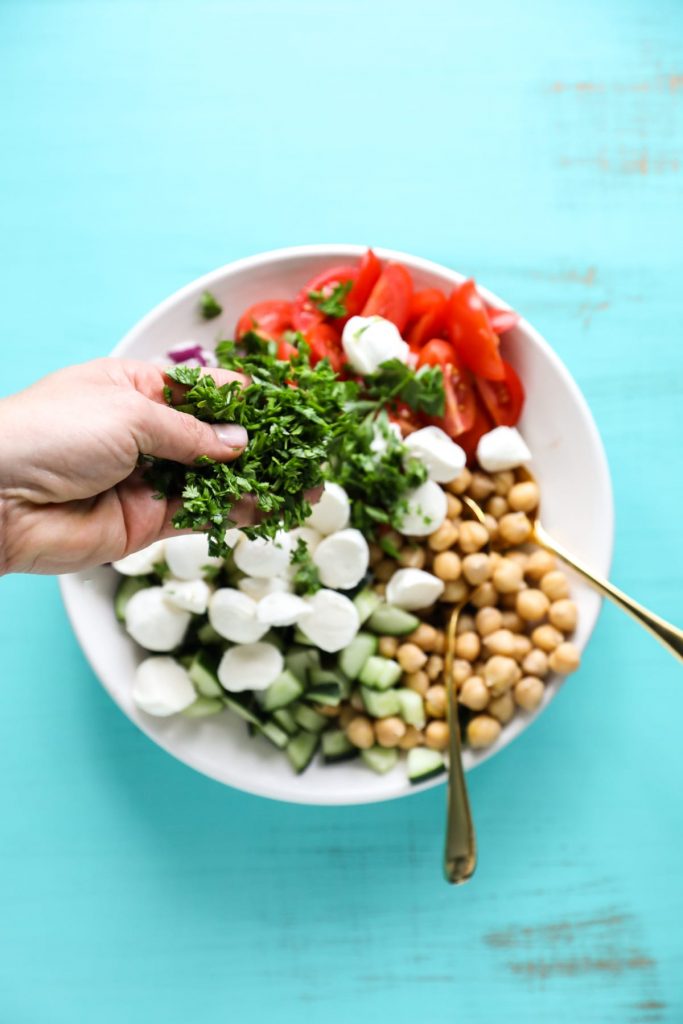 Today, I want to share the chickpea salad that kept us satisfied all weekend long.
I shared this salad, while I was prepping for dinner a couple of weeks ago, via Instagram Story. After sharing that Story, readers messaged me asking for the recipe. Thank you for the push to finally share this salad.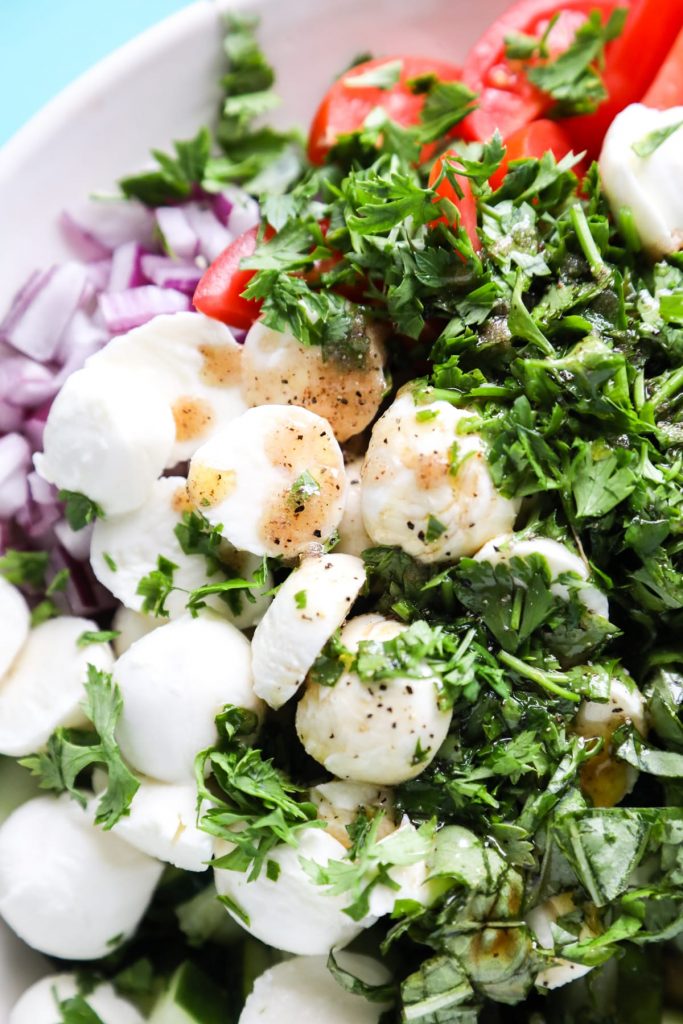 Friend, this no-cook salad only calls for a few simple ingredients: chickpeas, fresh mozzarella, herbs, tomatoes, red onion, cucumbers, EVOO, and vinegar.  And the best part? This salad only gets better with age (just like us ladies), making it the perfect make-ahead lunch or dinner option. And based on my recent experience, it's a great prep-ahead camping meal!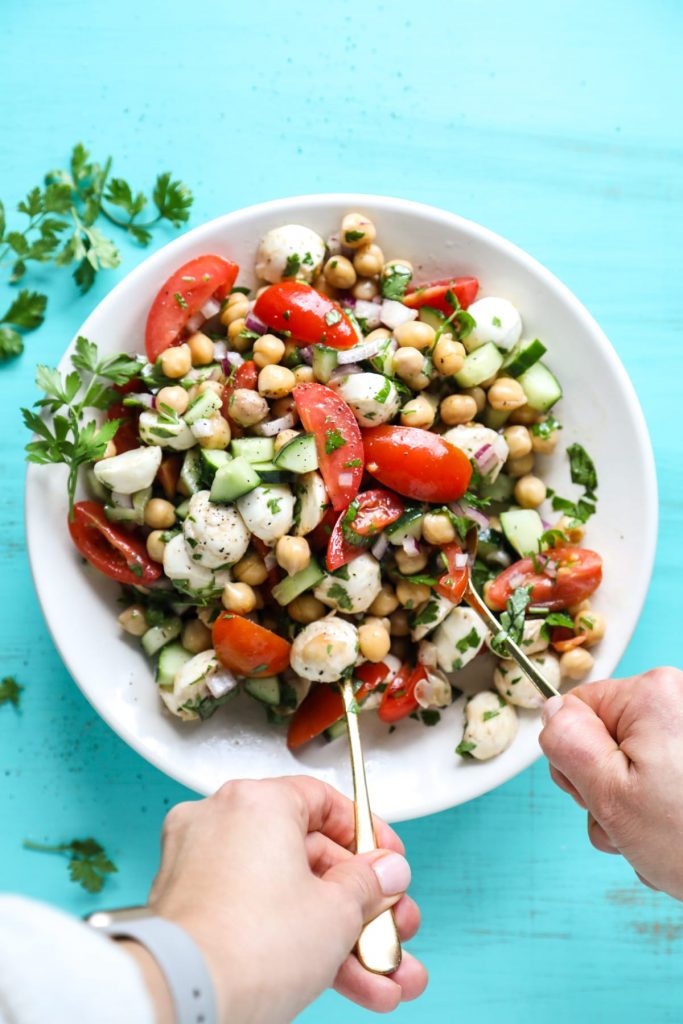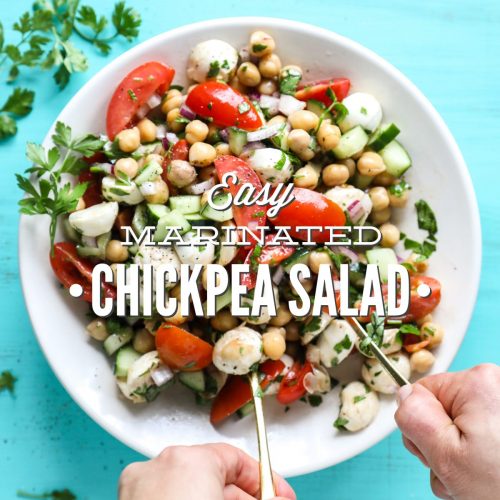 Easy Marinated Chickpea Salad
A no-cook salad recipe that only calls for a few simple ingredients—chickpeas, mozzarella, herbs, tomatoes, red onion, cucumbers, EVOO, and vinegar. This salad only gets better with age, making it the perfect make-ahead lunch or dinner option.
Ingredients
Salad:
1

15.5 ounce can

chickpeas/garbanzo beans

drained and rinsed

1/2

large

cucumber

center seeds removed, diced (1 cup once diced)

1/2

medium

red onion

diced (1/2 cup once diced)

1

cup

halved or quartered cherry tomatoes

1

cup

halved fresh mozzarella balls*

(1/2lb cheese)

1/4

cup

chopped fresh basil

1/4

cup

chopped fresh parsley
Instructions
Combine the salad ingredients in a large bowl.

In a small bowl, whisk together the dressing ingredients. Pour the dressing over the chickpea salad, and toss the ingredients to evenly coat the salad ingredients with the dressing.

I like to let the salad marinate in the dressing for a couple of hours before serving. But you may also serve the salad immediately, if desired. If you're going to prep the salad in advance, place it in an air-tight container first, and then place it in the fridge.

The salad keeps in my fridge for about 3-4 days, so it's great to make in advance for easy lunches. The tomatoes will soften in the fridge, so keep this in mind if you're not a fan of softer tomatoes.
Notes
* Fresh mozzarella comes in various sizes. Look for the small balls for this salad since they're easy to cut in half. If you can't find the small mozzarella balls, any fresh mozzarella will work--simply chop or tear smaller pieces for the salad. 
**It's always best to start with a small amount of salad and pepper, and season to taste once the dressing is added to the salad. I usually go up to 1/4 teaspoon of salt and about the same with pepper. This is my personal taste preference. 
Any smaller tomato will work in this salad. 
Feel free to increase the vinegar, particularly the red wine vinegar by 1 tablespoon (for a total of 2 tablespoons) for a slightly more acidic and flavorful salad. 
Nutrition
Calories:
221
kcal
Carbohydrates:
3
g
Protein:
7
g
Fat:
19
g
Saturated Fat:
5
g
Cholesterol:
22
mg
Sodium:
184
mg
Potassium:
170
mg
Sugar:
2
g
Vitamin A:
790
IU
Vitamin C:
14.9
mg
Calcium:
158
mg
Iron:
0.8
mg