This post may contain affiliate links. As an Amazon Associate I earn from qualifying purchases.
Last week I introduced the Ultimate Fall Baking "University" here at Live Simply.  Remember the glorious chocolate bundt cake topped with real ingredients and loaded with zucchini? Not a bad first day of class.
Last Wednesday, we dove right in to the "how to" of baking with whole grain flour, learning how to use an ancient grain called, "spelt." I left you with a few of my favorite simple spelt recipes to get you started with baking.
Today, we're going to take a short break from the cake and flour to talk about baking essentials. You know, the tools you need to get the job done!
Growing up, my dad built homes for a living.
He was a man of many skills, but his most prized skill was the ability to build gorgeous homes. My mom worked weekends which meant I spent a lot of quality time with dad, visiting his job sites and skipping down the aisles of Home Depot.
While building never interested me, the tools my dad used to build his homes were intriguing to a six year-old. My dad kept his tools carefully organized in the back of his pick-up truck. Each tool had a place and specific job. Without his tools, the gorgeous homes he took pride in building just wouldn't have come to fruition.
I'm sure you can see where I'm going with this. Okay, maybe a bit sappy, but the analogy holds true! In nearly every line of work, good tools are essential to get a job done well. When it comes to baking and cooking real food, good-quality tools are a must.
Now, don't worry. I'm not asking you to go into debt over kitchen tools. Trust me, I'm about as frugal as bakers and cooks come.  All you need are a few basic tools that can be used over and over again to get the job done well.
Fall Baking Essentials
1. Baking Stone: A baking stone is my absolute favorite baking tool! It's a year-round must-have for baking anything from homemade french fries to cookies. In the fall, my baking stone is put to use making cookies, apple granola bars, and baking squash and sweet potatoes.
Fall-Inspired Recipes To Get You Started: Pumpkin Bars, Pumpkin Chocolate Chip Cookies, Pumpkin Snickerdoodles, Peanut Butter Cookies 
2. Bread Pan: Whether you eat grains or not, a bread pan is essential for real food baking, particularly in the fall. Fresh bread (whether a quick bread like apple or banana or a yeast bread) and a big bowl of hearty soup can regularly be found on our table in the fall and winter. Quick breads are a wonderful way to use fall fruits like apples and pears, and make for an easy freezer-friendly breakfast or snack.
Fall-Inspired Recipes To Get You Started: Almond Flour Banana Bread, Whole Wheat Cinnamon Bread, Pumpkin Nut Bread, Cinnamon Buttermilk Quick Bread, Sour Apple Breakfast Bread, Special Whole Wheat Bread, Heirloom Pumpkin and Raising Yeast Bread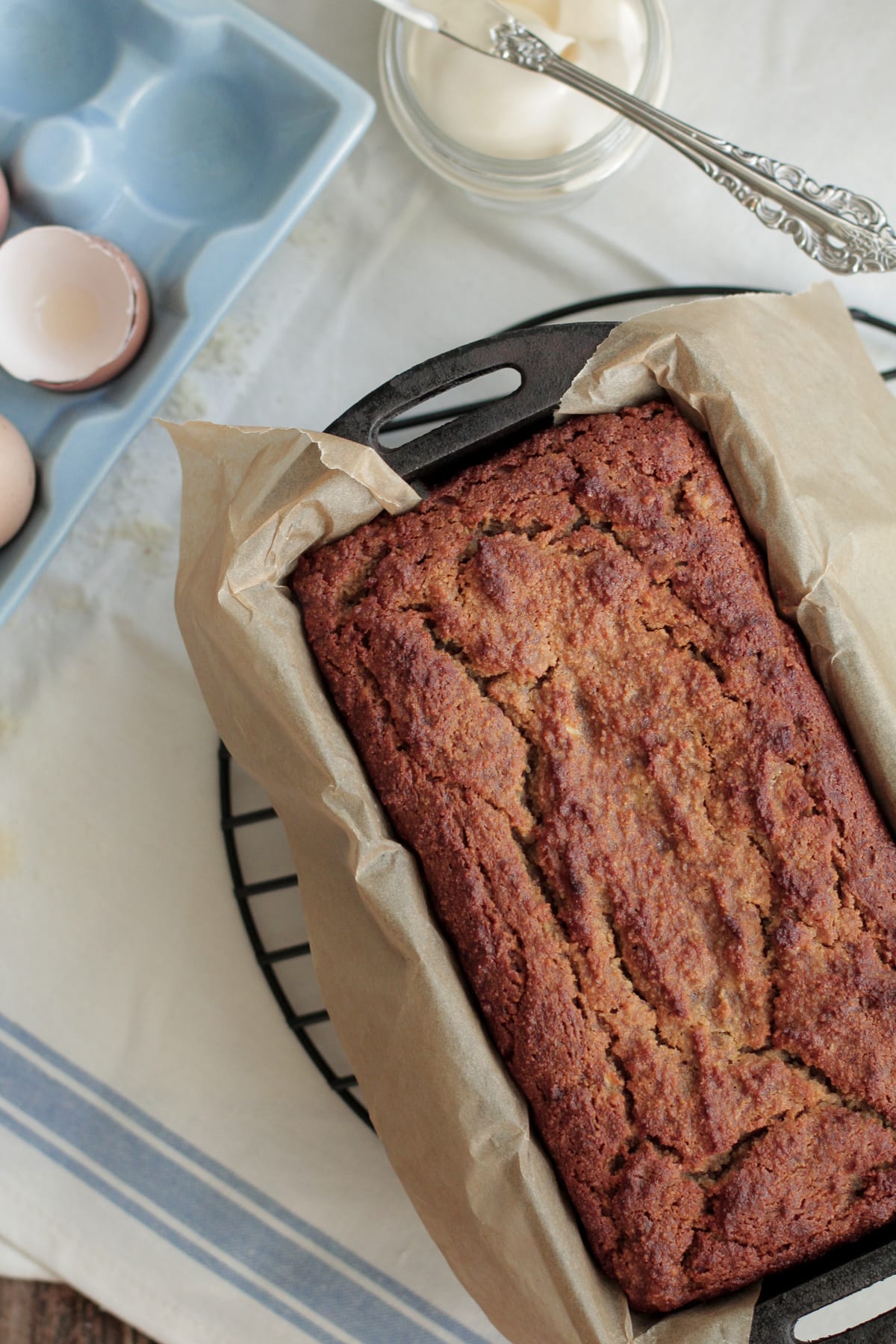 3. Muffin Pan: A muffin pan is the perfect way to make any quick bread recipe into smaller bite-sized servings. Fall-inspired muffins are a great breakfast to serve alongside eggs and a warm chai latte or as an afternoon snack.
Fall-Inspired Recipes To Get You Started: White Chocolate Pumpkin Spice Muffins, Apple BuckWheat Muffins, Apple Cinnamon Muffins, Sweet Potato Muffins, Whole Grain Pumpkin Muffins
4. Nesting Bowls: A good set of nesting bowls will see you through everything from mixing homemade fall spice combos to creating your favorite fall cookies.
5. Measuring Cups and Spoons: A good set of measuring cups and spoons are essential in the real food kitchen. It's important to buy a really good quality set to avoid melting episodes or numbers rubbing off. Is this a 1/3 cup or 1/4 cup?
6. Spoon and Whisk: A large mixing spoon, whether wood or silicone, is essential for stirring and beating ingredients.  Along with a spoon, a large whisk will allow you easily whisk wet ingredients (like eggs) along with dry ingredients.
7. Spatula: I think every baker or cook can agree on this essential. A good spatula can be the difference between enjoying those freshly-baked brownies or spending the evening in the emergency room caring for a burnt finger. Of course, I'm not speaking from any kind of person experience. (Trust Me!)
7. Bundt Pan: This may seem like a silly essential, but the holiday season often means cakes. It's incredibly difficult to find any cake sold in the store with real ingredients. The solution: Make your own! Cake baking may sound difficult, but it doesn't have to be (and after learning how to bake over the next five weeks, you'll have gained all the confidence you need). My favorite (simple) way to bake a cake is with a bundt pan. Bundt cakes require less fuss than traditional two-tiered cakes and are beautiful even without loads of frosting.
Fall-Inspired Recipes To Get You Started: Chocolate Bundt Cake with Zucchini and Walnuts, Honey Applesauce Bundt Cake, Orange Cranberry Pound Cake, Cinnamon Pumpkin Bundt Cake
8. Storage Gear: It's almost embarrassing to admit the number of times I've spent making a delicious muffin or cookie recipe only to find that I don't have a single storage container available. While I spend most of my time thinking about the actual tools that get the job done (muffin pan, measuring cups, etc.), I often forget about the storage essentials for keeping my labor of love moist and fresh. I prefer glass containers in a variety of sizes.
I've teamed up with my friends at MightyNest and nine amazing bloggers to bring you a chance to win some of our favorite fall baking essentials and more (way more!).
MightyNest is an an online retailer that sells natural, organic, and non-toxic products I can feel good about bringing into my home, and using to make my favorite recipes. MightyNest supports schools with each purchase that's made. Anytime you order from MightyNest, they'll give 15% back to the school of your choice. A great way to purchase excellent-quality baking essentials and give back to the school you love.
One reader will win this amazing collection of $250 in non-toxic baking essentials from MightyNest. All the baking essentials found through MightyNest are free from toxic ingredients such as: BPA, PVC, Phthalates, Lead, Formaldehyde, flame retardants, Parabens and more.
To enter the giveaway, simply use the widget below.
Stop by each blogger's FB page to show your support and give them a "like" for helping to host this amazing giveaway:
We Got Real
New Leaf Wellness
Join me for another class in our Ultimate Fall Baking Series on Wednesday to learn about einkorn flour and recipes to get started.