Summer has made her grand entrance.
Warm weather, trips to the beach, and late evening walks are ready to be enjoyed. The joyous feeling of a new season and all she has to offer is inspiring. It's a beautiful thing.
I feel the sudden urge to kick-back and relax; spend more time in the precious moments enjoyed during the short summer months. The mountains of laundry can wait, and my never-ending to-do list is tossed to the side. The tasks which once seemed so important are replaced by the laughter and joy of little toes tunneling their way in the warm sand, and little hands eagerly chasing butterflies in the garden.
The fun activities and warm weather create very hungry children, needing nourishing food and plenty of good hydration. With beaches to visit and butterflies to chase, I lack the desire to spend countless hours in my kitchen.
As you know I love to cook, it's one of my great passions. I love spending numerous hours each week creating, testing, and writing about food. Summer doesn't mean I take a break from nourishing my family with real food, rather it presents a challenge– to find creative ways to nourish my family without spending lots of time in the kitchen. Balancing nourishing homemade food that's quick and on-the-go-friendly has not been easy. In fact, it's been downright hard, until I discovered travel pouches.
The pouches mimic the expensive store-bought squeeze pouches found everywhere today, but offer a healthier (and practical) alternative. Instead of $2-3 per pouch (with added preservatives to keep the "healthy" ingredients shelf-stable), the reusable pouches empower moms to create healthy and delicious smoothies, packed full of nutrients. It's as simple as five minutes in the kitchen, with a trusty blender, and a handful of ingredients.
Simple and delicious!
Today, I'm excited to share three simple, on-the-go summer smoothie recipes. These recipes only take seconds to make and pack a nutrient-punch. Each smoothie recipe (below) makes enough to fill two pouches (depending on the brand–I use Little Green Pouch or Squooshi). Simply fill the pouches using a funnel, and label with the smoothie title and date. Store the pouches in the fridge (I also freeze the pouches with great success), and pull out as needed. A simple and healthy real food snack for the busy days of summer.
Seriously, can it get any easier or practical?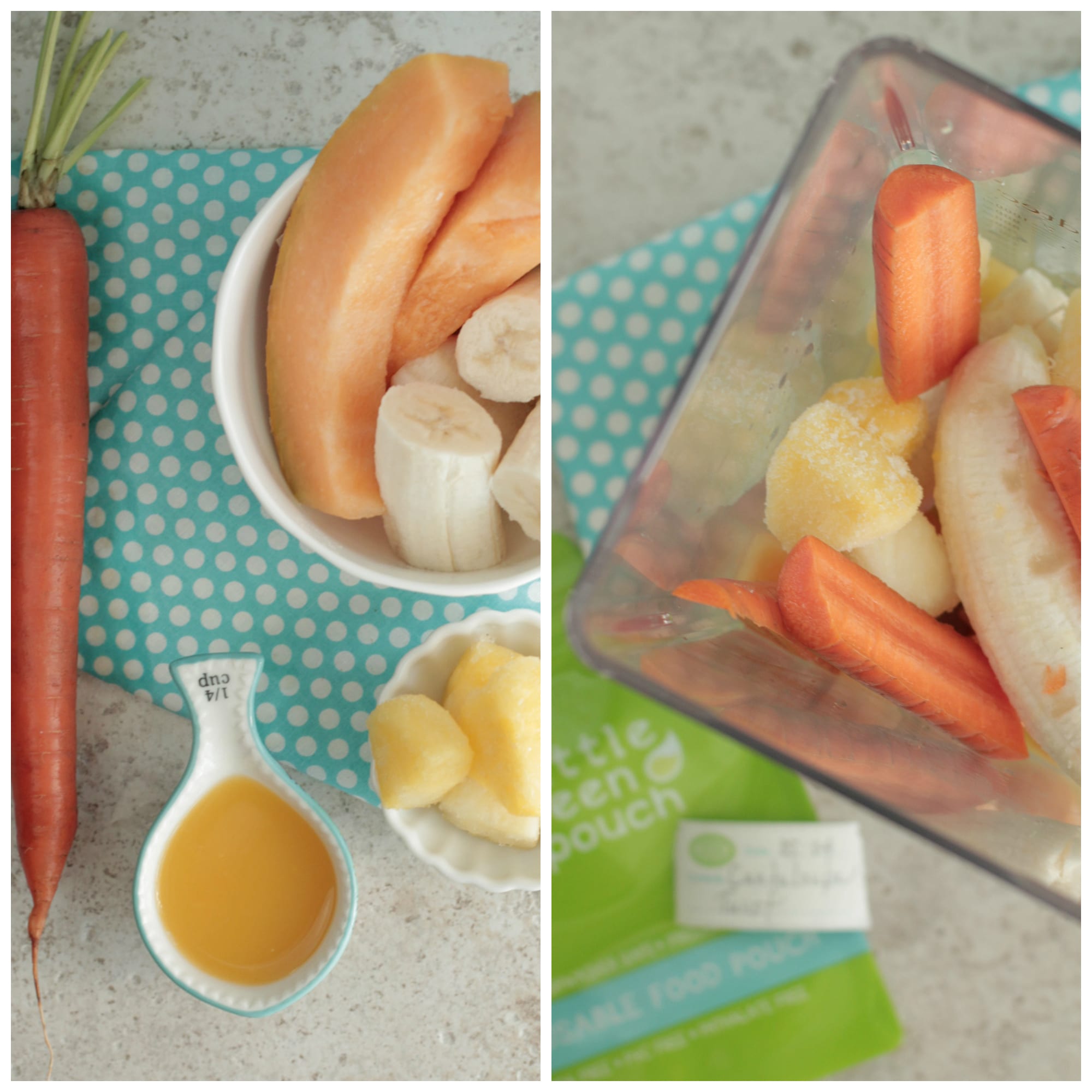 Healthy On-the-Go Summer Smoothies
Today, I'm excited to share three simple, on-the-go summer smoothie recipes. These recipes only take seconds to make and pack a nutrient-punch.

Ingredients
Cantaloupe Twist On-the-Go Smoothie
1/2

cup

cantaloupe chunks

frozen or fresh

1

banana

ripe

1/4

cup

orange juice

1/4

TB

pineapple chunks

frozen or fresh

1

large

carrot

)
Sweet & Sour Berry Delight On-the-Go Smoothie
1

kiwis

peeled

1

cup

strawberries

frozen or fresh

1/3

cup

plain whole milk yogurt

1/2

cup

orange juice

1

TB

honey
Creamy Mango Dream On-the-Go Smoothies
Instructions
In a high-speed blender combine the ingredients.

Blend the ingredients together on high until smooth and creamy.

Serve immediately or chill until later use.
Notes
Note: This recipe calls for frozen fruit to give the smoothie a chilled, creamier texture. If using fresh fruit, simply add a small amount of ice, or chill the fruit ahead of time.
Nutrition
Calories:
114
kcal
Carbohydrates:
18
g
Protein:
1
g
Fat:
4
g
Saturated Fat:
3
g
Cholesterol:
1
mg
Sodium:
18
mg
Potassium:
246
mg
Fiber:
1
g
Sugar:
15
g
Vitamin A:
2095
IU
Vitamin C:
44.6
mg
Calcium:
35
mg
Iron:
0.8
mg
With these nutrient-rich smoothies, summer can be fun and delicious without having to give up real food or spend countless hours in the kitchen.
Embrace the beach, the little sandy toes, and the great butterfly chase. Summer is here to stay!