Months ago, I shared about a magical placenta-looking mushroom, growing on my counter, "I've been brewing a colony of bacteria and yeast, fed by pure white sugar, which looks like a placenta, on my kitchen counter for weeks. All for the purpose of drinking the resulting liquid." Remember that? (Don't wonder too far, but if you need a refresher you can read more, here)
It freaked a few people out, but an overwhelming amount of the online world rose up and declared their great love for this liquid called, "Kombucha". It's been nearly nine months since I confessed my love and shared the step-by-step details on how to make this delicious drink, and guess what? I'm still brewing my delicious colony of bacteria and yeast. In fact, my family (at least some of them) have also started making their own. It's good, friends, and if you're not making and drinking this good-for-you tea, it's my duty today to convince you to start.
Let's recap a few reasons I drink this delicious golden blend of fizz and probiotics (and why you should too):
1. I'm a mom- Motherhood is an amazing experience. The delight of watching little people grow and learn, make messes, and explore and love life. It's a magical responsibility, but it's also beyond tiring. I want to go back to my "younger" self and demand I catch up on all the rest I now miss. By afternoon my energy has been zapped to nil, gone, with no sign of returning. Rest? Ah, no!  Dinner must be made and laundry folded (or at least run through the dryer for the tenth time). Along with baths, playtime, and bedtime. I need a pick-me-up. So, I pour myself a tall glass of fizzy tea, flavored to my liking, sit in my comfy chair and sip for at least a couple minutes, enjoying every last drop. I look forward to my daily Kombucha time, it's rejuvenating and just the healthy pick-me-up I need.
2. Gut health- I'm on a quest to get back to the days of great-grandma, days of simplicity, in terms of food and natural living–just let me keep my washing machine and dishwasher.  Our great-grandparents knew a simple secret to good health, fermented and probiotic food. Whether they actually knew the science behind such food, I don't know, but they consumed lots of them. From pickling to sourdough and culturing- all contain bacteria which replenish our guts and boost our immune-system.  We've lost such food in our modern day culture and are paying the price with gut-related issues. Kombucha is a super simple way to get the beneficial bacteria the gut needs. Plus,  it's much cheaper than expensive pills or supplements.
3. I'm a former soda addict- It's true. I used to crave the fizz, the sugar, the syrupy-taste. Addiction might be a bit mild of a word. I drank at least one or two tall glasses, daily. Switching to real food meant soda had to go. Mourning took place, but over time I slowly lost my desire for the dark syrup.  Kombucha was a joyous discovery, a fizzy drink with amazing health benefits. A welcome break from constant water and the occasional green juice. Sometimes you just need fizz and flavor in life.
All that to say, I still love my kombucha and enjoy a glass everyday (and you should too). Since I'm an easily bored person (I think we call that "ADHD" in the modern mainstream medical community– I'm sticking with curious and a love for life), I'm always playing with new combos and flavors.  With berries in season and the desire for a pitcher of springtime lemonade, I created a berry lemonade kombucha. And oh, friends, it's good. By far one of my favorite kombucha flavors.
Sharing is caring, so today, I pour you a glass of this berry-filled lemony tea and share my simple recipe. All  because I love you and your gut, and if you're mom, I know you need a special fizzy treat in your life and probably a quiet, rejuvenating bathroom break. Since I can't give you the later (sorry, mom) I bring you a tall glass of fizzy berry-lemonade kombucha.  Rejuvenating, gut-pleasing, and a delight to the taste buds.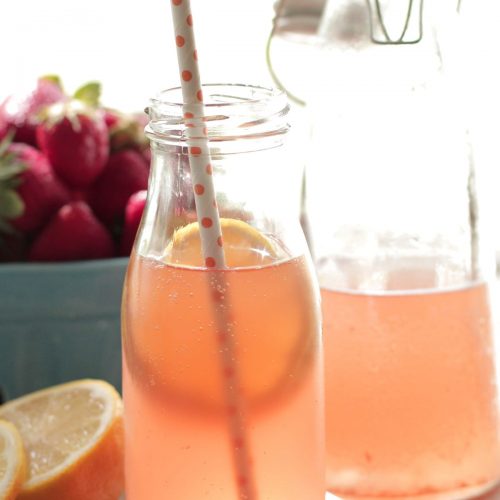 Homemade Berry Lemonade Kombucha
I bring you a tall glass of fizzy berry-lemonade kombucha. Rejuvenating, gut-pleasing, and a delight to the taste buds.
Ingredients
kombucha

I use 4 green tea and 1 black tea for this particular brew

2

strawberries

or 4-5 blackberries, cut into small chunks, per liter of kombucha

1

inch

lemon

cut into small chunks, per liter of kombucha
Instructions
Add the berries and lemon chunks to each bottle, squeezing a bit of juice from the lemons as you add them. For one batch of kombucha, I'm able to make two liters of berry-lemonade kombucha. I usually make one bottle with lemon and strawberry chunks and the second bottle with whole blackberries and lemon chunks.

Close the top of the bottle, store on the counter for two days. This is called the "second ferment". This ferment infuses the berry-lemonade flavor and gives the kombucha soda-like fizz.

After two days, store bottles in fridge and enjoy, daily.
Nutrition
Calories:
8
kcal
Carbohydrates:
2
g
Potassium:
36
mg
Sugar:
1
g
Vitamin C:
15.4
mg