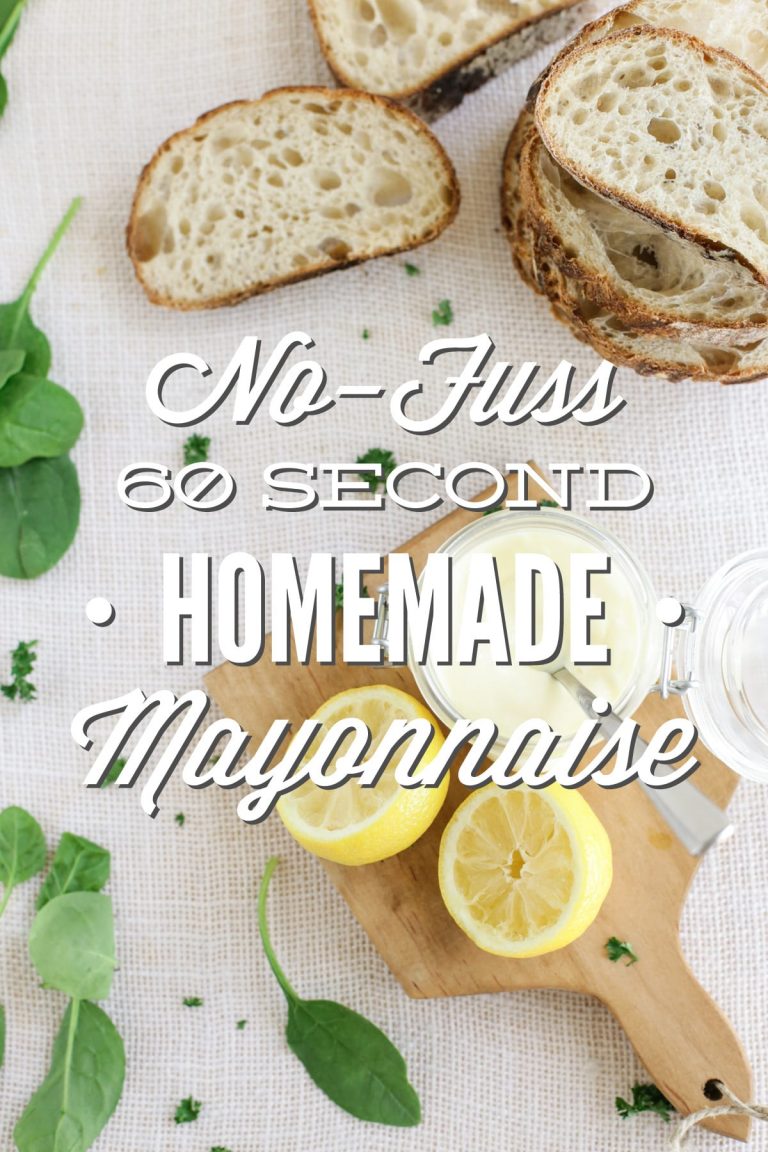 Friend, I'm here to stage an intervention. I promise, it's going to be well worth the little sacrifice I'm asking you to make.
Put down the Hellmann's! Walk away. Yes, great job!
That was relatively painless, right?
I wouldn't ask you to give up the beloved Hellmann's without a very good reason. Or in this case, two or three very good reasons.
First, I think we're all probably well aware of the fact that Hellmann's, and 99.9% of store-bought mayos, are no bueno when it comes to a real food lifestyle! There are only two decent store-bought mayonnaise brands (in my opinion): Sir Kensingtons and Primal Kitchen Mayo.
Second, the homemade version of mayonnaise is so much better than any condiment you've ever experienced in your life. Seriously! Those are not big puffed up words written to sell you on this recipe. Oh no, those words are backed by taste-testing proof and multiple intervention conversions. This isn't the first time I've staged a mayo intervention! The proof is in the jar.
Third, homemade mayonnaise is just about the easiest food on the face of the planet to make. For years, I purchased store-bought mayonnaise because the words "homemade mayonnaise" terrified me. "Homemade mayonnaise sounds so complicated! Who has time to make their own mayonnaise?"
One late Saturday night, with a hungry family requesting chicken salad and no mayo in the fridge, I decided to conquer my fear. My ingredients were simple, and my secret weapon, the immersion blender, was put to work.  Sixty seconds later I looked down at my bowl, dipped my pinky finger into the white creamy substance and braced myself for the worst! The worst never came.
My taste-buds were opened to the amazing world of immersion blender mayonnaise. The angels sang that night in my kitchen, and my family dined on my simple homemade creation. All that to say, homemade mayo is super easy to make! If I can do it, you can do it. No excuses.
Now, let's recap our three intervention points:
1. Homemade mayonnaise is made with 100% real food ingredients.
2. Homemade mayonnaise is the best mayonnaise you'll ever eat.
3. Homemade mayonnaise is super easy to make.
To demonstrate these three points, I made a quick video for you. Because videos always help when performing a food intervention.
So what are you waiting for? You're only 60 seconds away from the best homemade mayonnaise ever!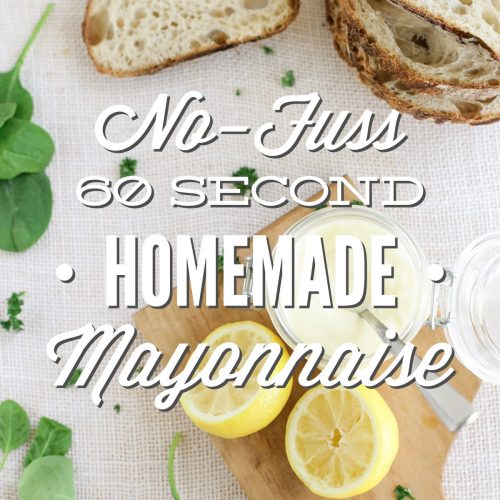 NO-FUSS 60 SECOND HOMEMADE MAYONNAISE
A homemade mayo made with 100% real food ingredients.
Ingredients
1

egg yolk

1

lemon

juiced, at room temperature

3/4

cup

avocado oil

salt

to taste

black pepper

to taste, (optional)

1

TB

fresh herbs

optional chipotle spice, dijon mustard, minced garlic
Instructions
In a wide jar (I use this Weck Jar) or a mixing bowl, add all four (or more) ingredients. Using an immersion blender (where to buy), fitted with the blending wand (the attachment with the blender blade), blend the ingredients until the liquid resembles creamy mayo. The blade should touch the very bottom of the jar before you turn on the immersion blender. Blend from the bottom to the top, leaving the blender blade at the bottom of the jar for 45-50 seconds, then pulling the blender slowing through the mayo to the top of the jar (use an up and down motion after this for the last couple of seconds, if needed).

Store in the fridge for up to 7 days.
Notes
The "where to buy" links provide links to the actual products I use. As always, I recommend shopping around online and at local stores for the best prices and products you love. Find my favorite kitchen essentials, here.
Nutrition
Calories:
268
kcal
Carbohydrates:
2
g
Protein:
1
g
Fat:
28
g
Saturated Fat:
3
g
Cholesterol:
32
mg
Sodium:
2
mg
Potassium:
43
mg
Vitamin A:
45
IU
Vitamin C:
9.7
mg
Calcium:
15
mg
Iron:
0.4
mg
Notes: It's important for all the ingredients to be at room temperature. Using ingredients straight from the fridge (AKA: cold ingredients) may result in a runny mayonnaise. Follow the directions for keeping the blade on the very bottom of the jar. This small step is critical for the oil and egg to fully emulsify, producing a creamy (not runny) mayonnaise. 
More Real Food You May Like: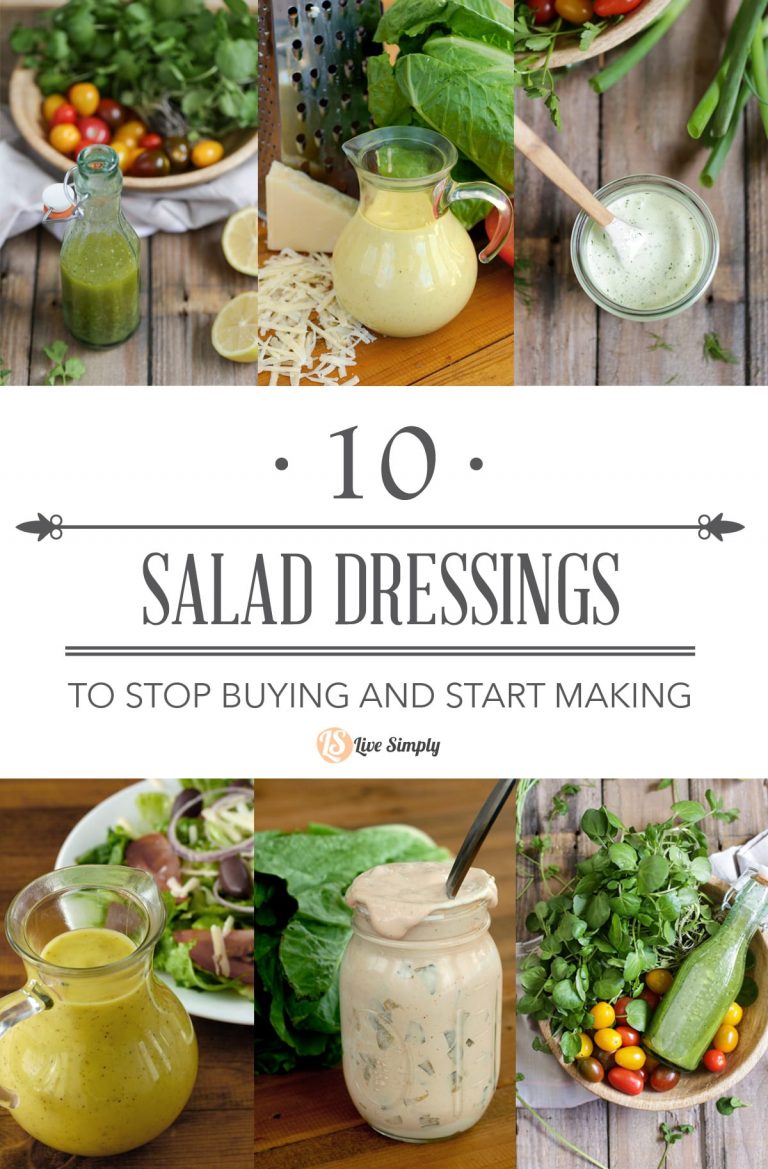 10 Salad Dressings to Stop Buying and Start Making
7 Kitchen Staples to Stop Buying and Start Making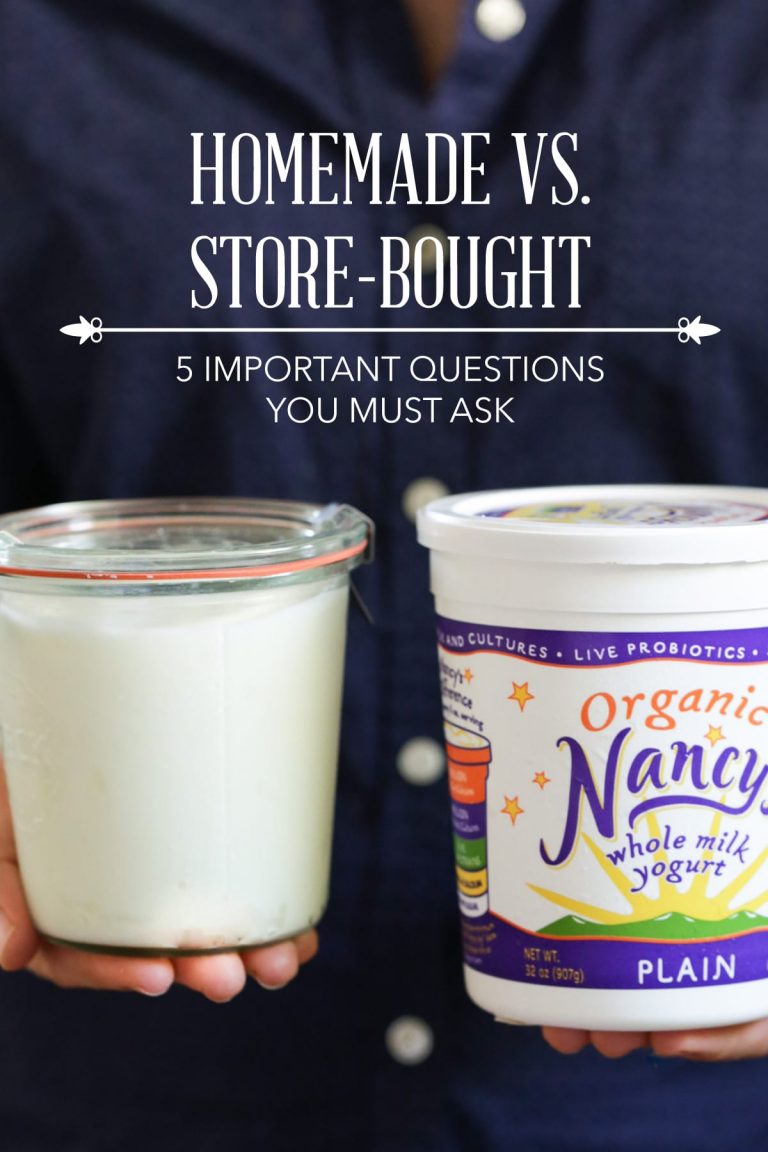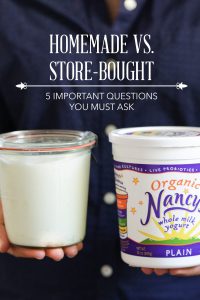 Homemade vs. Store-Bought: 5 Important Questions You Must Ask