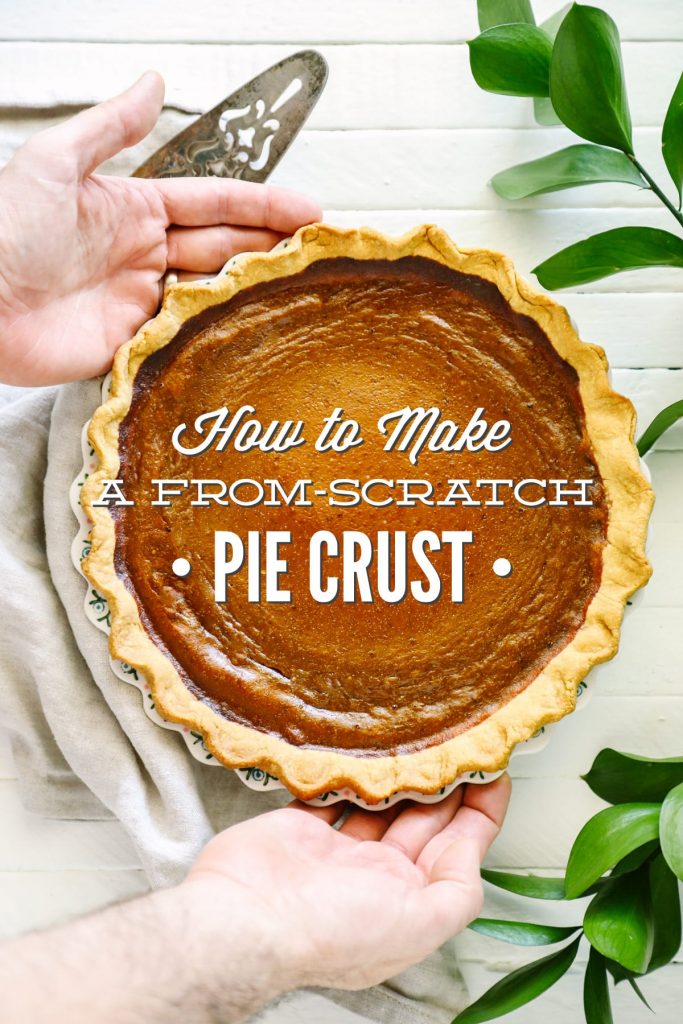 I'm really excited about the recipes we're going to make and enjoy this week. Today's recipe is going to marry tomorrow's recipe, and, together, they're going to create a beautiful masterpiece (or baby…too weird for food?): a naturally-sweetened pumpkin pie made without sweetened condensed milk or evaporated milk.
Before we make and enjoy that healthier pumpkin pie, we need to talk about our first recipe in this happy pie marriage: pie crust.
I thought about adding a recipe note at the end of our future pumpkin pie recipe discussion, with specific instructions for making a from-scratch pie crust, but a recipe note just doesn't seem fair to such a delicious and versatile recipe.
See, today's pie crust isn't just about making the base for a spiced-pumpkin filling. Oh no, this buttery and flaky pie crust is about so much more.
A good pie crust recipe is an invaluable resource for a real food cook, particularly in the fall and winter. With just one single pie crust recipe, I can make a sweet pumpkin pie, a savory chicken pot pie (later, my friend, later), a veggie-based quiche, or a cheater's pie (AKA: a galette).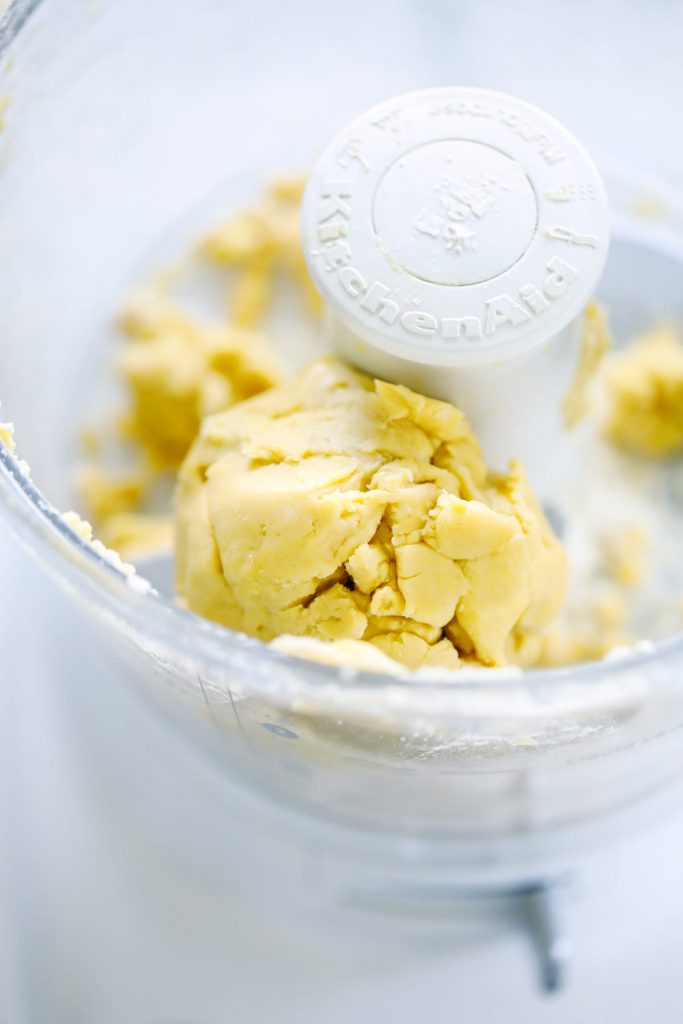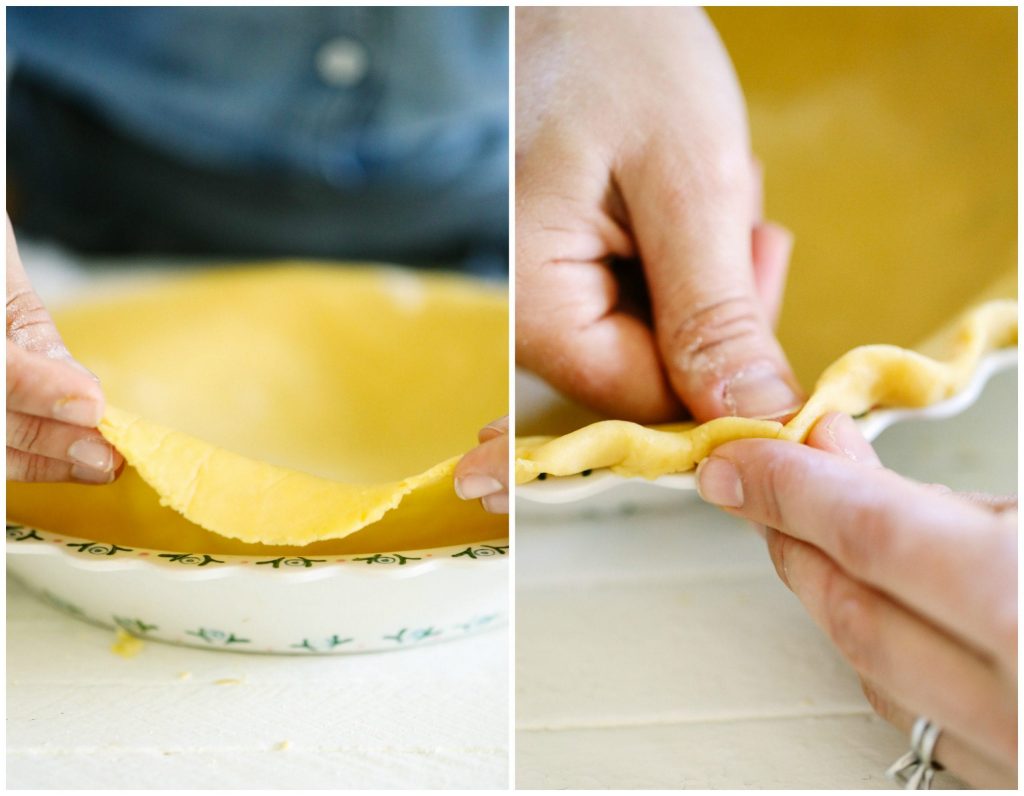 A homemade pie crust is very easy to prepare, and most recipes call for very similar basic ingredients: flour, butter or lard (or shortening, like Crisco, which isn't "real"), salt, possibly a sweetener, and water. You'll also notice, once we get to the actual written recipe, that my recipe also includes an egg yolk. Trust me, friend, don't skip the egg yolk. That little yolk makes an incredible difference.
The most important rule to remember when making a from-scratch pie crust is to keep the liquid ingredients and butter super cold. This is the key to making the absolute best homemade pie crust.
With this rule in mind, you know everything there is to know about making a pie crust for your favorite sweet or savory pie. Let's get started!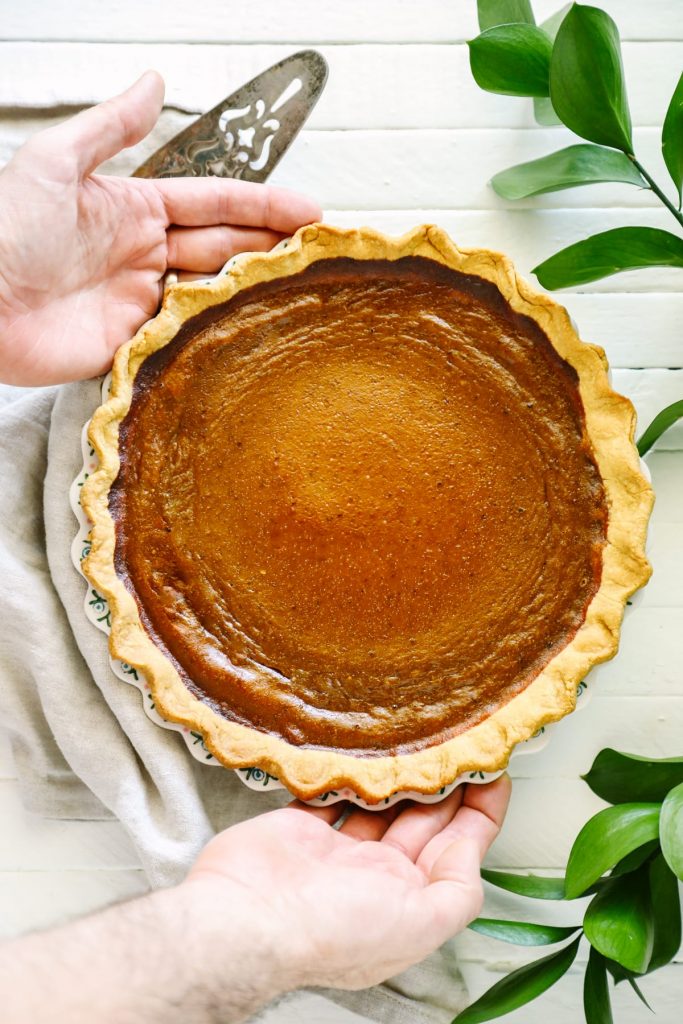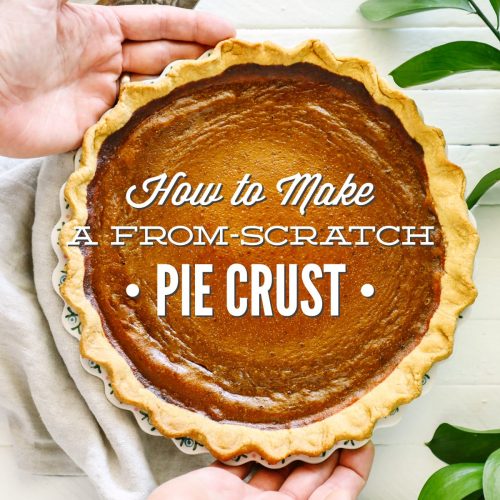 From-Scratch Pie Crust
A homemade pie crust is very easy to prepare, and most recipes call for very similar basic ingredients: flour, butter or lard (or shortening, like Crisco, which isn't "real"), salt, possibly a sweetener, and water.
Ingredients
1 1/2

cups

wheat-based flour

such as: einkorn or spelt, 200g

1/2

tsp

salt

8

TB

unsalted butter

cubed and chilled, 1/2 cup // 110g

3

TB

cold water

1

egg yolk

The egg should be taken directly from the fridge before separating so it's cold.
Instructions
First, prepare the butter, water, and egg yolk. Cube the butter and then place the cubes in the freezer. Next, whisk together the cold water and egg yolk in a small bowl. Then place the water and yolk combo in the fridge.

In a food processor, pulse the flour and salt together for about 30 seconds. I use the high setting on

my food processor

. Use a spoon to stir the flour, which you just pulsed, to help "fluff" it and keep the flour from settling on the bottom. I know this sounds funny, but it helps with the next step...butter.

Remove the butter from the freezer. With the food processor on high, add the cubes, one or a couple at a time, through the chute. As you add the butter, the flour will begin to resemble coarse crumbs. Turn off the food processor.

Now remove the water and egg yolk mixture from the fridge. With the food processor running (I like to switch to low at this point), add the water/yolk mixture. Run the food processor until the flour comes together to form a ball. If the flour doesn't form a ball, you'll need to add 1 tablespoon of cold water. This shouldn't be necessary, but flour can differ at times, particularly if you're using volume measurement (cup versus grams).

Remove the dough from the food processor, pressing any extra stray dough pieces to the main ball of dough. Wrap the dough in a piece of parchment paper, and place it in the fridge to cool. At this time, I make my pie filling (whether it's a pumpkin pie, quiche, chicken pot pie, etc.).

After resting and chilling the dough in the fridge (about 30 minutes, or overnight), roll the dough out on the parchment paper to your desired size (to fit your baking dish). If your crust is sticking to the rolling pin or parchment paper, it may need to be chilled longer, or you can sprinkle it with a bit of flour and continue rolling. Transfer the pie crust, on the parchment paper, to your baking dish. You'll need to flip the parchment paper over so the pie crust gently releases into the pie dish. Press the pie crust into the baking dish. I like to crimp the edges of the pie crust with my fingers. Pierce the bottom and sides of the pie crust with a fork. This will keep large air bubbles/pockets from forming in the crust. At this point, the crust is ready to use.

If you'd like a crispy bottom crust, I recommend a par-bake before adding your filling (like a pumpkin pie filling). To do this, heat the oven to 400F. Bake the crust for 10 minutes. Remove the pie from the oven, add the filling, and bake according to the pie recipe.
Nutrition
Calories:
1554
kcal
Carbohydrates:
143
g
Protein:
23
g
Fat:
98
g
Saturated Fat:
60
g
Cholesterol:
439
mg
Sodium:
1189
mg
Potassium:
200
mg
Fiber:
5
g
Vitamin A:
3100
IU
Calcium:
79
mg
Iron:
9.2
mg
Ingredient Notes
I've used einkorn and spelt flour successfully to make this pie crust. I think whole wheat, whole white wheat, and white flour will all work with the same ingredient ratios provided. Einkorn tends to produce a wonderfully light crust, similar to white flour. Spelt flour produces more of a rustic whole wheat-style crust.
I don't add sugar to my pie crust, even if I'm making a sweet pie. If you'd like a sweeter crust, feel free to add 1-2 tablespoons of sucanat, cane sugar, or coconut sugar during the flour and salt step. Also, I've found that 1/2 teaspoon of salt is perfect for my taste; however, if you find that your crust is too salty, or you're concerned about a salty crust, reduce the salt to 1/4 teaspoon.
If you'd like more detailed instructions about par-baking a pie crust, this article from F00d52 is helpful.
Double this recipe for two pie crusts, if needed.
Pie crust freezes well. Store the raw pie crust in a freezer bag. Defrost the pie crust in the fridge before use.
What's Spelt Flour? 
Spelt is believed to have originated in the Near East over 8,000 years ago, eventually making its way into Europe, particularly Germany. The mildly-nutty tasting spelt berry is considered an ancient grain much like einkorn, and is even referenced in the Bible.  The spelt berry has not been hybridized like modern-day whole wheat. Spelt is sold in many conventional grocery stores, health food stores, and online.
Spelt has a lower gluten content than today's whole wheat, making it easier to digest. Spelt is not gluten-free and should not be used by those with celiac disease or a severe gluten intolerance.
What's Einkorn Flour? 
Einkorn is known as the oldest variety of wheat making it an ancient grain. The ancient grain is believed to have originated in the Tigris-Euphrates region and is possibly the main grain referenced in the earliest accounts of the Bible. To put it simply, einkorn is the wheat men were eating in the earliest days before modern-day wheat varieties. While modern wheat has undergone hybridization, einkorn still holds true to its original properties. Einkorn is slowly gaining popularity, but is still grown in only a few regions in Europe.
The sweet, ancient grain has a lighter texture and taste than modern-day wheat, and contains a more favorable gluten ratio. People with minor gluten sensitives may be able to consume einkorn without the issues associated with whole wheat due the lack of D-genome, however, einkorn is not gluten-free. Einkorn is packed with nutrition, containing high levels of protein.
Einkorn looks and tastes similar to white flour. Einkorn is sold in some health food stores and online.