Let's take a break from all the veggie-heavy meals we've been making lately (and all the CSA talk — I've been quite enthusiastic about that topic lately, see my beet smoothie, cauliflower tacos, and winter slaw recipes if you've missed my musings on CSAs). Every so often you just need mac and cheese. Not a hidden-veggie macaroni and cheese, just a good ol', rich and creamy, comfort-food mac and cheese.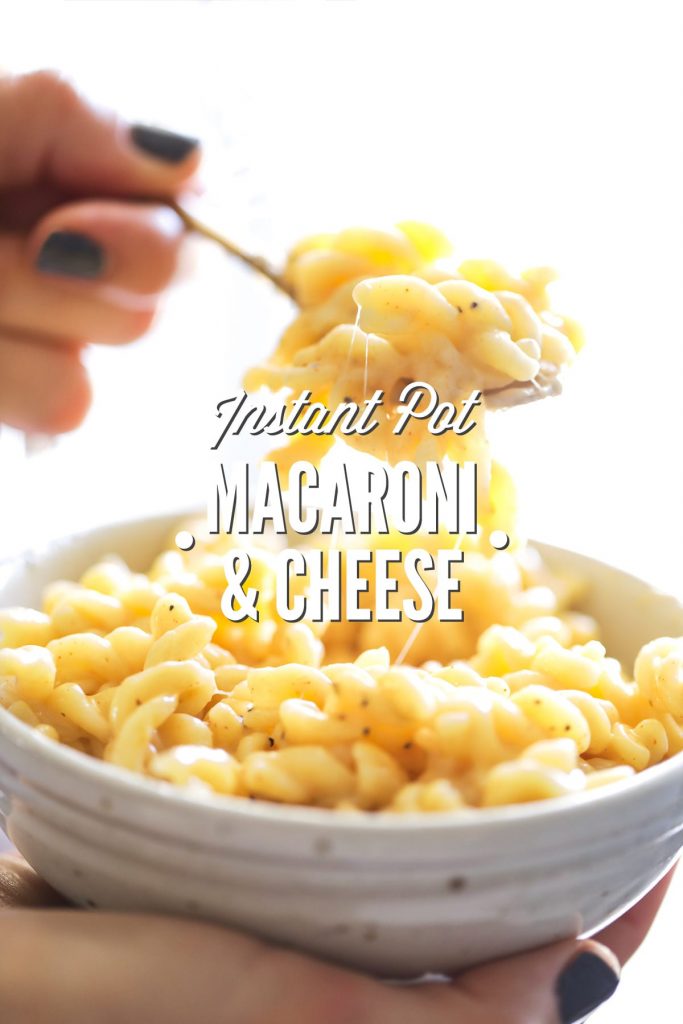 One of the reasons I love our real food lifestyle is the comforting meals I grew up enjoying — like macaroni and cheese — are completely acceptable. Real food isn't about restrictions, dieting, fancy ingredients, or subsisting off salads and kale. Real food is simply about embracing real ingredients, and learning to prepare these ingredients to create tasty meals.
Here's how food advocate Micheal Pollan sums up real food, "Real food doesn't have a long ingredient list, isn't advertised on TV, and it doesn't contain stuff like maltodextrin or sodium tripolyphosphate. Real food is things that your great-grandmother (or someone's great-grandmother) would recognize."
Isn't that a freeing thought?
Instead of reaching for the box of instant mashed potatoes, visit the produce aisle and fill your grocery basket with the potatoes. Then head over to the dairy department and look for the cleanest butter option (hint: the ingredient list should only include one word, cream, and possibly salt). Grab some olive oil on your way out, and then head home to make a nourishing bowl of homemade mashed potatoes.
The same goes for oatmeal. Instead of grabbing a flavored package of instant oats, pick up rolled oats, maple syrup, milk, and cinnamon. It doesn't take long to make your own oatmeal, and the homemade version tastes so much better than the artificially-flavored packages.
And instead of reaching for the mac and cheese box, make your own. And this is where today's recipe enters our chat…
I've shared recipes for homemade mac and cheese in the past. Maybe you remember the butternut squash mac and cheese, or the classic mac and cheese? Today, let's make another version of a classic mac and cheese, this time using the Instant Pot.
The Instant Pot (or any electric pressure cooker you choose to use) simplifies the task of making homemade macaroni and cheese. With just one pot and about 20ish minutes (when you factor in the time it takes for the pot to come to pressure), the Instant Pot cooks the pasta noodles, melts the cheese, and warms the cream sauce. No babysitting or continuous whisking and stirring required. Just prep the pasta in the Instant Pot, shred the cheese, whisk the ingredients, and walk away. That's it!
Making homemade macaroni and cheese in the Instant Pot almost feels too easy or too good to be true (at least that's what I thought the first time I made this recipe). But the end result speaks for itself: A family-size serving of homemade mac and cheese that rivals any packaged variety. A meal that every family member is sure to love.
Take that, processed food!
Super Easy Instant Pot Mac and Cheese (Pressure Cooker Recipe)
Loaded with freshly shredded cheeses and cream, this simple Instant Pot version of a comfort-food classic whips up in less than 30 minutes. Real food on a weeknight!
Ingredients
16

ounce

einkorn fusilli pasta

*

4

cups

water

2

TB

unsalted butter

1/2

cup

heavy cream

**

1 1/2

tsp

dry mustard

1

tsp

salt

1/2

tsp

black pepper

1/2

tsp

paprika

1/4

tsp

garlic powder

***

6

ounces

sharp cheddar cheese

about 2 cups of shredded cheese

4

ounces

monterey jack cheese

(or gouda cheese) about 1-1 1/4 cup of shredded cheese
Instructions
Add the dry pasta to the Instant Pot. Pour in the water and top with the butter. Lock the lid and set to Sealing.

Set the Instant Pot to Manual, High Pressure for 6 minutes.

Whisk the seasonings (dry mustard, salt, pepper, paprika, and garlic powder) into the cream and set aside. Shred the cheeses and set aside.

Once the time is up, perform a careful quick release. The butter helps to keep the foam down a bit, but you'll likely have to start and stop the pressure release to keep it from spurting.

Stir the seasoned cream into the noodles.

Add the cheese and stir to melt. You shouldn't need to turn on the saute function as the pasta should be hot enough to melt everything.

Let the macaroni and cheese rest for 5 minutes before serving.
Notes
* I've used einkorn and semolina fusilli successfully. The general rule for pasta in the Instant Pot is half the stovetop time, for example: regular old wheat elbow noodles would cook for 4 minutes. The fusilli calls for 12 minutes, so I cook the pasta in the Instant Pot for 6 minutes
** Cream really must be the heavy version used here. Anything else like half and half or milk will be really runny since you aren't making a traditional roux.
*** The garlic powder might be a tad strong for some people. Try ⅛-¼ tsp depending on taste, or skip it. 
That five minute rest time is crucial.
Take into the consideration the fact that cook time doesn't include the amount of time it will take the Instant Pot to come to pressure. 
Nutrition
Calories:
568
kcal
Carbohydrates:
57
g
Protein:
22
g
Fat:
27
g
Saturated Fat:
16
g
Cholesterol:
83
mg
Sodium:
686
mg
Potassium:
226
mg
Fiber:
2
g
Sugar:
2
g
Vitamin A:
935
IU
Calcium:
379
mg
Iron:
1.4
mg
Serving Ideas
Serve this recipe alone or alongside one of these easy recipes for a complete meal.
Take the Guess Work OUt of meal planning
Free 64 Rotational Meals Ideas Cheat Sheet
Breakfast, lunch, dinner, and snack recipes to rotate week after week. Put healthy meals on auto-pilot.