Let's see, where do I begin?
I've been brewing a colony of bacteria and yeast, fed by pure white sugar, which looks like a placenta, on my kitchen counter for weeks. All for the purpose of drinking the resulting liquid.
There it is.  The simple truth.
Kombucha.
If you are a little turned off by the whole idea, you're not alone! In fact, my entire family thought I'd completely lost it. That is until they tried this amazing drink and learned of its amazing health benefits. So, don't stop, continue to read. I promise, it gets better.
What is Kombucha?
Kombucha is a naturally carbonated sweet, fermented tea which contains probiotic benefits. Kombucha is produced by using tea, water, sugar (plain ol' white organic sugar), and a giant "mushroom" (I think it looks more like a placenta) called a "SCOBY." The sugar feeds the SCOBY (Symbiotic Colony of Bacteria and Yeast) which ferments into a delicious, nourishing tea.
I know that sounds even scarier. A giant mushroom placenta that eats sugar. Just keep reading.
After the SCOBY has done its job, a simple mixture of tea and sugar is turned into a naturally carbonated drink filled with naturally occurring health benefits.
As a result of the fermentation, almost all of the sugar is converted by the SCOBY and when fermenting is finished, there will be about 2-3 grams per 8 ounce glass. By contrast, an 8 ounce glass of orange juice has about 24g of sugar. Natural carrot juices have 13g per 8 ounces. Source
Kombucha is a traditional drink enjoyed first by the Chinese and later spread to Russia, Japan, and Korea.
Kombucha is enjoyed for its unique taste (a wonderful way to replace sodas and juice) as well as its many health benefits. One of its greatest health benefits is detoxing the body. It's also rich in glucaric acid and amino-acids which can help prevent (and possibly) treat cancers. Kombucha boosts the immune system as is anti-oxidant rich. This wonder drink is also a mom's best friend as it gives energy.
What mom couldn't use an energy boost? Sleep deprivation is a real thing, folks.  Come over for a night.
Remember, that colony of bacteria and yeast?  All that goodness is part of the amazing health benefits of Kombucha. We need good bacteria to maintain a healthy gut.  The good bacteria makes Kombucha the perfect probiotic which helps restore good gut flora in your system and fight off the bad yeast (candida). You can read more about the health benefits of Kombucha here.
Now that you're just longing for Kombucha, you have a couple of options:
Pay $3-5 for a small bottle of store-bought Kombucha
Make your own for just pennies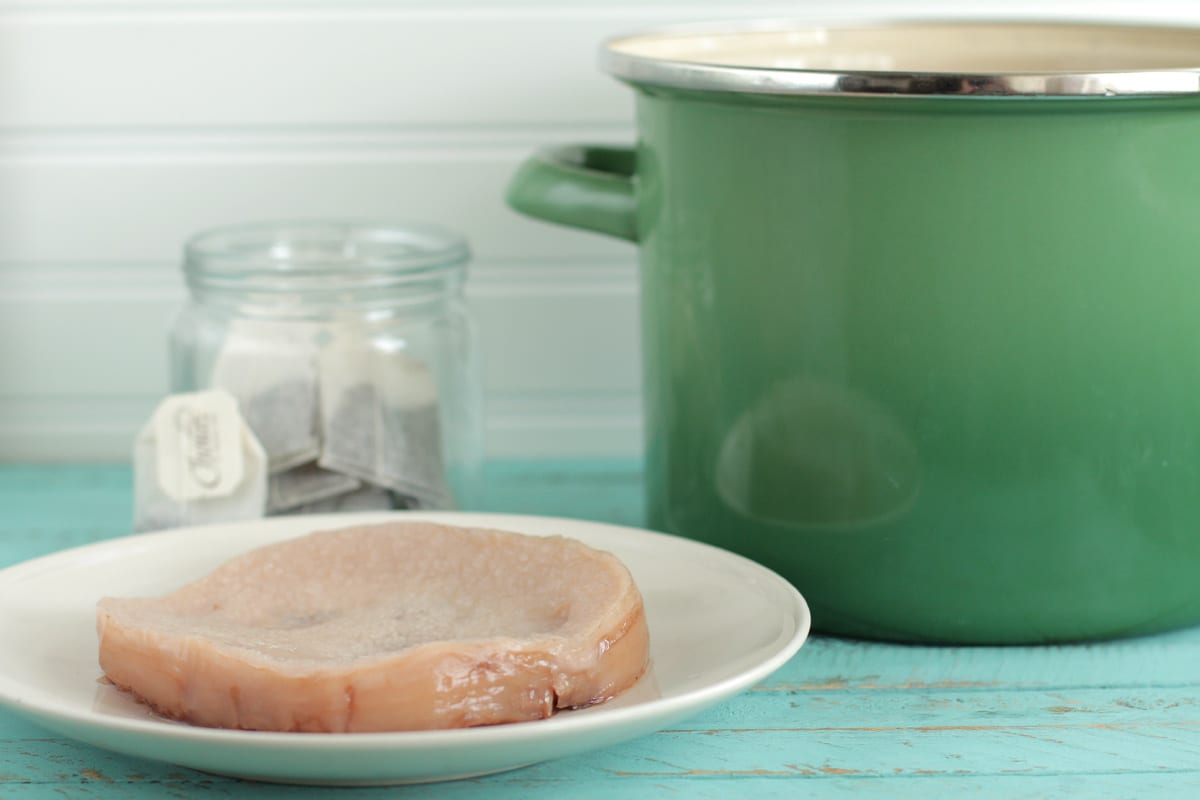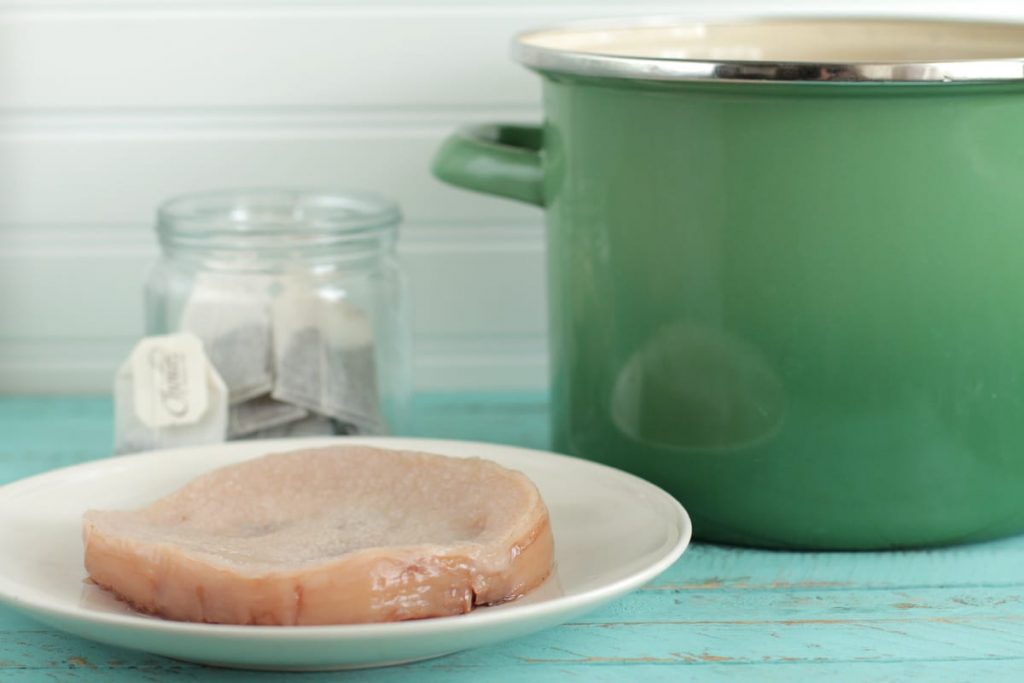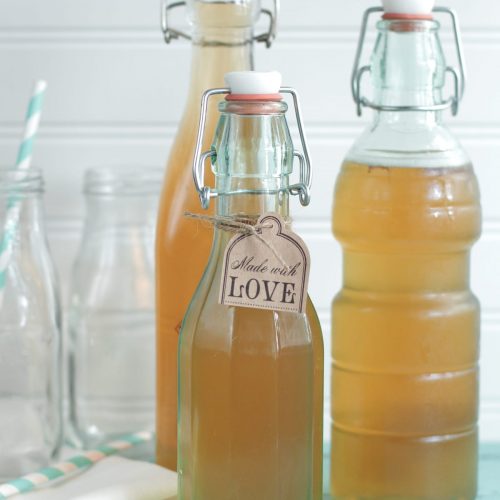 How to Make Homemade Kombucha
Kombucha is enjoyed for its unique taste (a wonderful way to replace sodas and juice) as well as its many health benefits.
Ingredients
1

scoby you may be surprised to find a fellow Kombucha-brewer willing to share the love or check out Culture for Health

3

quarts

water

filtered

1

cup

organic cane sugar

3

black tea bags

2

green tea bags

1/2

cup

kombucha

you will need at least 1/2 cup of already fermented Kombucha

fresh fruit

frozen fruit, herbs, spices, even juice (optional)
Instructions
Bring 12 cups, 3 quarts, of water to a boil. Add in 1 cup of sugar and stir until the sugar is dissolved. Add in 5 tea bags. Allow the tea to steep for about 5 minutes and remove the bags. Allow the tea to completely cool.

Once cooled, pour the sweet tea mixture in a gallon-size jar. Place your SCOBY inside the jar with 1/2- 1 cup Kombucha. Cover the jar with a cheesecloth and rubber-band. Store in a warm, dark place for at least 6 days up to 28-30 days. The longer your SCOBY and tea ferment the less sweet and more sour the tea will taste. I like to go about 12 days.

Remove the SCOBY and any babies from the Kombucha and reserve 1 cup of Kombucha liquid with the SCOBY in a bowl. Strain the Kombucha through a mess strainer to remove any loose pieces. This is optional. If you don't mind drinking the pieces, you're welcome to skip this part of the process. I skip the straining.

Now, it's time to add flavor and add fizz. Use about 1/4-1/3 cup of fruit per 1/2 gallon of kombucha. You can also add fruit juice of choice (about 1/2 cup). When adding fruit (or something like fresh ginger), I also like to add 1 teaspoon of honey to give the kombucha bacteria something to feast on. I find the honey makes it even fizzier!

Pour the Kombucha into bottles (I use 1/2 gallon beer growlers--like this). A funnel is a handy tool for pouring. You don't want to waste any of that precious Kombucha. Seal your bottles and leave the Kombucha on the counter for 2-7 days, until fizzy. This is called the second ferment. During this time the tea and flavor will infuse together creating a delicious, fizzy beverage. Once the kombucha is to your liking, you can refrigerate your tea and start drinking.
Notes
Tools needed to make kombucha: 
Nutrition
Calories:
666
kcal
Carbohydrates:
200
g
Sodium:
141
mg
Potassium:
66
mg
Sugar:
200
g
Calcium:
85
mg
I ferment my tea for seven days.
The SCOBY will grow a baby (I told you this was like a placenta.) A new SCOBY (a thick film) will also grow over the top of your Kombucha and the original SCOBY, "the mother".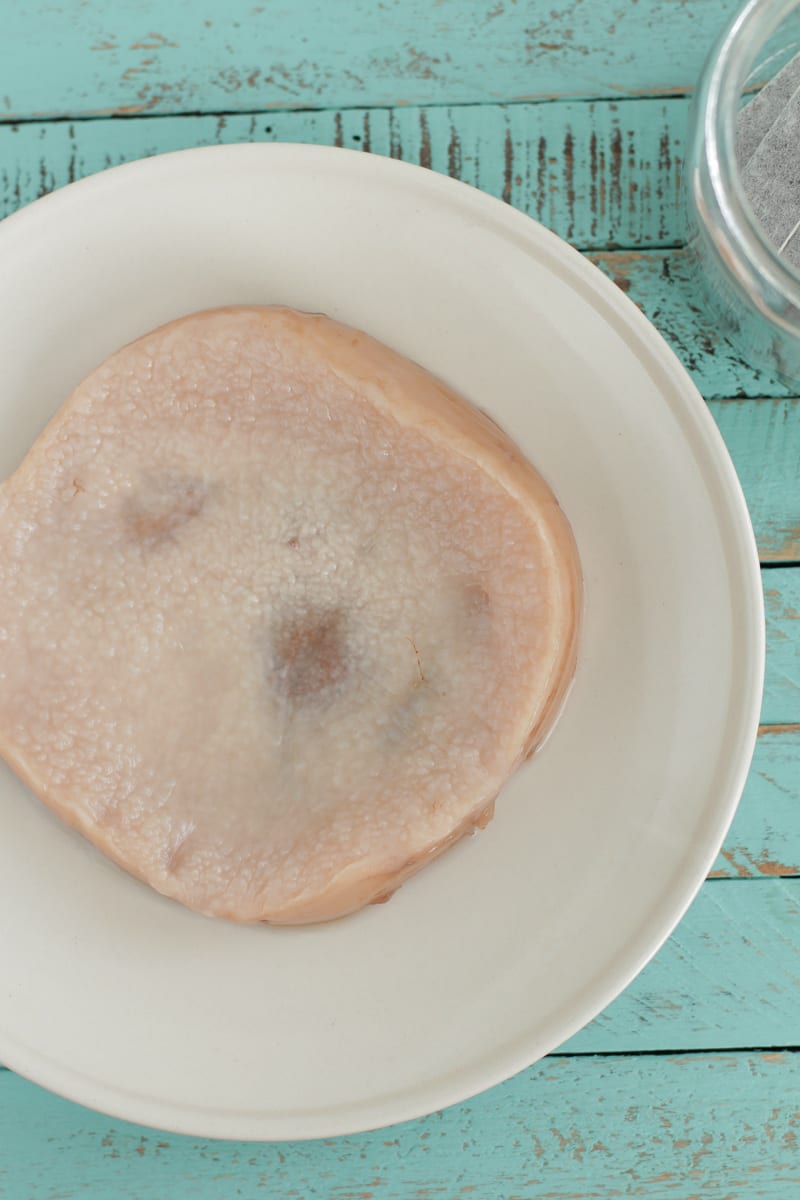 Real Food RN has great suggestions for flavoring your Kombucha. You can also check out Cultures for Health's suggestions. You can find my recipe for Berry Lemonade Kombucha here.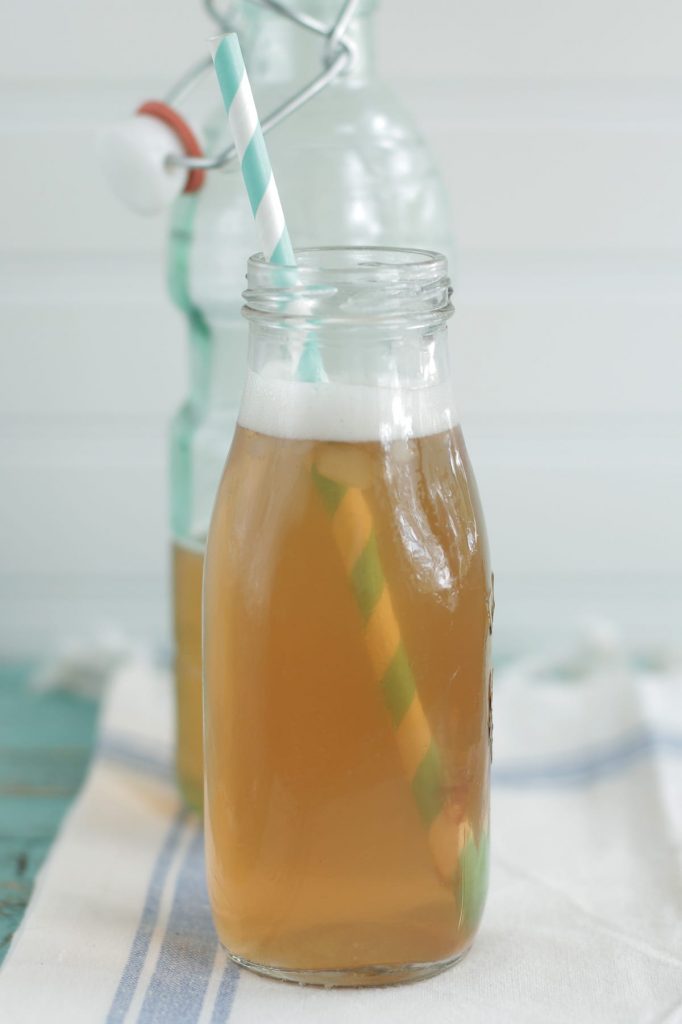 Yes, a tad bit unusual, but once you start drinking Kombucha you'll forget you ever handled a placenta-looking "mushroom".
The final result is a tea that's delicious and full of health-giving benefits.