2019 Update: As I try new (non-toxic) products, my makeup bag changes. The products listed below are great options for non-toxic makeup. If you want to see what I'm currently using for makeup on a daily basis, check out this post.
This post is long overdue. In fact, it's years overdue.
Since starting Live Simply, and talking about natural body-care, I've received countless requests from reader friends to share my favorite makeup products. But there's been one issue with this request…
It wasn't until this year that I actually felt comfortable sharing a peek inside my makeup bag.
See, real food and natural living in 2017, is a journey for most us–including myself. Just a few years ago, I was just beginning the journey of using more natural makeup products.
When I first began this journey, I experimented with do-it-yourself options. I quickly realized that wasn't a road I wanted to travel down (except for foundation powder). It proved to be too time-consuming, complicated, and expensive. So I turned my attention to finding brands that are making more natural makeup options. Just a few years ago, that was no small feat. Thankfully, today, that task has become much easier.
I'm still on this natural makeup journey (I certainly haven't "arrived"), but I'm finally at a place where I'm happy with the products and ingredients in my bag.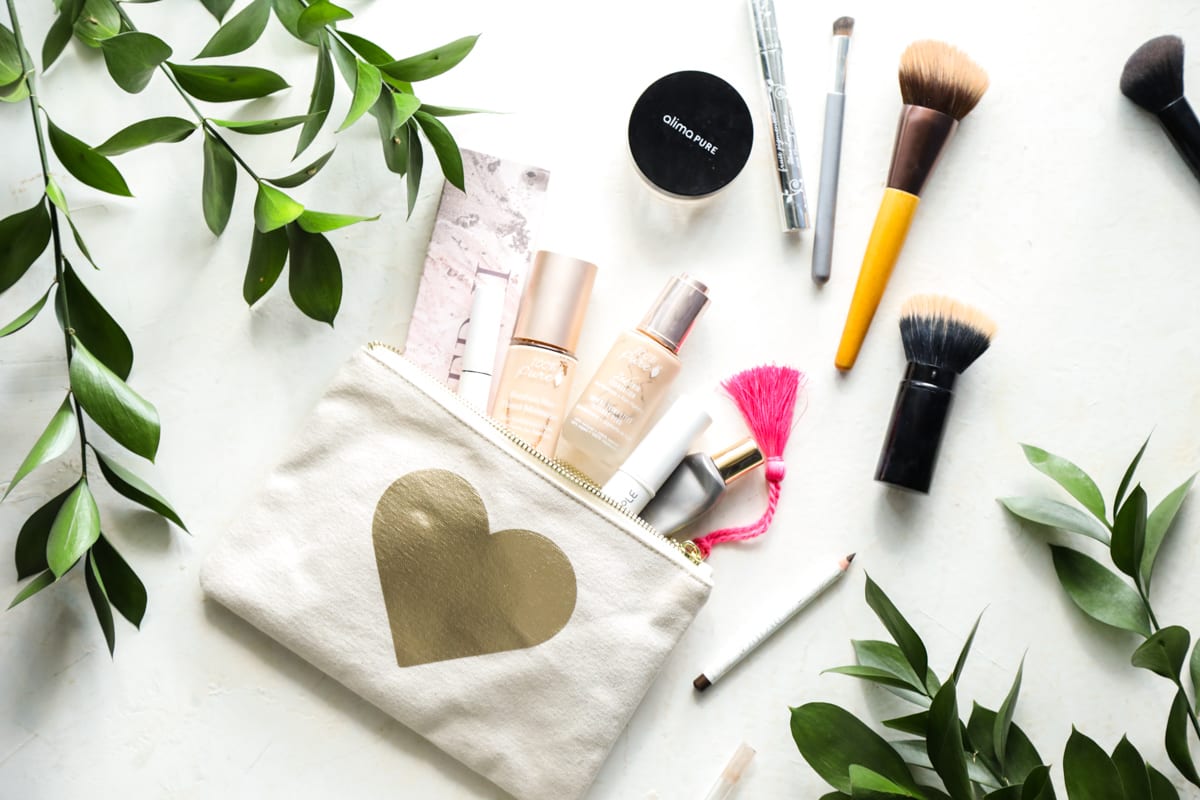 This is a peek inside my makeup bag. The products highlighted are the very products I love and use on a regular basis. If you're looking for non-toxic makeup options, I hope today's tried-and-true makeup recommendations are helpful for you.
I've used either the Environmental Working Group's Skin Deep Database or Think Dirty App to check out all the products in my makeup bag, and all of them score between a 1-3. This means they are considered neutral (a good thing!) or low on the overall hazard scale (a scale ranging from 0-10).
My Makeup Bag
My Favorite Natural Products
Liquid Foundation
Last year, I started using Beautycounter's Tint Skin (color: linen).
This year, I decided to try 100% Pure's 2nd Skin Foundation (color: sand olive). I love the coverage and light feel of this foundation (probably due to the oils used, including squalane oil). The 2nd Skin Foundation is my current foundation.
I also just recently ordered 100% Pure's Bamboo Blur Tinted Moisturizer (color: white peach). I really like the light and buildable coverage of this product. I'll probably use this during the warm summer months for daily coverage. It evens out my skin tone and moisturizes my skin. The only downside is it doesn't hold up well when my face is sweaty. Both Beautycounter and 100% Pure are only available online.
One more foundation (I've tried a few)…I also recently tried Crunchi Beautifully Flawless Foundation (color: Natural 2.5). I've had a really positive experience with this one, too. It evens out my skin tone and offers amazing coverage. It's become my go-to foundation now.
Foundation Powder
I've been using homemade foundation powder for a number of years now, and still love it.
This past year, I learned about Alima Pure Satin Matte Foundation (color: beige 2). The ingredient list is very short and appropriate, so I ordered a container. I fell in love with the great coverage and how perfectly the color matched my skin. Alima isn't available in stores (at least I don't know of any stores), so you have to order online.
Another option I've tried and enjoyed is Mineral Fusion Pressed Powder (color: neutral 2), which can be found at most health food stores and Whole Foods, and even Amazon. And one more, Zuzu Luxe Powder Foundation (also found at Whole Foods and on Amazon).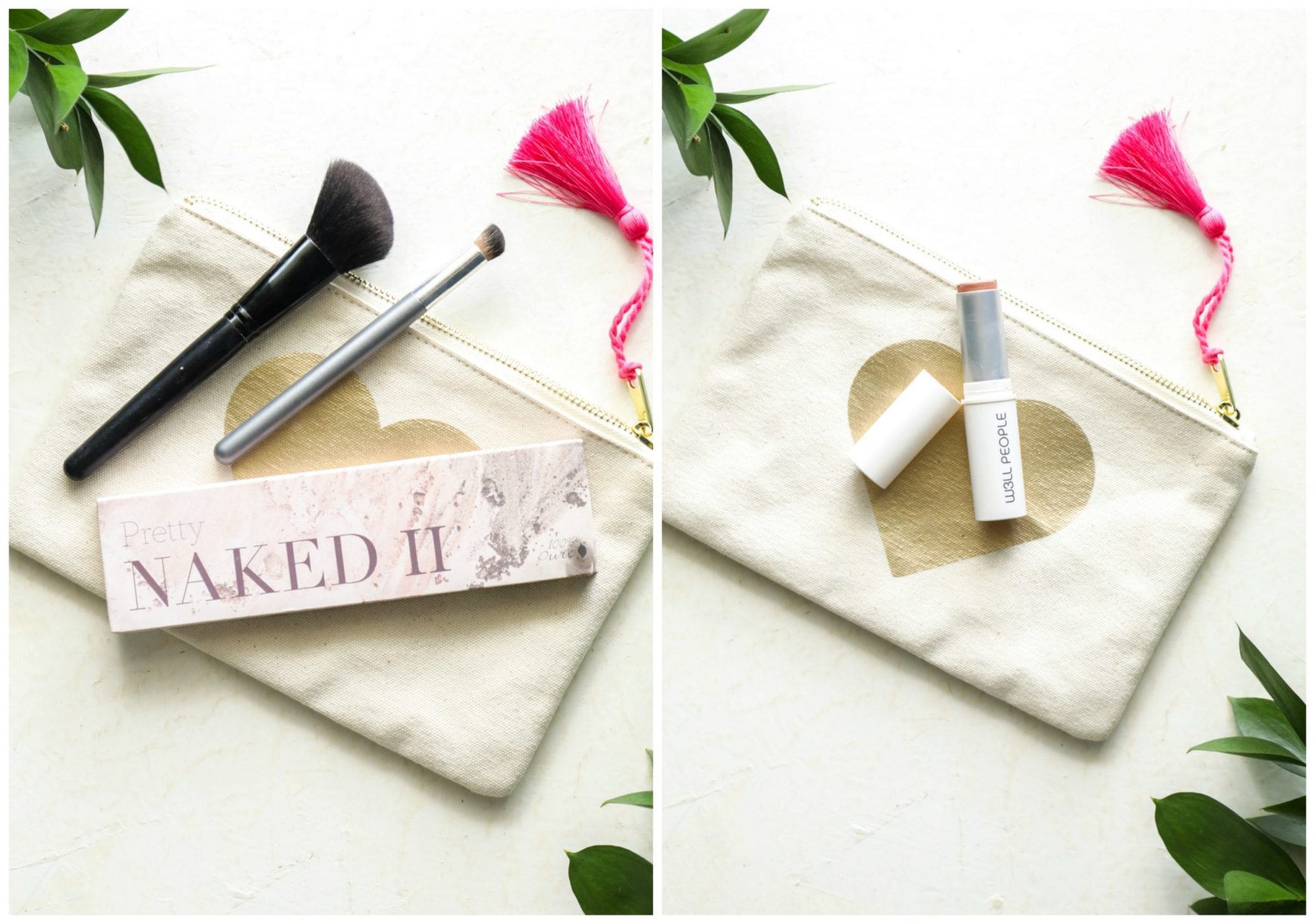 Blush
I currently have a powder and cream blush sitting in my makeup bag.
For the powder, I'm using Pretty Naked II from 100% Pure. This is a set of five different colors that I use for blush, a facial highlighter, and eye shadow.
I ordered the cream blush (Universalist Multi-Stick; color: nude flush) from W3LL People a while back just to try something a bit different. I use this from time to time when I want something for travel. This multi-stick is currently out-of-stock on the W3LL People website, but you can still find it at Target.
Eyeshadow
I use 100% Pure Pretty Naked II (talked about in the blush section) for eyeshadow, too. I love that I only have to purchase one product for a facial highlighter, blush, and eyeshadow. I guess that's what you'd call simplicity?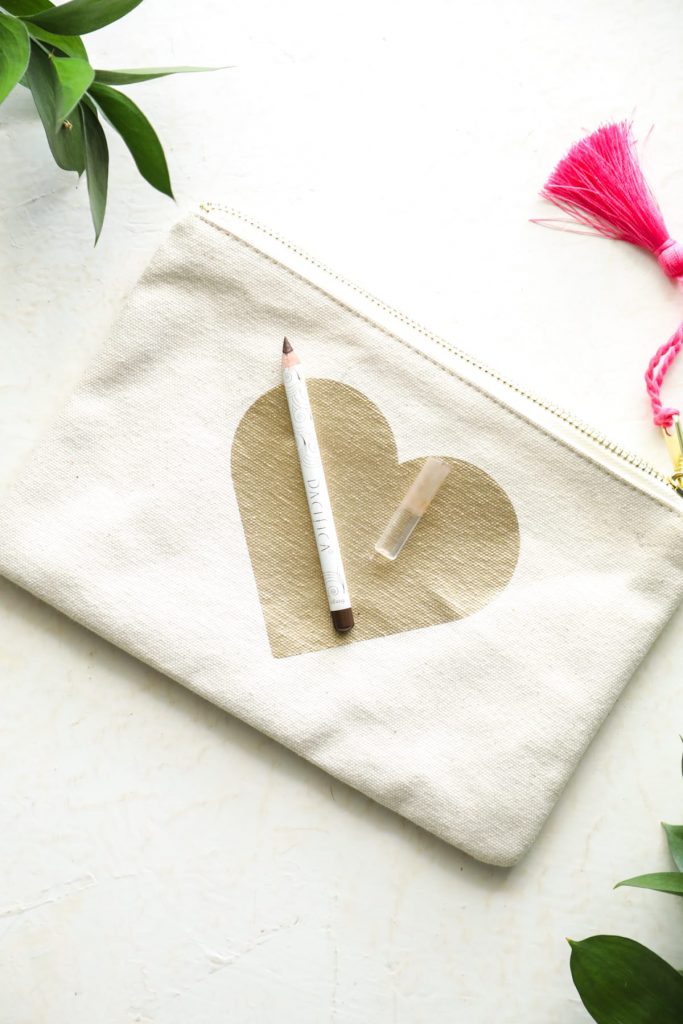 Brow Pencil and Eyeliner 
I grew up in the '80s and '90s–a time when natural eyebrows weren't exactly in style. I learned at a young age to tweeze, tweeze, tweeze my eyebrows. Needless to say, my eyebrows need some extra help with looking full and natural (lol, the irony). That's where a brow pencil comes in handy. I've been using the brow pencil from Mineral Fusion (color: dark brown) for years.
Eyeliner isn't something I use on a daily basis. On a special occasion, I use Pacifica Natural Eye Pencil (color: fringe). I haven't really spent much time looking for other brand options since I don't use eyeliner very often. Pacifica is available at most health food stores, Whole Foods, some Targets, and Amazon.
Mascara
A few years ago, I played around with making a homemade mascara and quickly realized that was a horrible idea (hello, smudges!).
Today, there are a few natural makeup brands making fantastic mascara options. My personal favorite is W3LL People (Expressionist Mascara; color: Pro Black), followed by 100% Pure (Fruit Pigmented Ultra Lengthening Mascara; Color: Black Tea). I've also heard great things about LILY LOLO Mascara.
Lipstick and Lip balm
There are two items left in my makeup bag: lipstick and lip balm. My favorite lipstick is from W3LL People (Nudist Colorbalm; Color: Nude 7). This lipstick goes on well and the color is very natural.
I make a batch of lip balm once a year (this recipe). I keep the tubes stocked in our medicine cabinet and pull one out whenever I need a lip balm replacement.
That's everything in my makeup bag. I would love to hear what's your makeup bag via a comment below.