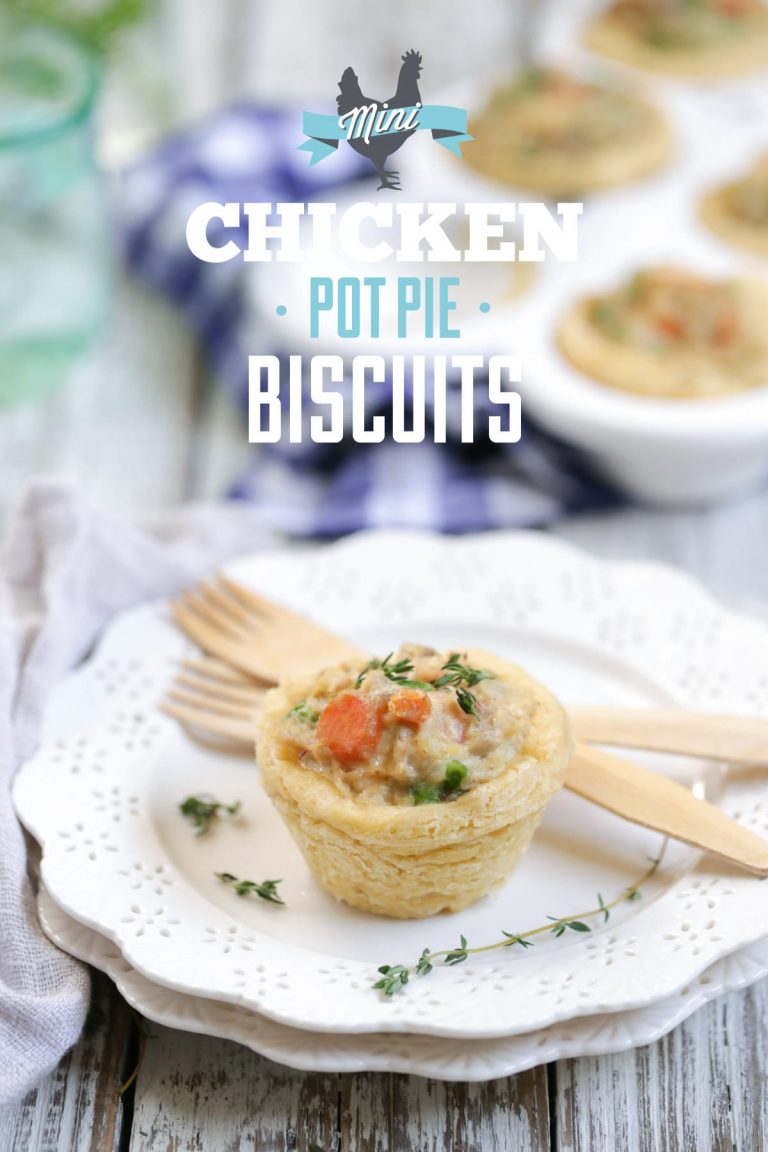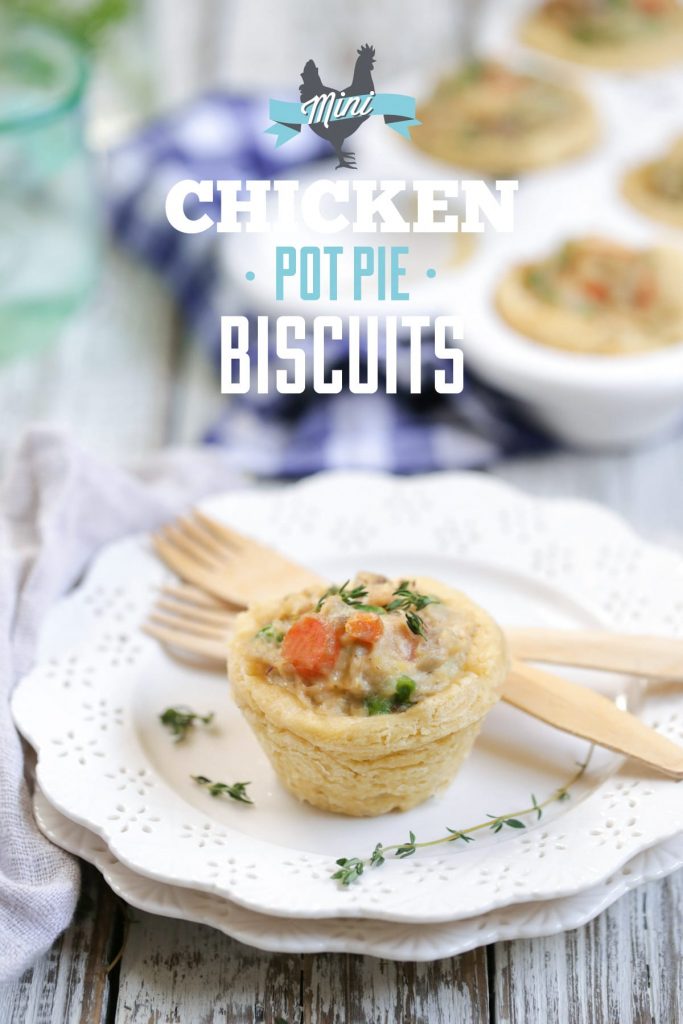 Moist chicken. Creamed veggies. Whole grain biscuits. All combined in a muffin pan for the cutest little chicken pot pies you've ever laid your hungry eyes on.
Yes, we're going there.
Once you bake these miniature melt-in-your-mouth biscuits, filled with the comfort of chicken pot pie filling, you may never want to go back to boring ol' chicken pot pie. Okay, I guarantee you'll never want to go back.
This is your warning. If you're ready to take chicken pot pie to a whole new real food level, let's proceed on. If not, it's totally cool. You can keep hanging out with the traditional pie crust version. No hard feelings.
Growing up my family's schedule was beyond busy. Cheerleading practice, middle school, and Mom's grad school were just a few of the activities that kept us going day after day.  Mom did her very best to cook homemade dinners regularly, but on nights when life was just too busy we would visit favorite fast-food restaurants. One of my very favorite restaurants on the regular list was Boston Market, where I always ordered the chicken pot pie.
To this day I still have edible visions of Boston Market's chicken pot pies. I'll admit, the ingredients were probably less than desirable, but the comfort of a petite pie pan filled with chicken, veggies, and topped with a pie crust was enough for me to regularly crave pot pies twenty years later. That's some powerful food!
The whole process of making homemade chicken pot pie has been rather intimidating. First, chicken pot pie involves…pie crust. And you know my *shudder* feelings about making pie crusts. Truthfully, I've never been able to get past the idea of making a pie crust (except when it comes to quiche for some odd reason), and that's where the comforting thoughts of resurrecting a homemade version of my favorite chicken pot pie always come to a screeching halt. Until…
A couple of months ago I was busy making dinner– roasted chicken, our favorite homemade biscuits, and veggies. Suddenly, an idea came to mind…
What about a chicken pot pie made with biscuits?
I played around the idea while cutting the biscuit dough.
Wait…
I could create miniature chicken pot pie biscuits. Biscuits filled with creamy chicken and veggies and baked in a muffin pan for an easy finger-friendly dinner! Oh yes!
That, my friend, was the birth of the cutest little chicken pot pies you'll ever eat.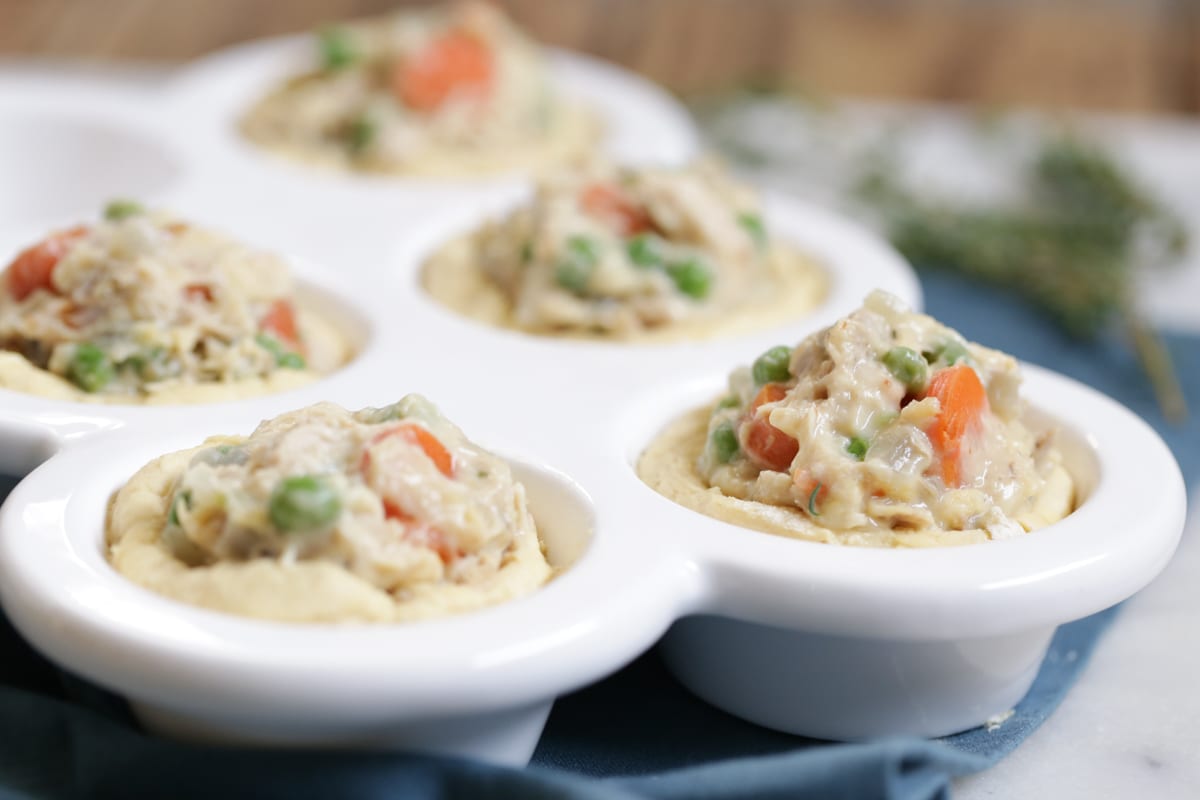 There's more to these chicken pot pie biscuits than just a cute figure. So much more…
Convenience. Mini chicken pot pie biscuits are the epitome of convenience. The biscuit dough can be made ahead of time and frozen in muffins pans. Or assemble the chicken pot pies, freeze in muffin pans, then remove and place in baggies in the freezer for later. When you're ready to eat, simply place the pot pies in muffin pans and bake. Frozen pot pies require a bit more time to bake, but a few minutes is worth the convenience of a healthier frozen dinner. Another option is to bake the pot pies in advance. Then store the baked pot pies in the fridge or freezer until needed, simply reheat and pack them for lunches, a picnic dinner, or a quick snack.
Freezer-Friendly. As discussed above, mini chicken pot pie biscuits are freezer-friendly which means less work and more eating.
Lunchbox-Friendly. Make a batch of pot pie biscuits on the weekend during prep time for a fun lunch throughout the week. Remember, chicken pot pie biscuits also freeze well for a quick grab-and-go lunch meal.
Kid-Friendly. What kid doesn't love a fun finger food wrapped in a blanket of flaky biscuit dough?
Husband-Friendly. Just don't use the word "cute" when describing dinner.
Mommy-Friendly. Less work and guaranteed family happiness. Way to go, Mom!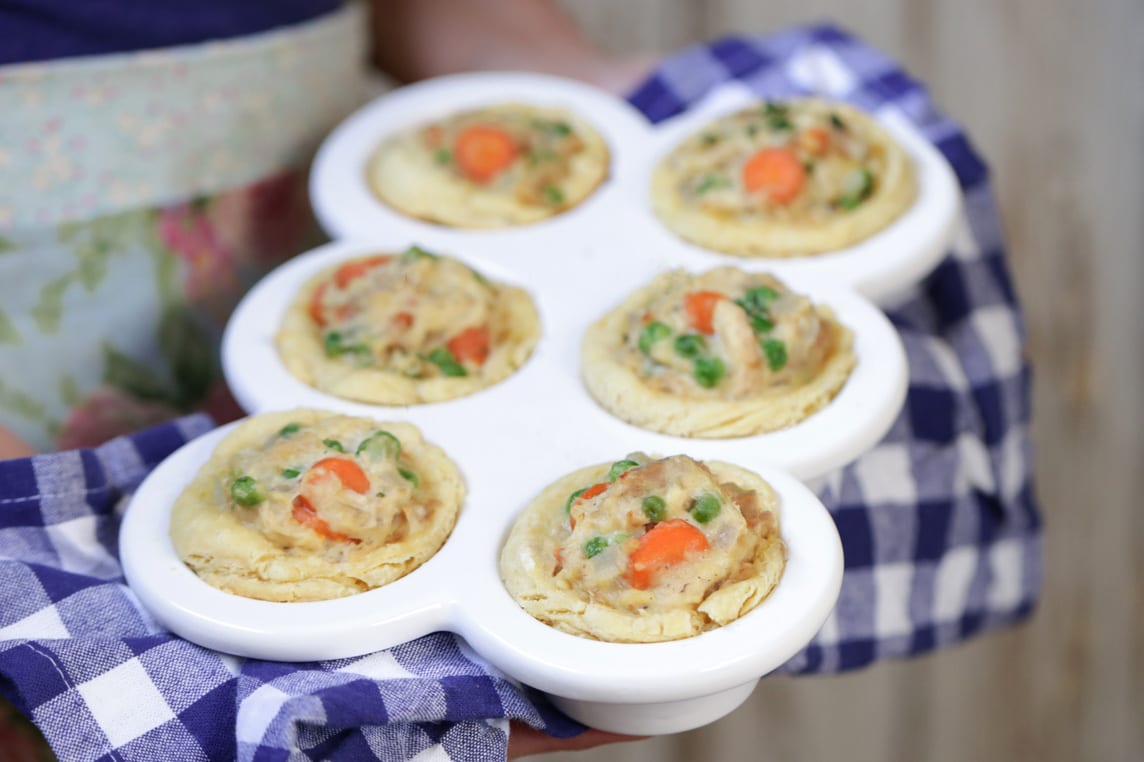 Trust me, one little bite is all you'll need to kiss the traditional chicken pot pie good-bye. Ready?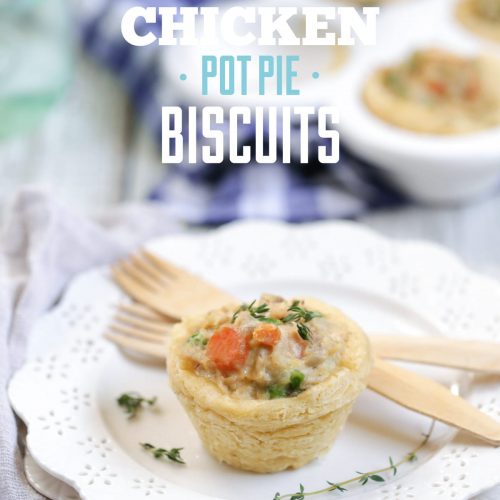 Mini Chicken Pot Pie Biscuits (Freezer-Friendly)
I could create miniature chicken pot pie biscuits. Biscuits filled with creamy chicken and veggies and baked in a muffin pan for an easy finger-friendly dinner! Oh yes!That, my friend, was the birth of the cutest little chicken pot pies you'll ever eat.
Ingredients
Chicken Filling:
2

TB

butter

1

cup

yellow onion

diced

1

cup

carrots

diced

1

celery rib

diced

1

garlic clove

minced

1

tsp

salt

1/4

tsp

black pepper

1

cup

peas

frozen

2

cups

shredded cooked chicken

I use leftover shredded chicken from a roasted whole chicken

1/4

cup

all-purpose einkorn flour

or any whole grain flour

1

cup

whole milk

1/2

cup

chicken broth

or veggie broth

2

tsp

fresh thyme

chopped, plus extra for garnish
Instructions
Preheat the oven to 400F.
For the Chicken Filling:
In a large skillet, over medium-high heat, melt the butter. Add the chopped veggies: onions, carrots, and celery. Saute for 5 minutes, stirring often, until the onion is translucent.

Make a well in the center of the veggies and add the minced garlic, salt, and pepper. Saute for 1 more minute until fragrant. Add the chicken and peas to the veggies.

Sprinkle the 1/4 cup of flour over the chicken and veggies. Make sure the filling is evenly coated with the flour. Stir in the broth and milk. Bring the filling to a boil, then reduce to a simmer. Simmer for 4-5 minutes, until the filing is thick. Sprinkle with fresh thyme. Set aside.
For the Biscuits:
Grease a muffin pan and set aside.

In a large bowl, whisk the flour, salt, and baking powder. Use a pastry cutter (or your hands) to crumble the butter into the flour mixture, until the butter resembles coarse crumbs.

Pour the milk into the flour mixture, stirring just until combined. Using your hands (gently kneading the dough if necessary), form the dough into a ball.

Sprinkle a surface with a small amount of flour. Roll the dough, on the floured surface, into a long rectangle. Be careful not to roll the dough too thin!

Using a large

biscuit cutter

cut out individual biscuits, then place each biscuit in the greased muffin pan, pressing the biscuit down and pulling the sides of the biscuits to cover the sides of the muffin pan.
To Assemble:
Fill each biscuit with 1 tablespoon (or more) of chicken and veggie filling. Note: The amount of filling you use will vary with the size of your muffin pan.

Bake for 12-15 minutes, until the biscuits are golden on the edges. Serve warm with chopped thyme leaves for a garnish.
Notes
The "where to buy" links provide links to the actual products I use. As always, I recommend shopping around online and at local stores for the best prices and products you love. Find all my favorite kitchen essentials, here.
Nutrition
Calories:
271
kcal
Carbohydrates:
28
g
Protein:
10
g
Fat:
12
g
Saturated Fat:
7
g
Cholesterol:
47
mg
Sodium:
555
mg
Potassium:
387
mg
Fiber:
2
g
Sugar:
3
g
Vitamin A:
2265
IU
Vitamin C:
7.5
mg
Calcium:
131
mg
Iron:
1.8
mg