Eight years ago, our little family embarked on a journey that would change our lives, literally! We decided, after a bold dare from Dustin, to do away with the processed food and start focusing on something called "real food."
What started with food, led us toward a journey of simplicity and being intentional about our life. We became intentional about the food we eat and how we source our food, the products we use in our home, the way we raise our children and where they go to school, the clothes we wear, and even the way we do laundry.
One of the areas I've focused on being intentional is in my kitchen. Yes, we are very intentional about the food we eat, but I also want to be intentional about how I stock my kitchen. For me, this means focusing on what I actually need for both tools and food, and saying no to the lure of owning more and more stuff. So what does this look like in real life?
I'm glad you asked!
Last year, after our kitchen remodel was complete, I went through all of my kitchen tools and donated three large boxes of kitchen stuff to a local charity. Stuff that I purchased on a whim and thought I wanted, but, in all honesty, I didn't need any of it to actually get food on the table. The items simply took up space in my kitchen. During the simplification process, I looked at each item in my kitchen and asked myself, "Do I use this at least once a month?" If I could answer yes, then I kept the tool. There were a few exceptions to this concept, like my cake pans, bread pan, and ice cream maker.
Today, I want to share the kitchen tools I regularly use and stock in my kitchen. The tools used to make real food possible in my home. My list may look different from your list, and that's okay! For some tools, I've included a link to brands or products I'm using.
My Must-Have Real Food Kitchen Tools
Switching to a real food lifestyle means chopping and dicing a lot of ingredients, so a few good knives are indispensable! I was using Cutco knives, but I found that they dulled very quickly. I've recently upgraded to the KitchenAid Professional Knives, and I can't rave about them enough. I truly believe you get what you pay for when it comes to buying knives. I pretty much use the same three knives in my kitchen: chef knife, bread knife, and a smaller chef knife.
How to Use: Chopping, dicing, and slicing just about anything, except your fingers ;)!
Measuring ingredients is the key to maintaining the integrity of a recipe, and the end product. I prefer metal measuring cups and spoons because they are more durable than plastic.
How to Use: Measuring ingredients.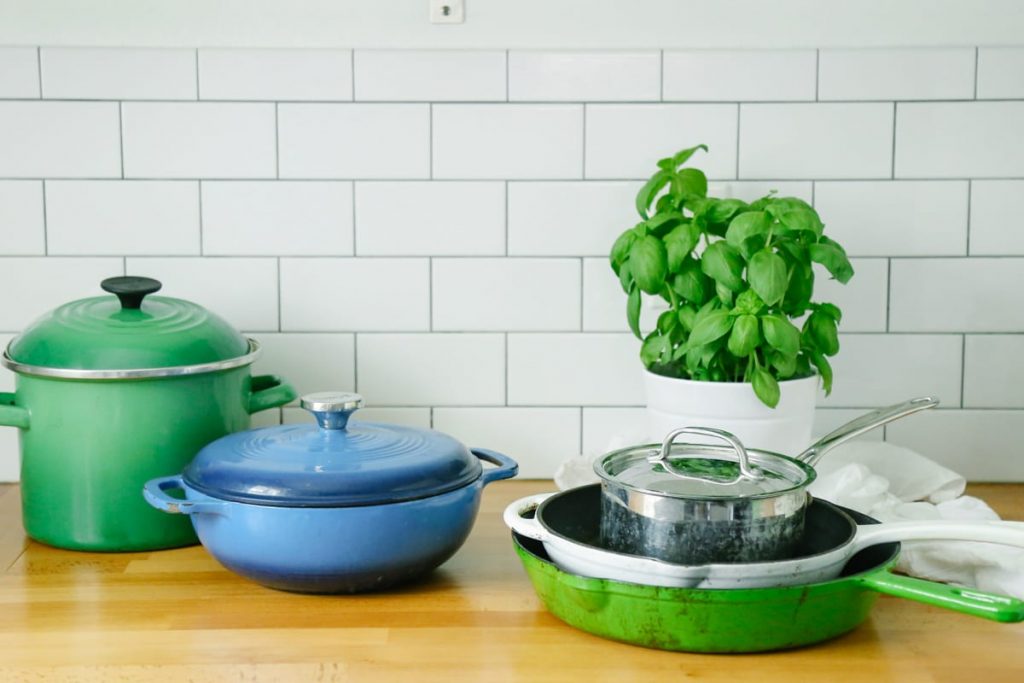 3. Pots and Pans
For a wedding present, we received a set of Cusinart stainless pots and pans, and I still use them to this day.
I love the stainless, but my favorite are cast iron and enamel pots and pans. I own Lodge brand, a Target brand skillet, and one Le Creuset pot. I have both a 3 quart and 5 quart Lodge Dutch Oven. As you can tell from the photo, my pots and pans are well-loved kitchen tools (I promise, they are clean).
How to Use: Cooking on the stove-top and in the oven (like this crusty bread and this hash). I also use my cast iron skillet to make corn bread.
4. Baking Dishes
Baking dishes come in handy for making casseroles, brownies, and granola bars. I stock the following baking dishes in my kitchen: 1-13×9 pan, 1-8×8 pan, 1-muffin pan, 1-bread pan, 2-cake pans (for very special events like birthdays and Easter…hello, carrot cake!).
How to Use: The 13×9 pan comes in handy for making large batches of granola bars, lasagna, casseroles, and cakes. The 8×8 pan is used for granola bars, smaller casseroles, and brownies/desserts. The muffin pan is used for baking muffins. The cake pans are used for cakes. And the bread pan is used for yeast bread and quick bread (like banana bread).
When it comes to baking cookies, homemade pizza, veggies, and homemade biscuits, my go-to tool is my baking stone. I own two baking stones, a rectangular one and a circular one, and I love them both! When I need a baking sheet with a side to prevent food from falling or oil from spilling, I turn to my rimmed baking sheet.
How to Use: A baking stone is essential for cooking homemade pizza (in my opinion). I also use my baking stones, as mentioned above, for baking cookies and roasting smaller quantities of veggies. When it comes to making large quantities of veggies or cooking bacon, I use a metal (rimmed) baking sheet.
6. Mixing Bowls
I keep four mixing bowls around for mixing batters and making salads: two small bowls and two large bowls. I've used plastic bowls in the past, but they just don't hold up very well in my kitchen. My favorite bowls are ceramic (Sur La Table) and glass.
How to Use: Large mixing bowls are perfect for larger salads and batters for muffins, cookies, cakes, etc. Smaller mixing bowls are ideal for beating liquid ingredients (in a batter, scrambled eggs, etc.), or making a smaller salad.
Yes, a garlic press is a very specific tool, used for a very specific purpose, but in my kitchen this tool is important! The primary role of a garlic press is to mince garlic, saving both time and my hands from chopping garlic into teeny tiny pieces.
How to Use: Mince garlic cloves for soups, salad dressings, and recipes.
Yes, another very specific tool, but once again, this tool is a huge time-saver in my kitchen. I use a lot of lemons and limes for marinating/cooking meats, making salad dressings, and even making a immune-loving tea. The juicer does a much better job at juicing than my hands could ever do.
How to Use: Juicing lemons and limes for marinades, salad dressings, tea, and recipes.
9. Cutting Board
My cutting boards are probably the hardest working kitchen tools in my whole kitchen, along with my knives. I'm constantly washing and using my boards for preparing foods. I have two wood cutting boards that are frequently used throughout the day. I also have a silicone cutting mat that I occasionally use if the wood boards need washing.
How to Use: Cutting, chopping, slicing food.
10. Colander
I have three colanders in various sizes. I use my colander for everything from straining veggies and bones from homemade broth to washing greens and berries.
How to Use: Washing berries and smaller fruits, veggies, and leafy greens. Straining veggies and bones from homemade broth, and straining pasta. A colander may also be used for steaming veggies.
I keep three metal spatulas in my kitchen. My favorite metal spatulas have come from Amazon and Crate and Barrel.
How to Use: Flipping, sautéing, and cutting into food (i.e. a casserole).
12. Tongs
Tongs are a handy tool for removing vegetables from hot water or a hot pan, picking up bacon, turning meat, and grilling.
How to Use: See recommendations above.
13. Wooden Spoons
As you can probably tell from the photo above, I have a great love for wooden spoons. I promise, there's an intentional reason for this love. Wooden spoons are used in my kitchen to serve salads, sauté meats and veggies, stir ingredients, lick batter ;), and just about anything else that involves mixing.
How to Use: See recommendations above.
I use this tool to whisk dry and wet ingredients for baking, homemade shaving cream, and eggs.
How to Use: See recommendations above.
15. Ice Cream Scooper
This may seem like an impractical choice, but an ice cream scooper is one super valuable tool in my kitchen. Why? This little tool is used weekly (or bi-monthly, if I'm on top of my prep and freeze game), to scoop perfect portions of muffin batter in a matter of seconds.
How to Use: Scooping ice cream, of course, but also scooping muffin batter into a muffin pan!
16. Food Processor
I realized the value of owning a food processor shortly after making the switch to real food. While it's definitely possible to live without this tool, it makes the task of chopping nuts, grinding oats, chopping large amount of veggies, making dips and thick sauces (like pesto and hummus) a much easier process. I also use my food processor to make pie crust and biscuit dough.
I've used a Cuisinart food processor for many years, and just recently upgraded to a large KitchenAid. I wouldn't recommend the large (expensive) food processor to most home cooks. I need a larger machine due to the nature of my job: constant recipe testing.
How to Use: Chopping nuts, grinding oats, chopping large amount of veggies, making thick dips (like hummus) and nut butters.
A high-speed blender is another expensive investment, but it's worth every single penny (in my opinion). A high-speed blender is a valuable tool in my kitchen since we make smoothies a few times a week. During the summer, smoothies may be turned into popsicles. I also use my blender on occasion to make pizza sauce and pesto.
How to Use: Blending smoothies, pesto, pizza sauce, and wet sauces/dips.
This little section should probably be labeled "Expensive Tools," because I would definitely call tools like a food processor, high-speed blender, waffle maker, and mixer (coming next) big investments. I think it's important to note that we've been on our real food journey for eight years now, and I've been slowly saving for and purchasing these tools over the years.
With that said, a waffle maker was one of those tools that I had a hard time purchasing because I just didn't want to spend the money, but I'm so glad I did! We make waffles at least twice a month, and I freeze the extras for busy mornings.
How to Use: Make homemade waffles.
19. Mixer
My stand-mixer is used to mix muffins, cakes (on special occasions), cookies, granola, pizza dough, bread dough, burger buns, and so much more.
My first stand-mixer came from a church sale and cost (you'll never believe this) $25!!! Seriously, talk about the deal of the century. And yes, it was a KitchenAid. A few years ago, I gave that mixer away and replaced it with a bigger mixer. I also purchased the glass bowl for my mixer versus the traditional metal bowl, and I absolutely love it!
How to Use: Mix muffins, cakes, cookies, granola, pizza dough, bread dough, burger buns, frosting, and more.
20. Clear Storage Jars
After making the switch to real food, I quickly learned that stocking a variety of ingredients was important to real food success. This doesn't mean just going to the store and randomly purchasing nuts, seeds, and anything that's "real." Oh no! This means being intentional (hello, meal planning) about buying ingredients to make the food my family loves.
I stock a lot of popcorn, almonds, cashews, walnuts, raisins, dry beans, rolled oats, flour, honey, and the list goes on. To help keep my kitchen organized, I've invested in large glass jars from Target and IKEA. Instead of storing ingredients in bags or boxes, I store them in the glass jars. This way I know when we're about to run out of an ingredient. I also don't spend precious time hunting down the bag of oats crumpled in the back of the pantry. I use quart and pint size mason jars to store broth, soups, etc. I also use glass Snapware for food storage in the fridge.
How to Use: Mason jars are great for storing smoothies, broth, soup, and chopped fruits and veggies. Gallon-size jars are perfect for storing dry pantry ingredients. Clear containers are perfect for storing leftover and make-ahead food.
21. Mandoline
This tool comes with a word of caution: Watch your fingers!!! I've taken off parts of my fingers numerous times with this handy slicer. And yes, there is a safety guard "thingy." A mandoline quickly and evenly slices vegetables like cabbage (for this slaw), cucumbers, peppers, onions, beets, and much more. It does a much better job at thinly slicing these vegetables than I ever could with just a knife.
How to Use: Slice vegetables like cabbage, cucumbers, peppers, onions, beets, and much more.
22. Cheese Grater
I've also been known to take off skin with a cheese grater, so proceed with caution ;). I really shouldn't work around slicing tools. I have two cheese graters, in two different sizes, that are used for grating carrots, zucchini, and blocks of cheese. The smaller grater even works well for zesting citrus.
How to Use: Grate vegetables and blocks of cheese. If the cheese grater has small holes, it may also be used for zesting citrus.
I use my crock-pot weekly to make broth (usually chicken or vegetable), cook a whole chicken or taco meat, or make soup. A few months ago, I purchased an Instant Pot. I now use this tool as my full-time slow cooker. I kept my crock-pot for recipe testing purposes.
I don't believe a home cook needs both a crock-pot and Instant Pot, so I suggest making the choice based on whether you'll actually use the pressure cooker feature of the Instant Pot. If not, go with a traditional crock-pot/slow cooker.
How to Use: Make homemade broth (chicken, beef, veggie), cook a whole chicken or chicken thighs, make soup, etc.
I use my rolling pin weekly to make homemade pizza, so it's worth a mention on this list. During the holidays, my rolling pin is regularly used to make cookies and pie crusts. I started using a French rolling pin last year.
How to Use: Roll pizza dough, pie crusts, cookies.
The last tool on my "must have" list is a salad spinner. This may seem like a silly item, but it's one of my favorite tools in my kitchen. I use my salad spinner to wash and dry greens for a weeknight salad, and when I wash and prep greens in advance. The fact that I can soak and dry the greens in the same container is a huge plus!
How to Use: For prepping greens in advance, I highly recommend reading about my time-saving method. For a quick salad, just soak cut-up greens for about 5 minutes in water (in the salad spinner base), then dump the water and dry the greens. Easy peasy!
I would love to hear about your must-have real food kitchen tools. What do you use regularly in your kitchen?