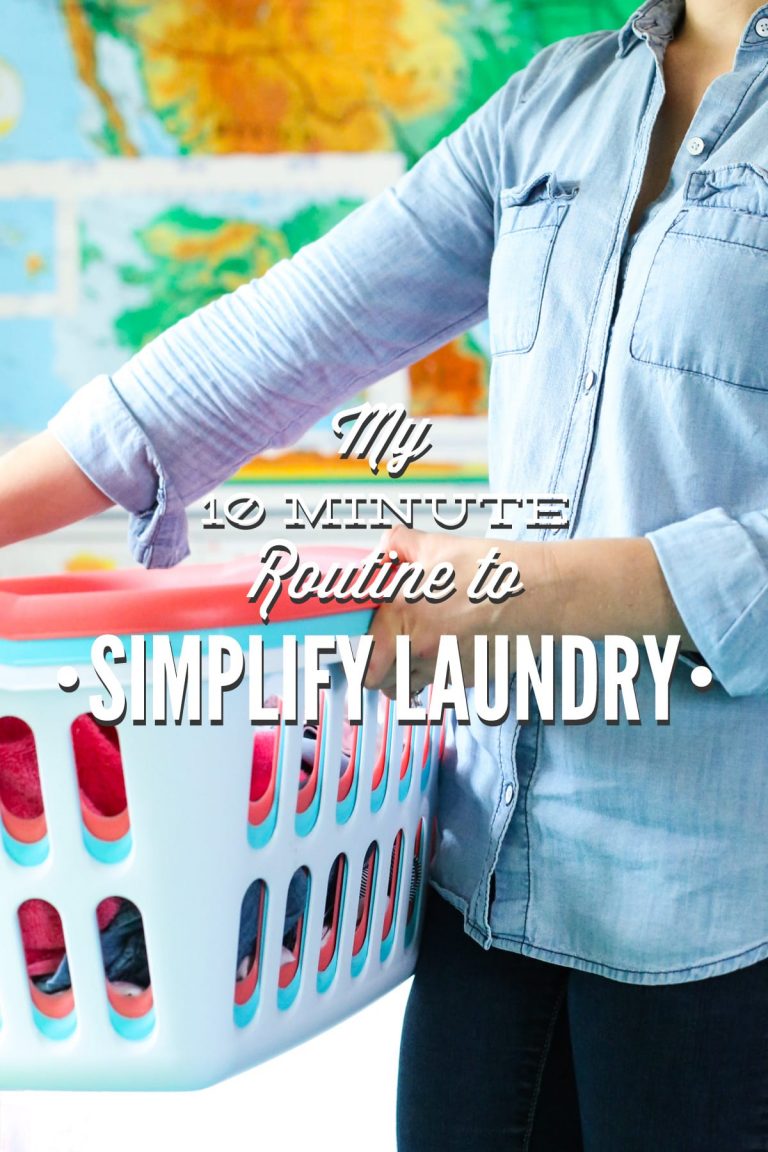 Laundry help is here!
I'm going to make a pretty bold statement: I've found a routine that simplifies laundry and actually makes this dreaded task enjoyable.
Okay, maybe enjoyable isn't the word. Although, I'd be lying to say that I don't find enjoyment in the sight of empty laundry baskets. I think the word should be, doable.
My goal for Live Simply is to help you (and me, because I'm right here with you on this journey) simplify real food and natural living. While most of the time we talk about crock-pot burrito bowls, granola bars, and homemade hand soap, I believe it would be a disservice to dismiss the daily tasks that can make preparing real food or mixing together a bottle of hand soap a huge challenge. The tasks that can consume so much valuable time. If you're neck-deep in laundry, it's hard to think about spending extra time making healthy food.
I haven't figured out all the secrets to simplifying every task in my house, but slowly I'm learning to create routines that make time-consuming, complicated tasks more doable and less time-consuming. My home isn't perfect, so please don't misinterpret the simplifying beyond the kitchen posts as a demand for perfection. Trust me, my friend, we have our messes–we live within the four walls of our home.
Last month we devoted quite a bit of our DIY time together talking about laundry. We talked about how to make an effective stain remover, a three-ingredient homemade bleach alternative, and the simplicity of making a homemade Oxi-Clean powder.
While I've shared many homemade laundry recipes, I've never talked much about the actual act of doing laundry. Truthfully, up until three months ago, I hated laundry. I know, that's a harsh word, but it's true. My typical laundry routine looked like this…
One laundry basket accumulated all the clothes and towels throughout the week. I would throw dirty dish towels in the washing machine where they would sit for days. Everything else would gradually build like a child's tower of blocks until the laundry basket just couldn't handle one more piece of clothing. Once the laundry basket was piled as high as a mountain, I would set out on a laundry expedition. I usually spent all weekend washing and drying clothes and towels.
I felt defeated, frustrated, and overwhelmed by such a complicated task.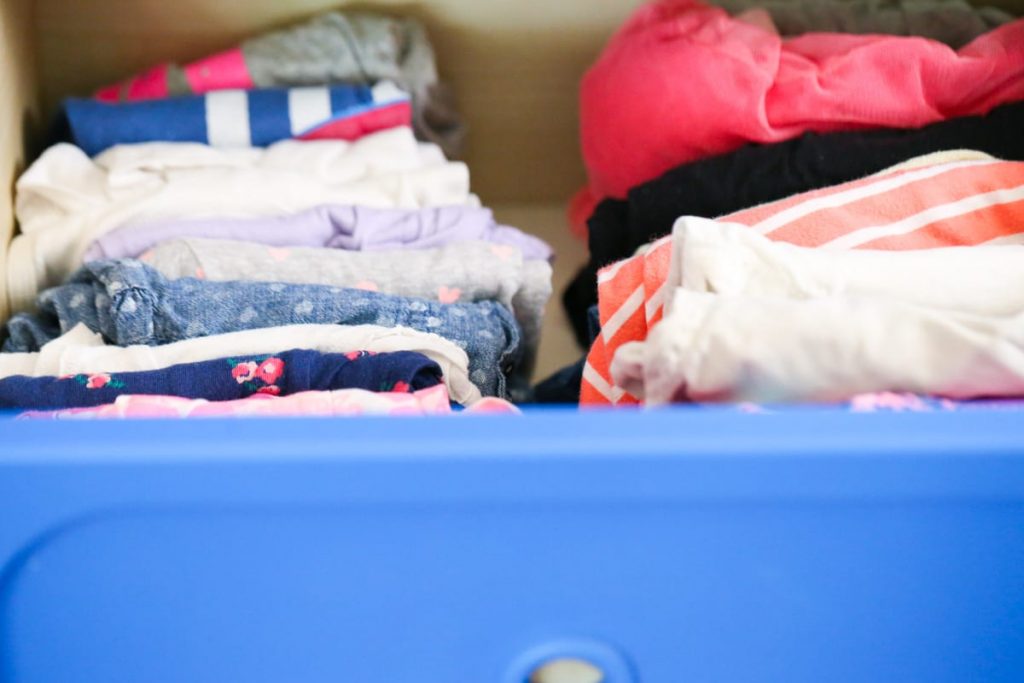 My laundry epiphany came three months ago. I decided enough was enough.
I developed a routine.
My Laundry Routine Essentials
1. Reduce Towels:
One of my biggest laundry issues was the fact that we owned sooooooo many bath towels. Our linen closet door couldn't be shut due to the amount of towels hanging off the shelves. Since we owned so many towels, we took the liberty of using as many towels as possible. This meant an overwhelming amount of the laundry basket was being consumed by towels! Simplification was needed.
I gave away nearly all but four white towels, two for the downstairs half bath and two for guests. I asked each family member to choose a color and then purchased the corresponding towels. Now everyone owns two towels in one particular color: Dustin-yellow, Kristin-blue, Piper-green, Londyn-pink. This act alone has greatly reduced the amount of dirty laundry. I shared our towel system in this post.
2. Keep Multiple Laundry Baskets:
Before simplifying laundry I had one laundry basket. ONE!
To help simplify, I purchased a different color laundry basket ($4.99 at Target) for each room where laundry would accumulate: the kids' room, our room, and the shared kitchen/dinning room. The kids share a room, so they were given two laundry baskets, a pink basket for Londyn and a blue basket for Piper.
3. A Daily Laundry Schedule:
Tending to laundry once a week was too overwhelming. Not only would I spend all weekend washing and drying, I would become so frustrated by the lengthy process I would never get around to actually folding the clothes or putting them away. We would live out of the dryer or laundry basket for days or even weeks following a laundry session.
Instead of a weekly schedule, I created an every day schedule. I didn't think we dirtied enough clothes to run the washing machine this often, but I was proven wrong. Plus, most washing machines offer low and medium water level options.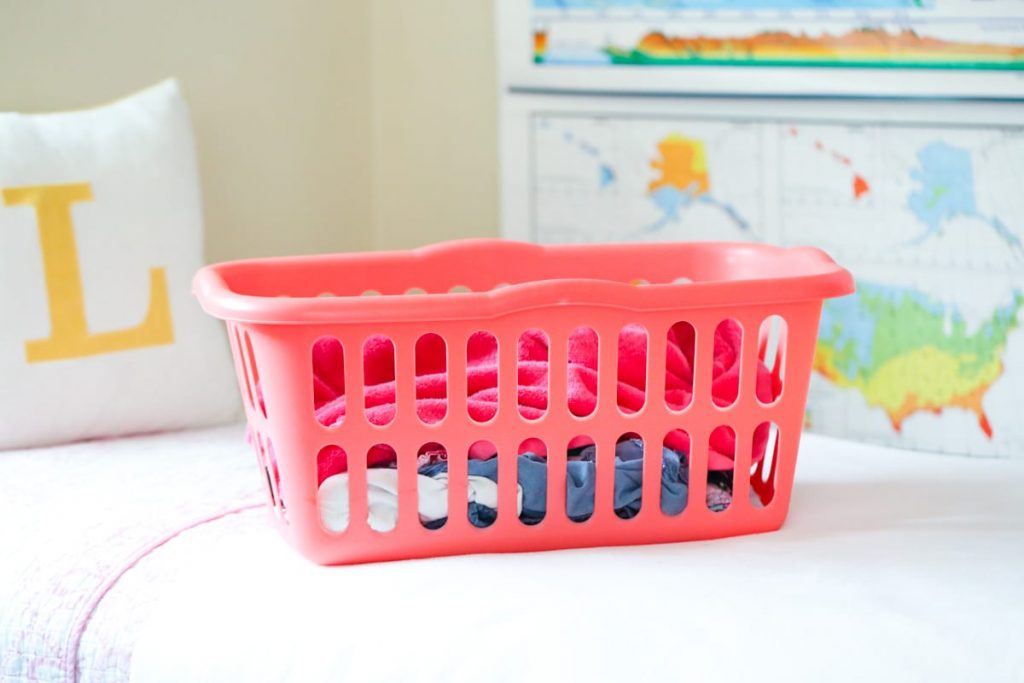 My Laundry Routine
I wash our laundry every day. The bulk of the laundry is clothing, socks, and dish towels. Bedding and bath towels are washed on the weekend.
Step One- Gather the Baskets:
In the morning, upon waking and getting my coffee, I walk around to each room to gather laundry (from the previous day). I dump all the clothes and towels into one of the four baskets (usually the basket from our room), and then stack the remaining baskets under the "main" laundry basket.
Step Two-Wash and Dry:
Once the clothes and baskets are gathered, I turn on the washing machine and add my laundry soap. Then, I add the clothes and walk away.
I don't sort according to color. Once the washing cycle is complete (usually after my shower or breakfast), I pull the clothes out and place them in the dryer with dryer balls. At this point the laundry is done and I can go on with my day.
Step Three-Sort:
In the evening, after dinner, I head back to the laundry room and unstack all the laundry baskets on the floor. I open the dryer door and pull out each piece of clothing, sorting it into the correct basket. I DO NOT fold the clothes, just sort according to their final destination. Dustin's clothes go in our white laundry basket, along with my clothes. Piper's clothes and towel go in the blue basket. Londyn's clothes and towel go in the pink basket.
Step Four-Put the Clothes and Towels Away:
Now it's time to pick up the baskets (I usually just stack them on top of each other with the clothes and towels inside each basket) and go to the rooms. I place each basket in the correct room and put the clothes away. This takes less than 10 minutes total–the time I'm suggesting in this post :).
I realize every household is different. My goal for today's post is to encourage you to think about how you can simplify the task of doing laundry. What kind of schedule/ routine can you create to make laundry a more doable task so you can spend more time enjoying your family versus feeling like you're buried under a mountain of clothes and towels every week. Let's end the complication of laundry!!
More Simple Lifestyle Tips You May Like:
5 Simple Habits to Get More Done Every Day