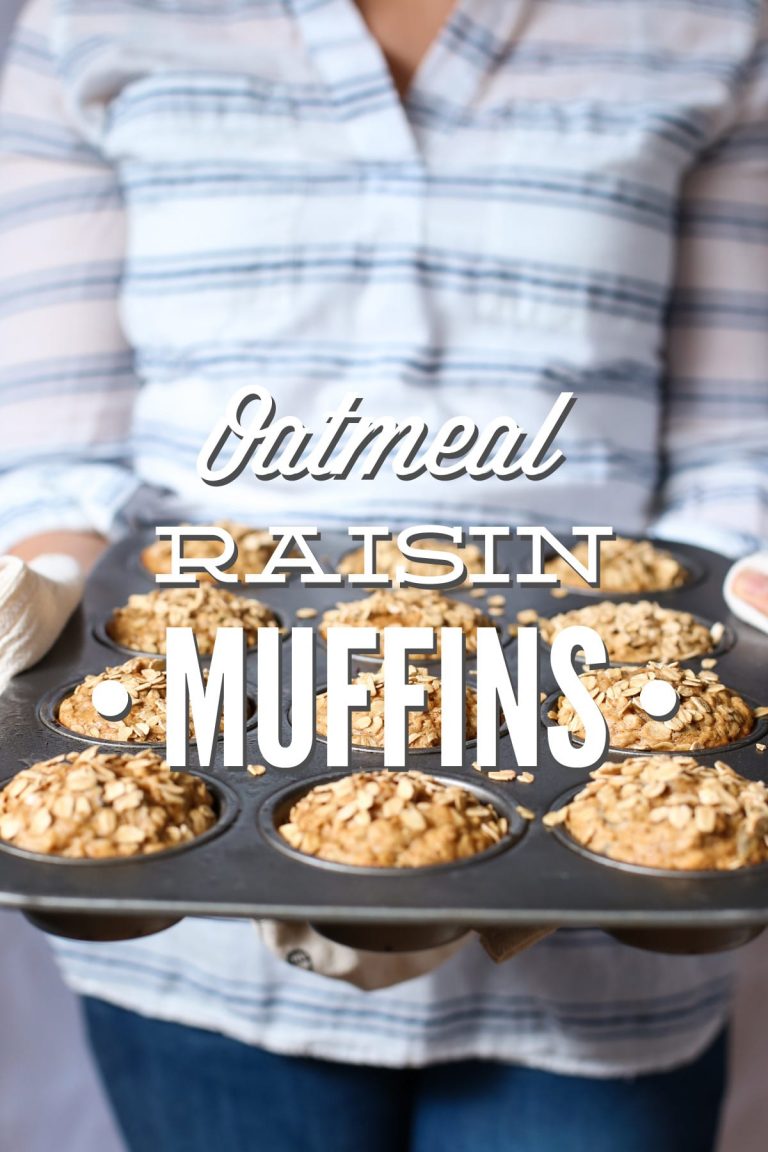 The secret is out. I'm completely obsessed with recreating favorite desserts and calling them "breakfast." Waking up at 6am is a very motivating experience when Carrot Cake Breakfast Cookies are waiting to be devoured, or Warm Oatmeal Raisin Muffins are can be whisked together in just minutes.
Speaking of 6am…
I've had the desire for a long time to get back into a workout program. My motivation to seek out a more active lifestyle stems from my desire to be intentionally disciplined (in a good way). A discipline that only comes from waking up early to do something I simply don't want to do. I think that's called crazy, also known as "purposeful exercise."
Working out has been on my to-do list for years. I've even signed up for multiple classes, from yoga to spin, but something usually happens to prevent me from attending (like extra snuggle time with my bed). The two classes I actually attended just confirmed my suspicion…I'm an exercise introvert. That's a real thing, right?! I prefer to exercise the art of looking like a fish out of water, gasping for every last breath, in solitude.
After much research, I finally decided an at-home program was my answer. I looked into multiple programs before purchasing Insanity. Yes, the price tag was hefty ($140), but I reassured myself, "A gym membership (the whole fish thing) is really expensive and embarrassing."
So, back to 6am.
I've been waking up for over a month now at 6am to enjoy (cough cough…maybe there's a better word to describe the actual workout experience) Insanity. Best decision ever. The workouts are the hardest form of exercise I've ever participated in, and so far the benefits have been just as radical. Plus, my audience is limited to seven chickens peeking through the dinning room door. I've threatened them with the soup pot if they ever laugh at the morning spectacle.
PS: I'm in no way affiliated with Insanity, and this is not a sponsored announcement. I don't recommend Beachbody's nutritional program or supplements (the company behind Insanity and maker of Shakeology)…just sharing real life.
After a hard workout (seriously, it's insane), my natural response is "Feed me, now!" There's no better way to reward hardwork with dessert…healthy dessert, of course!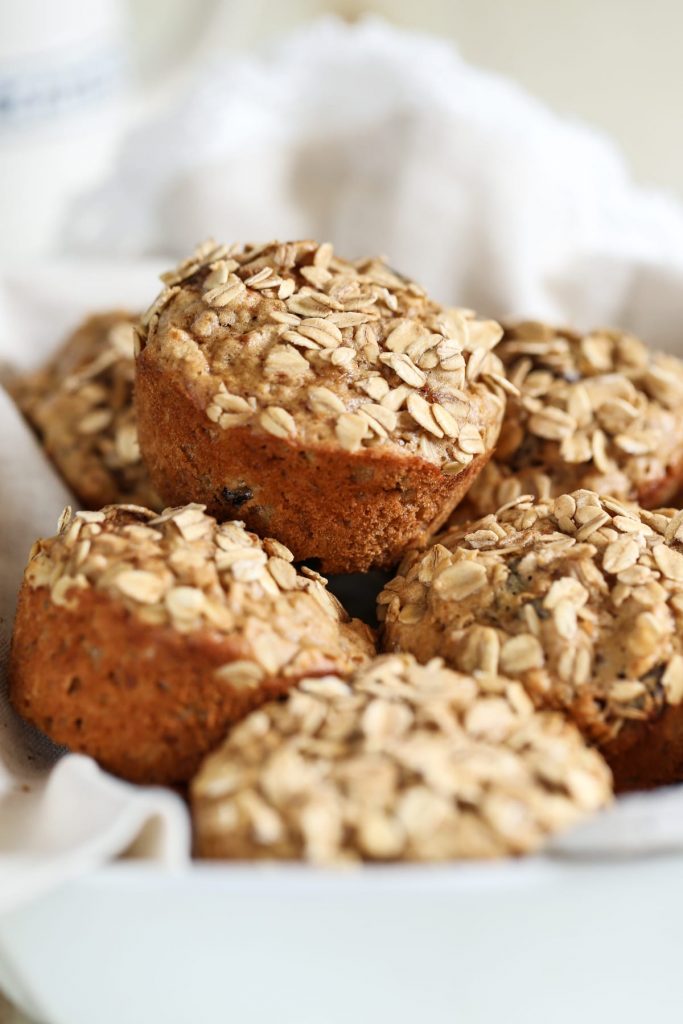 Oatmeal Raisin Muffins are a hearty make-ahead breakfast.  The cookie-inspired muffins can be prepped in advance using one of two methods:
1. Freeze them. Muffins are a fabulous way to make breakfast in advance. Simply make a batch of muffins (this recipe makes 14) and freeze them for later. When hunger strikes, defrost a muffin in the oven (wrapped in a damp paper towel) or microwave. Yes, I know. I still have one. Baby steps.
2. Prepare the dry ingredients. If frozen muffins aren't really your thing, mix the dry ingredients the night before, or during your weekly prep time. When you're ready to bake, whisk the wet ingredients into the dry mix, and viola–warm cookie muffins!
Let's recap…
Cookie muffins. Dessert for breakfast. 6am. Insanity. Chickens. A Soup pot threat. Make-ahead. Healthy. Oh, yea!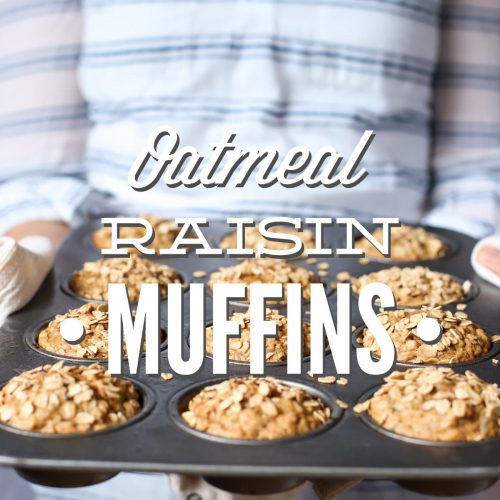 Oatmeal Raisin Muffins
Oatmeal Raisin Muffins are a hearty make-ahead breakfast.
Instructions
Preheat the oven to 400F.

In a large bowl, whisk together the seven dry ingredients. In a separate medium-size bowl, whisk together the five wet ingredients. Pour the wet ingredients into the dry ingredients and stir, just until the ingredients are combined.

Grease a muffin pan (or use muffin liners). Scoop the batter into the muffin pan (I use an ice cream scooper).

Whisk together the topping ingredients. Sprinkle the topping over the muffin tops. The secret trick to moist muffins is not over-mixing the batter!

Bake the muffins for 22-25 minutes, until the muffins spring back when touched.

Allow the muffins to cool for 5 minutes before removing from the pan.
Notes
Find my favorite kitchen essentials, here.
Nutrition
Calories:
224
kcal
Carbohydrates:
31
g
Protein:
4
g
Fat:
9
g
Saturated Fat:
4
g
Cholesterol:
27
mg
Sodium:
73
mg
Potassium:
255
mg
Fiber:
2
g
Sugar:
5
g
Vitamin A:
200
IU
Vitamin C:
0.4
mg
Calcium:
85
mg
Iron:
1.6
mg
 More Real Food You May Like: