According to my calendar, Spring is officially here. It's time to transition away from stews and soups, crusty bread and biscuits, and pot roasts. Spring is a time for vibrant produce, like berries, spinach, peas, asparagus, and mangoes. I love the switch in seasons and food, although I'll enjoy soup and bread all throughout the year. Before we make this transition, let's make one last classic, winter-themed recipe.
To be honest, I've been "sitting" on this chili recipe for a few months. I asked Laura, from the Live Simply Team, to perfect this recipe quite a few months ago. She did exactly that, and since that time, I've enjoyed making this vegetarian chili for gatherings and my own family.
That said, I wasn't prepared for winter to end so quickly–as in, yesterday. I also wasn't ready for spring break last week…What? Already? It's not even Easter yet. I thought there was plenty of time to share this recipe with you. That is, until Piper came home yesterday, after his first day back at school, and declared, "Today's the first day of spring!" I immeadiately ran to my office to check my calendar. He was right. Not that I doubted him or his school's teaching; I just wasn't prepared for winter to end so abruptly.
Keep in mind, we do live in Florida. This means seasons are very relative. Seasons are more like beautiful concepts, which happen to friends and in movies, but they certainly don't bring about any kind of physical changes. Florida is pretty much always sunny and green. Although, this week was incredibly cold, so I'm not sure what's up with that. Florida, it's officially spring. You know that heat wave thing you do so well? Yep, it's time!  
So here we are, the second day of spring, and we're making chili…
This chili recipe is just too good to pass by until next year's fall and winter seasons. So if chili just isn't your thing in March and April, that's okay. Pin this one, or print it, for next year.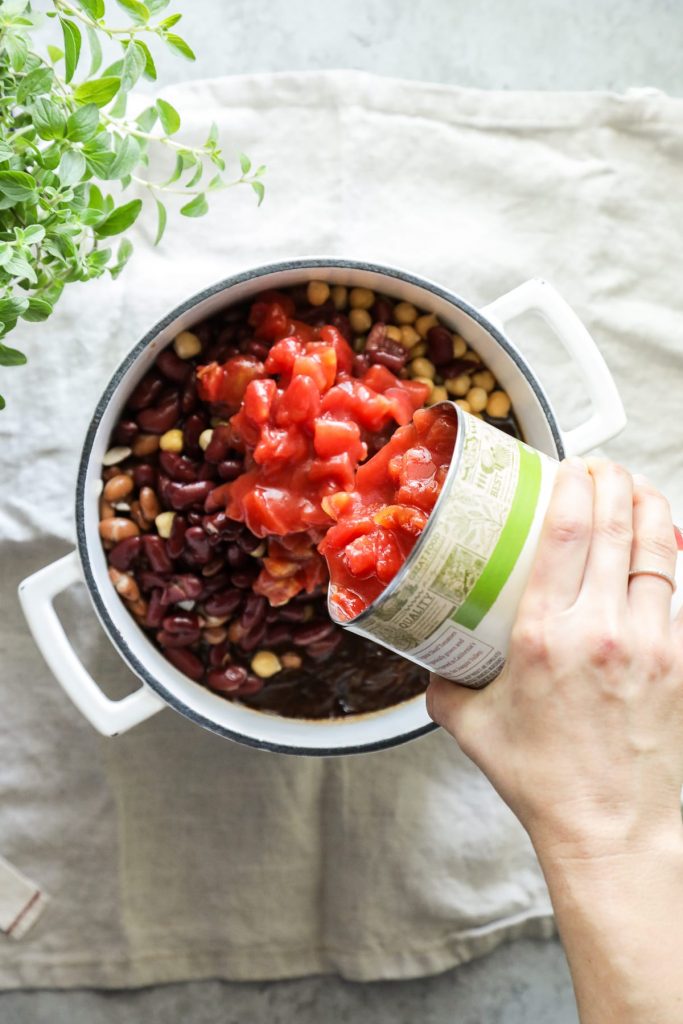 This recipe calls for ingredients found in most real food pantries, like beans, lentils, and canned tomatoes. The basic ingredients come together to create a flavorful and "meaty" chili–without actually using any meat.
The base of the chili is a combo of chopped vegetables: carrots, green bell peppers, onions, and garlic.  From there, the flavor builds with pantry spices: chili powder, cumin, oregano, and bay leaves. Next, dry lentils (an inexpensive and versatile ingredient you'll always find stocked in my pantry) and broth are simmered with the vegetables and spices. Finally, canned beans, green chilis (we also used these to make homemade enchilada sauce), and canned tomatoes are added to create a "meaty" (maybe "beany" would be more accurate?) chili. Essentially this soup could be called "Pantry Stew/Chili." You know what? That's exactly what I'm going to call this. Let me go back and change the title (*cue waiting room/elevator music*)…
This recipe also makes a large portion (a full 3 quart pot of filling stew), so it's a pretty inexpensive way to feed a hungry crowd, or just yourself throughout the week. If you serve this chili with fresh toppings, like: avocado slices, shredded cheese, cilantro, and/or sour cream, it's an incredibly filling, nutrient-rich meal (in my opinion). If you want something extra on the side, then try one of these recipes: homemade cornbread, biscuits, crusty bread, simple weeknight salad, or just a tray of roasted (seasonal) veggies.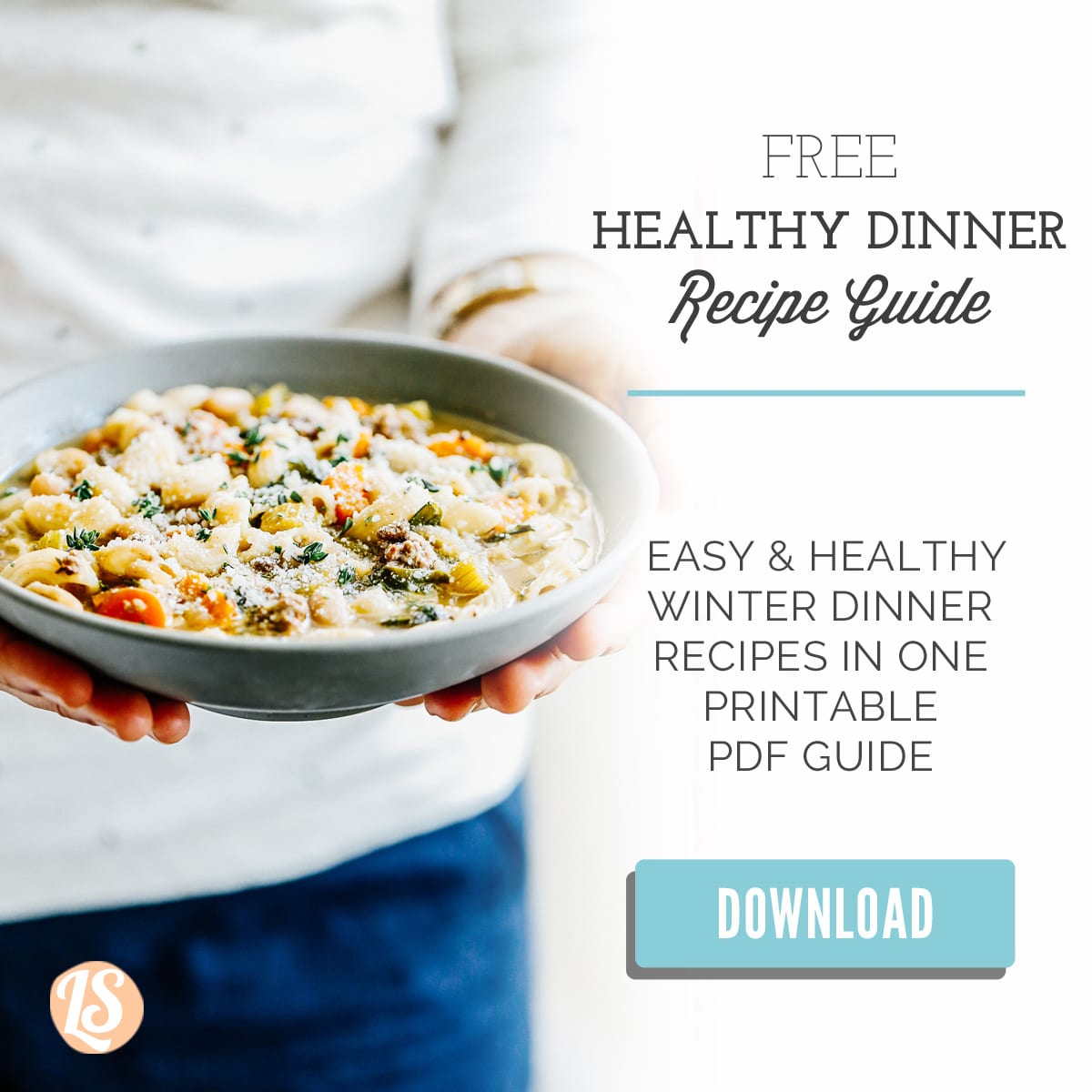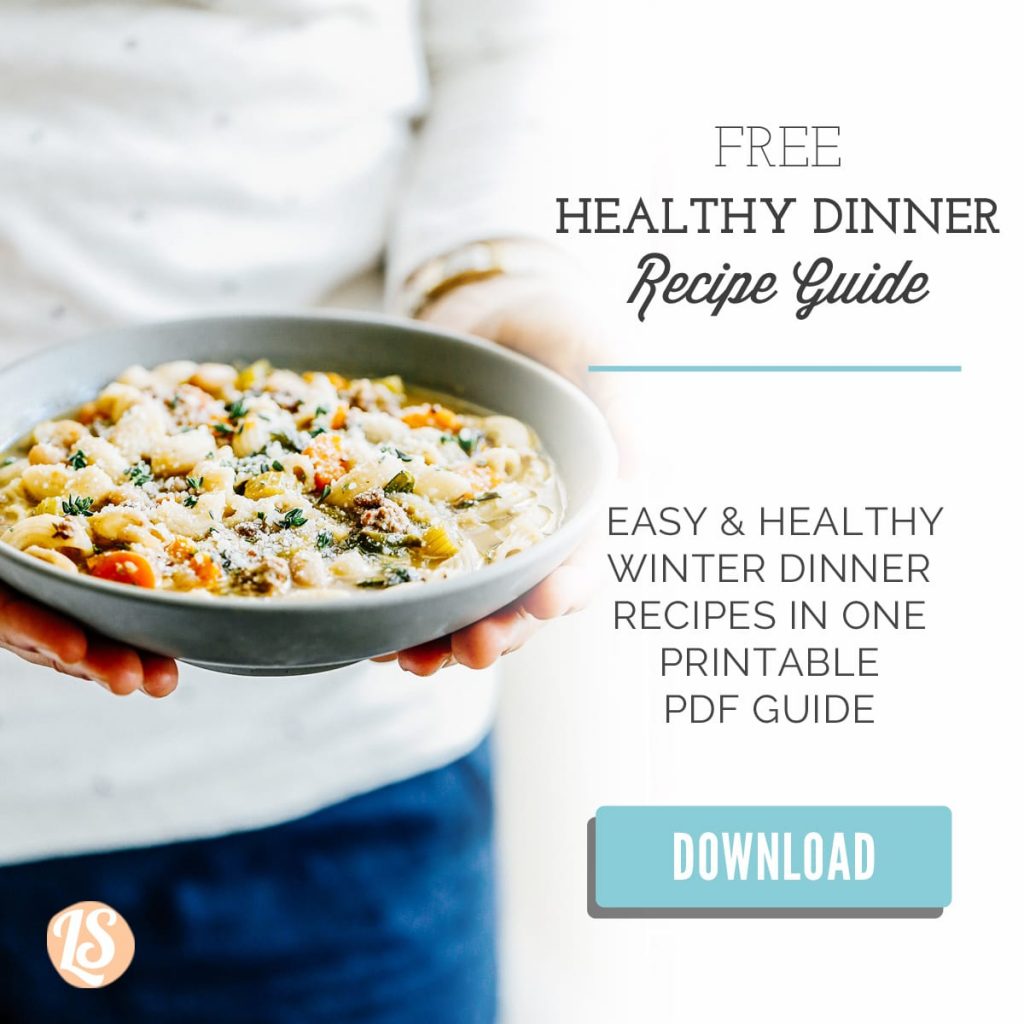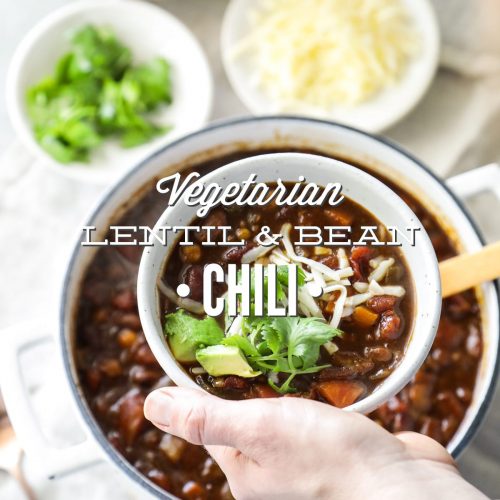 Pantry Stew: Vegetarian Lentil and Three Bean Chili
This recipe calls for ingredients found in most real food pantries: beans, lentils, and canned tomatoes. The basic ingredients come together to create a flavorful and "meaty" chili--without actually using any meat.
Ingredients
2

TB

extra virgin olive oil

1

medium

yellow onion

diced (about 1 cup)

1

large

green bell pepper

diced (about 3/4-1 cup)

1

large

carrot

chopped (about 3/4 cup)

3

garlic cloves

minced

4

TB

chili powder

1

tsp

cumin

1

tsp

dried oregano

4

cups

vegetable broth

If you're a meat-eater, chicken broth may be used.

1

cup

dried green lentils*

rinsed

1

15-ounce

can pinto beans

drained and rinsed

1

15-ounce

can kidney beans

drained and rinsed

1

15-ounce

can chickpeas/garbanzo beans

drained and rinsed

1

28-ounce

can diced tomatoes

or 2-14.5 ounce cans diced tomatoes, if that's what you have in your pantry

1

4-ounce

can diced green chilis**

1

tsp

salt

to taste***

1/4

tsp

black pepper
Toppings:
avocado slices

optional

chopped cilantro

optional

shredded cheddar cheese

optional

sour cream

optional
Instructions
Heat the olive oil in a stockpot (or Dutch oven) over medium heat.

Add the onion, bell pepper, and carrots. Saute the veggies until the onions become translucent and the carrots and peppers begin to soften, about 4-5 mins.

Add the garlic, cumin, chili powder, oregano, and bay leaves. Saute the spice mixture for about 30 seconds.

Add the broth and lentils, and stir to combine.

Bring to the lentil mixture to a boil, reduce the heat, then cover and simmer for 20 minutes, until the lentils soften.

Add the pinto beans, kidney beans, chickpeas, diced tomatoes, diced green chilis, salt, and pepper. Stir to combine the ingredients, and continue cooking for 25 more minutes, until the beans are soft.

Taste the chili, and add more salt if needed. Serve warm, with your choice of toppings.
Notes
*I use green lentils in this recipe, because that's what I stock in my pantry. I think red lentils will also work, and they'll probably soften very quickly. 
**You can use mild or hot diced green chilis in this recipe. I use a can of hot diced green chilis. If you'd like additional heat/flavor, you're welcome to increase this amount to two cans. This really depends on your personal preference. 
***I don't add salt to my homemade broth, so I've found that I'm always increasing the salt amount in soups/stews. This amount will really depend on your taste preferences. I personally use about 2 teaspoons of salt in this recipe. Laura used 1 teaspoon. I recommend starting with 1 teaspoon of salt, and then increasing the amount until the flavor is just right. 
Nutrition
Calories:
86
kcal
Carbohydrates:
9
g
Protein:
1
g
Fat:
5
g
Sodium:
1211
mg
Potassium:
228
mg
Fiber:
2
g
Sugar:
3
g
Vitamin A:
4020
IU
Vitamin C:
24.5
mg
Calcium:
34
mg
Iron:
1.3
mg