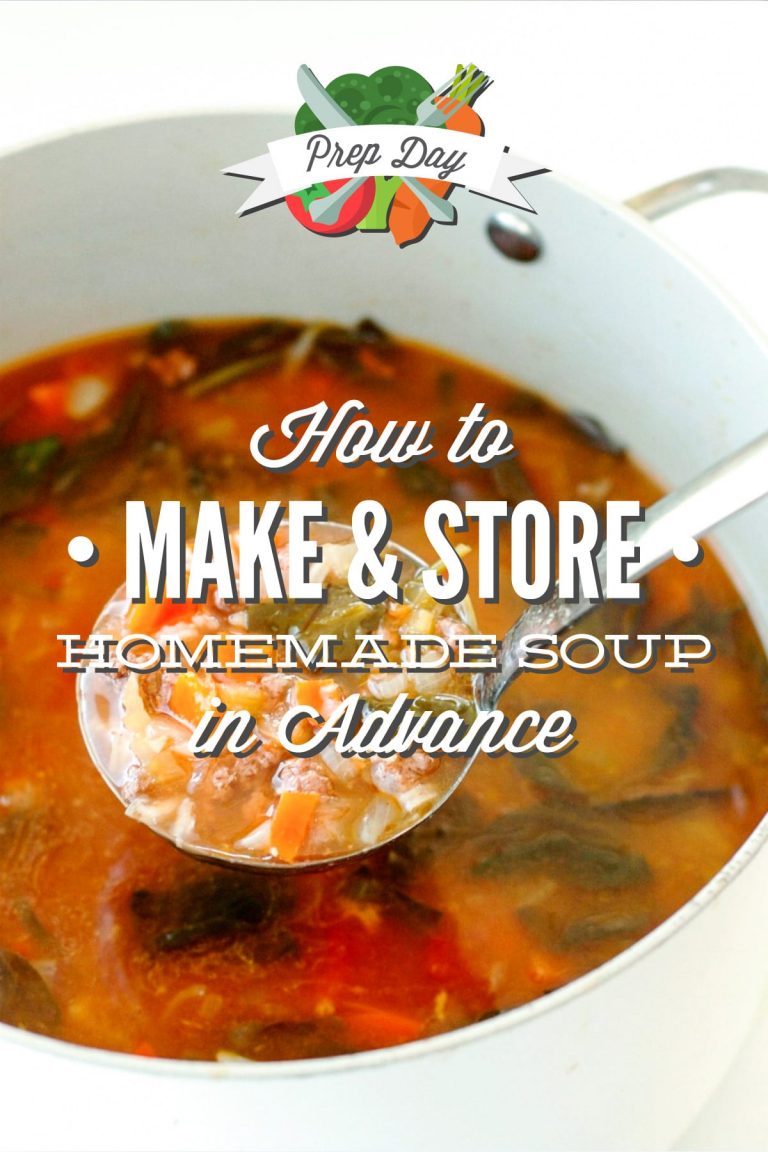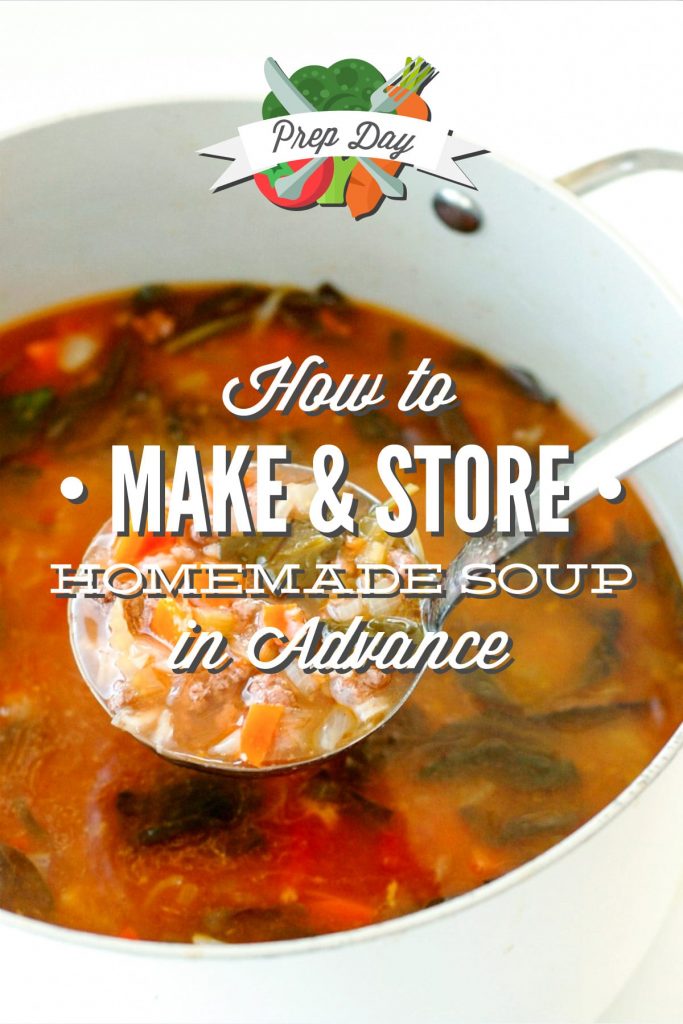 Contributor post written by Renee from Raising Generation Nourished
A Note From Kristin: A huge thank you to both Renee and Kimberly for filling in for me this week as we finish the Live Simply Kitchen Remodel (you can follow the progress on Instagram). I'm excited to share a semi-final reveal soon (I'm sure it will take me several weeks to decorate the new open shelves…"semi-reveal").
My original plan was to talk about baked goods this week in the prep day series; instead Renee was generous to offer a very practical prep day post/tutorial. Next week, I'll return to the blog with a new shopping series post, food recipe, DIY, and the baked goods prep day post.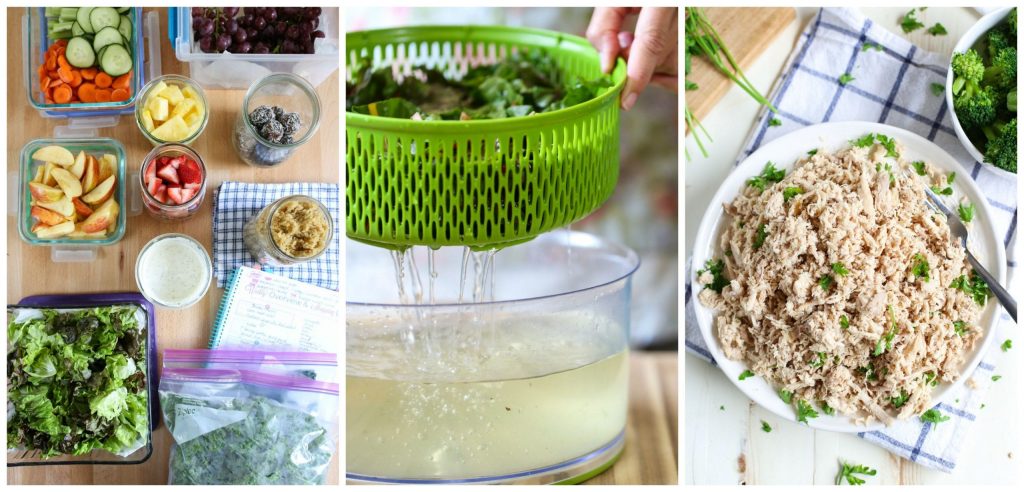 My oldest daughter's first year of full-time school really snuck up on me last year. It seemed like just yesterday I was rocking her and fixing finger foods for her to munch on, and…
POOF! She was ready for kindergarten.
Last summer, I made myself a promise that I wouldn't succumb to the typical processed lunch-boxes that seem to be the norm in many schools today. I had just spent the last five years feeding her nourishing meals, and I really didn't want to create a finicky eater by packing the same PB&J everyday for her school lunch.
Not that there's anything at all wrong with PB&J. In fact, a PB&J can usually be found in her lunchbox about once a week, and I think it can be done in a nourishing way. It has been my experience that if we want kids with broad taste palates, their menu needs some variety. So…
In my mind, I figured I could just take the same nourishing meals she was eating at home as a baby, toddler, and preschooler, and figure out how to pack them up. I bought myself some lunch gear, and we had a great first year of lunch packing!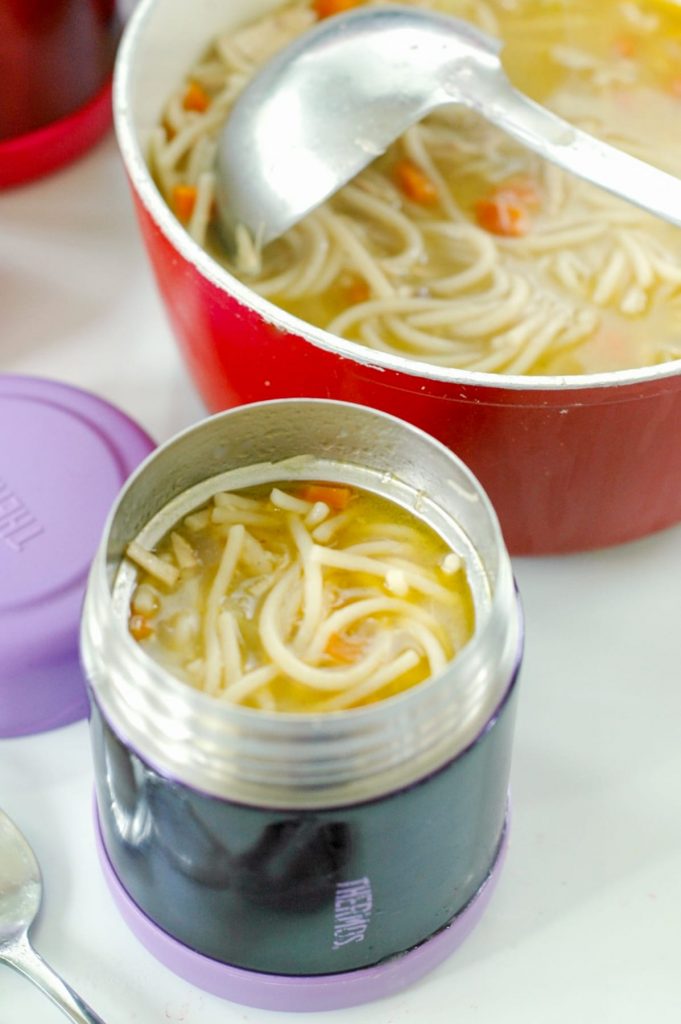 Soup is a big meal staple in our house. I can't wait to show you how prepping soup in advance can make your lunch packing even easier.
Easier? Homemade soup?!
Well, let me put it this way. Yes there's a little time involved in making the actual soup. But when you make prepping soup a part of your dinner (by making a large batch or doubling a recipe), or schedule a prep hour or two on a weekend, homemade soup can make lunch packing easier…and nourishing.
Why You Should Prep Homemade Soup in Advance
1. Budget-Friendly Meals: 
Homemade soup is made with simple ingredients: veggies, meat, and water/broth/milk. These ingredients are relatively inexpensive when compared to the large amount of nourishing soup you can make at one time. If you're looking to stretch your real food dollars without compromising quality or nutrition, stocking up on homemade soup is the way to go!
2. Quick and Easy Meals: 
Homemade soup is the ultimate real food convenience meal. Soup will keep in the freezer for three months which means it's always available when you need a quick dinner or lunch.
3. Offer a Variety of Choices: 
It can be difficult to provide a large variety of real food choices for everyone in your family. After all, real food takes time to prepare and cook. Stocking up on a few different homemade soups allows your family to enjoy a variety of lunch/snack/meal choices (even if it's just one or two options leftover from soup dinners) without any extra work. Think of the soup aisle, but in your freezer!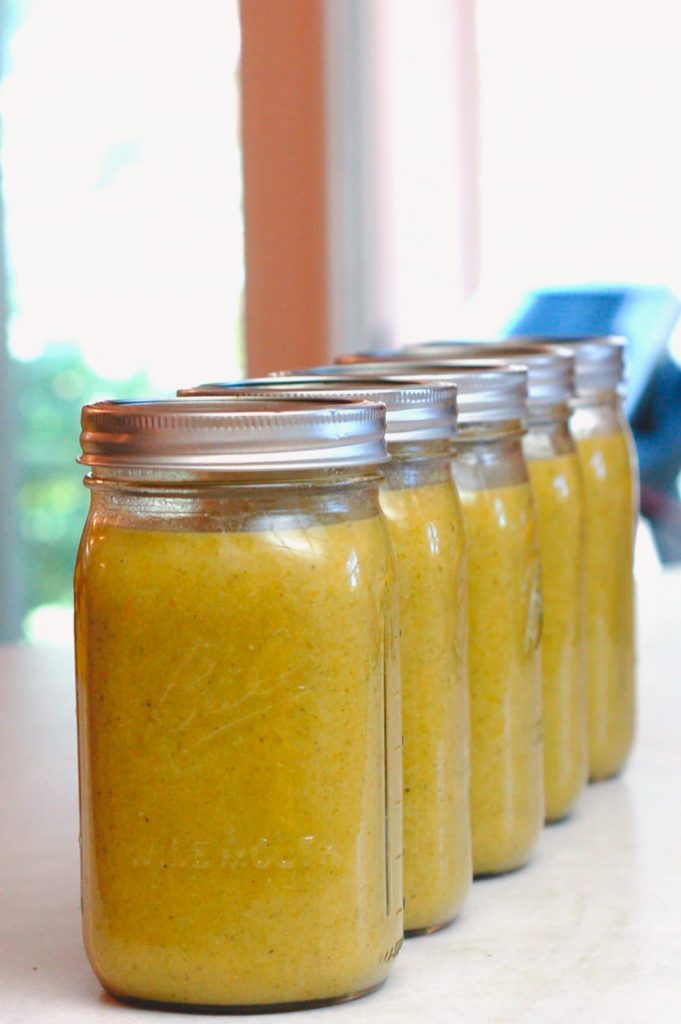 How to Prep Homemade Soup in Advance
When I make soup, I tend to make more than what my family will eat at one meal. Even if it's just a leftover quart–that quart will feed all three kids and sometimes me for lunch! I either store the soup in the fridge to use the next day, or freeze the leftovers for another time.
After making homemade soup, fill your mason jar or freezer container 3/4 full and freeze it with the lid off for 24 hours so the glass doesn't break. After 24 hours place the lid on the jar. I like my BPA-free plastic containers the best because I can lid them right away and not worry about broken glass (Yes, I understand even those have some concerns with toxins now, but that is what I have at the moment!). I can pull out a quart or so the night before. By morning the soup is thawed and ready to heat.
You can freeze soup in pint or smaller containers (small freezer-safe mason jars work great) if you just want single servings. Pull one serving out of the freezer at night and by morning it can be thawed for the thermos. I have three little mouths plus myself to feed for lunch (my husband stores real food in his work refrigerator), so I tend to freeze more in quart or half-gallon containers.
Soup will keep in the freezer for 3 months. In the fridge, soup will keep for 3-4 days depending on the freshness of the ingredients.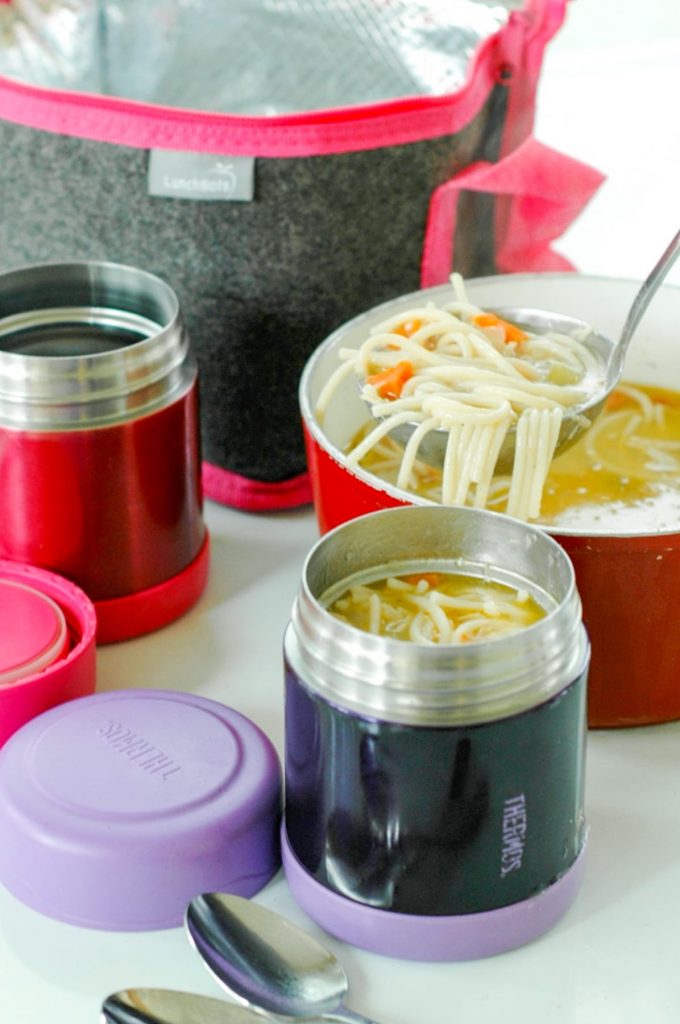 How to Use a Thermos to Pack Homemade Soup
I had a really great experience using my Thermos brand soup thermoses for packing school lunches this year. I definitely learned a few things along the way, and since I'm here to make your life a little easier, I'm absolutely going to share them with you.
First of all…I am not a morning person.
There. I said it.
While I like to get up before my kids on school days, I don't like to have a lot on my agenda to get done before we have to head out for school drop-off. I was worried about warming up soup in the morning, but it really wasn't a big deal. By the time I got a method down, it took me less than 10 minutes, from start to finish, to prep soup for lunch. I always have the rest of my daughter's lunch packed the night before, so that part is done –usually a piece of fruit, a muffin, biscuit, granola bar, or energy bar to go with the soup, maybe a piece of cheese or avocado.
The No-Fuss Method for Storing Soup in a Thermos:
In the morning, I get my hot water going right from the faucet to temper the thermos. This will keep your soup from getting cold by lunchtime. Just get the hottest water possible running from your faucet. Fill your thermos with the hot water, and let the hot water sit in the thermos with the lid on for about 5 minutes while you warm up the soup on the stovetop. Then, dump the hot water out and fill up the thermos with hot soup.
It takes less than 10 minutes to prep soup for the thermos. This means you can focus on other morning activities (like getting breakfast ready) while it's warming up. If you have older kids who are responsible at the stovetop, I would make this apart of their morning routine!
My last piece of advice on packing soup is to add a splash of water to thicker soups or chilis while you are warming up the soup. Things like beans, noodles, and rice tend to soak up some of the broth so you'll need to add a splash of liquid to loosen things up.
No-fuss Clean-Up:
Dear momma, with too many things on your agenda already, pop that thermos right in the dishwasher. I just give my thermos a quick rinse and let the dishwasher do the rest. I did this all school year and both of my thermoses kept very well (and I use the thermoses at least twice a week.).
Otherwise, hand washing works just fine. Put that sweet school-aged kiddo to work washing that bad boy up! If they're old enough to be in school, they're old enough to wash their gear ;). At least that's the rule in our house.
Easy Food Ideas for Making Homemade Soup a Whole Meal
"So I'm going to pack soup for lunch (or maybe a quick dinner), what else can I pack with soup to make it a full meal?" 
I'm so glad you asked! I have lots of ideas.
Soup pairs well with so many foods. I usually count the soup as the vegetable of the meal (unless it's really meat heavy, like a chili). So to balance things out and create a whole meal, you can add a piece of fruit, a protein like whole yogurt, a granola bar (soaked or protein) or energy bar, cheese, tuna salad, hummus or refried beans, or a shredded chicken sandwich, and a carbohydrate like a biscuit (gluten-free or wheat-based) to dunk in the soup, a make-ahead burrito, a muffin, some crackers, or tortilla chips. If the soup isn't as veggie heavy (like chili or even when I serve chicken noodle soup), I like to pack veggie sticks and Ranch dip, a salad with Caesar dressing (with anchovies or without), or pickles (fermented or refrigerator-style).
For more lunch packing ideas straight from my kitchen, you can follow my Instagram and hit the #rgnschoollunches hashtag – you will literally see everyday of lunch packing from the last year of kindergarten right in one shot!
11 Homemade Soups to Start Preparing in Advance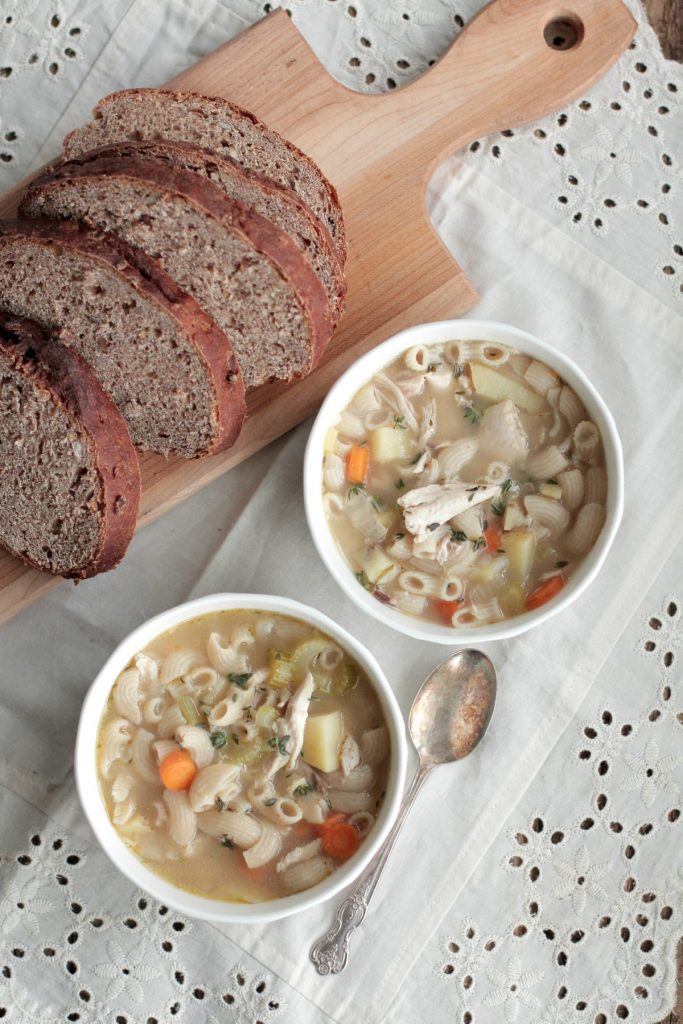 1. Chicken Noodle Soup
That classic red can has absolutely nothing on homemade! This is every kid's favorite, and it is a great way to get bone broth in pickier kids – the noodles cook right up in the broth in this large batch chicken noodle soup so they are getting a lot in one bite! The large batch chicken noodle soup will make a good 2 gallons of soup so you won't have to make it all the time! I love this slow cooker chicken noodle soup method, too!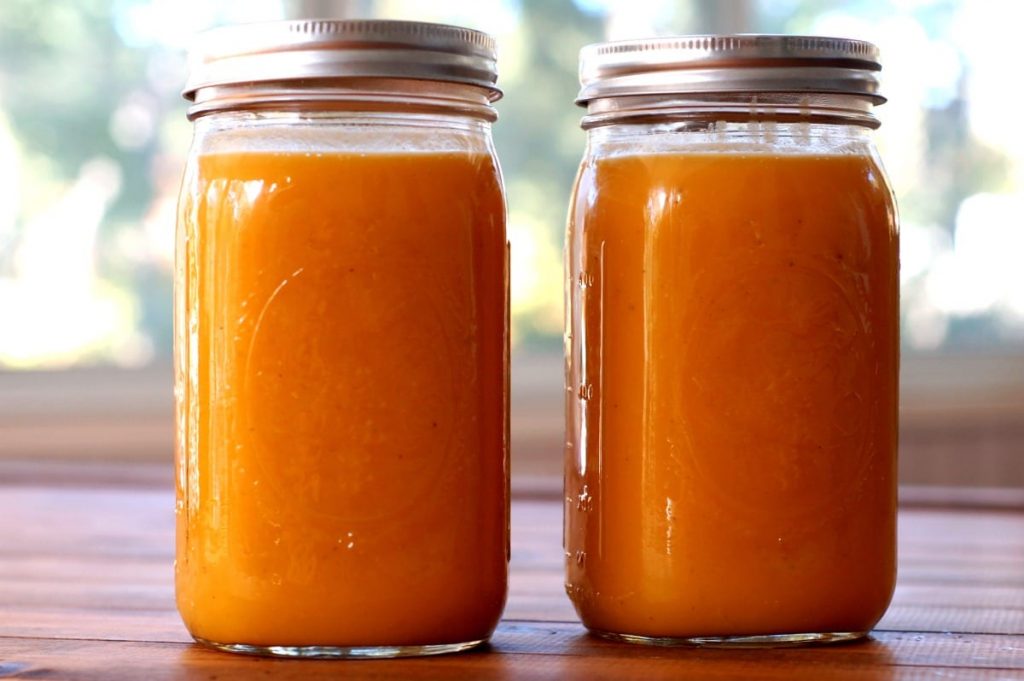 2. Tomato Soup
My all-time favorite lunch soup (and my girls too!). This fresh tomato soup is the perfect soup to try for kids that might be turned off by the thought of having soup. It is perfectly sweet, and there isn't a "green thing" to be seen. This soup is extra delicious when served with a sprinkle of cheese, a cheese sandwich, or crackers. If your little one is a messy eater, pack a straw (I like to pack the stainless steel straws) and they can drink the soup from thermos!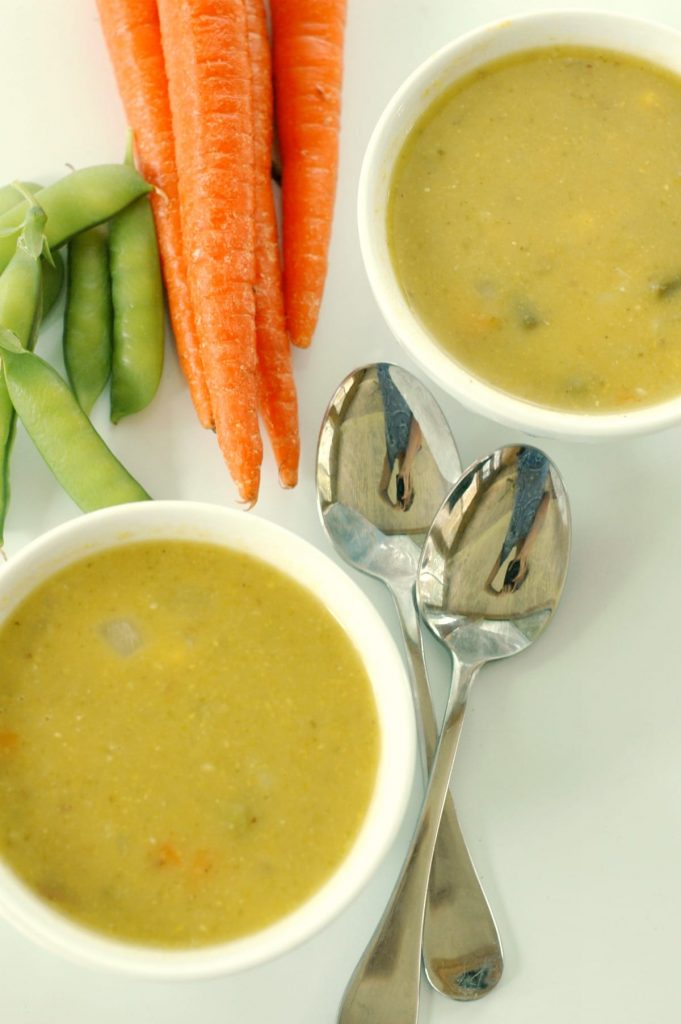 3. Creamy Veggie Soup
Despite the name, this kid-friendly creamy vegetable soup doesn't have a drop of dairy in it. This soup is loaded with veggies, but feels so rich and creamy because of the starchy potatoes. If your kids are funny about "chunks" just puree it all the way through. The cooked potatoes, corn, and carrots give this soup almost a sweet flavor- it's really yummy! For a dairy-based soup (with cheese and bacon), try homemade creamy cauliflower soup.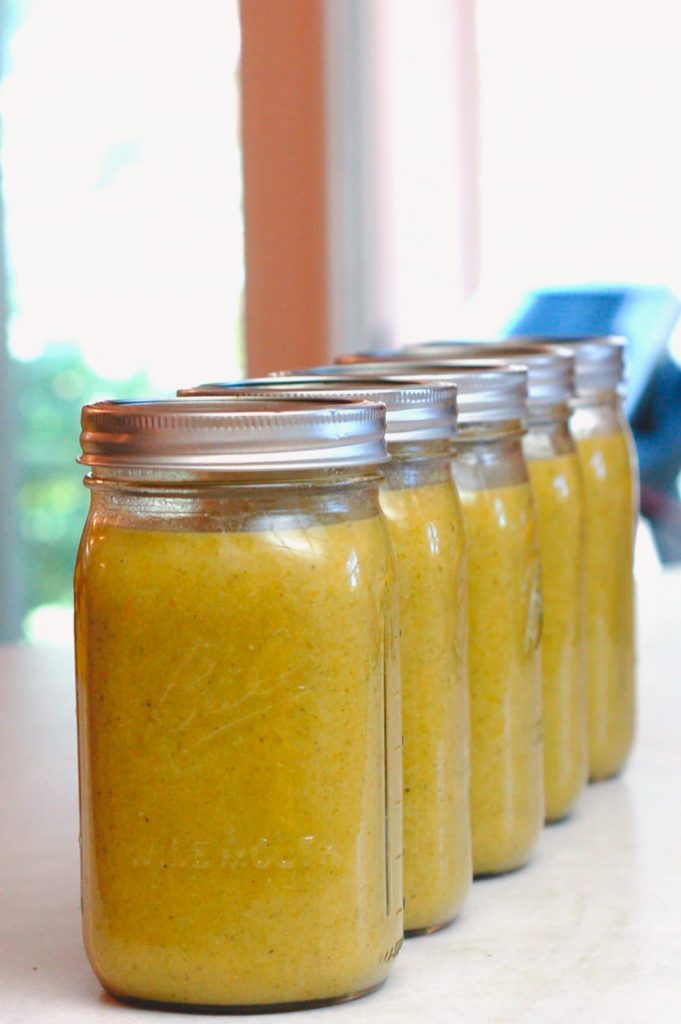 4. Broccoli Soup
This broccoli soup is super easy to make! No chopping fresh broccoli (if you don't want to) – I purchase the big 5lb bags of frozen organic broccoli at Costco. This recipe makes a lot of soup, and it has an amazing creamy flavor. Pack up a straw and your kids will drink it right up!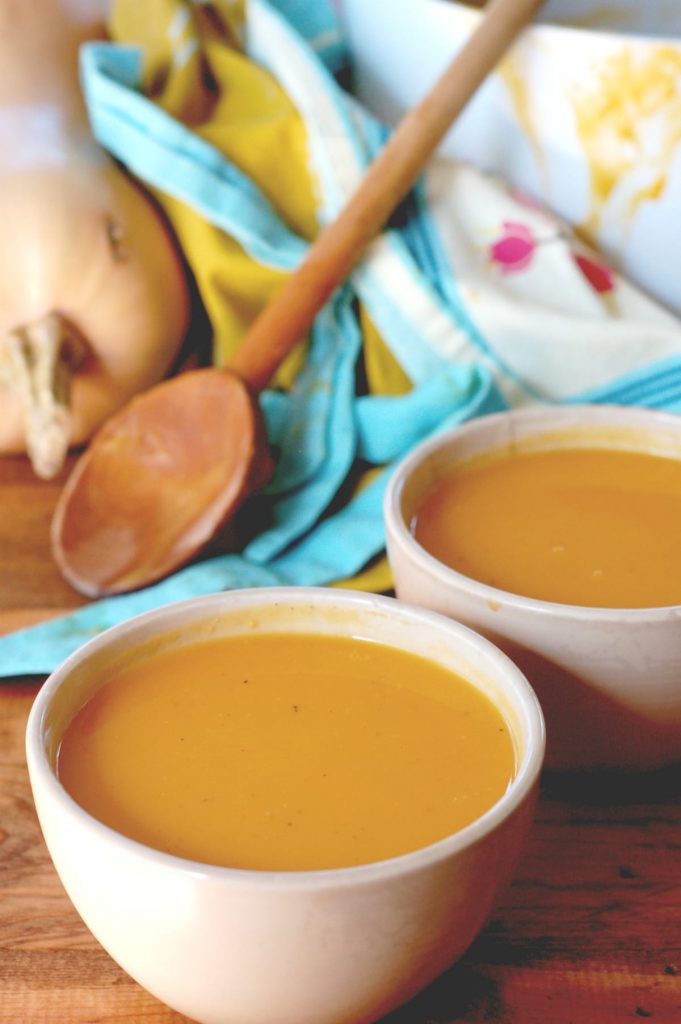 5. Butternut Squash & Apple Soup
This butternut squash and apple soup is a fall and winter favorite in my house. With the abundance of squash and Michigan apples we have here during the fall and winter seasons, it's a really frugal soup! Stock up on squashes when they're 80 cents a pound and double this soup for the freezer. Pack up a straw with the thermos – it is mildly sweet and very kid-friendly.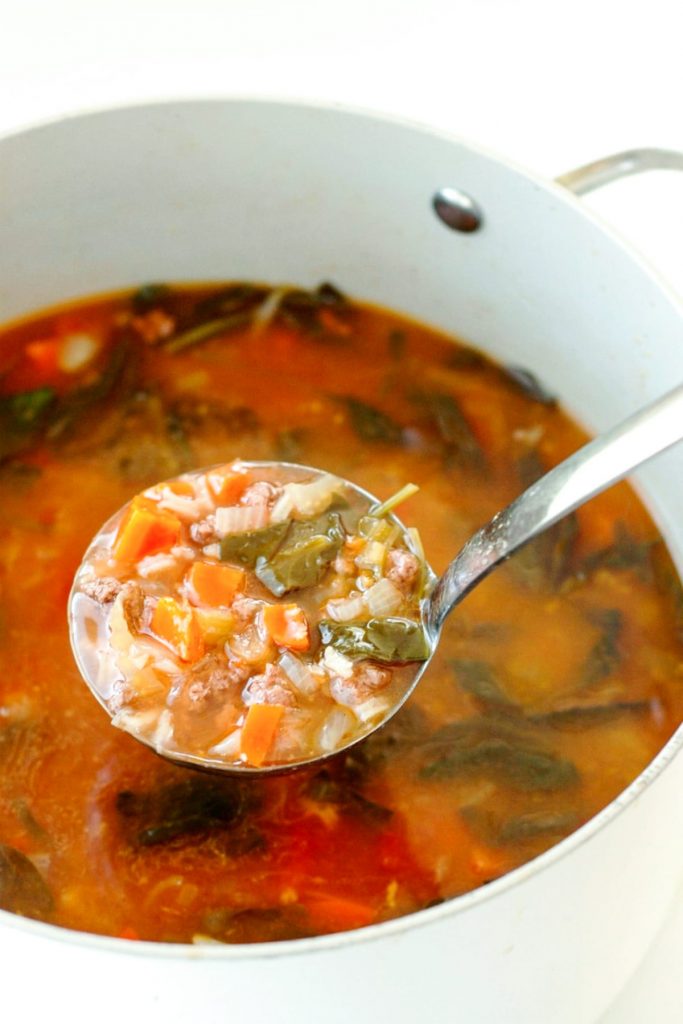 6. Veggie Beef Soup
A classic tomato-y flavor, this vegetable beef soup is just like the red can of veggie soup you grew up on. This one is "brothy" enough to make it light for lunch, but hearty enough with the beef to make it a filling meal. I usually just pack a piece of fruit and cheese with this one. And maybe a biscuit if my daughter is going through a growing period. For a veggie beef soup without the tomato flavor, try this perfectly tender beef stew.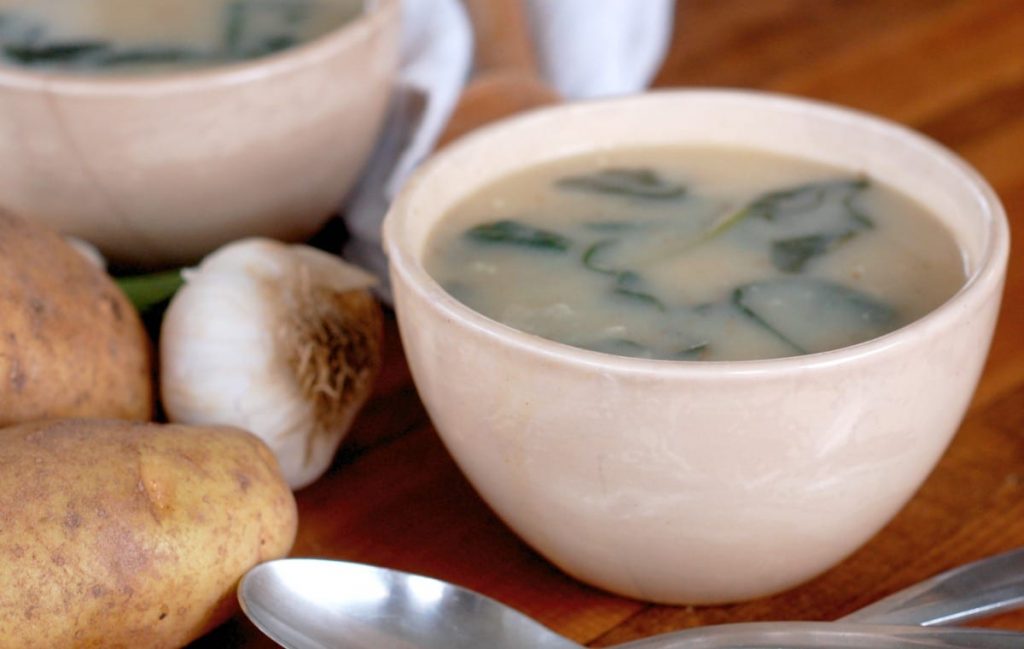 7. Potato & Spinach Soup
I can't think of very many kids that don't like potatoes so this potato & spinach soup usually goes over really well. You can leave the "green" out if you think it might detour them from enjoying the soup, and maybe ease into the spinach later. Spinach is practically tasteless when wilted into a soup so I use it a LOT in my soup making. My girls aren't huge fans of spinach on it's own, but they'll consume it in soups.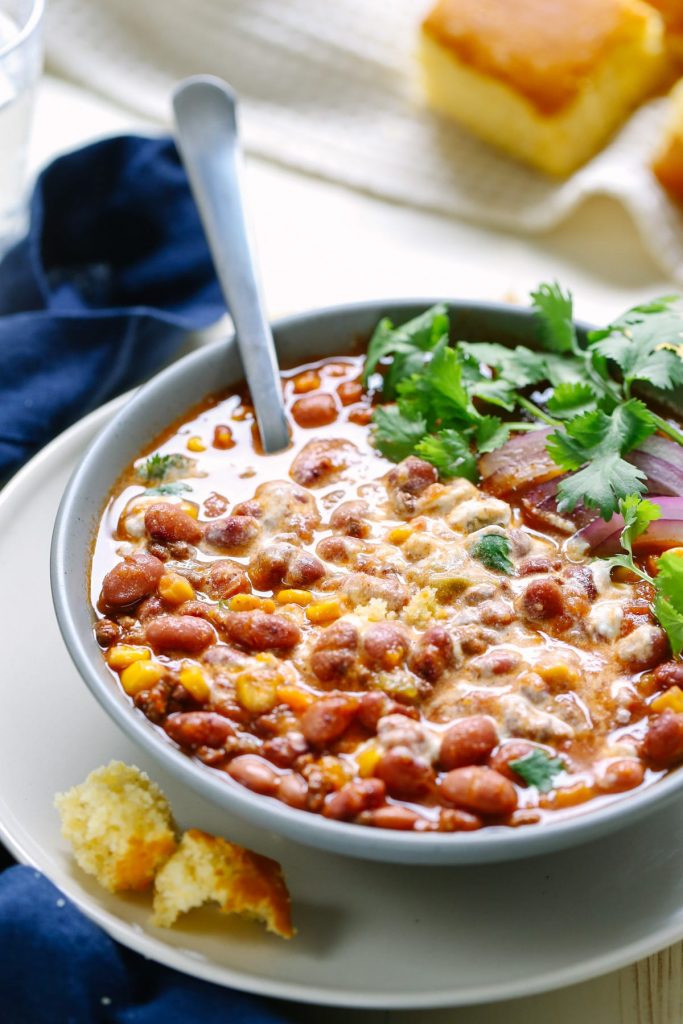 8. Chili
Grab that slow cooker and get some regular chili or white chicken chili going one weekend during prep time and save the leftovers for lunch thermoses. Pack some cheese for sprinkling and a handful of crackers. Chili is so hearty that I usually just pack a small salad and a piece of fruit on the side. Easy!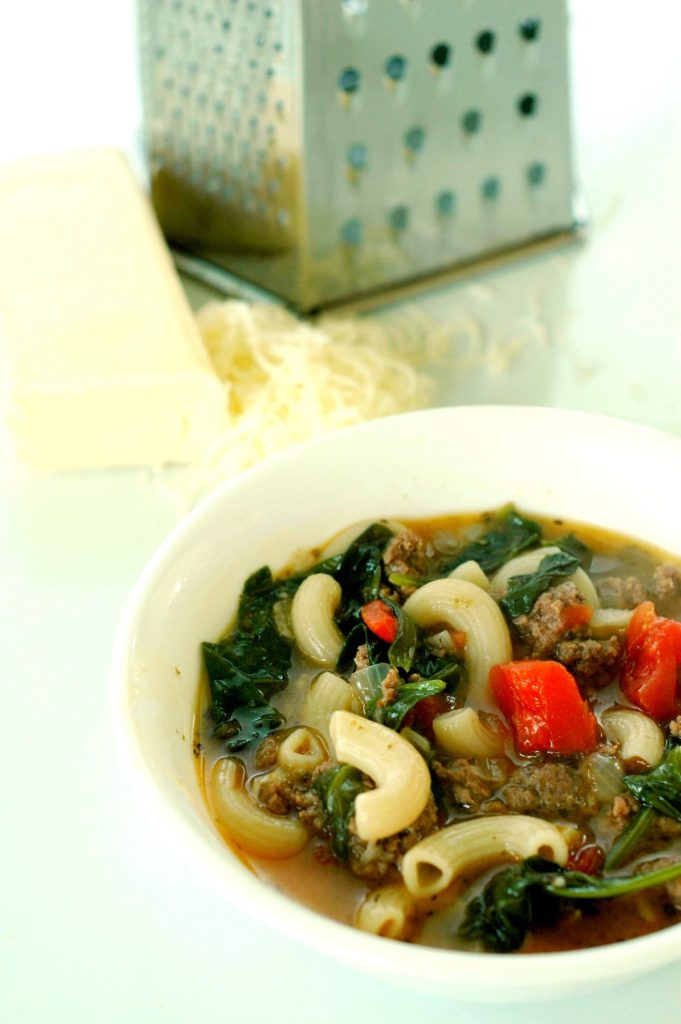 9. Lasagna Soup
This lasagna soup is our household favorite dinner soup. My husband takes this along to work in his travel crockpot about once a week (at least). It is so flavorful. With all the noodles (we use gluten-free Tinkyada noodles since we're a gluten-free household), I don't know of any kid that can resist this one. You can back off on the spinach if you think it means the kids will eat it more happily at first to ease into "green."
We love to sprinkle Parmesan cheese in this soup! This is a nice hearty soup so you don't need much more than a piece of fruit and maybe a salad, or some crispy nuts and cheese on the side.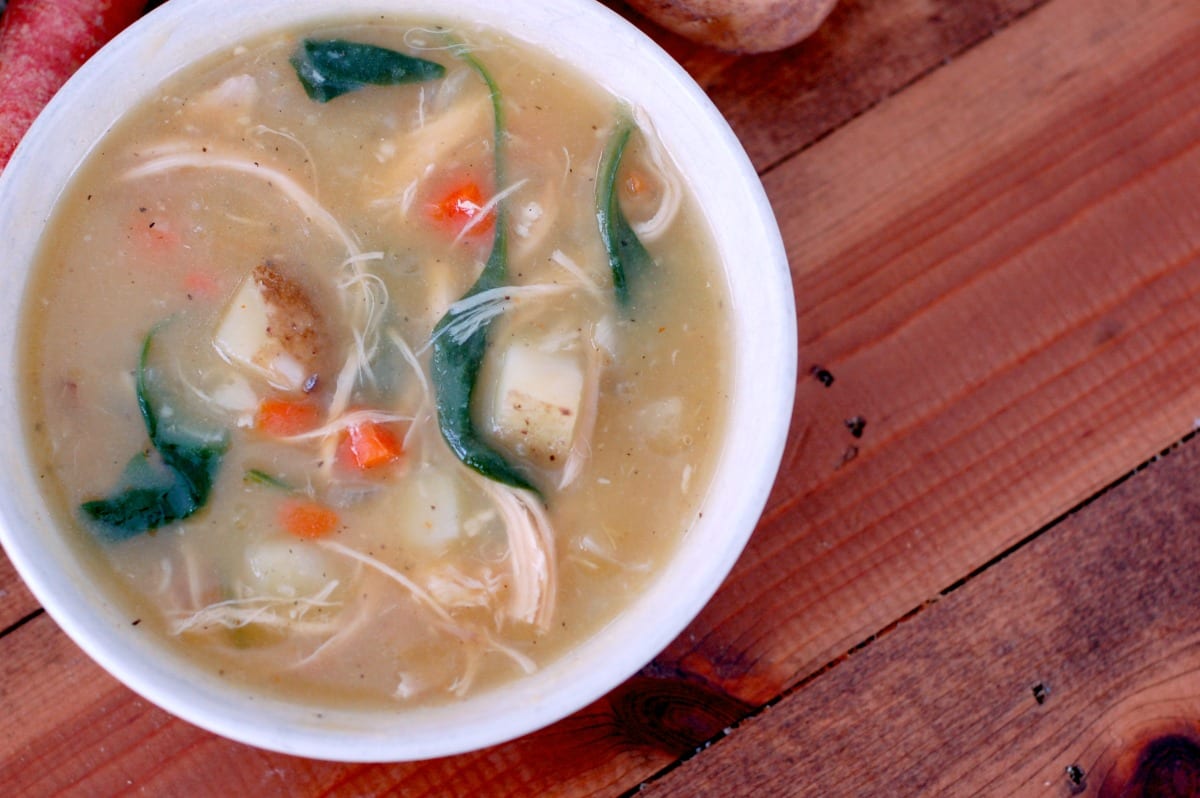 10. Chicken Stew
This chicken stew has a secret ingredient to make the broth super creamy and sweet with flavor – when you add a little squash puree to broth, it makes the most amazing soup base! This one is a winner with everyone in the house. Chicken stew is a great one to make for dinner and pack the leftovers for the next day.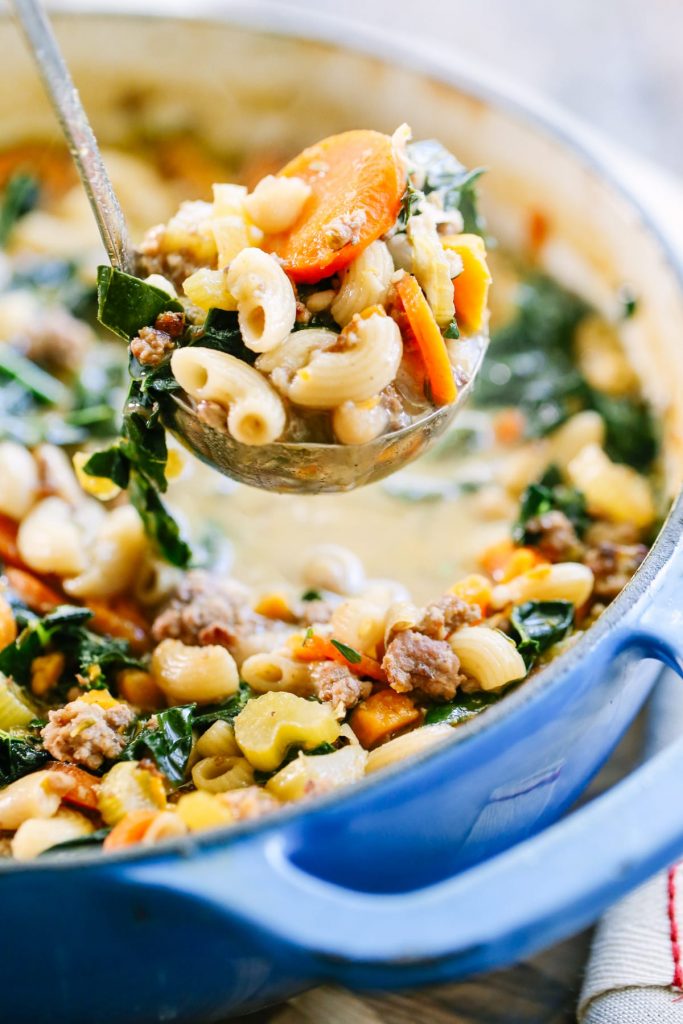 11. Sausage, Kale, and White Bean Soup 
This recipe combines veggies, beans, sausage, and noodles to make a hearty and delicious soup.
A Quick Note About Bone Broth in Soup
If you know me at all by now, you know I'm a huge fan of gut healing and body nourishing bone broth. If you already make bone broth at home, good for you! If you aren't quite there yet, don't pass by these recipes. I would much rather you make soup with water or a decent store-bought broth (like Pacific Organics Bone Broth) than not make homemade soup at all. We are all at different stages of learning real food and it isn't doing anyone any good to get overwhelmed and just give up.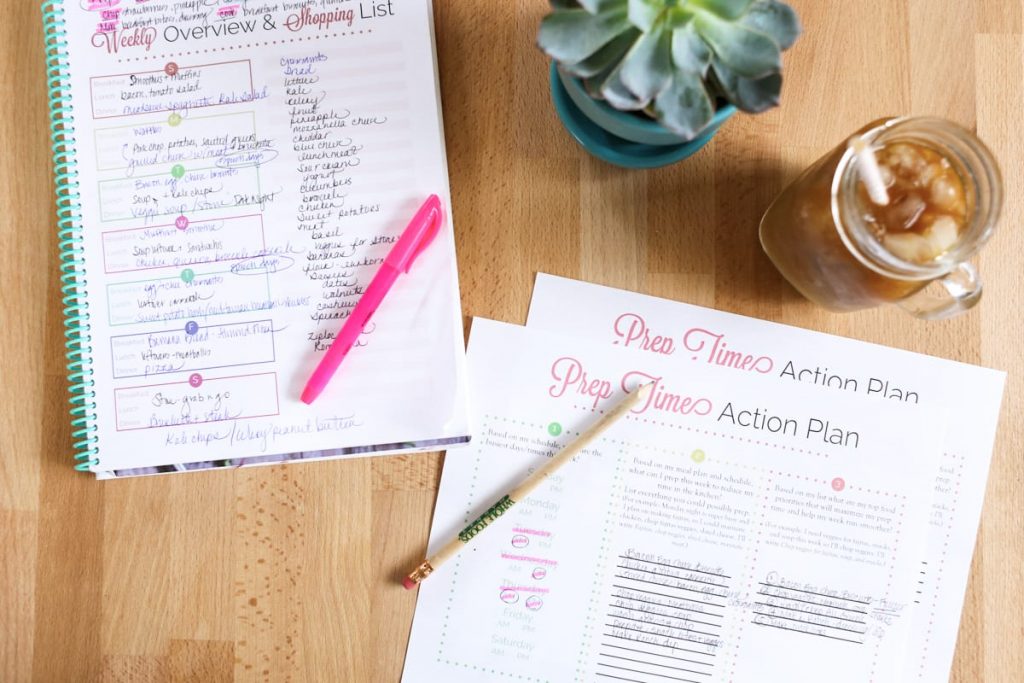 This week, your homework is to create a meal plan, go shopping for the food you'll need to implement the meal plan, set aside a specific day/time for prep time, and then print and fill out the Prep Day Action Plan printable. Focus on five foods you can prep this week based on your meal plan and schedule: making soup, cooking and shredding chicken, washing storing greens, baking muffins, etc.