A few weeks ago, I stopped at Starbucks after dropping the kids off at school. I had missed my morning cup of joe at home, and a tall black coffee was exactly what this momma needed. The drive-thru line was especially long that morning, so I decided to park and go in, even in my current state: pj shirt, no makeup, and messy hair. Apparently, I wasn't the only mom who missed her morning coffee, and makeup.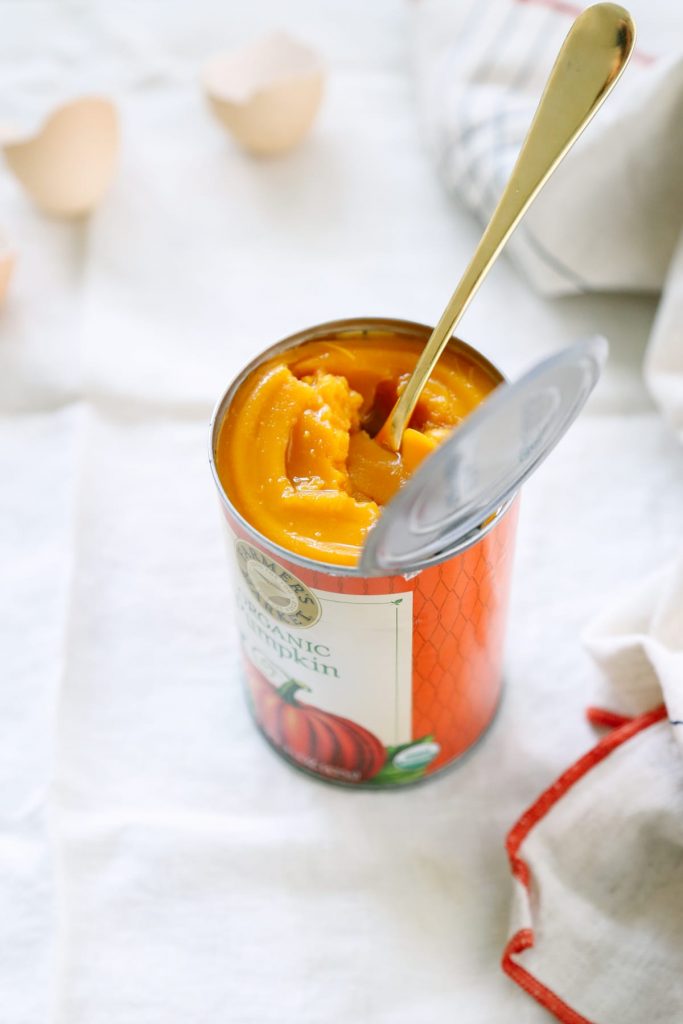 As I stood in the shorter line inside the coffee shop, I couldn't help but scan the pastries and cookies in front of me. Normally, I can scan the case and just keep going, but something caught my eye that morning (maybe it was a result of being mentally weak due to the lack of caffeine running through my veins): a pumpkin cake with cream cheese frosting. A few minutes later, I left the coffee shop with my coffee in hand, feeling perky from the first few sips of caffeine, and excited for some fall baking.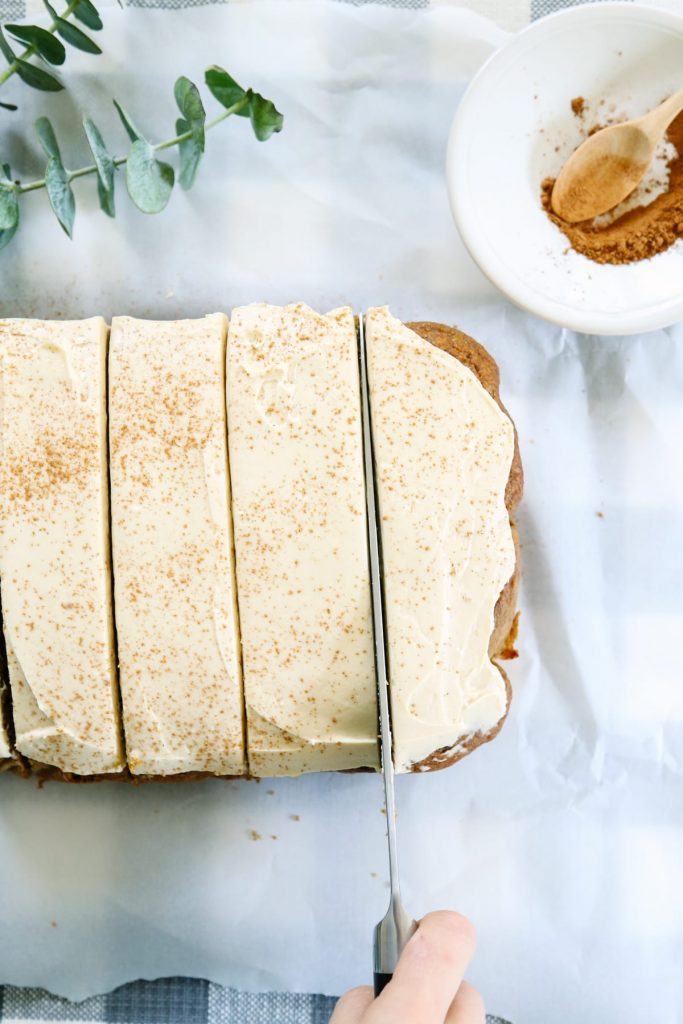 I bought my first can of pumpkin later that afternoon, and began working on a real food pumpkin loaf cake with cream cheese frosting. I wanted a pumpkin cake with a quick-bread texture that was completely refined-sugar-free. Something that could be served with a cup of coffee, while wearing an over-sized comfy sweater, on a fall weekend.
We haven't even come close to sweater weather in Florida, so, for now, coffee and a pumpkin loaf cake will keep my longing-for-fall heart happy. Maybe even a pumpkin spice latte and a slice of pumpkin loaf cake? Too much pumpkin too soon? Yea, let's just stick with the cake today.
This Starbucks-inspired cake only requires one bowl and a handful of real food ingredients, like: spelt flour (a whole grain flour), real butter, pumpkin, applesauce (because pumpkin and apples go hand-in-hand), and maple syrup. The final product is a slightly-sweet pumpkin loaf cake that I can feel good about enjoying, and serving my family, for a weekend breakfast treat alongside a cup of home-brewed coffee.
Pumpkin Loaf Cake with Cream Cheese Frosting
A slightly-sweet pumpkin loaf cake that I can feel good about enjoying, and serving my family, for a weekend breakfast treat alongside a cup of home-brewed coffee.
Ingredients
Cream Cheese Frosting:
8

oz

cream cheese

I like Organic Valley brand.

6

TB

butter

room temperature

1/4

cup

pure maple syrup

1

tsp

pure vanilla extract
Instructions
Preheat the oven 350F.

In a large bowl, whisk together the melted butter, pumpkin puree, maple syrup, and applesauce. Whisk in the eggs, one at a time--I whisk each egg for about 10 seconds. Add in the vanilla extract.

Add the dry ingredients to the wet ingredients: spelt flour, pumpkin pie spice, baking soda, baking powder, and salt. Stir to combine the ingredients.

Grease a baking dish (For a thicker loaf cake, like the one pictured, I used a 10x7 baking dish. For more of a cake bar--think: a short cake-- use an 9x13 baking dish.), or line the baking dish with parchment paper. Spread the batter in the baking dish, and then bake the cake for about 35-40 minutes (for a 10X7 baking dish), until the center is firm to touch. If you're using a 9x13 pan, you'll want to reduce this time to 25-30 minutes (start checking on the cake through the oven window at around the 20 minute mark). Allow the cake to fully cool before spreading the cream cheese frosting.

For the frosting, using an electric mixer, beat together the cream cheese and butter. Add the maple syrup and vanilla, and continue to beat until the mixture is smooth and "fluffy." Spread the cream cheese frosting over the cooled bars. Store any leftover bars in the fridge.
Nutrition
Calories:
4004
kcal
Carbohydrates:
402
g
Protein:
62
g
Fat:
236
g
Saturated Fat:
136
g
Cholesterol:
1106
mg
Sodium:
4027
mg
Potassium:
2259
mg
Fiber:
36
g
Sugar:
205
g
Vitamin A:
46145
IU
Vitamin C:
11.6
mg
Calcium:
962
mg
Iron:
18.3
mg
Ingredient Notes
This loaf cake isn't super sweet, so it relies on the combo of frosting and the loaf cake to deliver the "full package" of a slightly sweet fall treat. I haven't tried honey in this recipe, but my guess is that it may lend a sweeter taste–I'm just thinking out loud on this one. This cake is more of what I consider a brunch or "enjoyed with a cup of coffee and good friends on the weekend" kind of cake versus a super sweet dessert. Also, feel free to add more spice to this recipe–or even a touch of cinnamon (which is a spice in the pumpkin pie spice combo). There's room to customize the spice flavor intensity in this recipe–just taste and modify as you go!
I've used both salted and unsalted Kerrygold butter in this recipe, and both have turned out just fine. So use what you have on hand.
This is another "I haven't tried it, but it appears to be a good idea" note…I think this batter would turn into delicious muffins/cupcakes with the cream cheese frosting on top. Again, I haven't tested this one, yet, but if you don't want a giant loaf cake, then this may be an option. If you try it, let me know how it goes!
What's Spelt Flour? 
Spelt is believed to have originated in the Near East over 8,000 years ago, eventually making its way into Europe, particularly Germany. The mildly-nutty tasting spelt berry is considered an ancient grain much like einkorn, and is even referenced in the Bible.  The spelt berry has not been hybridized like modern-day whole wheat. Spelt is sold in many conventional grocery stores, health food stores, and online.
Spelt has a lower gluten content than today's whole wheat, making it easier to digest. Spelt is not gluten-free and should not be used by those with celiac disease or a severe gluten intolerance.