This post may contain affiliate links. As an Amazon Associate I earn from qualifying purchases.
"Shake the hand that feeds you." (Michael Pollan, In Defense of Food: An Eater's Manifesto)
Finding local farms to pick our family's food, in season, is a great passion of mine! As Michael Pollan encourages, get out of the grocery store and shake a farmer's hand!
There is great satisfaction in meeting the people who work so hard to grow our food and then help in reaping their harvest, in order, to nourish our family with the very best!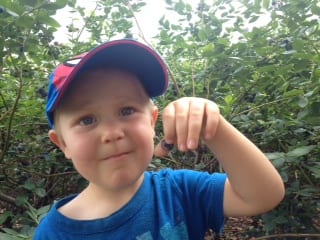 I love the experience of picking our own seasonal produce!
I love that my kids are learning to value where their food comes from.
I love the fresh in season taste!
I love the feeling of gratification that comes from knowing we picked our own food!
A few years ago, a friend invited me along to go blueberry picking at her favorite blueberry farm. I eagerly agreed and I am so glad I did! We spent all day in the fields picking the biggest, sweetest, berries I had ever seen! I came home that year with a gallon-size bucket full of sweet blueberries, about 5lbs worth, costing me only $20. I was convinced they would last us all year…they lasted a week! I'm telling you they were delicious!!
Each year I look forward to late Spring when my favorite blueberry farm opens its gate for u-pick blueberries!
This week our family, packed up the kids and headed an hour north to our favorite blueberry farm, Owen's Blueberry Farm.
Upon arriving, we were each given a bag nestled in a gallon size bucket, a rope so we could tie our bucket around our waists for easy picking, and a greeting from Willie, the very friendly farm dog.
Owens' fields are covered with big, bushes full of huge, blueberries, many the size of quarters, which are grown using organic practices! With over 11 different varieties of blueberries, there is a unique tasting blueberry for everyone.  From sweet to tart to everything in between!
We spent a couple hours picking, only covering about a 1/4 of the front blueberry patch, and came out with over 12lbs of berries and lots of mulch (thanks for my 1 year old).  Piper, my 3 year old, had a deep since of pride in picking blueberries this year, with a new ability to identify and name his colors, he eagerly searched for the deepest blue, blueberries he could find! He came out with $1.68 worth of berries which he happily showed off to everyone who would take a peek in his bag.  With a price of only $4/lb we could have easily picked more berries, however, the kids got tired, so we called it a day and decided to return another day to pick more. (Owens also offers pre-picked berries for $5/lb)  The farm is open till June, which leaves us plenty of time to visit again. 
Many of our blueberries will be eaten this week. A few we enjoyed in a homemade blueberry souffle' last night,  some will be  used to make our favorite blueberry muffins, but the majority will join our u-pick peaches we harvested a few weeks ago, in one of our freezers. Frozen blueberries are a delicious treat that our family loves in the heat of Florida summers. Frozen berries are also perfect for smoothies, muffins, and whatever else your heart may desire.
Owen's Blueberry Farm is open 7 days a week, from April till June, for u-pick blueberries.
12839 Kitten Trail Hudson, Florida 34667
Check out their Facebook page, for up to date information on picking and lots of great recipes and photos from the farm.
Get out this week and shake the hand that feeds you!
Visit a local farm, meet the farmers, and nourish your family with fresh in season food!
To find u-pick farms in your local area, check out pickyourown.org.
I'm excited to share with you, Friday, my family's favorite line of natural care products, Honeybee, made locally, with food-grade ingredients, local raw honey, and essential oils! Stay tuned for Friday's post along with a GIVEAWAY for your chance to win some of these fabulous products! 
Live Simply,
Kristin