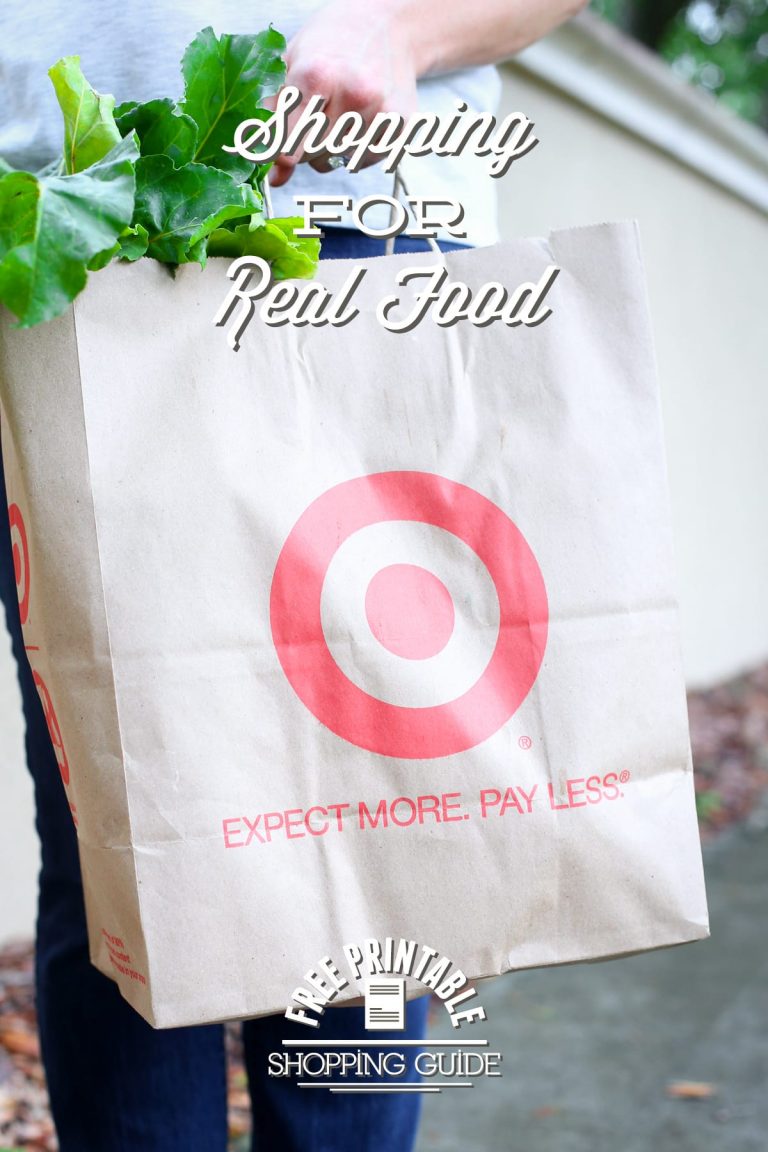 Note: This series isn't about endorsing any particular company or brand. My goal is to cover major stores, where most Americans shop, to show people that just making a switch in the products they purchase is a huge first start in adopting a real food lifestyle–this only requires changing what you put in your cart. Once this hurdle is conquered, other options may be explored–farms, co-ops, and local health stores. Small, but practical changes lead to a doable lifestyle! Learn more about shopping for real food under the "Shopping 101″ section on the blog.
The store we're going to visit today is my kryptonite. I haven't ventured into the food department of this store because, truthfully, the other 352 million items always get me. And when I say they "get me," I mean they really seem to get me–my pocketbook, my emotions, my wants, my everything.
I'm sure from that description many of you already know the store we're going to visit. Say it with me…
Target!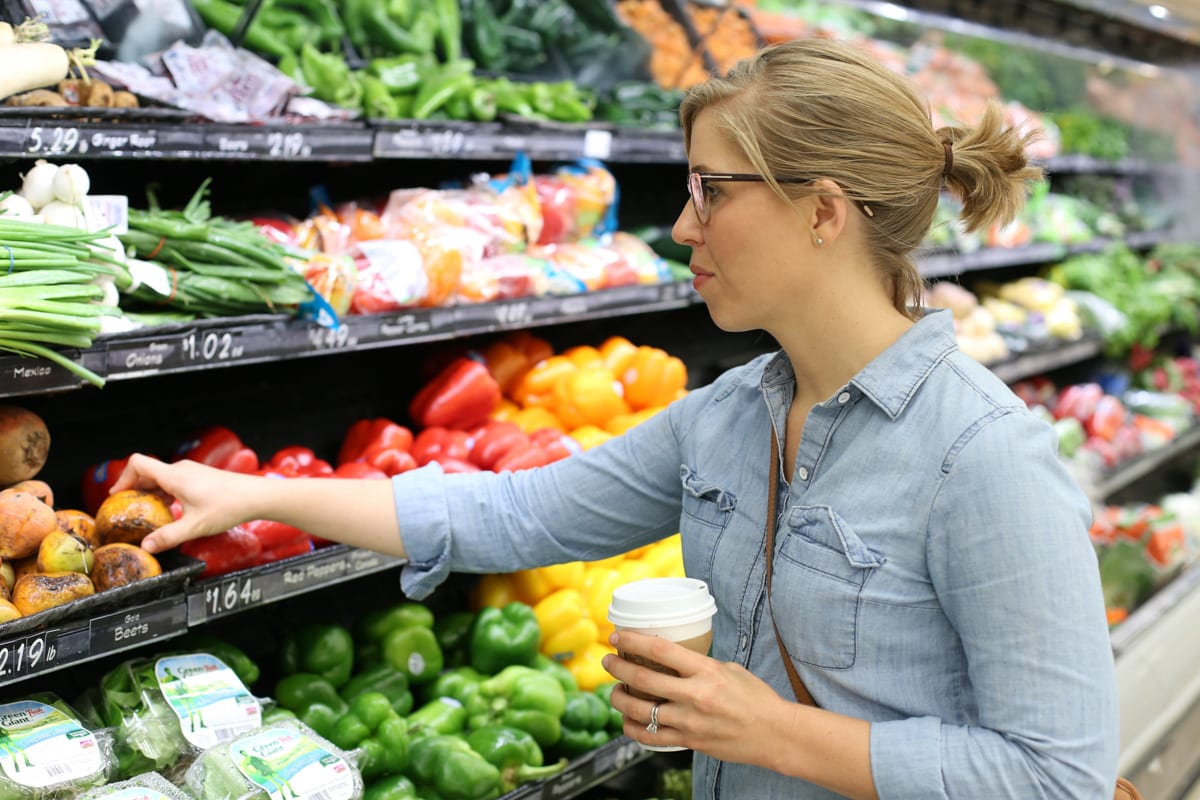 I'm very familiar with Target. Okay, almost too familiar. Despite my familiarity, the food department isn't a "land" I've spent much time exploring. I've always pictured Target as a place to buy lots of processed food, and cute dresses and Mason jars.
Recently as I entered the Super Target in my area I noticed a case of kombucha near the dollar section. Maybe that's just the sign of the times? Maybe stores are beginning to realize that people really want better options even at places many of us would least expect (AKA: Target and Walmart).
After talking to the manager at the Super Target in my area, I now realize that's exactly the case. People are demanding better choices, and stores are listening! Tim, the manager, said he receives multiple requests every single day from customers looking for better alternatives. While I think this is amazing, I hope people aren't just requesting an organic mac and cheese versus Kraft. Rather, I hope these requests are for better ingredients like grass-fed cheese, a greater selection of veggies, and better meat options. Whatever the case may be, I'm thankful to learn people are speaking up and stores are listening!
Many cities have a Target and Walmart, so finding real food options at both stores is really encouraging. While venturing out of the big stores and finding a way to support local farms is at the heart of the real food movement, starting where you're at–in a conventional store–is where the change begins. Often times finding better food is just a matter of looking for it (it's hard to find in the midst of hundreds and thousands of processed food choices) or asking a manager to stock better alternatives–they are listening!
With that word of encouragement, let's get started with the Target tour. I promise not to take too many detours. Oops.
Stay on track, Kristin! You don't need that cute scarf today.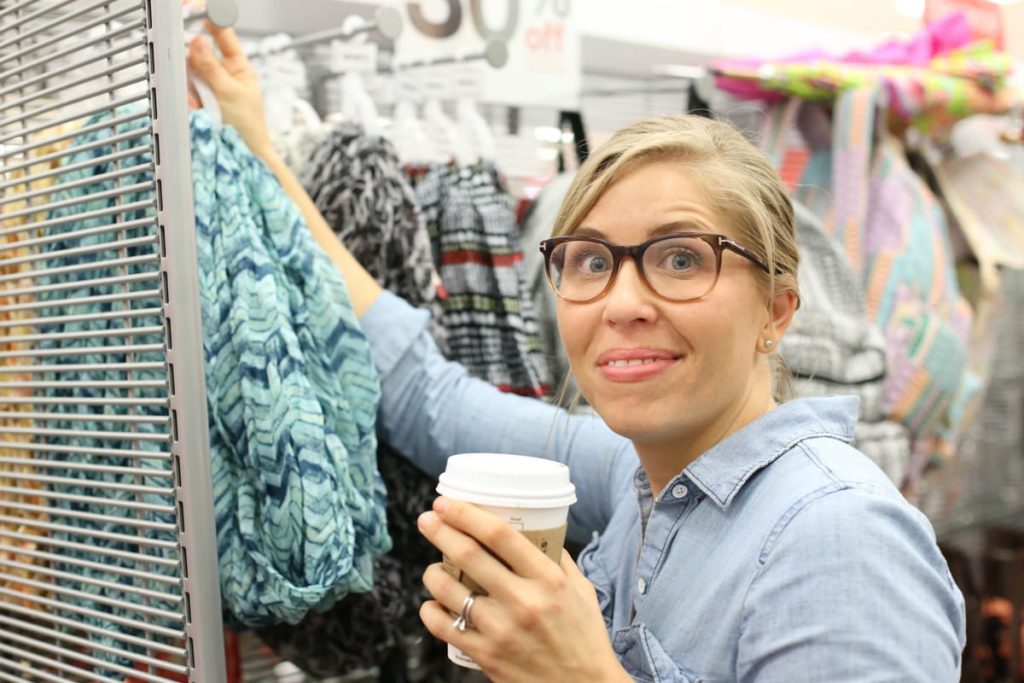 Remember, I'm not affiliated with any food company. I haven't been paid by any store or brand. The selections highlighted in this post include my top food picks based on the Live Simply definition of real food and my visit to a Super Target. While everyone defines "real" in various ways, here's my definition: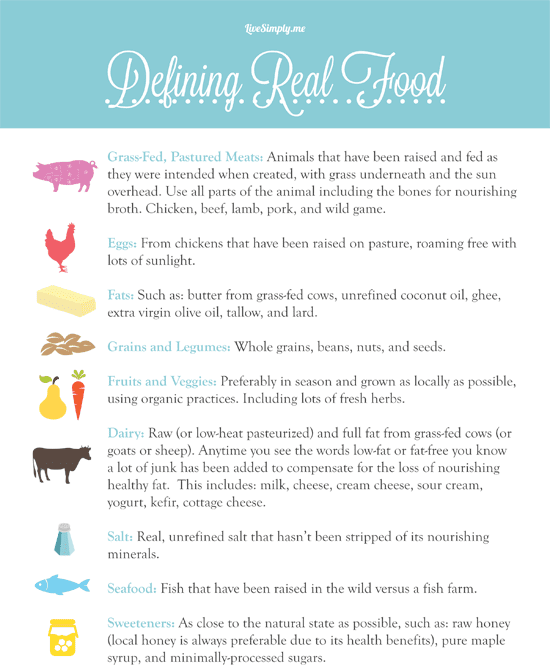 Practical Shopping Tips
1. Master the Art of Saving Money:
Target offers customers multiple ways to save money on food. Here are a few money-saving options…
Download the Cartwheel App: I must admit that I've never actually used Cartwheel (Target's electronic coupon system), but I'm told it's pretty amazing. And while most of the coupons are for processed food items, I've been told Target adds coupons for better food options (or maybe that crock-pot you've been eyeing) on occasion.
Save with Reusable Bags: For every reusable bag used to carry your groceries, Target will take $.05 off your bill.
Learn to Read Price Cuts: There are two different price cuts at Target: temporary and permanent. Temporary price cuts (indicted by a little yellow sign) mean this item is only on sale for a limited time. So if raisins go on sale with a yellow "temporary" tag, stock up! The permanent price tag sign means this is a Target low-price item (usually they beat a competitor) and the price is fixed.
2. Prioritize Food Choices and Understand the Limitations:
Target is definitely not a Whole Foods or health food store. While this may seem obvious, it's important to remember this simple truth when shopping. Some real food options may be limited to just a handful of items. This means prioritizing or compromising in a few areas may be necessary. For example: The real food yogurt selection at Target is very limited. Stonyfield Lowfat French Vanilla Yogurt was the only option at the Target I visited. I prefer to purchase plain whole milk yogurt. If organic lowfat yogurt was my only option, and I didn't want to or couldn't make my own, this would be my best choice versus conventional "fruit-flavored" varieties.

4. Shop Simply Balanced:
Simply Balanced is the in-house "better" brand at Target. According to Target, "The Simply Balanced collection is crafted to be free of artificial flavors, colors and preservatives, and avoids high fructose corn syrup. The collection never uses trans fats, is mindful about the amount of sodium in each product, and forty percent of the products are organic – giving guests more of the simple, recognizable ingredients they know and want – and a food label they can understand."
5. Shop the "Buy Organic" List:
Target offers a decent amount of produce. No matter where you purchase food, I recommend shopping according to the "Buy Organic" list (based on the Environmental Working Group's Dirty Dozen). This list includes the top fruits and veggies to prioritize when making the decision to purchase organic produce. Purchasing all of your produce at Target may be a limiting experience, so I definitely recommend finding a farmer's market or produce stand to help supplement.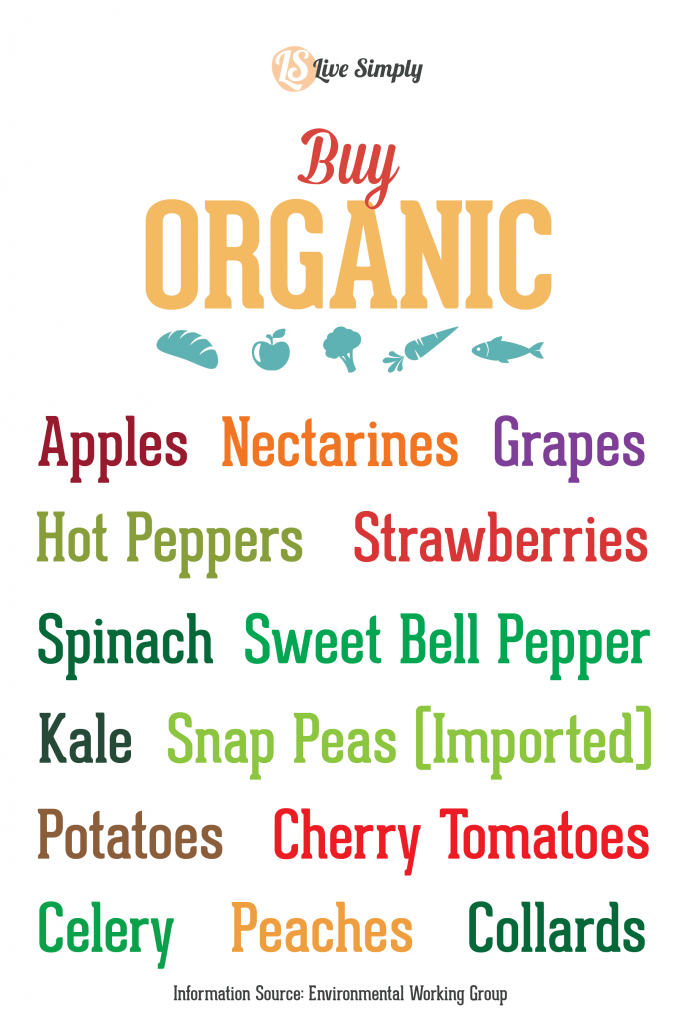 Shopping for Real Food at Target: My Top Picks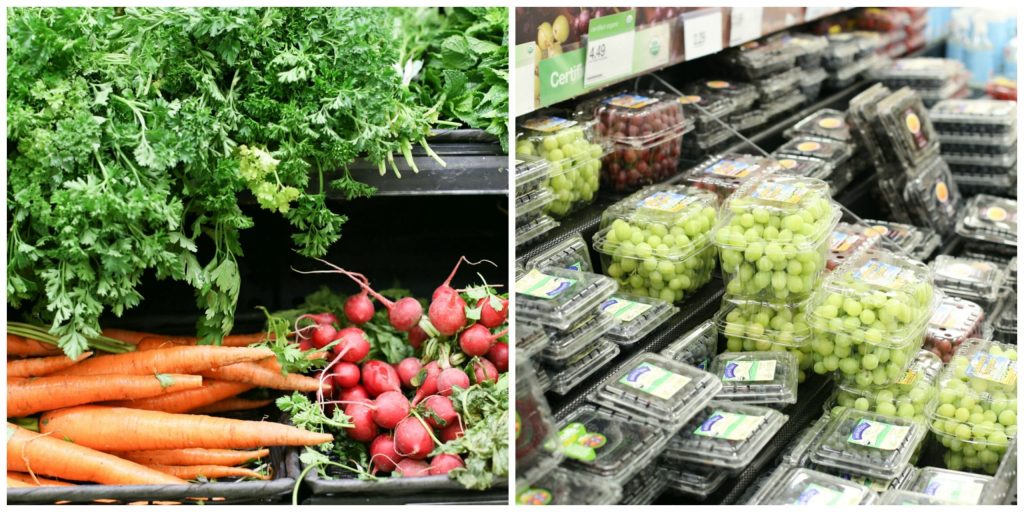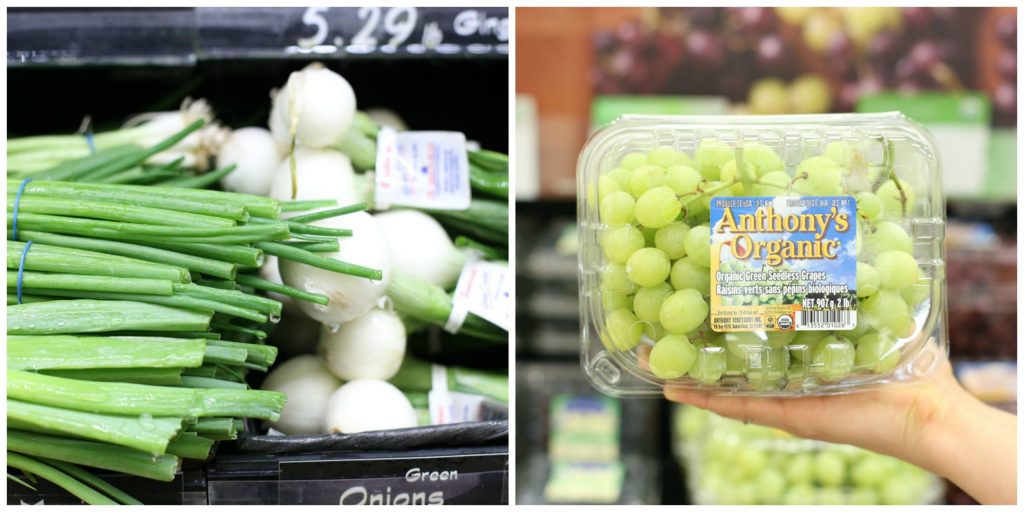 1. Produce:

Target offers both organic and conventional produce options. To help keep the budget in check and prioritize produce options, shop from the "Buy Organic" list (see above). I was impressed with the amount of loose produce sold at Target.
2. Frozen Produce:

Target also offers frozen fruits and veggies. Purchase fruits and veggies with clean ingredient lists (just the fruit or veggie listed) versus packages containing special sauces or "smoothie blends."
3. Meat and Seafood:
Target stocks a nice variety of "real" meat. Along with a good selection of canned fish (sustainably sourced tuna and salmon), I also found grass-fed beef (steaks, roasts, ground beef) and chicken, Applegate lunchmeat (a very limited selection), wild salmon, and grass-fed and finished hot dogs.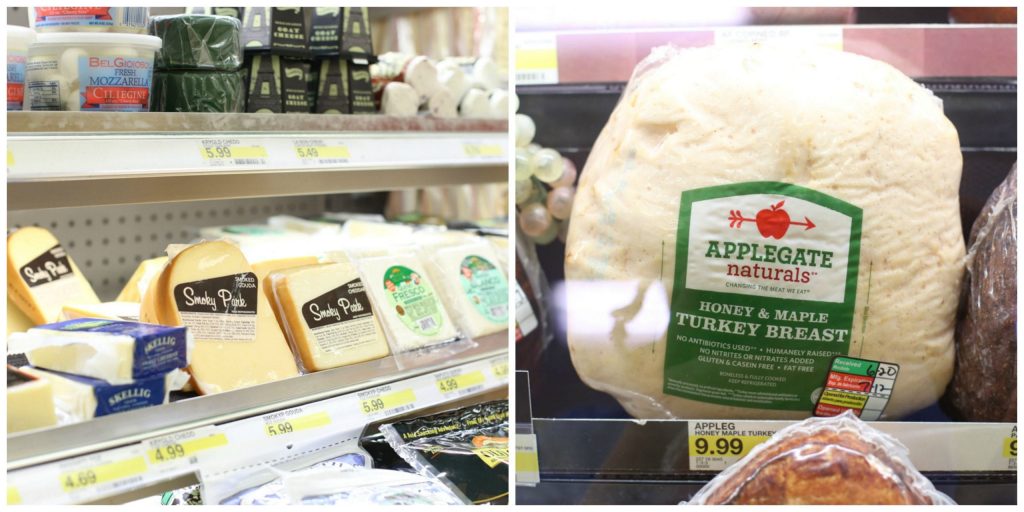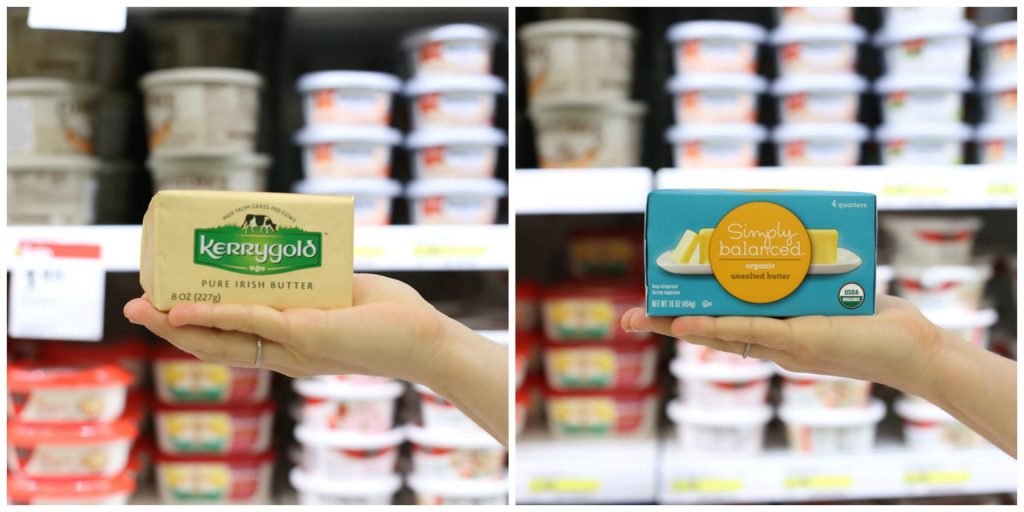 4. Dairy:
Target sells my favorite store-bought butter: Kerrygold. While Kerrygold has come under scrutiny in the past for not being 100% grass-fed (more like 90 something), I still believe this butter is the best store-bought option, and the one I purchase and use in my home.
The Target in my area only sold one yogurt product I would purchase: Stonyfield Organic Lowfat French Vanilla. Although I would prefer a whole milk plain yogurt, this was definitely a better real food choice than the "fruit-flavored" conventional options. I've been told the yogurt selection may vary greatly at each Target, so check your local store as they may stock a better selection. From the pictures above, you'll notice the Yokids Squeezers by Stonyfield. Technically, I would classify these as a "treat", not a daily yogurt option since they tend to be loaded with sugar.
Target offers a well-stocked cheese department in the produce/deli selection. This is where you'll find Kerrygold and other less-processed options.
Target only sells ultra-pasteurized milk.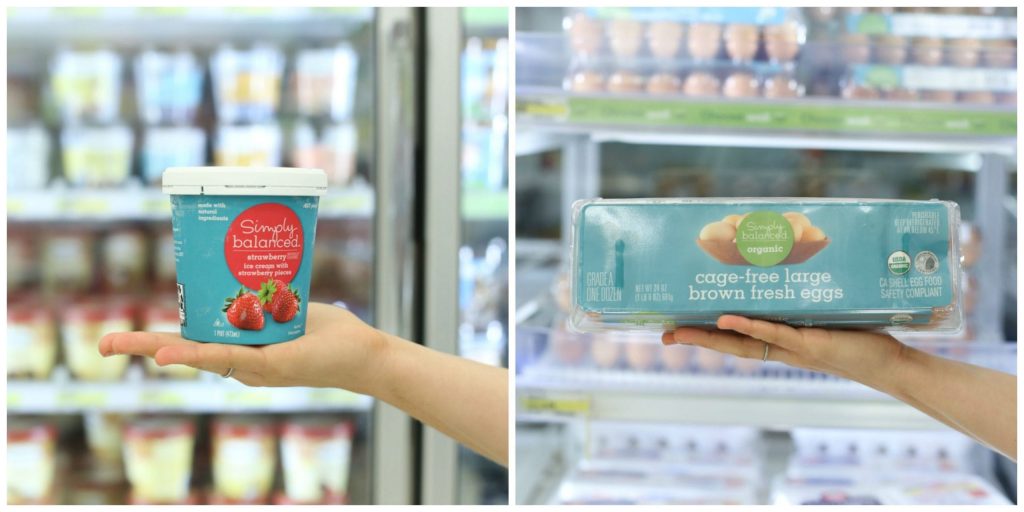 5. Eggs:
I've noticed several bloggers recently posting pictures on Instagram of pastured eggs from Vital Farms purchased at Target. Unfortunately my store didn't sell Vital Farms, so I chose to highlight the Simply Balanced Cage-Free Eggs. "Cage-free" doesn't mean the eggs come from pastured chickens, but if you're in need of eggs from Target this is the best option available.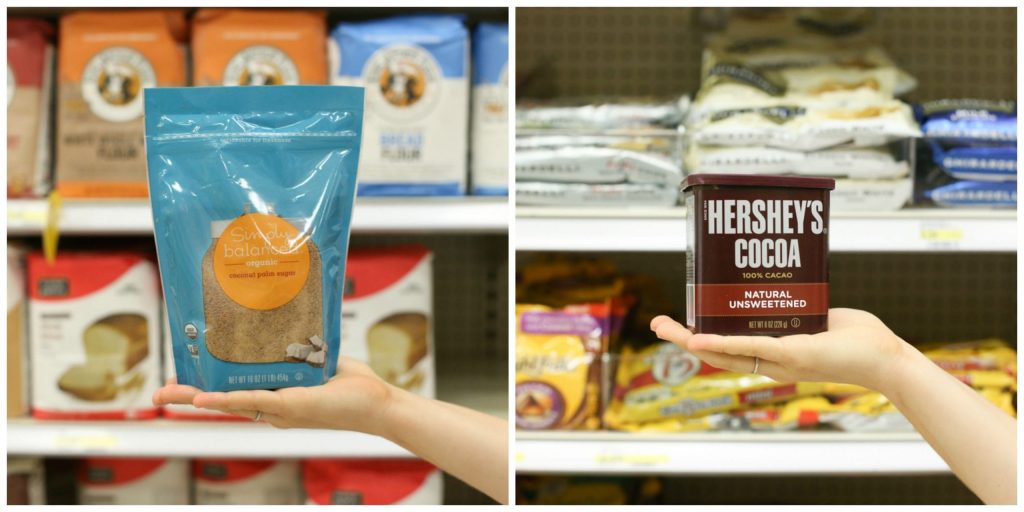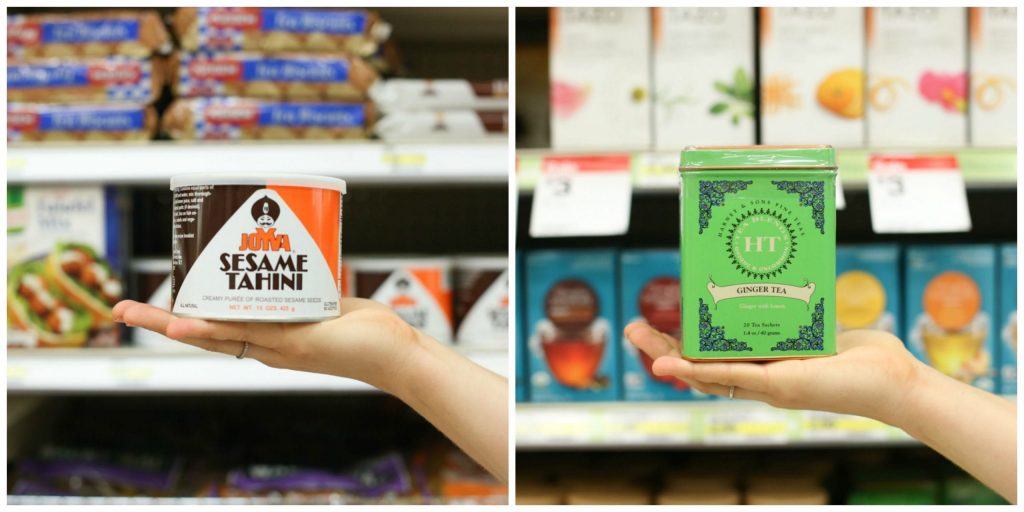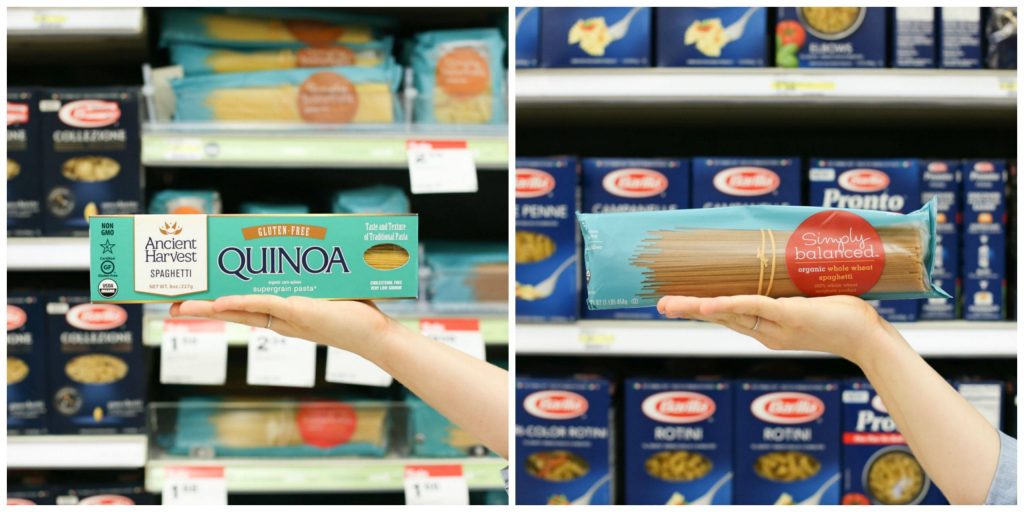 6. Dry Goods:

I've come to learn from this series that real food options exist even in the places I least expect them. This again proved to be the case at Target. Yes, you'll still find a ton of junk food at Target, but real food options are starting to fill the aisles. Target sells a large selection of products I already purchase from other stores. The selection I found includes: organic tomatoes (cartons and canned), coconut milk, almond flour ($9.95/bag!), whole wheat flour, coconut flour, rolled oats, dried/canned beans (also sold in cartons), virgin coconut oil, coconut water, dried herbs, coconut sugar, pure maple syrup, chocolate chips (they even sell the Enjoy Life Morsels), sprouted bread (I love the Silver Hills brand), rice, organic pasta, and more! I've listed my favorite items and some brands in the printable shopping guide.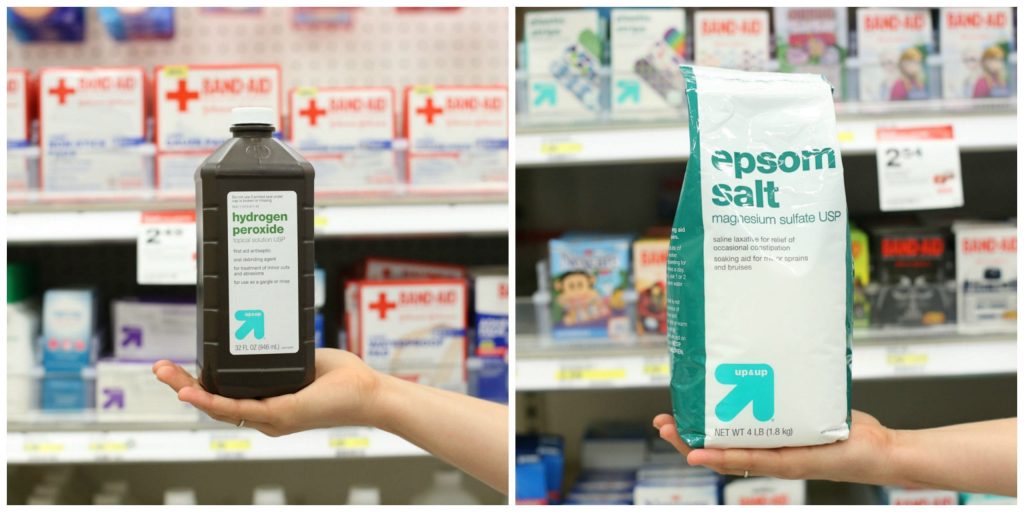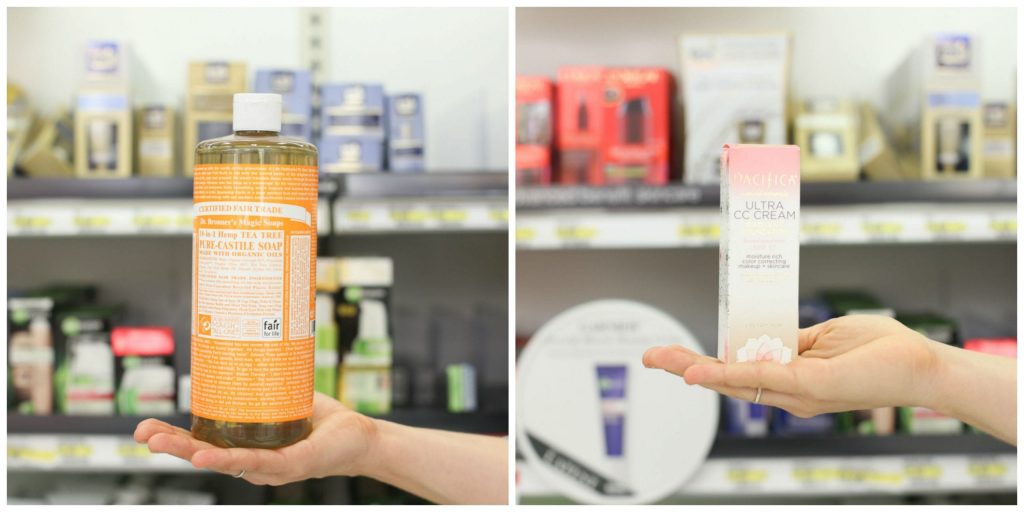 7. Beauty and Health Products:
Target offers a nice variety of DIY ingredients: witch hazel, castile soap  (five varieties in the makeup section), epsom salt, hydrogen peroxide (remember the homemade stain remover from last week?), rubbing alcohol (homemade glass cleaner, anyone?), and vitamin E oil. Target also sells a large stock of glass bottles and jars for DIYs and food storage (check the kitchen department and dollar section). Along with ingredients to make your own products, Target also stocks Pacifica–my favorite store-bought makeup brand–and a variety of natural soap and cosmetic brands.
8. Treats and Convenience Foods:
Finally, let's talk about the "better" processed food options. Here are a few options I found for treats/convenience foods at Target: multiple brands of ice cream, Annie's snacks, Simply Balanced corn chips (a very clean organic list!), squeeze fruit pouches, Yokids Squeeze yogurt, Lundberg Rice Chips, freeze dried fruit (I wouldn't call this one "processed"–it's just fruit!), fruit leather, and more. I've highlighted my top picks and brands in the printable shopping guide.
My Target Shopping Guide
Thank you so much for joining me for another shopping trip! I can't wait to go shopping with you again next week.  Before we part ways, I want to leave you with a special gift- a way to remember our field trip– a printable shopping guide!
Click on the image below to download and print your shopping guide.
More Real Food You May Like: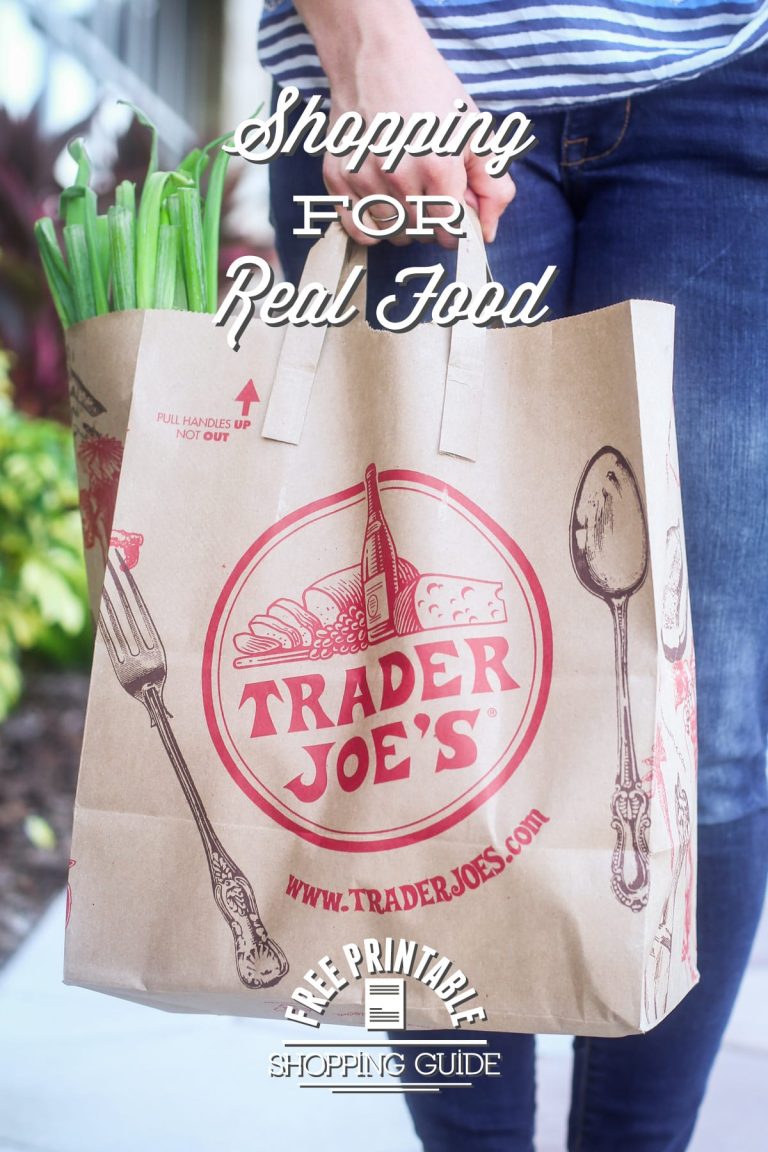 Shopping for Real Food at Trader Joe's: My Top Picks
Shopping for Real Food at Meijer: My Top Picks