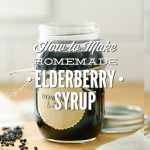 Immune-Boosting Elderberry Syrup
I quickly found making elderberry syrup at home was easy and cheap.
Add the berries, water, cloves, ginger, and cinnamon stick to a large pot and bring to a boil.

Once boiling, reduce the berry mixture to a simmer. Allow to simmer for 30 minutes.

After 30 minutes, remove from the heat.

Strain the berries from the juice. I use a cheesecloth and small mesh sieve over a bowl. Push the berries in the strainer down with the back of a wood spoon to remove any extra juice. Stir in the honey. The berry mixture should still be warm, not hot, just slightly warm.

Now you have the perfect syrup for fighting off the sniffles this season. Keep in the fridge. Take 1 tablespoon daily by spoon or even mix it in a smoothie or with sparkling water.