Creating a healthy home with money-saving, non-toxic cleaners and simplified natural cleaning methods has never been so easy.
INTRODUCING
NATURAL CLEANING MADE EASY
learn how to avoid harmful cleaning chemicals and use safe, non-toxic cleaners
make homemade cleaning products
use simple and effective natural cleaning hacks and methods to make a safe and healthy home and save time and money
Join this one-of-a-kind course and empower yourself with natural cleaners and methods that eliminate the need for harmful and toxic products.
---
Why Natural Cleaning Made Easy?
The average household uses 62 cleaning chemicals, many of which are of known concern. Exposure to ingredients used in conventional cleaning products can be associated with an increase risk for:
digestive issues
hormone imbalances
cancer
respiratory concerns
migraines
Making simple swaps and changes to what you use and how you clean can have a huge impact. And you don't have to compromise a clean home. You can make and use natural cleaning products, enjoy a clean and beautiful home, and create a safe space.
---
Meet Your Teacher
Hey, I'm Kristin! In 2008, Dustin (my husband) and I made a decision to change our eating habits (going from the Standard American Diet to a real food lifestyle). After a couple of years of eating real food, I began to question not only the products we called "food," but also the products being used on our skin and in our home.
This questioning led me on a quest to learn everything about my cleaning products. As I began to research cleaning products, I realized that the ingredients used to make my favorite products (even the ones labeled "green" and "natural") weren't contributing to my health in a positive way. I was shocked to learn about ingredients of known concern that are used to make products. Why wasn't I warned? How could these products be marketed to families? Why is all of this so secretive? 
Eliminating toxic products and using natural, non-toxic cleaners and cleaning methods became my mission.
After making the switch to natural cleaning, the migraines and upper respiratory issues that I had experienced for years disappeared.  (Eliminating fragrance chemicals, which are found in nearly every conventional cleaning product, was huge for me!)
I saw first hand the impact these ingredients and products can have on your health, either negative or positive.
After years of research, experimenting with natural DIY cleaning products and methods, and learning how to navigate the cleaning aisle (when I don't want to DIY), I now teach families across the globe how to ditch toxic products and make the switch to natural, non-toxic cleaning.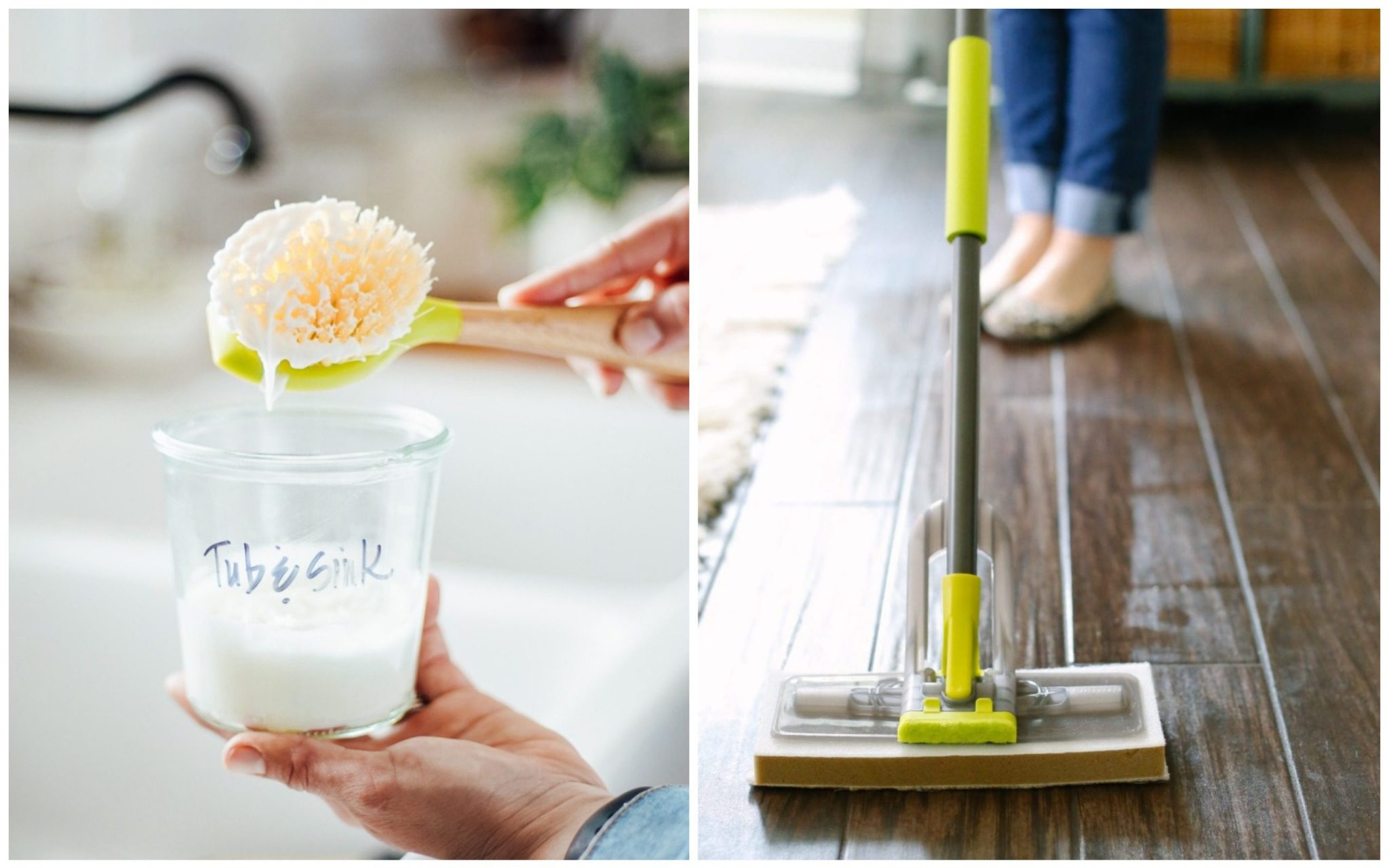 In Natural Cleaning Made Easy, you'll feel like a welcomed guest in my home, learning how to easily make and use non-toxic cleaners, with insider tips, recipes, and methods for natural cleaning success.
---
Topics Covered in Natural Cleaning Made Easy
✔️ 4 steps to making the switch to non-toxic and natural cleaning
✔️ Dirty secrets of the cleaning industry & red flag ingredients
✔️ How to easily navigate the cleaning aisle & be an informed consumer
✔️ Non-toxic cleaning essentials (multi-use tools, ingredients, and products to always keep stocked)
✔️ Natural cleaning with essential oils
✔️ How to make DIY cleaners (50+ products)
✔️ What you need to make DIY cleaners
✔️ Safety tips for making cleaners
✔️ Cleaning ingredients to avoid mixing (like baking soda and vinegar)
✔️ The best non-toxic and natural cleaning brands and products
✔️ First cleaning swaps to make to replace toxic products
✔️ How to clean your bathroom naturally
✔️ How to clean your kitchen naturally
✔️ How to clean your living room, bed room, playroom, and office naturally
✔️ Natural laundry recipes and hacks
✔️ How to simplify natural cleaning with a cleaning routine
---
Learn From Anywhere, At Your Own Pace
Natural Cleaning Made Easy is delivered through video-based tutorials, downloadable guides and cheatsheets, and a DIY cleaners recipe book. To access the course, anytime and anywhere, all you need is an internet connection and either a smart phone, computer, or tablet.
The Course Materials Include: 
Instant and lifetime access to the course and materials
4 course modules
149-page digital and downloable DIY cleaners recipe book
Video demonstration of 11 natural cleaning recipes
Tips and guidelines for safely making DIY cleaners
Video tutorials of how I clean every room in my home using natural products and methods
4 cheatsheets featuring essential cleaning recipes for the bathroom, kitchen, general rooms (living room, play room, office, etc.), and laundry
Essential oils for cleaning guide and lesson with certified aromatherapists
Cleaning swaps guide
Red flag cleaning ingredients cheatsheet
Video demonstration and checklist of the essentials to stock in a natural cleaning caddy
Natural store-bought cleaning products guide
BONUS: Create a simplified cleaning schedule workbook 
---
7-Day Money-Back Guarantee: Buy it, try it, apply it! If, after throwing yourself into the program for the first 7 days, you're not experiencing any results, let me know what's not working and we'll hit undo.
---


Not sure if this course is right for you? I'd love to send you a special sneak peek lesson from Natural Cleaning Made Easy.

---
Still Have Questions? I've Got You!
Have a question that's not answered below? Send me a DM on Instagram @livesimplymom or an email hello@livesimply.me and you'll hear back from me (Kristin) shortly!
I'm so busy. What's the time commitment of this course?
This course is easy to follow and gives you exactly what you need to get started with non-toxic cleaning right away (no unnecessary fluff here). The course is self-paced, so you can work according to your pace and schedule. You can complete the course within a week or you may choose to take your time, working through each step at a slower pace and making one cleaning swap at a time. The guides and cheat sheets in the course don't require extensive or heavy reading; they're designed to be quick-reference guides and cheat sheets that give you exactly what you need to make natural cleaning easy, simplified, and fun.
I can find DIY cleaning recipes on Pinterest, so why would I buy a cleaning course?
If you want to spend hours and weeks researching and experimenting with recipes from Pinterest and compiling all the information into a document, go for it! This course is about taking the guess work out of not just making your own cleaners (with cleaners that actually work, a lot of recipes on Pinterest don't work and feature ineffective ingredient combos like baking soda and vinegar–we talk about why you shouldn't mix certain ingredients in the course), but also how to navigate the cleaning aisle and all the products on the market (so you can pick up any cleaning product in the store and easily make an informed choice about that product). You'll learn how to safely and effectively make cleaning products, how to easily spot toxic and non-toxic cleaning products, how to use non-toxic cleaners in your home, the best non-toxic brands and products on the market right now, and how to stock your cleaning caddy with essential and multi-purpose products.
What is your return policy?
7-day money back guarantee. I guarantee your satisfaction with the course. If it isn't right for you and you haven't downloaded the materials to any of your devices (cheat sheets, recipe book, guides), reach out at hello@livesimply.me stating the reason for your return request.
What kind of ingredients are used to make the DIY products in the course?
The most common ingredients used, include: castile soap, Sal Suds, baking soda, vinegar, distilled water, hydrogen peroxide, olive oil, alcohol. Most of the ingredients called for can easily be found online (via Amazon or other stores), grocery stores, and home stores (like Target or Walmart).