Simplified School Lunch Kit
We closed sales because 
The Simplified School Lunch Kit is getting a MAJOR update!
Get on the waitlist
Be the first to know when the Simplified School Lunch Kit is released.
Hey!
Do you feel overwhelmed by packing school lunch? Or feel stuck in a lunch packing rut?
I was there a few years ago.
Now I want to share the tips and strategies that have helped me simplify this task and get out of the lunch packing rut. That's why I created the Simplified School Lunch Kit.
I want to show you…
how to create a rotational lunch menu to save brainpower and precious time
how to prepare food in advance so you're ready to pack lunch before the school day begins
how to pack lunches that are nourishing and kid-friendly
Plus, you'll have the tools you need to simplify lunch packing…
over 20 lunch cards for visual inspiration
a reference guide for how to prep school lunch, including freezer-friendly recommendations and tips
recommendations for lunch containers, accessories, and storage containers–everything to help you prep and pack school lunch and enjoy real food as a family
ready-to-use rotational lunch plans
a printable lunch plan for creating your own lunch plans
over 50 lunchbox-friendly recipes the whole family will love
WHAT'S THIS KIT ALL ABOUT?
It's about making the task of making lunch simpler, more routine, and even more enjoyable.
ONE GOAL
SIMPLIFY SCHOOL LUNCHES
SEE YA
STRESSFUL MORNINGS
HELLO
EASY PACKING
WHY
packing the lunchbox should be an easy task
WHAT
a routine, simplified approach to packing school lunch looks like
HOW
to start building your own simplified lunch-packing routine right now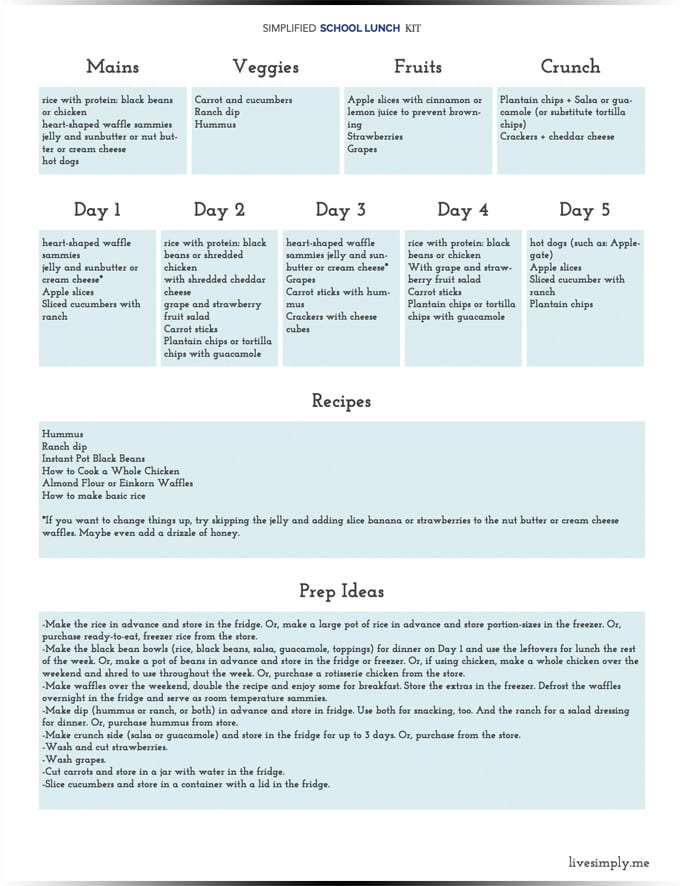 MEET KRISTIN
A mom and real food enthusiast, on a quest for simplicity.
In 2015, my oldest child, Piper, started school. This was a new season of life for our family with many changes. One of these changes was packing lunches. In the past, when Piper was home, I could randomly piece together a lunch. Now, I had to be prepared to pack a lunch in advance.
I had no idea what a challenge this would be. Each morning I would open his lunchbox and think, "How much longer do I have to pack school lunch?" Packing a school lunch felt overwhelming, complicated, and frustrating.
Fast  forward three years, with two kids now in elementary school. Lunch-packing still isn't "my thing." It's more of a necessity than a passion. But I no longer despise this task or feel frustrated when looking at two empty lunchboxes. Over the years, I've intentionally sought out ways to make packing school lunch simpler, more routine, and more enjoyable.
This kit isn't about teaching you how to be a Pinterest mom–whatever that means. This kit is about teaching you how to approach lunch-packing from a simplified approach, as well as providing you with real life ideas for packing lunches. The lunch ideas shared in this kit are simple and easy to put together (time-friendly), budget-friendly, and enjoyable for both kids and parents.
Get on the waitlist
Be the first to know when the Simplified School Lunch Kit is released.