This post may contain affiliate links. As an Amazon Associate I earn from qualifying purchases.
I happen to mention a couple of weeks ago that I was trying a popular non-toxic shampoo for an upcoming post. Many reader friends replied to that Instagram Story, expressing excitement about this particular topic. Apparently a lot of you have experienced non-toxic shampoo fails. Me too. The struggle is real!
So let's talk about shampoo.
When it comes to non-toxic shampoos and conditioners it seems like there are a lot of products that simply don't work. Unless you're going for the greasy hair look.
Personally, I was faithful to a particular salon shampoo and conditioner for a long time. It wasn't until last year that I finally decided to make this switch. Or, at least, take the switch seriously.
I had dabbled with non-toxic shampoo options in the past, purchasing a bottle from Whole Foods, a local health food store, or Amazon when the salon bottle was empty. But after just a few washes I would go back to my favorite salon brand. I just couldn't take the greasy hair. I even tried a few homemade recipes on Pinterest. It's hard to admit, but castile soap isn't a miracle product for all things in life.
If I was going to make the switch to a non-toxic shampoo, the product had to work. It had to clean my hair, leaving it clean and hydrated. I don't think that's too much to ask. And if I could get a day or two (or three, because #momlife) out of a wash that was even better. I knew there must be a way to "clean up" my shampoo and conditioner, but still feel clean.
This story does have a happy ending. There's hope!
I finally found shampoos and conditioners that work. And yes, that's plural. I found multiple options! Today, I'm going to share the products that have worked best for me. Products that I've personally purchased and used in my own hair, as well as my children's hair. My husband is still making his way over to the non-toxic shampoo side.
First, a few notes…
1.  I like to include both homemade and store-bought options when talking about making the switch to non-toxic products. For shampoo, I don't have a homemade recommendation. I've tried what seems like every homemade recipe on Pinterest, and every single one has left my hair greasy. That's not to say that a homemade shampoo (many times made with castile soap) won't work for you. Castile soap actually works fine as a shampoo in my son's hair. I'm not discouraging the DIY route, I just don't have a solid recommendation.
2. When it comes to shampoo, you get what you pay for. Most of the brands that have worked for me aren't cheap.
3. I have color-treated hair. I go to an "organic salon" in the area for hair color services. Are the hair dye options at this salon perfect? No. But I feel better about the ingredients, and the lack of certain ingredients. The products listed below have worked well for my color-treated hair.
4. If you have very long hair you may want to try shampooing your hair in two sections. This was a suggestion from my hair stylist/colorist. I find that I'm able to reach all my hairs (and I have a lot of them) this way, ensuring the shampoo works as it should.
5. The options on my list receive the "seal of approval" from both the EWG website and/or the Think Dirty App. If you'd like to learn more about ingredients to avoid and how to read an ingredient list, visit this post. And if you'd like to learn more about using the Think Dirty App or the EWG site to find non-toxic products, visit this post.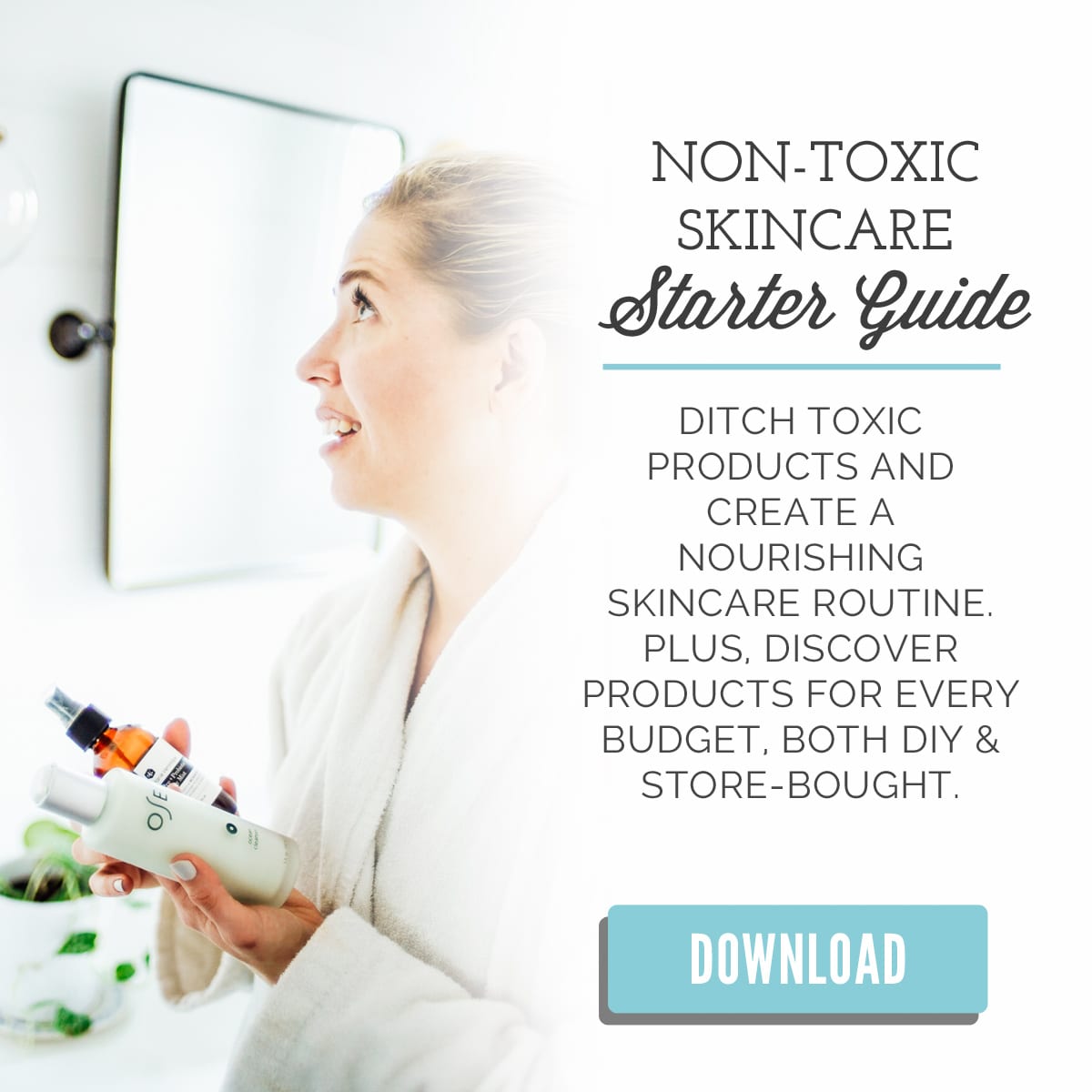 The Best Non-Toxic Shampoos and Conditioners
True Botanicals is known for making non-toxic products that work. True Botanicals makes one shampoo and one conditioner for all hair types. As with every True Botanicals product, the shampoo and conditioner smell amazing (a subtle, natural scent). The light weight formula cleans and hydrates hair without weighing it down. This is the shampoo and conditioner I use on a regular basis (BeautyCounter is my second choice). I wash my hair every 2-3 days, which helps bring down the overall cost–stretching the product even longer. In between washes, I use a dry shampoo from Innersense (mentioned later in this post). Price: $34 for 8 fluid ounces
Pros
True Botanicals offers samples, for free! Okay, you have to pay for shipping (something like $3). Just click on samples under the product tab on their website and then select shampoo and conditioner.
There's only one shampoo and conditioner. The formula works on every hair type.
Cons
Only available for purchase via the company's website.
Price. If you love True Botanicals, you can sign up for their subscription box (Sun & Moon) which brings the price of each bottle down to $30. And you get a free gift each time your subscription is delivered. I have my subscription set to every 4 months, which is how often I have to replace my bottles.
I've been so impressed with this shampoo. I have yet to try the conditioner, but I'm sure it's just as good. The shampoo has a vibrant citrusy scent–which I absolutely love– and it's super hydrating. Innersense makes different types of shampoo based on hair type–color treated, dry, fine to normal. I'm currently using the Pure Harmony Hair Bath (shampoo).  Price: $28 for 10 fluid ounces
Innersense also makes fantastic styling products. The leave-in conditioner and dry shampoo are my favorite products. I use the leave-in conditioner in my daughter's hair and I use the dry shampoo at least twice a week.
Pros
Multiple shampoos and conditioners based on hair type, including curly hair. Various styling products, too.
Take a short survey (hair type, styling preference, etc.) on the company's website to find the Innersense products that will work best for your hair.
Cons
Only available for purchase via the company's website or an online store (like The Detox Market). Some of the products are available on Amazon with prime shipping. Although buying through Amazon will cost an extra $2.
Price
BeautyCounter makes a wide array of beauty and skincare products. I'm not a fan of everything BeautyCounter makes, but I love the shampoo and conditioner. I've only tried the Daily Shampoo and Conditioner, which clean, hydrate, and leave my hair with a bouncy look and feel. This is my second favorite shampoo and conditioner. This brand and True Botanicals are definitely what I consider to be the best of the best in "green" beauty shampoo and conditioner. Price: $23 for 10 fluid ounces (Daily Shampoo and Conditioner)
Pros
Multiple shampoos and conditioners based on your hair need: Smooth and Control, Volume and Shape, Daily, etc. Including a product line for children.
Affordable when compared to the other options on this list.
Cons
Only available for purchase via the company's website.
I've used Acure on and off over the years with mixed results. It's definitely the best non-toxic shampoo and conditioner found in the grocery store. I can only use this brand for a short time (one bottle) before my hair needs a break. That said, I love Acure's dry shampoo. It's very similar to my homemade recipe.
If you want to try something that doesn't require special ordering, and an option that doesn't cost $20+, give this brand a chance. If it doesn't work for you, try another option on this list. I don't think Acure is the best, but if you're looking for a budget-friendly option, it's a place to start. Price: $10 for 12 fluid ounces.
Pros
Multiple shampoos and conditioners based on your hair need: Body Beautiful, Curiously Clarifying, Mega Moisture, etc.
Very affordable and easy to find in grocery stores, Target, health food stores, and online.
Cons
If there's one option on this list that is not going to work for everyone, this is the brand.
This brand doesn't amaze me like other options on this list (mainly, True Botanicals and BeautyCounter). I have traveled with this shampoo and conditioner because this brand makes travel-size bottles. It cleans my hair, but it doesn't do anything that seriously impresses me (allows me to go multiple days without washing my hair, volume, etc.) for the price. My main issue is my hair doesn't feel hydrated after using this brand. I also have very thick hair, so maybe I just don't have the right type of hair for this brand. This brand has a cult-like following in the green beauty world. Rahua also makes styling products. Price: $34 for 9.3 fluid ounces.
Pros
Multiple shampoos and conditioners based on your hair need: volume, hydration, color treated. Various styling products, too.
Cons
Only available for purchase via the company's website, The Detox Market, or Amazon.
Price
Probably the best store-bought option for both affordability and effectiveness. You'll find this brand in most health food stores and online.
Pros
Affordable and easy to find in most health food stores and online.
Cons
This brand doesn't work well for my thick hair, but it does for many people. This is the number one store-bought brand that people recommend to me when it comes to non-toxic shampoo and conditioner.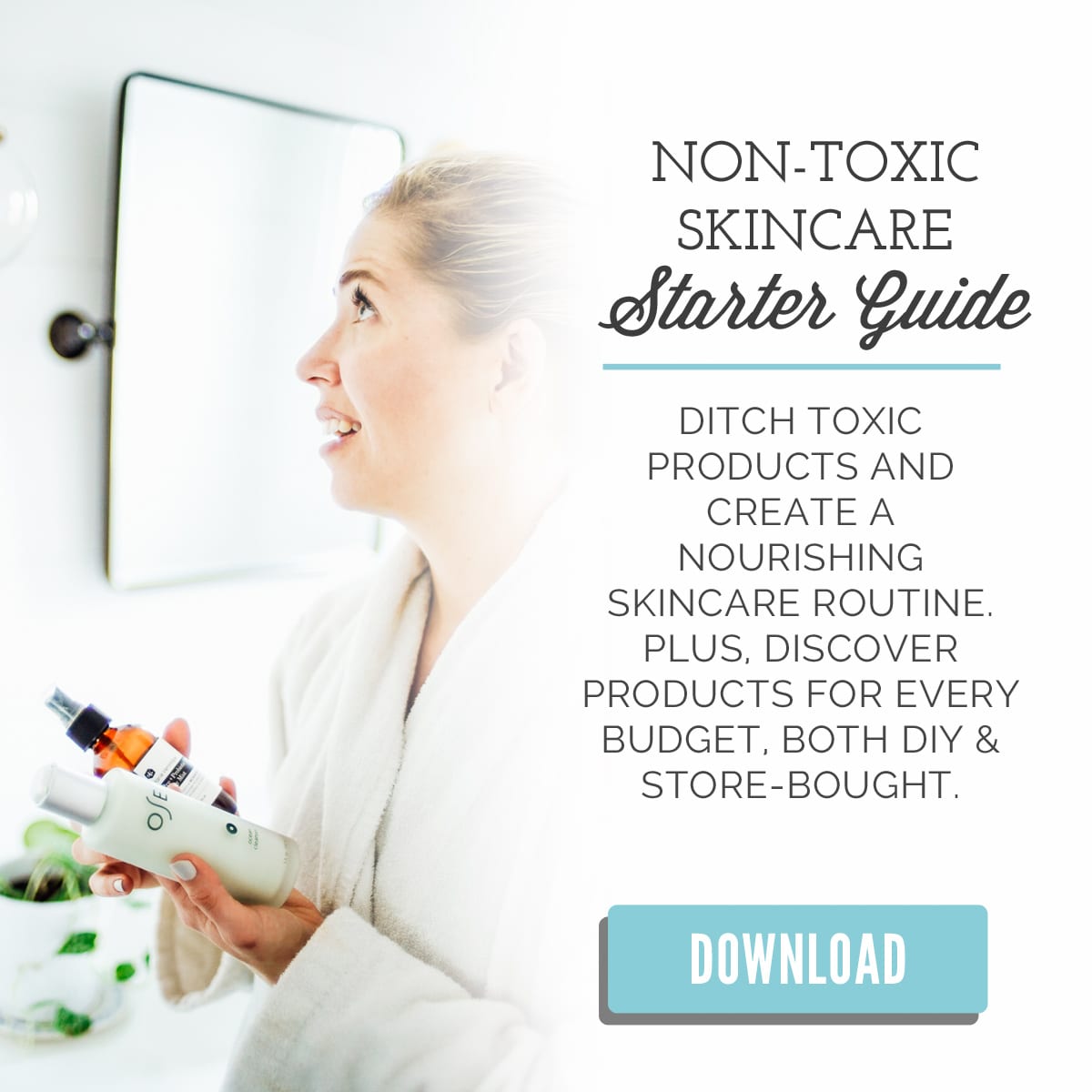 Natural Shampoo and Conditioner for Kids
If you'd like to use a special kid shampoo, I've had good success with Dr. Bronner's Castile Soap (baby mild is my favorite since it's unscented), Pleni Naturals, and Acure brand. BeautyCounter also makes shampoo for children, along with detangler spray. I personally don't have any experience with the BeautyCounter kids' line.
I love the detangler from Innersense for my daughter. She has very thick, curly hair and needs some extra help with combing after an evening shower and in the morning.
The Honest Company also makes kid shampoo and body wash, and adult shampoo. I haven't tried The Honest Company line, but it does rate very well on the Think Dirty App and with the EWG as far as ingredients.
If you love a particular shampoo or conditioner, share your experience in the comments. I love learning about new brands and products from you all.