This post may contain affiliate links. Affiliate links come at no extra cost to you. These links allow me to share the products I authentically recommend (and use) and support Live Simply by receiving a small commission.
I must confess.
If you had asked me about Kale just a few years ago, before my real food days,  I would have looked at you and thought, "What? What language you are speaking? Kale?"
Lettuce, in pre-made salad kits, was the closet thing I knew about eating leafy greens. Turning to real food, forced me to expand my food repertoire. If I couldn't just open a package of pre-made food-like products, zapped away in the microwave, served for dinner, what was I going to feed my family?
The desperation led me to the discovery of all sorts of new and exotic real foods.
When you lived a life of pre-made salad kits and store-bought Pop Tarts everything is exotic!
Over the years I have become fluent in: swiss chard, beet greens, kale, collards, mustard greens, and so many more. Trust me, if I can learn to speak the language of exotic leafy greens and other veggies, you can too. There's hope.
One of my favorite ways to prepare kale is making chips. Chips are super kid and husband friendly. What American doesn't get excited when they hear the word "chip"? Crunchy, salty, melt-in-your-mouth. Yup, I am still talking about kale.
My first hundred few attempts at making kale chips were downright failures. They would either turn out soggy, too salty, or too burnt. The dogs would even turn their noses up, so to the compost bin many went. Over the years I have done lots of experimenting with kale chip recipes. Finally, one day, due to a mistake, I discovered the secret to perfect, crunchy kale chips.
So, here's the secret (shhh)– a baking stone in a hot oven!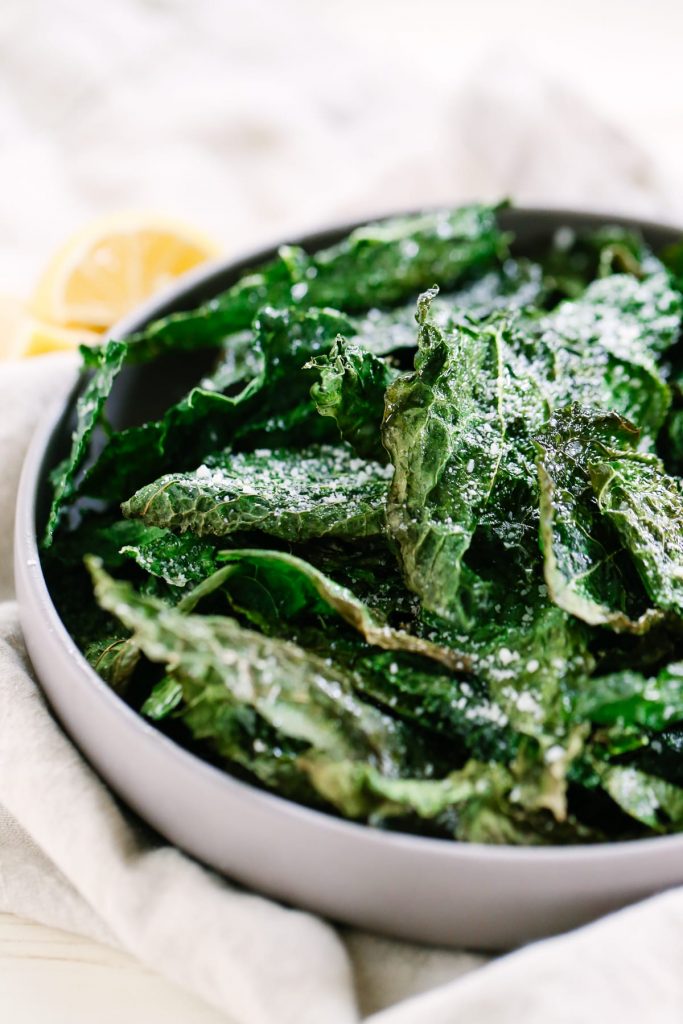 Homemade Kale Chips
Ingredients
1 bunch kale
1/2 lemon squeezed to remove juice
1/4 tsp salt
2 TB extra virgin olive oil
Instructions
Preheat oven to 400° and place the baking stone in the oven. Allow the baking stone to heat up while the oven is preheating.

Prepare your kale. Wash and thoroughly dry each kale leaf. You don't want water remaining on the kale as that will lead to soggy kale chips and a compost bin trip.

De-stem each leaf. Hold the base of the stem and run your hand along the stem, pulling, to separate.

Once the leaf is separated from the stem, with your hands tear apart the kale leaves into smaller pieces. Place kale pieces in a large bowl.

Massage the kale leaves with lemon juice, salt, and olive oil.

Take the hot baking stone out of the oven.

Place your massaged kale on the baking stone. You want a single layer of kale, each piece should touch the baking stone. No mountains of kale here.

The kale will sizzle as it touches the baking stone. This is a good sign your baking stone is the perfect temperature.

After 7-10 minutes your kale is done.

Remove from the baking stone and proudly eat those leafy greens!
Tools I Use:
If you make this recipe, be sure to snap a photo and hashtag it #LIVESIMPLYBLOG. I'd love to see what you make!
My Free Crash Courses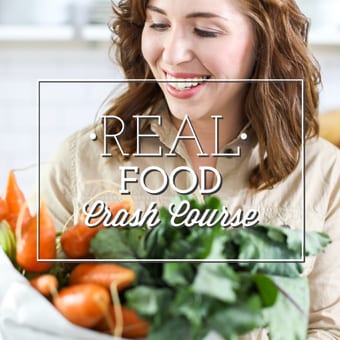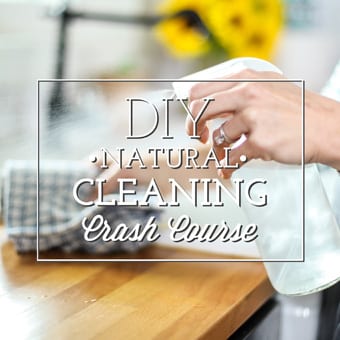 Subscribe to download the Courses