School is out and summer is here! Can I get a, "Hip-hip hooray"?
It's time to focus on enjoying the long days of summer with family and friends. Barefoot temps, fresh and simple meals, and doing as much as possible outdoors.  There's an especially delicious pace to summer.
There are few things that delight my heart as much as the presence of summer. Okay, who am I to lie? Chocolate ranks pretty high up there when it comes to delighting, but summer comes in a very close second. And since summer and chocolate just don't go hand in hand (if you know what I mean…messy!), let's talk summer and savoring up all her goodness.
Today, let's make one of summer's greatest pleasures: orange creamsicles.
Growing up, the first days of summer always equaled special, homemade treats.  A way to celebrate the close of a hard-worked school year and the new season ahead. Chilled watermelon, creamy popsicles, and special chilled drinks always accompanied the celebration of hot weather and summertime fun.
As a parent it's my desire to bring back those nostalgic, "school's out, let's celebrate the goodness of summer" memories I once enjoyed as a kid. My favorite way to do this is by enjoying special savory treats made in my kitchen alongside my kids. Sweet memories are made as we create delicious and healthy treats together.
Creamsicles are one of our family's favorite summertime treats.  With the summer heat sure to last a few months, now is the perfect time to share a homemade recipe for this childhood favorite.
What You'll Need to Make Homemade Creamsicles
To make a homemade version of creamsicles, you only need a few real ingredients: yogurt, refreshing coconut cream (skimmed from the top of a can of coconut milk), orange juice, and honey.
Once these ingredients are whisked and smooth, you'll need to pour that liquid into molds before freezing. If you plan to make popsicles on a regular basis, or even just occasionally, I highly recommend purchasing popsicle molds.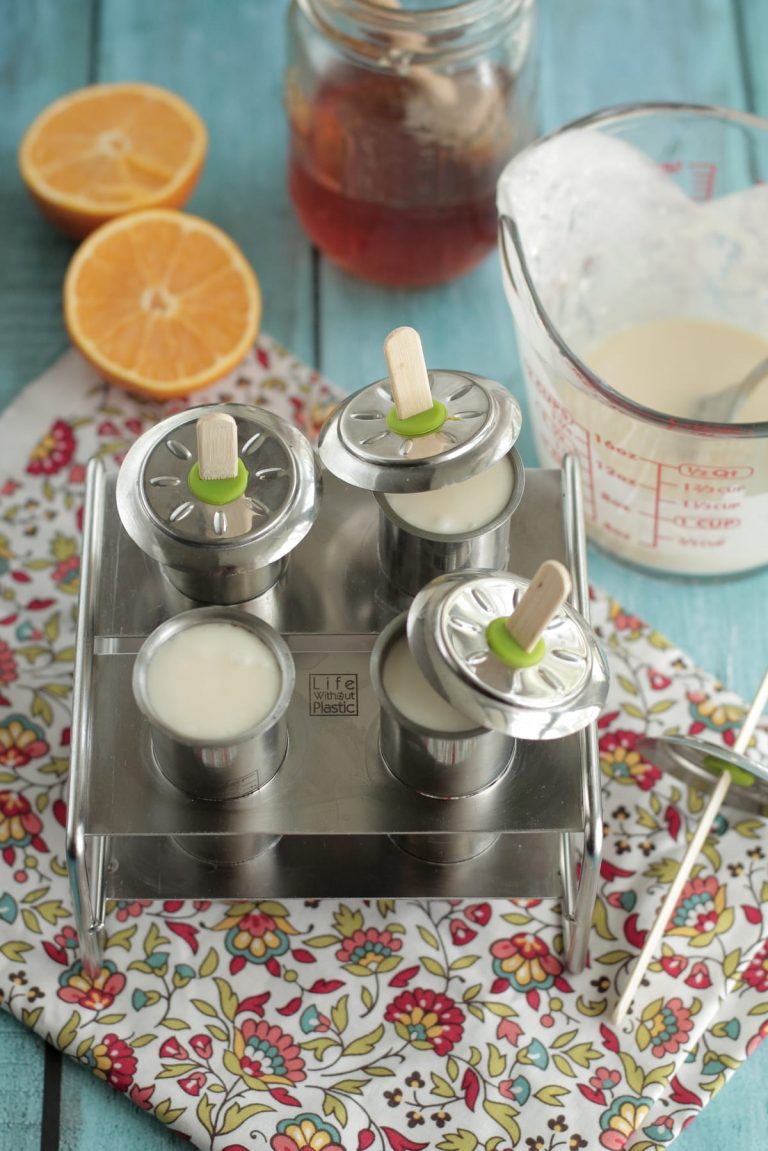 I purchased my popsicle mold four years ago. $13 well spent! Popsicle molds are super easy to use and most come with sticks/handles. I recommend this popsicle mold. (Note: The popsicle molds pictured in this post weren't my favorite. I quickly replaced them with the set recommended.)
If you don't want to use molds, you can use paper cups and popsicle sticks. Pour your mixture into paper cups, add sticks, and place in the freezer. When you're ready to enjoy, remove from the freezer and peel away the paper.
Once the creamsicles are frozen solid (which takes a few hours), you can enjoy them as-is, or roll them in some shredded coconut before serving.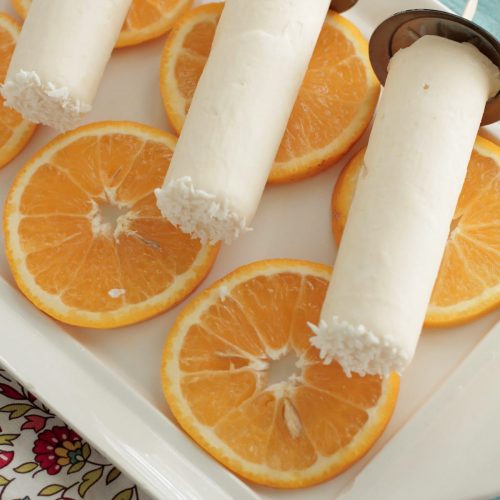 Homemade Orange Creamsicle Popsicles
Homemade creamsicles are easy-to-make and only require a few real food ingredients: yogurt, refreshing coconut cream, orange juice, and natural sweeteners.
Ingredients
Special Equipment:
Instructions
In a medium-size bowl, combine: coconut cream, yogurt, orange juice, honey, and vanilla. Whisk together. To get the coconut cream, use canned coconut milk and remove the top layer of cream from the milk. You can also purchase coconut cream in a can versus purchasing milk (with the cream layer on top).


Pour the liquid into the popsicle molds and freeze for at least four hours.


To enjoy, run the outside of the popsicle molds under cold water for a few seconds, then remove from the molds.


If desired, roll or sprinkle shredded coconut over the top of the creamsicles popsicles and bites.
Nutrition
Calories:
877
kcal
Carbohydrates:
84
g
Protein:
11
g
Fat:
60
g
Saturated Fat:
52
g
Cholesterol:
15
mg
Sodium:
73
mg
Potassium:
954
mg
Fiber:
6
g
Sugar:
69
g
Vitamin A:
370
IU
Vitamin C:
65.3
mg
Calcium:
175
mg
Iron:
4
mg