This post may contain affiliate links. Affiliate links come at no extra cost to you. These links allow me to share the products I authentically recommend (and use) and support Live Simply by receiving a small commission.
Contributor post written by Kelly from New Leaf Wellness
If you want to eat healthy, homemade meals without slaving away in the kitchen, crock-pot recipes are your answer.  I'm not talking about old fashioned recipes made with condensed soups and yucky ingredients either.  You can actually make healthy, real-food recipes in your crock-pot.  Believe me.  It's true!
For example, last year I shared my favorite crock-pot beef stew made with beef, barley, fresh vegetables and seasonings, and homemade broth.  It's a healthy and simple recipe that's also incredibly delicious.
Today, I want to add a crock-pot bacon lentil soup recipe to your dinner menu.  It's a healthy and hearty soup that your whole family will love.  And, you'll feel good about serving it to them because it's packed with fresh vegetables and French lentils.
If you've never cooked lentils before you're in for a treat.  They're a small member of the legume family that's packed with protein and iron.  They're also cheaper than most sources of protein, which is an added bonus.
Combine some quality French green lentils with bacon, vegetables, and a tasty broth and let your crock-pot do the rest of the work for you.  I'm also including directions below that explain how to prep and freeze this soup for later.  Perfect for busy weeknights, if you ask me.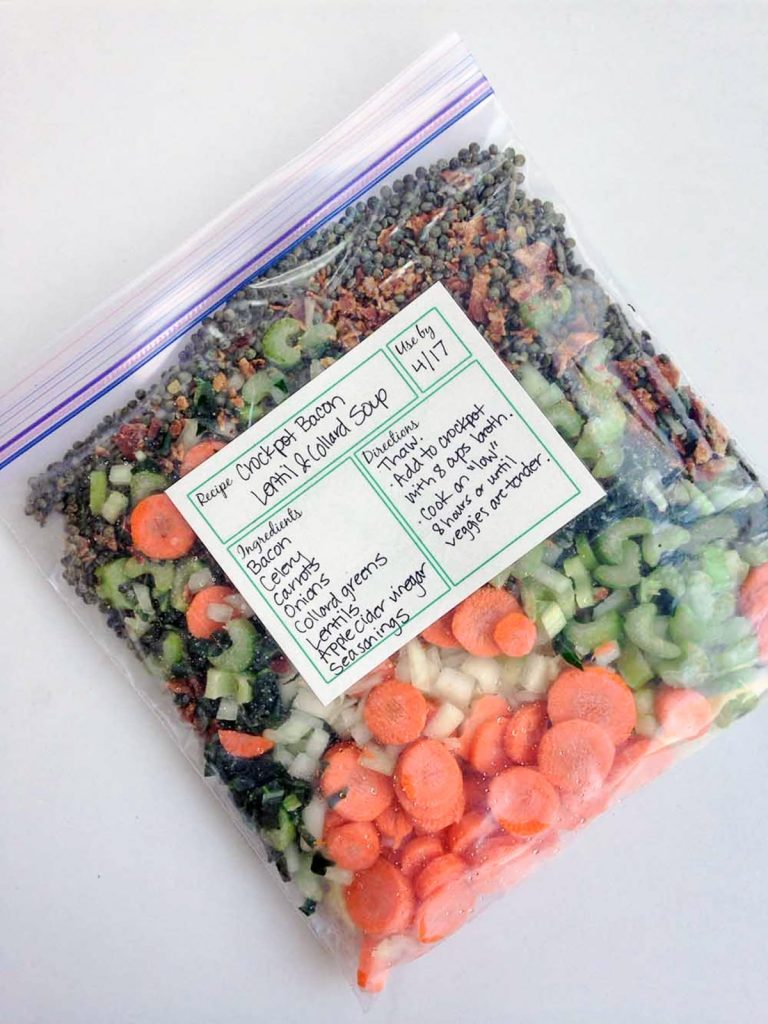 I'll admit that my favorite part of this crock-pot bacon lentil soup recipe is the bacon itself.  I'll eat pretty much anything made with bacon, but that's a story for another day…
Have I convinced you to get out your crock-pot yet?
Freezer to Crock-Pot Bacon Lentil Soup
Instructions
Cook bacon until it is crispy on the stovetop or

in the oven

.  Chop bacon into small pieces.

Combine all ingredients in your crock-pot and cook for 8 hours or until vegetables are tender.
Recipe Notes
The "where to buy" links provide links to the actual products I use. As always, I recommend shopping around online and at local stores for the best prices and products you love. Find all my favorite kitchen essentials, here.
To Freeze: Cook the bacon until it's crispy, and then chop the bacon into small pieces.  Rinse and sort lentils.  Combine all ingredients (except the broth) in a gallon-sized freezer bag, and freeze for up to three months. When you're ready to eat, dump the contents of the bag into your crock-pot and add 8 cups of broth.  Cook on the "low" setting for 8 hours or until the vegetables and lentils are tender.
Add a big salad and warm crusty bread or homemade biscuits, and dinner is done. Yum!
You can find Kristin's stovetop version of this recipe here: Hearty Lentil Soup. 
If you make this recipe, be sure to snap a photo and hashtag it #LIVESIMPLYBLOG. I'd love to see what you make!
My Free Crash Courses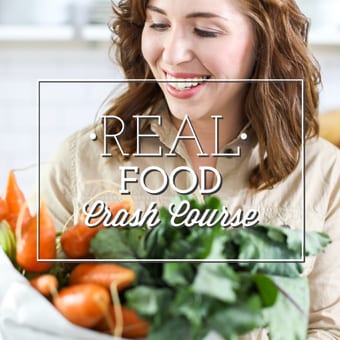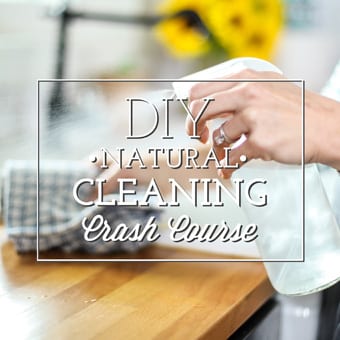 Subscribe to download the Courses