A few months ago, our family was invaded by a dreaded pest: lice. If you're a mom you probably just groaned. Because we all know just how irritating a case of head lice can be.
That was my exact reaction when I got the call from the kids' school, informing me that Londyn had lice and nits. After my initial shock and groan, I raced to the school to pick her up. On the way, I called the pediatrician to ask about the best treatment options. The pediatrician recommended calling a lice service.
A lice service?
I can't be the only person to not know about such a service. I was intrigued.
A quick google searched revealed several lice treatment services in the area. I called around and hired the one with the best rate, highest ratings, and a website that boasted "natural treatment methods."
Long, long story short, the sweet owner came out to our house that evening, checked each of our heads, and determined that Londyn and I had lice. Not exactly what I envisioned for a Monday evening.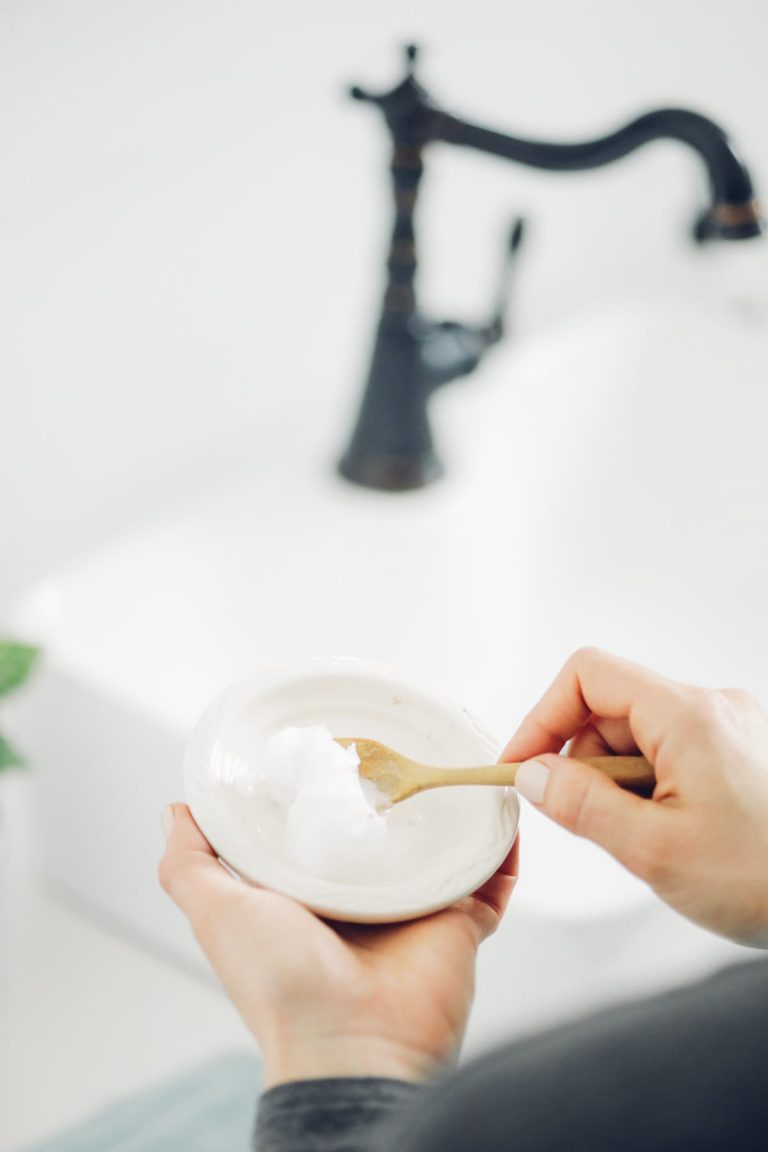 The treatment was so incredibly simple. Jen, our lice expert for the evening, sectioned off Londyn's hair and smothered each section in coconut conditioner to suffocate the live bugs and easily remove the nits. She then combed strands of hair with a professional lice comb (you can find them on Amazon) to remove lice and nits (the latter is so important to avoid a revisit). She repeated the same treatment on my hair.
Once the lice and nits were fully removed, Jen provided us with information for treating the house (bedding, couch, etc.) and keeping the bugs away in the future.
Her recommendation for avoiding future occurrences was simple and completely natural: coconut oil and regular head checks. She also added that a tea tree essential oil spray will work to keep the pests away; however, some folks don't like the smell of tea tree oil or may have a reaction to this oil.
Since our lice episode, I've been consistent with regular coconut oil hair masks and head checks.
Not only is a coconut oil hair mask a great way to keep lice away (lice hate the scent of coconut and the coconut oil will suffocate and kill live lice), but it's also improved the condition of my hair. Coconut oil naturally adds moisture, hydrates, and may even strengthen hair thanks to the fatty acids. Plus, using a coconut oil hair mask reminds me to slow down and take care of myself–similar to using a face mask or enjoying a nightly facial routine. SLOW IT DOWN, MAMA! 
The most important thing for me is results. If a product doesn't work for me, I'm not going to continue using it.
Coconut oil leaves my hair feeling hydrated, moisturized, silky smooth, vibrant, and healthy. At this point, I've determined that a twice-a-month coconut oil hair mask works best for my hair.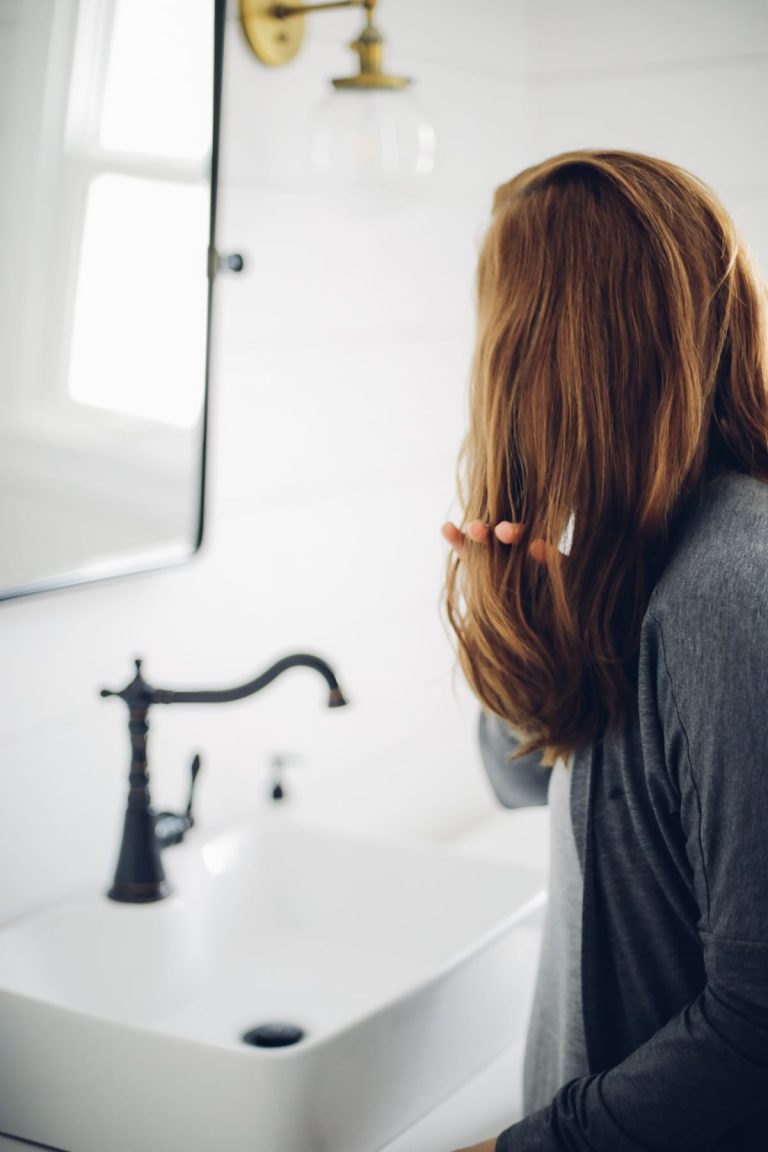 While coconut oil has worked well for my hair, I have read that some people experience dryness after using coconut oil. You guys, just like with makeup or skincare products, there isn't a "one size fits all" solution. While a particular oil, serum, or makeup may be the perfect solution one person, it may be less-than-satisfactory for another. We are all unique. Personally, I don't like coconut oil on my face (and my face breaks out when I use it), but I love using it in my hair. I know people who swear by using coconut oil on their face.
See, we're all different and unique. Here's what I recommend…
Try using a coconut oil hair mask if you're looking for a natural and affordable hair mask option. Most likely you already have a jar of coconut oil sitting in your pantry. It doesn't hurt to try it. If you love it, like I do, awesome. Find a routine that works for you. Maybe that's using the hair mask once a month. Maybe that's once a week. If you find coconut oil makes your hair dry, try mixing it with argan oil, or use argan oil by itself.
How to Make a Coconut Oil Hair Mask
All you need is one ingredient…virgin coconut oil. The same stuff you may already use for cooking and baking. In my case, I also put a dollop of coconut oil in my coffee each morning before blending it with an immersion blender (along with unsalted, grass-fed butter). If you end up going with argan oil (as discussed above), you'll simply need argan oil. The argan oil will be used and applied just as the coconut oil.
The coconut oil should be soft, or liquid, so it's easy to work through your hair. If your coconut oil is solid, warm it in the microwave or on the stove-top for just a few seconds. Another option is to rub the coconut oil in the palm of your hand before applying to your hair. Your body heat will automatically melt the coconut oil. The amount of coconut oil needed will depend on the length of your hair. I've found that a little bit goes a long way. I use a max of 2-3 tablespoons worth for my hair. Once you have your coconut oil, it's time to apply it as a hair mask.
How to Apply and Use a Coconut Oil Hair Mask
Using your fingers, apply the coconut oil to dry hair, working the coconut oil through your hair. Avoid applying coconut oil on your scalp. I like to focus on my ends and then add a small amount towards the middle-top section of my hair. If you have a lot of hair, use a comb (not a hair brush) to work the coconut oil through your hair after application. Remember, a little bit of oil goes a long, long way.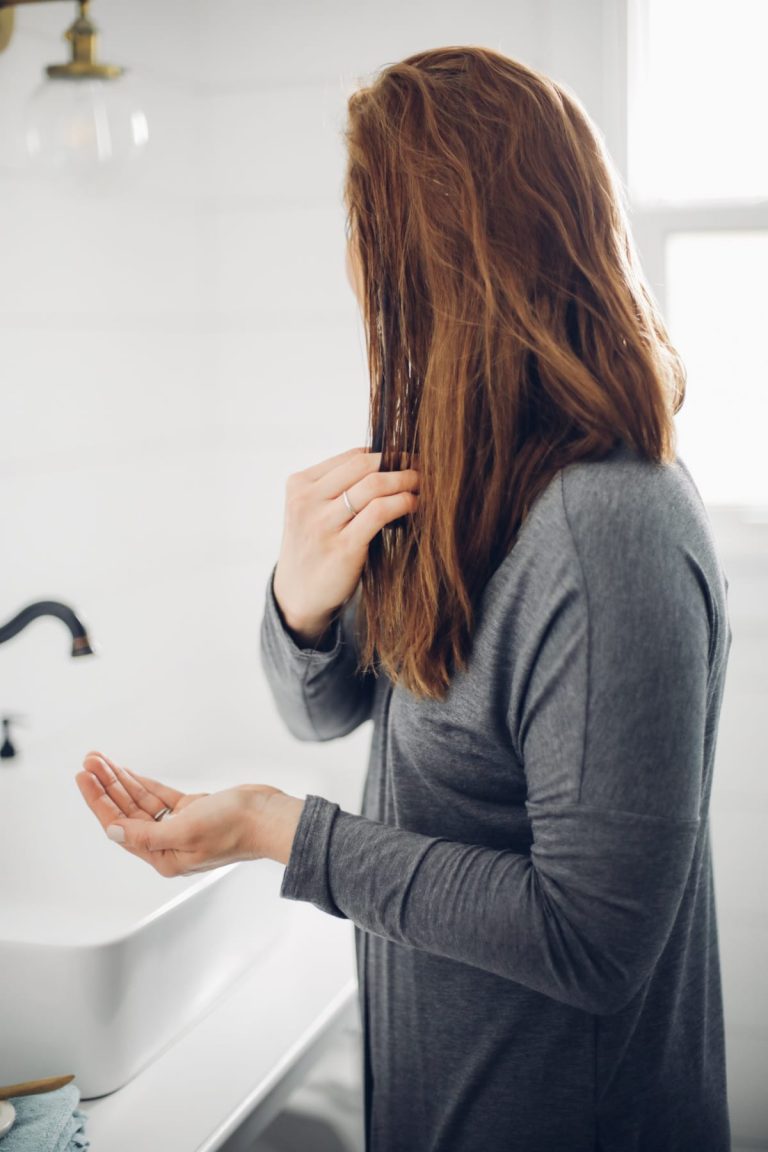 If you have long hair, twist your hair into a bun, and secure the bun with a ponytail holder or anything that will be comfortable to sleep in. I've heard of people placing shower caps over their hair at this point, but that would annoy me. I've found it's best to leave the coconut oil hair mask in my hair overnight, but this is completely up to you. I place a hand towel on my pillow to prevent the coconut oil from staining my pillow or leaving behind any grease marks. I like to use this mask twice a month, but you can definitely use it weekly.
Experiment to see what time frame works best for your hair.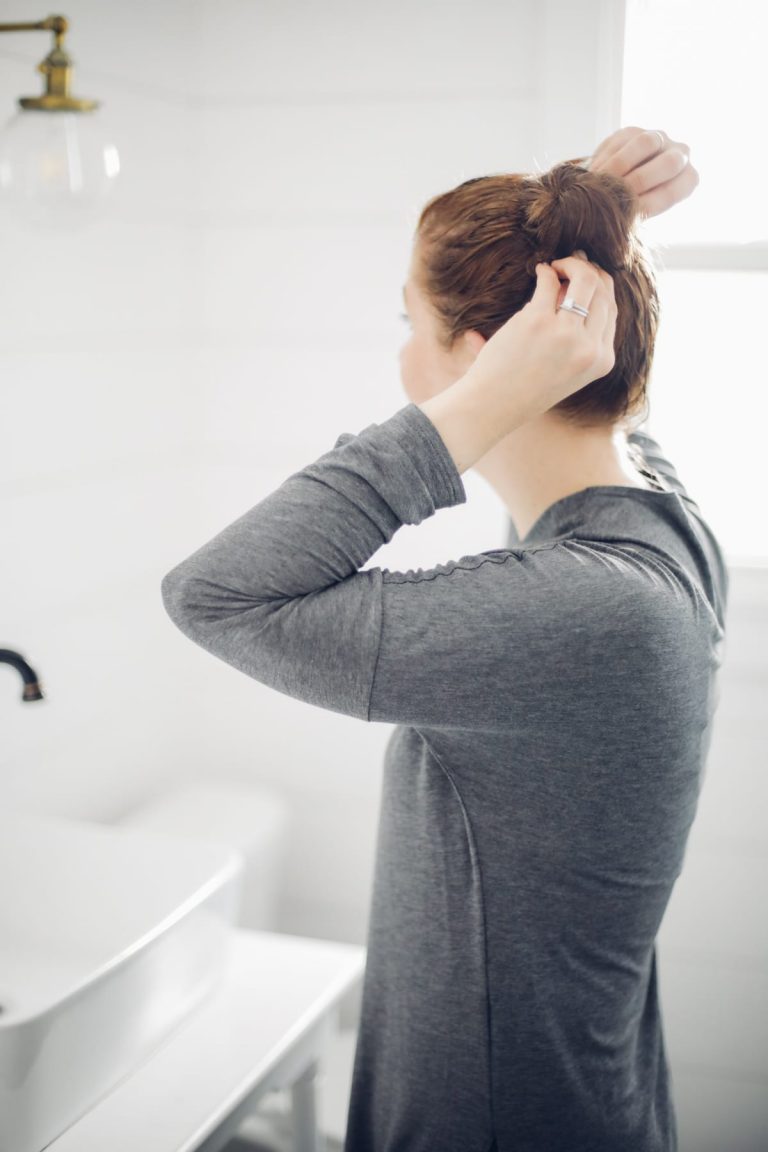 After your set time, remove your hair from the bun and shower/shampoo. Since I have so much hair, I've found it's best to shampoo in sections; separating my hair in half and shampooing each section. I've also found it's best to scrub and massage my hair and scalp with the shampoo to ensure all the coconut oil is out. This is also why a little bit of coconut oil goes a long way. My favorite shampoo is from True Botanicals. (I also use their conditioner.) You can read more about non-toxic shampoo and conditioner options, here.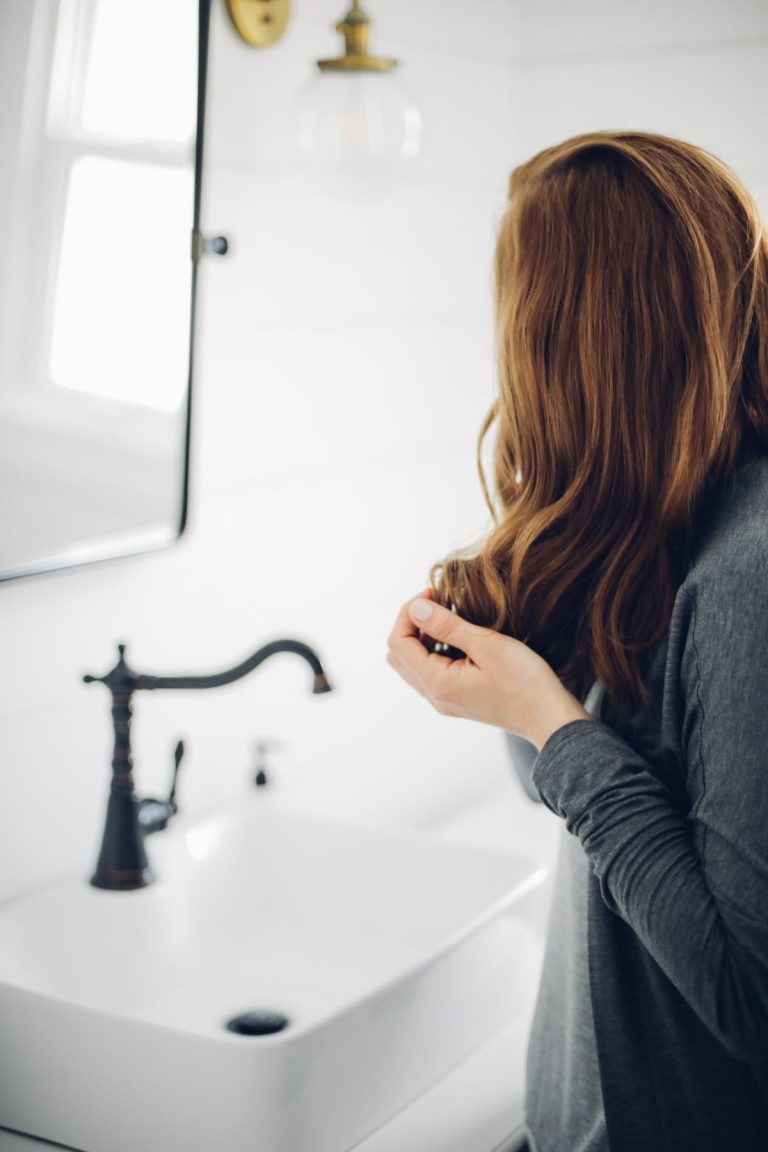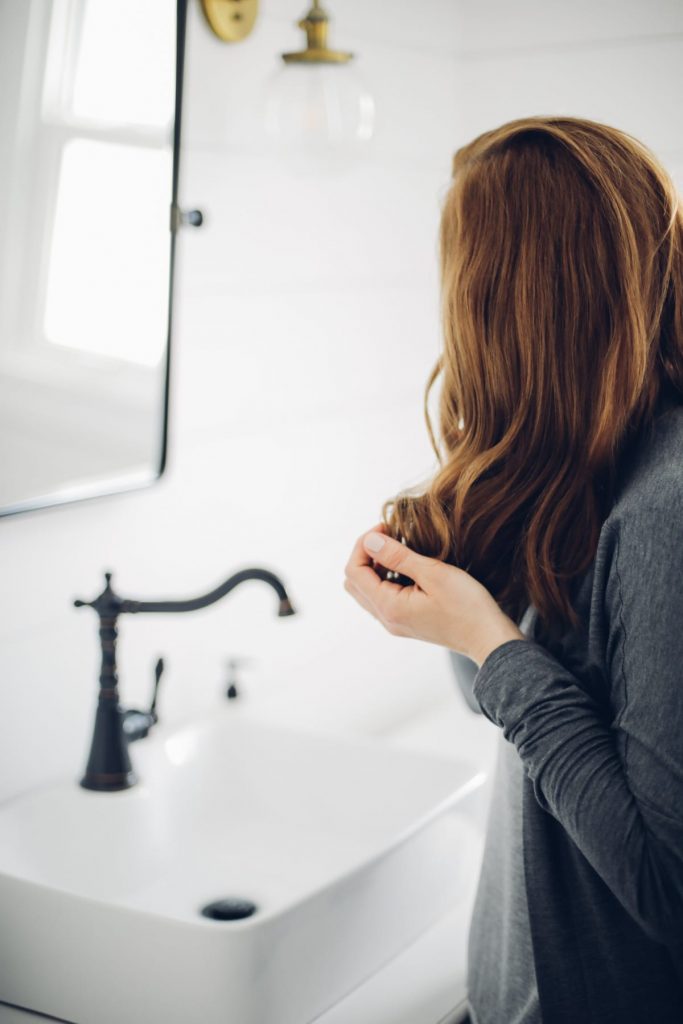 Once the coconut oil has been removed, and your hair feels clean, you don't need to do much else. I personally don't condition my hair with conditioner after treatment, but, again, see what works best for your hair. After a coconut oil hair treatment, I usually blow dry and style my hair. This extra step allows me to go a few days without needing to shampoo again. Over the next week, I usually wash my hair 1-2 times, and apply dry shampoo (this homemade version or this Innersense product) as needed.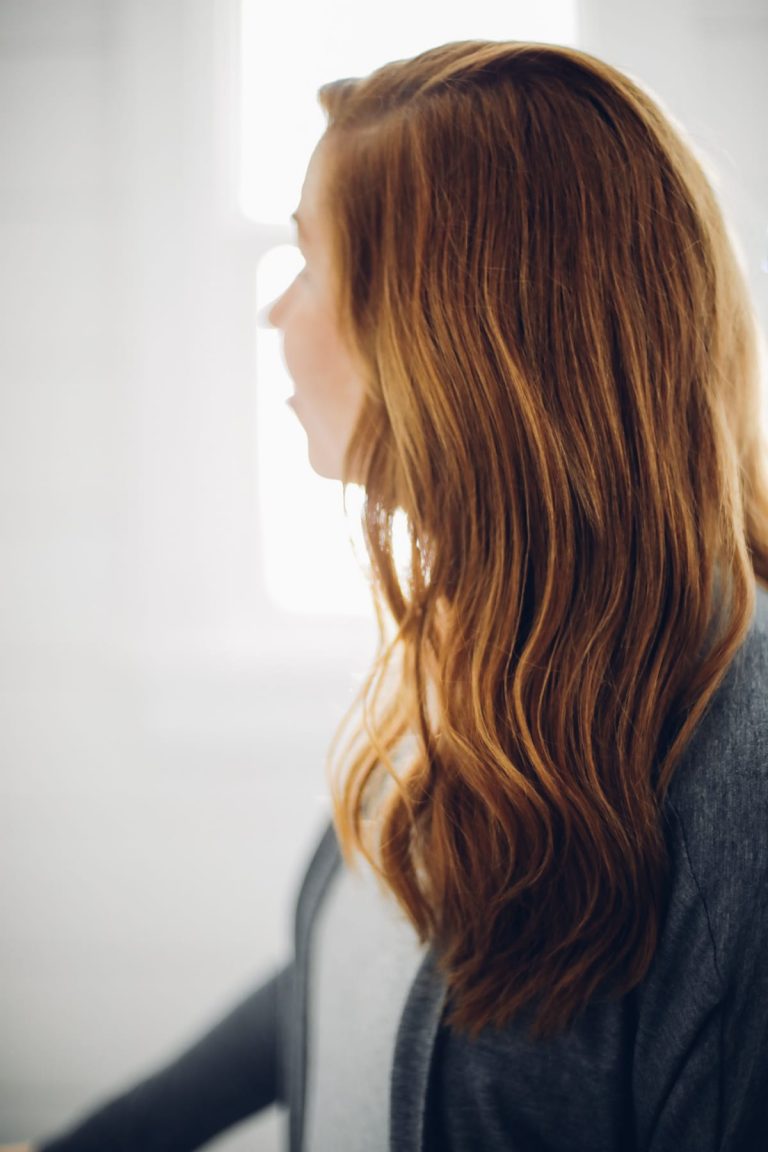 Have you tried using coconut oil as a hair mask? What did you think?