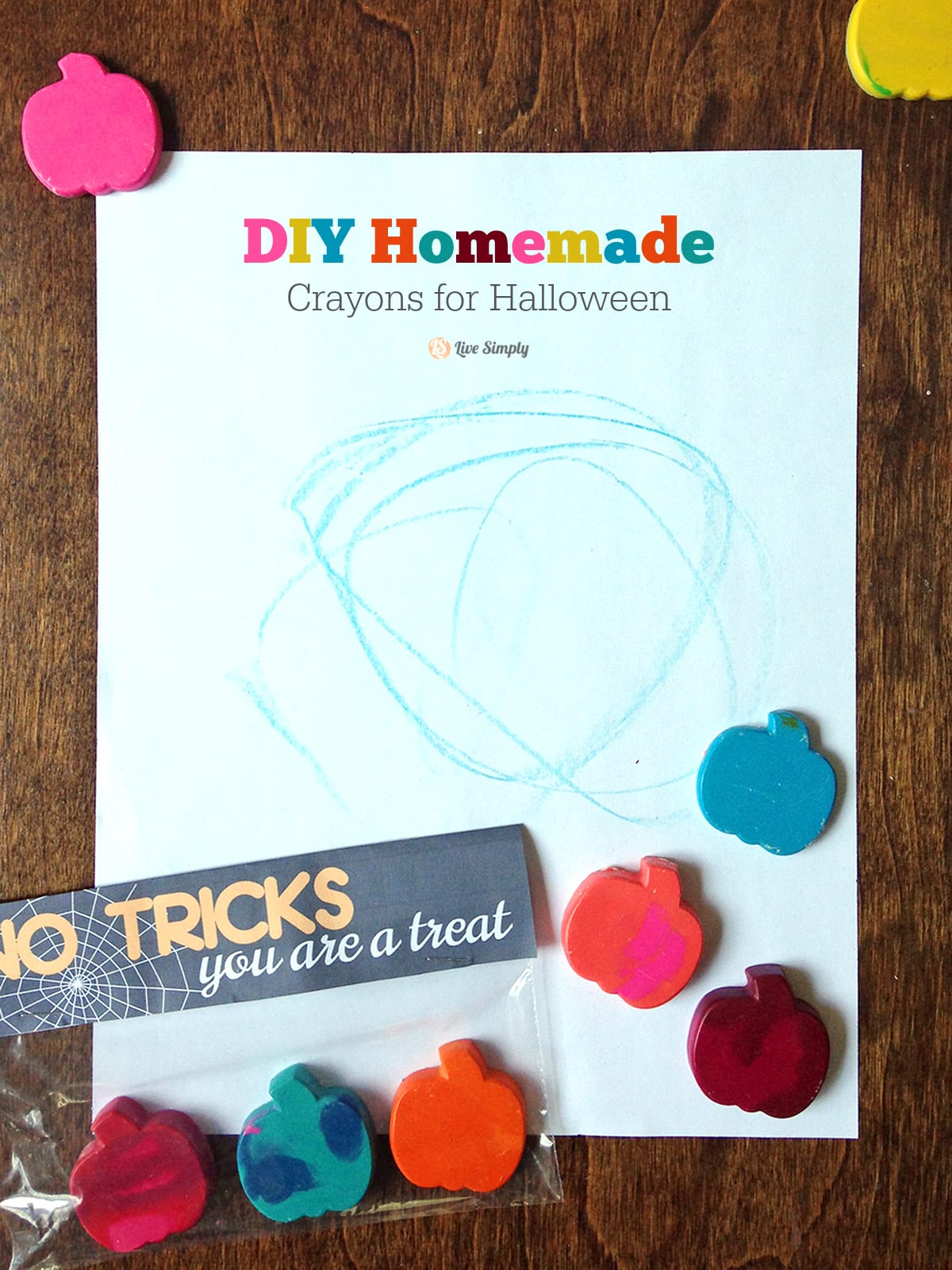 I'm not against Halloween candy, per se, just the huge amount of it.
I remember one year in childhood when my brother and I each collected 10 pounds of candy trick-or-treating! Now that I'm a parent, I realize that the candy doesn't stop there. Kids also collect Halloween candy from family, friends, and school events.
In an effort to come up with a candy alternative for my 4-year-old's preschool Halloween party, I made these DIY homemade crayons. I'm confident the kids in her class like them even more than their candy.
My daughters and I made homemade heart crayons for Valentine's Day and they were a huge hit. These DIY homemade crayons for Halloween are the perfect project for teachers, grandparents, and moms who like to craft with their kids.
Not only do they cut down on Halloween sugar consumption, but they're safe for children with food allergies. These homemade crayons are so darn fun to use and make!
Making homemade crayons for Halloween is simple: unwrap old crayons, break them into smaller pieces, and bake the broken crayons in a silicone pumpkin mold to create a new shape. Believe it or not, we make homemade crayons so frequently that we had to buy new ones just for this craft.
My four-year-old was a huge help unwrapping the new crayons, and my three-year-old loved breaking them into pieces. We chose to only add one to two colors per pumpkin cavity, but feel free to make rainbow crayons instead. (You can even add a sprinkle of glitter!) This is a simple DIY so have fun and get creative.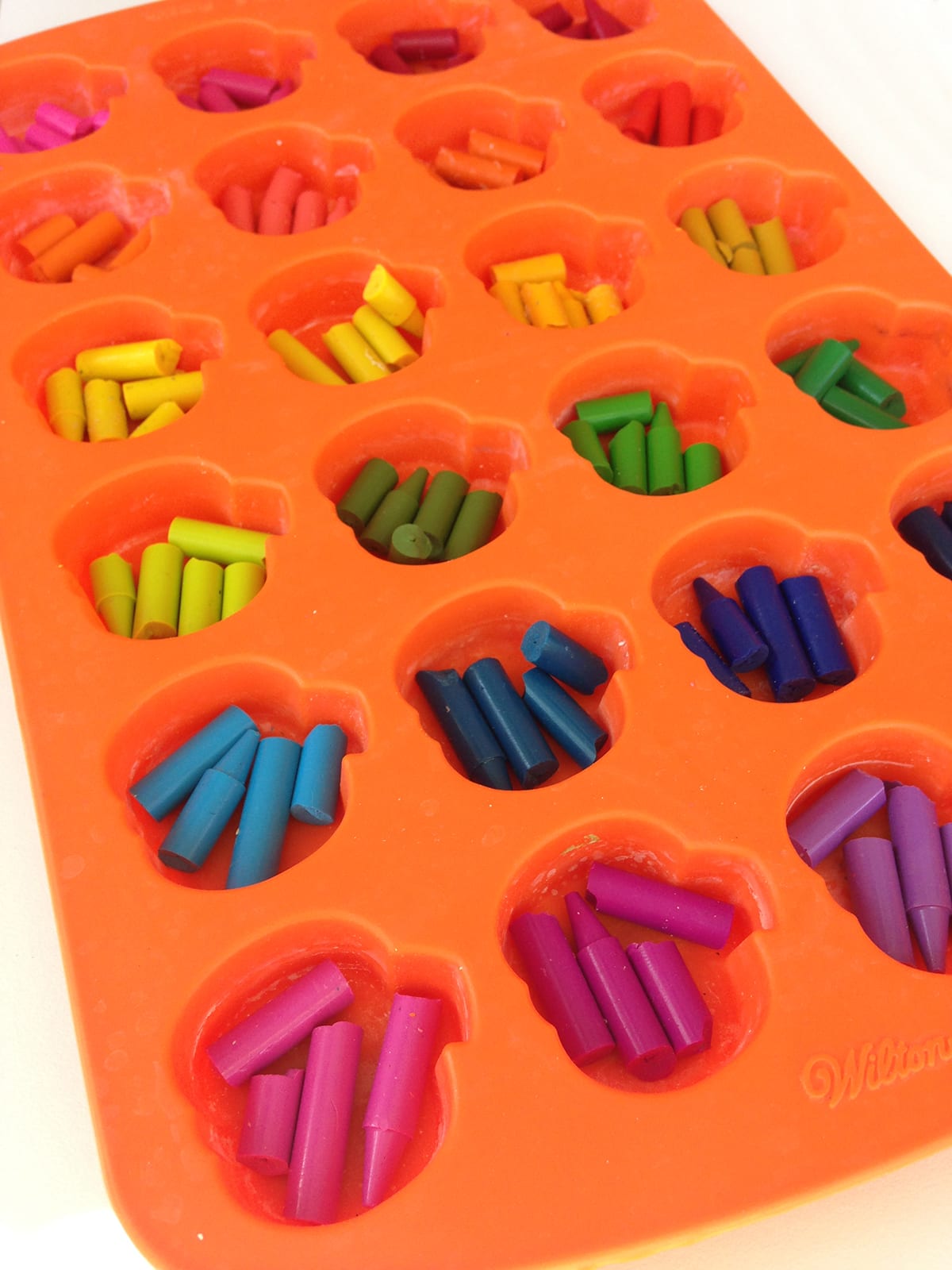 I bought my pumpkin mold at Joann Fabrics and the same one is sold on Amazon.com (buy it here). Since it's made of silicone it's dishwasher-safe and can be heated up to 500 degrees F. Each mold has 24 little pumpkin cavities. Perfect for DIY homemade crayons for Halloween, if you ask me, or homemade Halloween gummy snacks.
Pop your pumpkin mold in the oven for 15 minutes and you'll have 24 beautiful, little homemade crayons.
DIY Homemade Crayons for Halloween
These DIY homemade crayons for Halloween are the perfect project for teachers, grandparents, and moms who like to craft with their kids.
Ingredients
36

crayons

If you use old broken crayons, you'll need 3-5 small pieces per pumpkin cavity.
Instructions
Peel the paper off your crayons. (Fun fact: New crayons are easier to peel than old ones.)

Break whole crayons into smaller pieces and place in pumpkin cavities.

Place mold on top of a cookie sheet and bake at 275 degrees F for 15 minutes.

Remove from oven and cool completely. (About 30 minutes.)

Pop your crayons out of the mold and start coloring!
Yields: 24 homemade pumpkin crayons

If you want to package your crayons into Halloween "treat" bags, add three crayons to a snack-sized plastic bag and staple on this printable gift tag: DIY Homemade Crayons for Halloween Printable.
More Halloween Fun You May Like:
Homemade Fruit and Veggie Gummy Snacks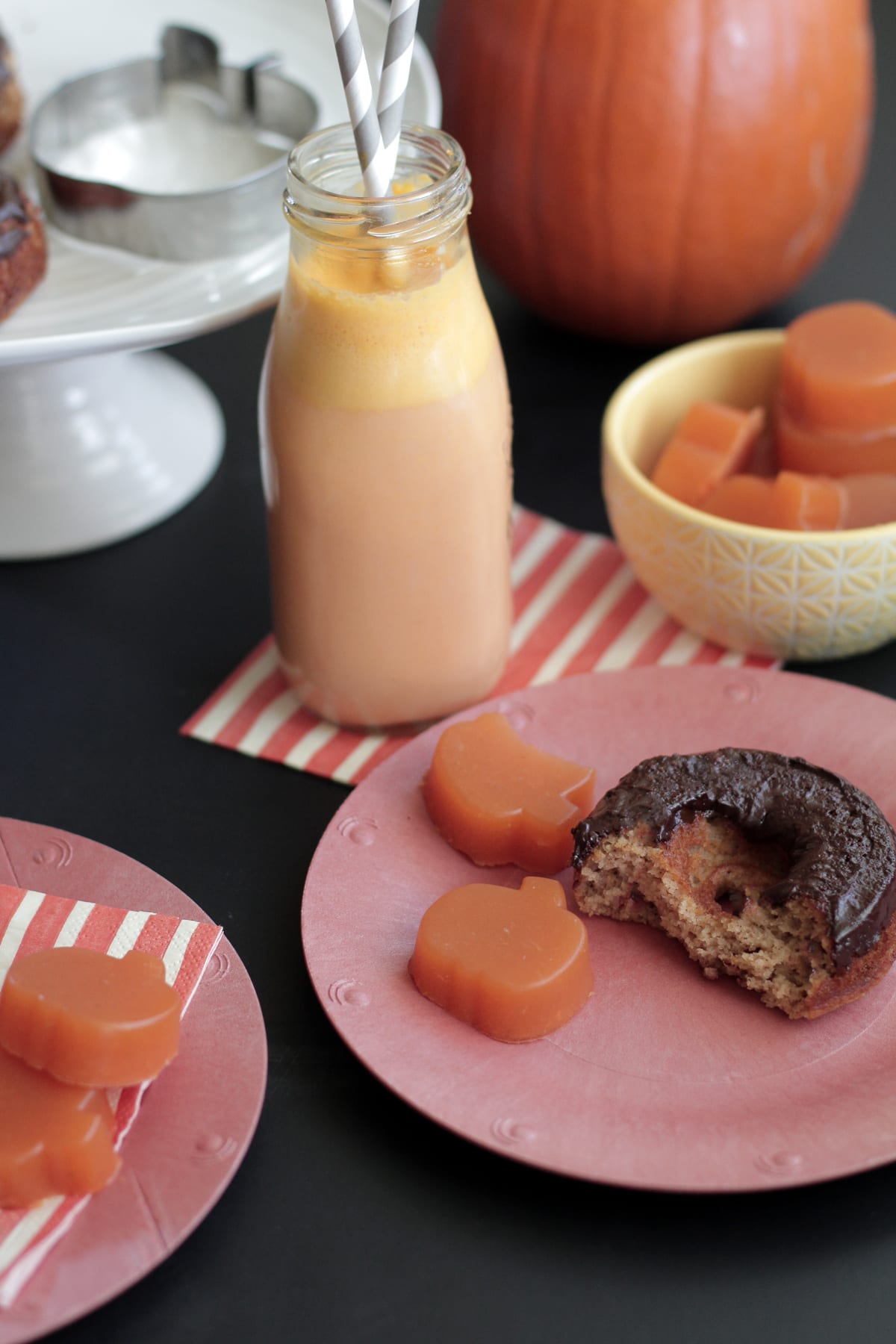 Nourished Halloween: Real Food Alternatives Your Kids Will Love
DIY Homemade Playdough for Fall