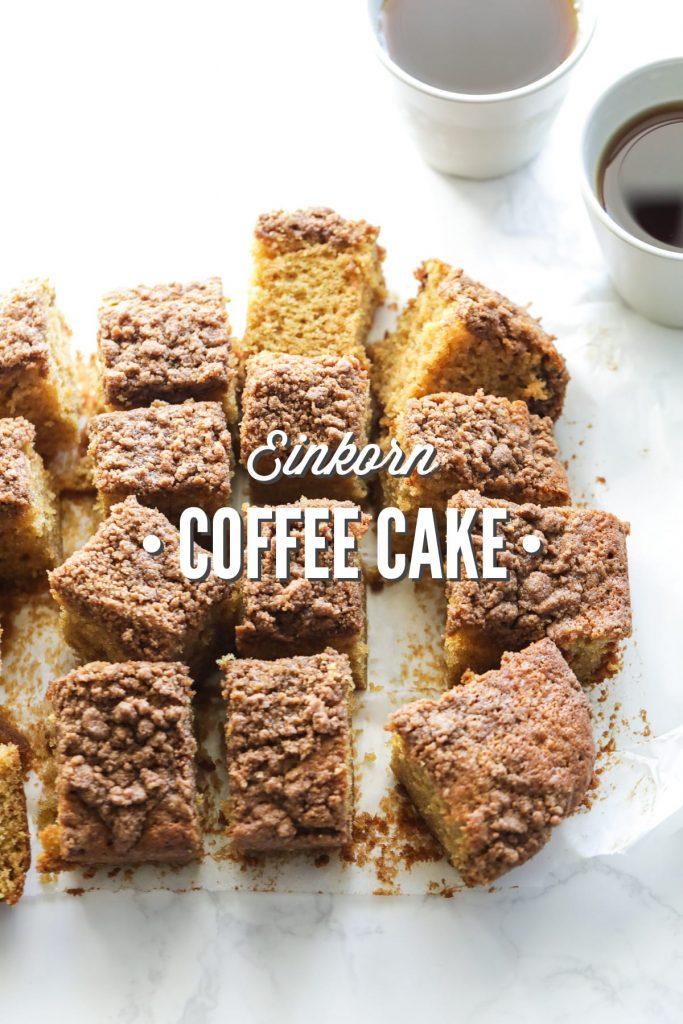 Growing up, the holiday season was known as baking season in our home. My mom wasn't a baker back then, and she still isn't. Other than the occasional loaf of banana bread or chocolate chip cookies, I don't remember her spending much time in the kitchen making baked goods. This all changed once the calendar flipped to December 1st. Suddenly, her goal was to "bake all the things" and I was happy to join her mission.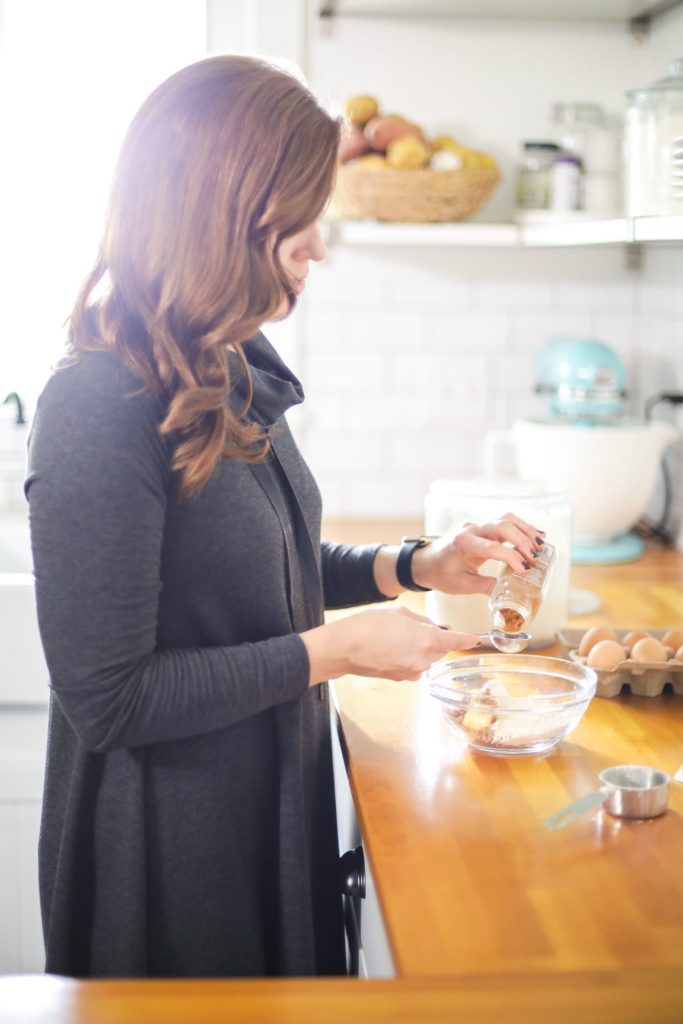 Some of my favorite holiday memories come from my mom's kitchen. I remember the year she set the Thanksgiving pies on fire, along with the oven and turkey. I also remember the endless hours spent making Christmas cookies with the goal of filling metal Christmas tins. Those tins eventually were gifted to family and neighbors.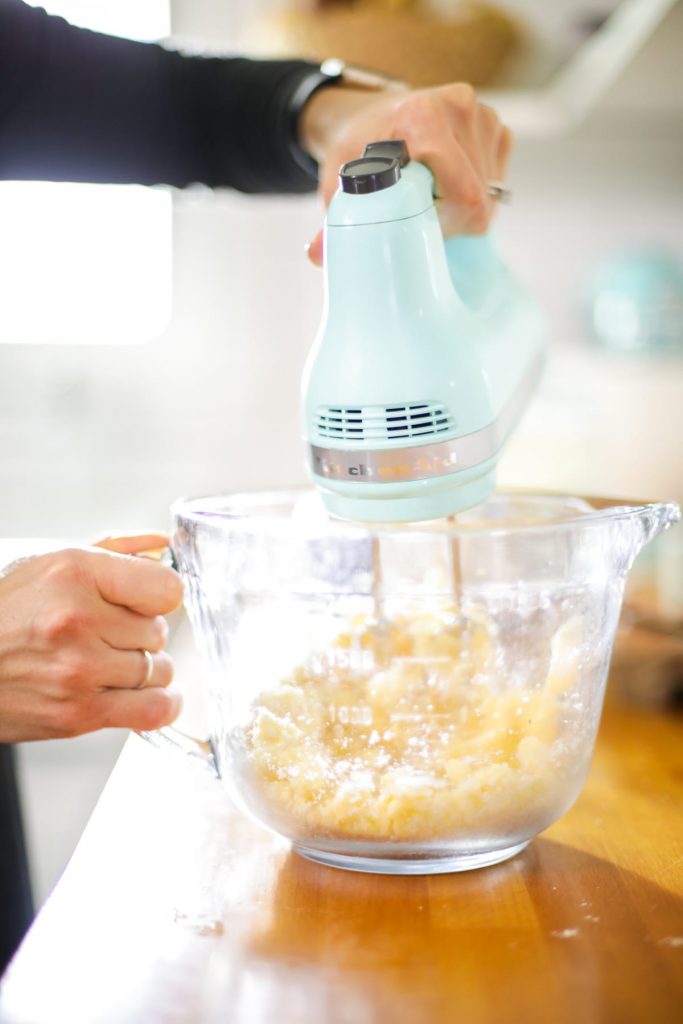 I can only recall a few of the presents I received as a child for Christmas, but I remember almost every holiday treat I made with my mom. I think that's a sweet reminder in the midst of such a busy season: it's not about the material things, it's about the memories we make with our family. And memories don't have to be a forced thing. They can be as simple as slowing down to make cookies with your kids, or popping some popcorn and sitting on the couch together to watch a Christmas movie. These are the moments we remember for years to come; not the ten boxes under the tree.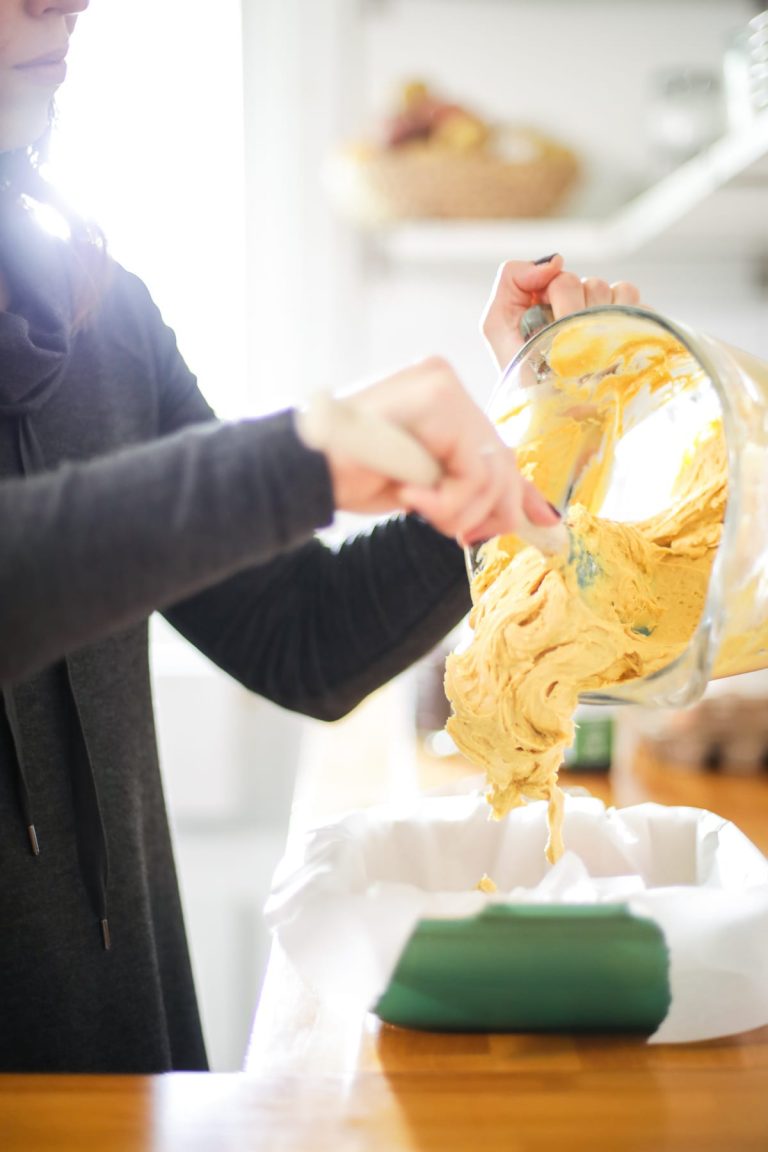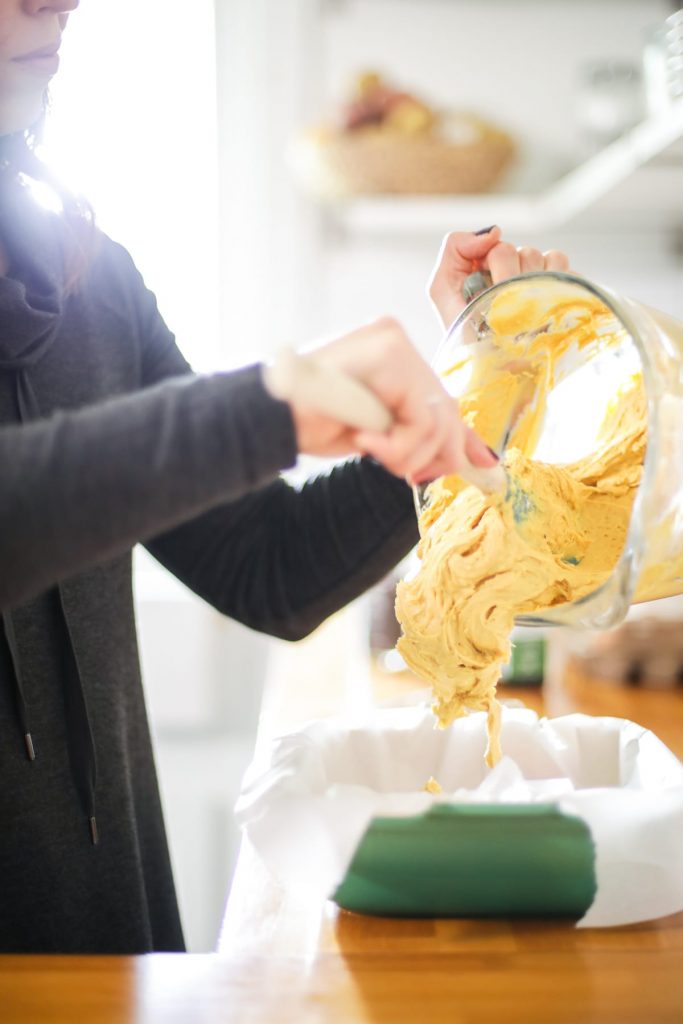 Today's recipe is another special holiday recipe. It's a recipe that I envision making on Christmas morning to share with loved ones. A recipe the kids can help make, too. <–Just in case you want them to join in with your "bake all things" mission.
This coffee cake is very traditional. It's made with sour cream and sugar (of your choice), and then topped with a cinnamon and clove streusel (the icing on the cake ;)). The cake is made with einkorn flour, which makes it not as traditional as most white flour recipes. When an einkorn recipe goes up on the blog, I like to pause and talk about this special flour. I know many of you are familiar with einkorn, but just in case here's the details…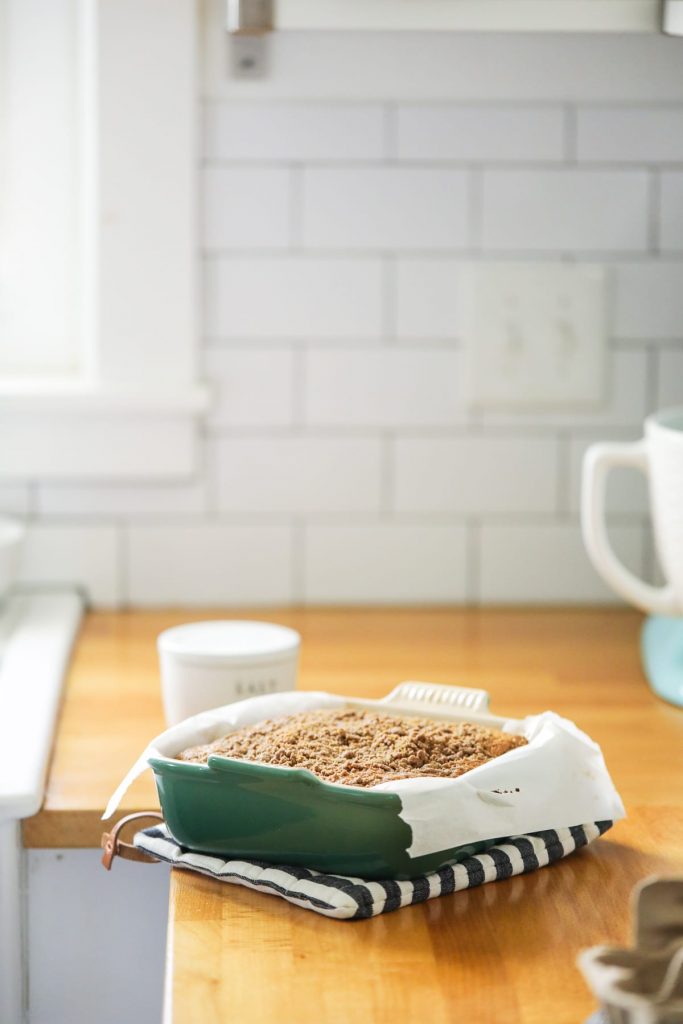 Einkorn is known as the oldest variety of wheat making it an "ancient" grain. The ancient grain is believed to have originated in the Tigris-Euphrates region and is possibly the main grain referenced in the earliest accounts of the Bible.  To put it simply, einkorn is the wheat men were eating in the earliest days before modern day wheat varieties. While modern wheat has undergone hybridization, einkorn still holds true to its original properties. Einkorn is slowly gaining popularity, but is still grown in only a few regions in Europe.
The sweet, ancient grain has a lighter texture and taste than modern day wheat, and contains a more favorable gluten ratio. People with minor gluten sensitives may be able to consume einkorn without the issues associated with whole wheat due the lack of D-genome, however, einkorn is not gluten-free.
A Live Simply reader friend also emailed me recently and shared, "I recently read the book 'Wheat Belly', and it talks about how einkorn is the only wheat flour that is acceptable to use." I personally haven't read this particular book, but I think it's pretty cool that the author (who I believe is anti-wheat) puts out an endorsement (so to speak) for einkorn.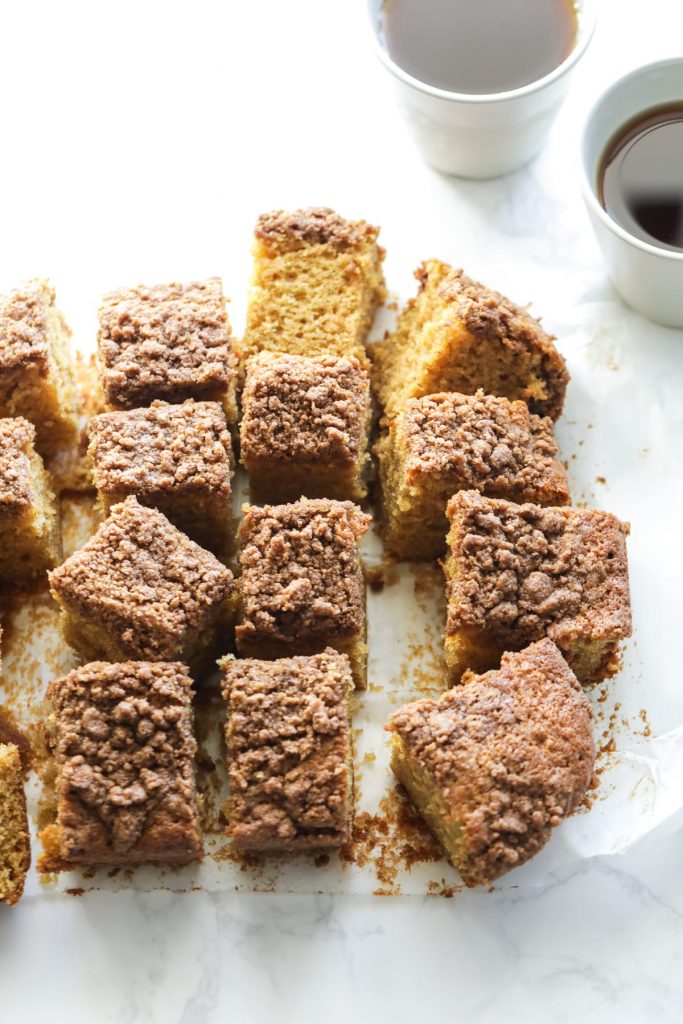 Whether you add this coffee cake to your holiday baking tradition, or enjoy it throughout the year as a special weekend breakfast (that's what we did this week!), I think you're going to love everything about this cake.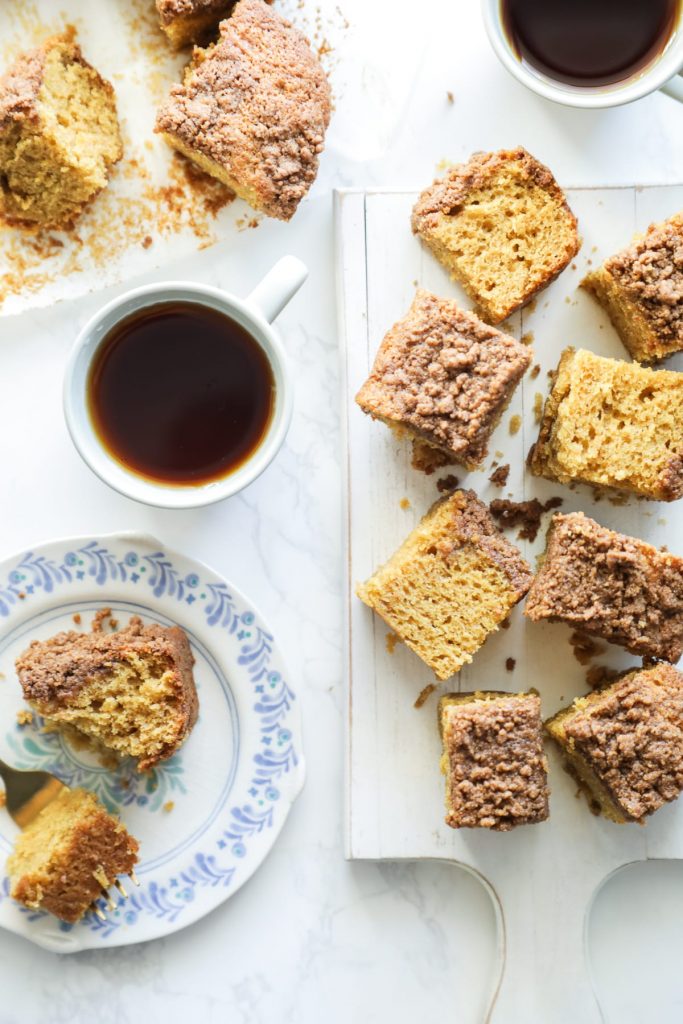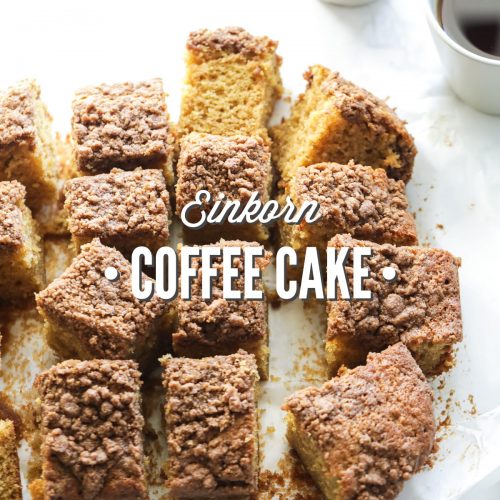 Easy Einkorn Coffee Cake with Cinnamon Streusel
A traditional sour cream coffee cake made with einkorn flour.
Instructions
Preheat the oven to 350F. Line an 8" square pan with parchment paper, or grease the pan.

Add the streusel topping to a medium-size mixing bowl. Use a pastry cutter (or two knives) to cut the butter into the ingredients and combine the ingredients, until the mixture resembles coarse crumbs. Set aside.

Using a mixer, cream together the butter and sugar in a large mixing bowl. Add the eggs one at a time, beating well after each addition.

Add the sour cream and vanilla. Beat well to combine the ingredients with the butter mixture.

Add the dry ingredients to the bowl. Gently stir the dry ingredients into the wet ingredients with a wooden spoon or rubber spatula. Stir until just combined - do not overmix.

Spread the batter into the prepared pan. Top with the streusel.

Bake for 45-50 minutes**, until a toothpick inserted in the center of the cake comes out clean.

Let the cake cool before cutting and serving. This cake makes the best leftovers.
Notes
*I used organic cane sugar. Coconut sugar or sucanat will also work. Stick with the weight measurement, if possible, when using a different sugar. 
**Helen tested this recipe using a glass pan. Her bake time was 25-30 minutes. I used a parchment-lined ceramic pan (linked above, which is actually 9"). My bake time was 45-50 (closer to 50). The bake time will depend on the pan used to make the cake. Darker pans require a longer bake time. Keep this in mind while baking your cake. 
Nutrition
Calories:
285
kcal
Carbohydrates:
37
g
Protein:
3
g
Fat:
14
g
Saturated Fat:
8
g
Cholesterol:
62
mg
Sodium:
223
mg
Potassium:
109
mg
Fiber:
1
g
Sugar:
19
g
Vitamin A:
455
IU
Vitamin C:
0.2
mg
Calcium:
58
mg
Iron:
1.4
mg