As the weather gets hot(ter), which sounds kind of funny to say when you live in Florida, my desire to cook hearty meals begins to diminish.
During the sweaty Florida summers, I'd much prefer to lay out a spread of cured meats and cheese, toasted baguette or sourdough bread, pesto as a spread, and fresh fruit versus a traditional dinner meal. I can usually get away with this type of dinner at least once a week. On these laid back dinner nights, I take full advantage of my freedom from the stove by heading out to the beach or going on an extra long walk around the neighborhood with the family. There's something incredibly fun and freeing about a finger food kind of dinner that requires very few dishes.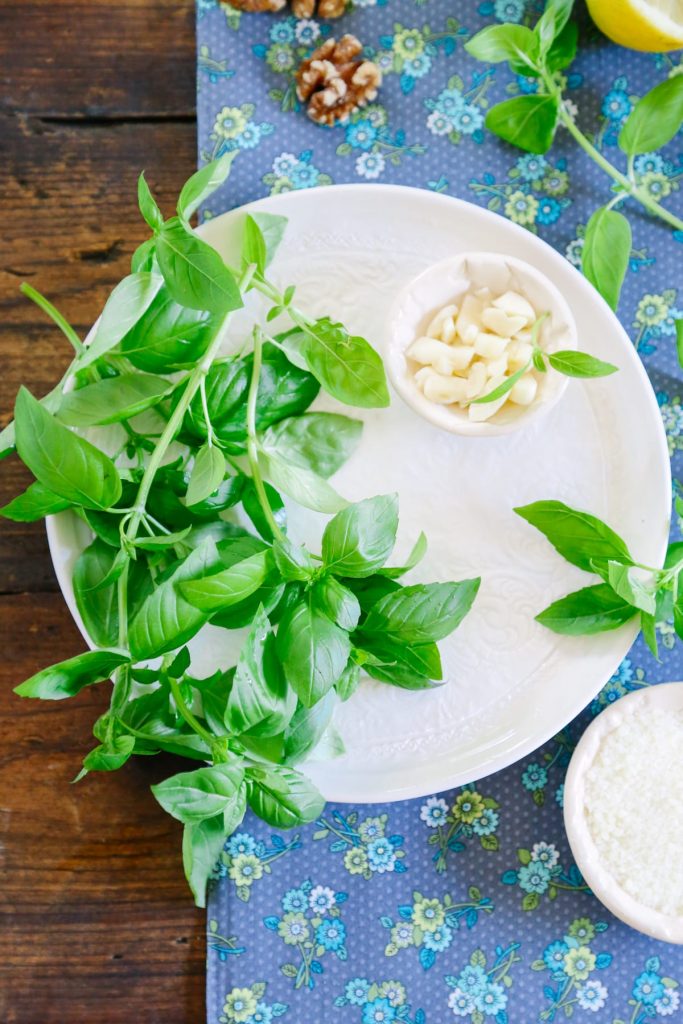 We still enjoy hearty meals during the summer, including soups and casseroles, but these foods definitely take a back seat to our favorite summer meals. Grilled barbecue chicken, cobb and Caesar-style salads, chicken salad sandwiches, cabbage salad, grilled steak and salad, veggie fajitas, and roasted seasonal veggies with pesto pasta are the summer stars.
Other than the refreshing nature of these recipes, my favorite part about summer food is that many of these classics may be prepared in advance, without sacrificing the final taste or textures. In fact, many of our favorite summer meals actually taste better when they're prepared in advance. Barbecue sauce can be made during a prep time and later spread over grilled chicken or chicken kebabs. The flavor of homemade salad dressings have time to intensify when they are prepped a few days in advance. Some foods, like pesto, may even be stored in the freezer for later.
Pesto is definitely a classic summertime food/ingredient, and it's for good reasons.
Pesto, traditionally, is made with basil, which is known as a summer-loving herb. During the summertime, basil plants flourish, and markets are usually overflowing with an abundance of freshly-picked basil. Basil is a super delicate herb, once it's picked, which means it needs to be used quickly. Pesto is the perfect way to use up a ton of basil, since a good pesto calls for about 2-3 cups of fresh basil leaves.
Pesto is also an incredibly versatile ingredient/food for the hot summer months, when working around hot appliances (hello, gas oven) is less than desirable. Pesto may be spread on bread to add a zesty bite to a cold sandwich or wrap, or served on toasted sourdough or a baguette with tomato slices and fresh mozzarella (my favorite way to serve pesto, particularly on a finger food night). Pesto may also be served with hot food, such as homemade pizza (just a few drizzles really increases the flavor intensity of a traditional pizza) or pasta and roasted veggies.
Finally, pesto makes for a fantastic summer food because it may be prepped in advance, as mentioned earlier, and stored in the freezer for later use. Since basil leaves are delicate and go bad quickly, I like to freeze my fresh pesto in ice cube trays, then pour the frozen cubes into a large Ziploc bag. The cubes will keep for about 6 months in the freezer, which is about how long summer lasts in Florida ;). When I want to add something extra to a sandwich, or need a spread for a finger food night, I defrost a few cubes in the fridge or on the counter-top.
My reasons for making pesto during the summer could go on and on, but I'll leave it here. I know you're ready to blend up a jar or two of your own homemade pesto. Let's do this!
How to Make Easy Basil Pesto
Pesto is definitely a classic summertime food/ingredient, and it's for good reasons.
Ingredients
1/2

cup

walnuts

4

small

garlic cloves

crushed (with a knife or the back of a spoon)

3

cups

fresh basil leaves

packed

1/2

cup

grated parmesan cheese

1

lemon

juiced

2/3

cup

extra virgin olive oil

plus or minus

1/2

tsp

salt

or to taste

black pepper

to taste
Instructions
In a saucepan, over medium heat, toast the walnuts and garlic cloves, stirring every few minutes to avoid burning the ingredients. This usually takes about 5-7 minutes on our gas stove-top.

Once toasted, place the toasted walnuts and garlic cloves, basil leaves, cheese, and lemon juice in the bowl of a food processor. Pulse the pesto for about 30-40 seconds, until everything is thoroughly combined and the basil leaves are finely chopped. With the food processor running (I use the high speed setting), drizzle the olive oil through the feed chute until you reach the desired consistency, add more or less olive oil as needed. I use about 2/3 cup + 2 tablespoons of olive oil for my pesto, but the final amount usually varies each time by a couple of tablespoons. If you'd like thicker pesto, use less olive oil. Finally, stir in the salt and pepper. I use 1/2 teaspoon of salt, but this amount will vary according to your taste, which is why it's added at the end.

Store the fresh pesto in an air-tight container in the fridge for several days. Pesto is a great freezer food, too. Simply freeze the pesto in an ice cube tray, then place the frozen cubes in a baggie or freezer container.
Nutrition
Calories:
1936
kcal
Carbohydrates:
26
g
Protein:
32
g
Fat:
197
g
Saturated Fat:
32
g
Cholesterol:
44
mg
Sodium:
1938
mg
Potassium:
730
mg
Fiber:
8
g
Sugar:
5
g
Vitamin A:
4230
IU
Vitamin C:
73.9
mg
Calcium:
789
mg
Iron:
6.1
mg
Ingredient Notes:
Pesto is sometimes made with pine nuts. I personally don't stock pine nuts in my pantry because they are so expensive. If you'd like to use pine nuts, use the same measurement and toasting instructions. Use a high-quality extra virgin olive oil, like California Olive Ranch (there are many great choices out there), for the best tasting pesto. I love my pesto on the oily side, and 2/3 cup is the perfect amount of oil for this kind of pesto. Use less oil for a thicker pesto.
The intensity of the garlic will vary depending on the size of your garlic cloves. I tend to use smaller garlic cloves. You can always add more garlic after you blend and taste the pesto.
Pesto is such a versatile food to keep on hand. Toss homemade pesto with pasta and roasted veggies, drizzle pesto on homemade pizza, spread pesto on a wrap or on toasted bread. Or, enjoy it straight from a spoon ;).