Even though we don't have physical seasons in Florida (it's been 80 degrees for weeks now), I've felt a shift toward "spring" over the past week. More of a seasonal food shift to be exact. Maybe it's the influence of Instagram and following so many food accounts. Or maybe it's just the subtle change happening in the produce department–the transition from squash and apples to asparagus and berries. Whatever it is, I'll take it!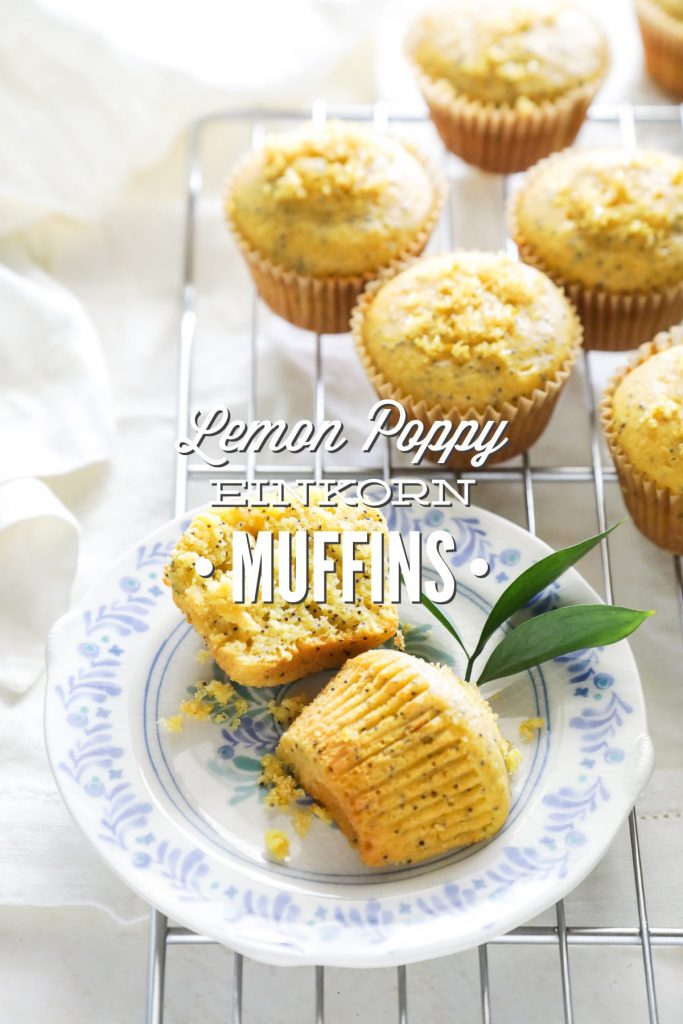 My meal plans don't change drastically between "seasons." If we lived in a climate where life revolved around four physically-changing seasons, this may be different. For us, we'll continue to enjoy many of our favorites, like: burgers, soups, quesadillas, tacos, and roasted chicken.
I will start changing out our sides to be more seasonally appropriate. Instead of relying on roasted root veggies to accompany many of our weeknight meals, I'll start making more cold salads (like this marinated chickpea salad and this simple cucumber salad), or serving more raw veggies (many times with a dip) and fruit on the side–simple changes that make it feel like spring and summer around here, even though it technically always feels like spring and summer ?. We Floridians try to be normal.
Growing up, lemon poppy seed muffins were one of the foods that my mom kept stocked in our kitchen as soon as "spring" rolled around, along with ham and asparagus. I looked forward to finding my favorite bright yellow muffins on the counter every April, and despised seeing the asparagus on the table each week. (There's hope for picky kids, my friend. Take it from a recovering picky eater.) I could easily polish off a carton of the mini muffins by myself. And yes, they came in a carton from the store.
My love for lemon poppy seed muffins continued through adulthood. I continued to purchase a carton of mini muffins every spring from the exact same store (#tradition), until I learned about real food and reading ingredient lists. After reading just a few ingredient lists, I realized that many of my favorite foods, include the muffins, were made with not-so-real ingredients. And so, for the first time ever, I walked away from my favorite spring muffins.
Of course, I wasn't going to say good-bye forever. I just needed to figure out how to make the muffins with real ingredients.
At the time, I was learning to work with whole wheat flour, the only real food flour option I knew about. Whole wheat proved to be too heavy for something light and fluffy like lemon poppy seed muffins. I waved my white dishtowel of surrender and gave up.
Then, a couple of years ago, I started playing around with a new-to-me ancient grain, einkorn. All-purpose einkorn flour turned out to be the perfect ingredient for creating lighter baked goods, like sugar cookies, cakes, pizza dough, biscuits, and lemon poppy seed muffins. Einkorn can be expensive and hard to source compared to wheat or spelt, so I only use it in recipes that absolutely need a lighter flour.
My "real foodified" lemon poppy seed muffins are made with all-purpose einkorn flour, honey, fresh lemon juice and zest, yogurt, and butter to create a light muffin with a subtle lemon flavor. The honey taste really comes through in these muffins, which I love, so these muffins are more of a honey and lemon flavor than just lemon. Since poppy seeds are such tiny seeds, a little bit goes a long way, so I only add 1 tablespoon to the batter. If you love poppy seeds, feel free to increase the amount to 1 1/2 or 2 tablespoons.
One last note, these muffins store really well, so they're great to make on the weekend and enjoy throughout the week for breakfast, on the side of soup for an easy lunch option, or as a snack/treat. I store them in the fridge, but you can also freeze them.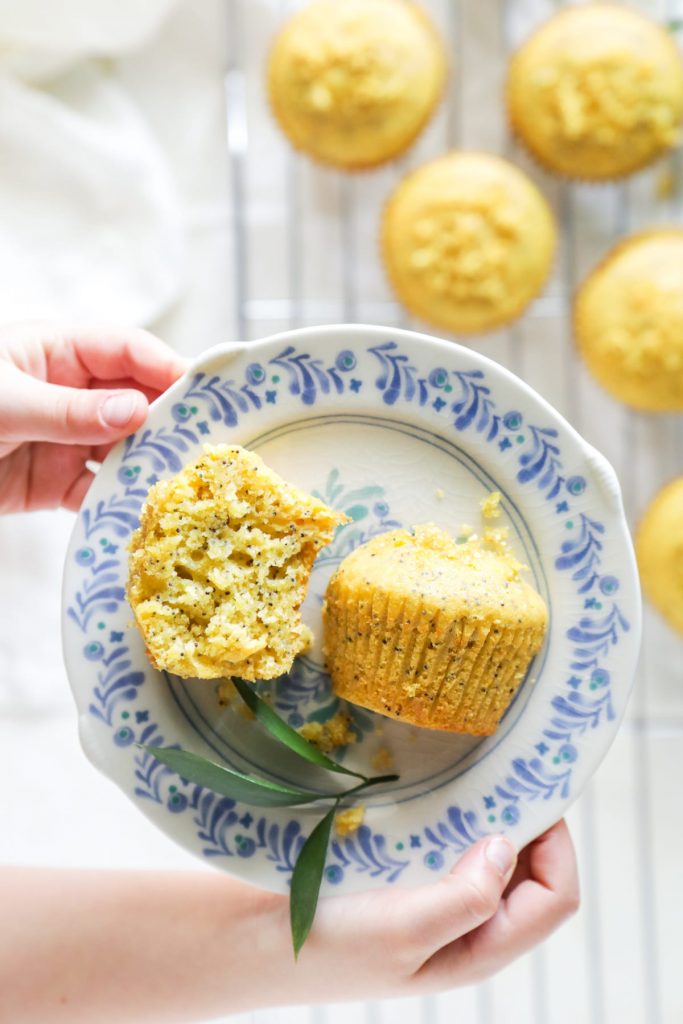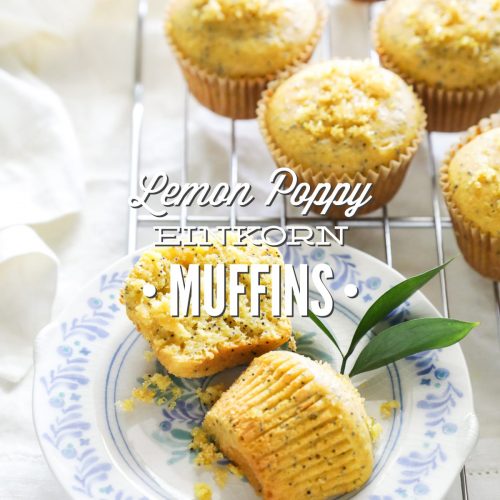 Lemon Poppy Seed Einkorn Muffins
Light and naturally-sweetened lemon poppy seed muffins made with einkorn flour.
Ingredients
8

TB

butter

*(107g) melted

1/2

cup

honey

(165g) preferably a light honey, like orange blossom

2

eggs

1/2

cup

plain whole milk yogurt

(123g)

1

large

lemon

zested and juiced (for the juice: about 3 1/2 tablespoons // 41g)

1

tsp

pure vanilla extract

2

cups

all-purpose einkorn flour

(233g)

1

tsp

baking powder

1/4

tsp

baking soda

1/4

tsp

salt

1

TB

poppy seeds

**
(optional) Lemon Sugar Topping:
Instructions
Preheat the oven to 350F. Line a muffin pan with paper or silicone muffin liners, or grease the muffin pan.

In a large bowl, whisk together the wet ingredients: melted butter, honey, eggs, yogurt, the zest and juice from one lemon, and vanilla extract.

Add the dry ingredients to the bowl (flour, baking powder, baking soda, and salt), and stir to combine. Finally, stir in the poppy seeds.

If you're using the optional sugar topping, place the lemon zest and sugar in a small bowl. Massage the two ingredients together for a few seconds. Set aside.

Scoop the batter into the muffin pan (it will be thick). I use an ice scooper. If you're using the sugar topping (previous optional step), sprinkle the sugar evenly over the muffins before baking.

Bake the muffins for 18-20 minutes, until firm on top. My muffins are usually done at 18 minutes, but this may vary with each oven. Allow the muffins to cool for a few minutes before enjoying.

For storage, I keep the muffins in an air-tight container in the fridge (they will need to be warmed, in my opinion, before enjoying). They also freeze well.
Nutrition
Calories:
222
kcal
Carbohydrates:
29
g
Protein:
4
g
Fat:
9
g
Saturated Fat:
5
g
Cholesterol:
48
mg
Sodium:
159
mg
Potassium:
86
mg
Fiber:
2
g
Sugar:
14
g
Vitamin A:
285
IU
Vitamin C:
2.5
mg
Calcium:
49
mg
Iron:
1.3
mg