I promised last month to keep the introductions to the favorite posts very short, so let's get started. No fluff today!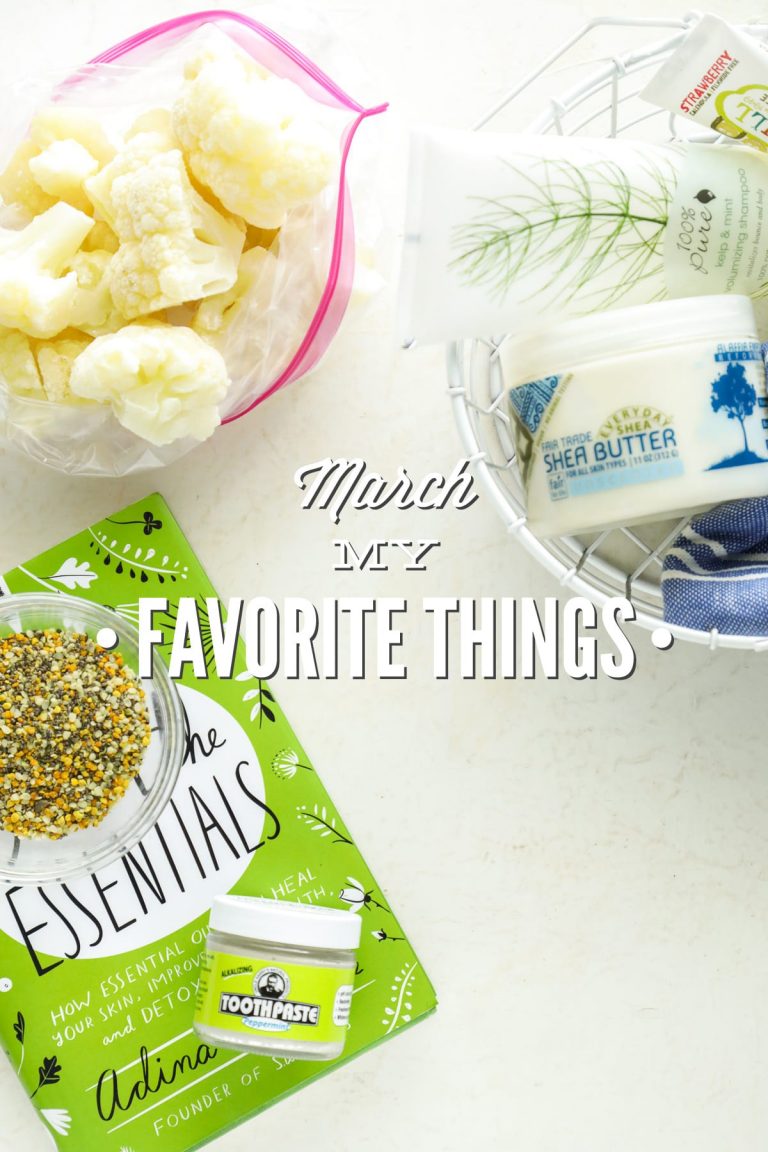 The following list includes the "things" that I particularly loved in March–some are new to me and others are just regular favorites that we haven't talked about. If you missed February's favorite things (which are still my favorite ;)), you can check out my list over here.
I'll go first, and then I'd love to hear from you in the comment section below.
March Favorite Things
Natural Body-Care, Real Food, Exercise, Essential Oils
I pre-ordered this book a few months ago, and it just recently arrived. I've been waiting for an easy-to-read book on essential oils that's both practical and educational, and this book is it! I love Adina's writing style, her unbiased take on essential oils (*cough cough*, she's brand neutral), and her safety-first approach. I don't think her recipes are simple since some use essential oils I'll probably never purchase, but the information she presents is incredibly helpful if you're new to essential oils or just trying to better understand them.
We discovered this documentary on Netflix just a couple of weeks ago. It's such a well-balanced and practical look at real food in 2017–touching on everything from the importance of sustainable farming, to ancient grains (like einkorn and spelt) and pasture-raised animals. The documentary is available on Amazon and Netflix. It's a must-watch film for anyone concerned about our current food system.
I forgot how much I love using shea butter on my face, until a few weeks ago, when a cold front passed through Florida. The cold front was accompanied by chilly temperatures and dry air–something my humidity-loving skin doesn't care for one bit. That week, I whipped up a simple combo of shea butter (intense moisture) and Plant Therapy's Clear Complex Carrier Oil (this made my favorite list last month). My skin has been loving this combo. And despite the humidity returning, I'm still using this moisturizer at night before bed. I love that natural skincare is so easy to customize based on my skin's current need.
I've tried natural shampoos with either okay (it works) or absolutely terrible (let's just fry an egg on my head) results. After falling in love 100% Pure's makeup (also featured on February's list) , I decided to try a 100% Pure shampoo. Hands down, this is the best natural shampoo I've tried. It doesn't dry out my hair or leave it feeling greasy. At the moment, I'm not using conditioner.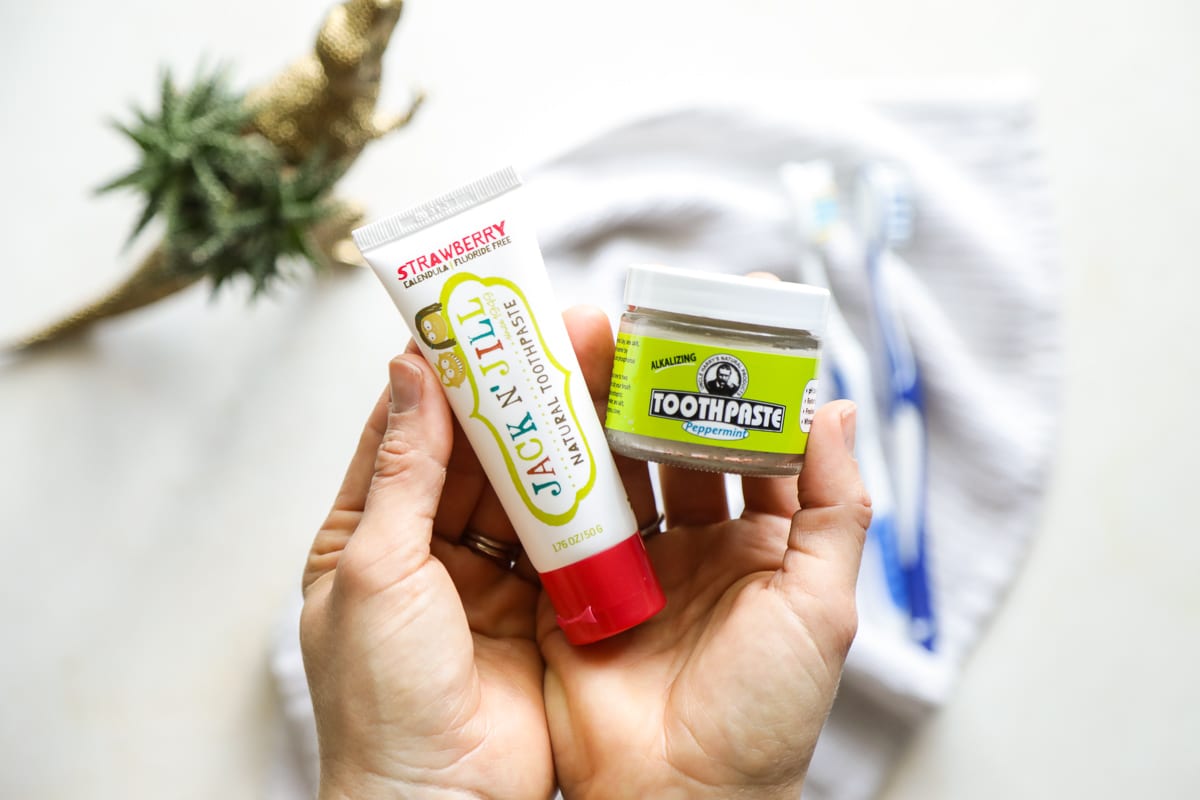 5. Toothpaste
Unlike shampoo, I've tried and enjoyed quite a few natural toothpaste options over the years, even homemade toothpaste. Right now, I'm enjoying Uncle Harry's Toothpaste. I love the flavor, which comes from essential oils. I'm not a huge fan of scooping the toothpaste from the jar, but I've learned to embrace this method when it comes to some natural toothpaste options.
The kids are using a new-to-us toothpaste these days called, Jack N' Jill. This toothpaste comes from Australia (I purchased a set of three on Amazon). It's made with good ingredients and the kids like the strawberry flavor.
6. CSA Meat and Egg Share
We've been purchasing our meat from a local farm, Trailbale Farm, via their CSA program (Community Supported Agriculture). Four times a year, I write a check for meat and eggs, and then pick up a portion of this order twice a month at a drop-off location. We also decided to join a produce farm's CSA program, Little Pond Farm, for the 2017-2018 growing season. We'll be picking up our produce box every two weeks, just like our meat and egg order, starting in October 2017. A CSA program is such an incredible way to support and love on local farms.
7. Cauliflower Smoothies
I've been watching this "trend" on Instagram for a couple of months, and finally decided to try it myself. I'm officially hooked! Here's how to do it…
Chop a head of cauliflower into smaller florets, and then steam the florets for just a few minutes, until they soften. Place the softened florets on a baking sheet and freeze. Once frozen, place the florets in a freezer-safe bag or container. I usually add two florets to our smoothies before blending.
8. Superfood Smoothie Blend
I'm not a fan of the word "superfood" because it makes it sound like some real foods are superior beings. The truth is real food is diverse, and each ingredient has something different to offer as far as nutrition and flavor. With that said, bee pollen (rich in proteins and vitamins, purchased from the market or a health food store), chia seeds (rich in omega-3s and fiber, from Costco), and hemp seeds (rich in fatty acids and protein, from Costco) are regarded as "superfoods" so I'm going with the title. Maybe it's because these tiny ingredients pack so much nutritional benefit? I love adding these ingredients to our smoothies, but I'm not very motivated to pull out individual containers/ingredients in the morning, along with fruit and veggies. To simplify, I decided to create a "Superfood Smoothie Blend" that's ready to use. Here's how I do it…
In a storage jar, combine equal parts (I do 1/4 cup each) bee pollen, hemp seeds, and chia seeds. If you don't want to use bee pollen, or any other recommendation, then try subbing the ingredient with flax seeds. Place a lid on the jar and shake to combine the ingredients. I keep my jar in the fridge. I add 1 tablespoon of the mix to our smoothies (my smoothie creations generally feed 2-3 people, so I reduce this amount for an individual smoothie).
9. Sara Fit YouTube Workout Videos
I joined Pure Barre almost one year ago. It's changed my body (hello, baby abs and toned-up arms), improved my energy, and allowed me to connect with amazing women. I try to workout four times a week. When I'm not able to make it to the studio, I need a good workout that can be done at home. I discovered Sara Fit on YouTube last month, and I'm absolutely loving her easy-to-follow workout videos. She's a mom, so her workouts are designed for busy women who need something that's effective and quick. I've found that her Flat Stomach Workout in 10 Minutes and 10 minute Arm Workout For Women With Weights are great supplement workouts on days when I can't make it to Pure Barre.
Okay, enough about my favorite things. Now it's time for you to chime in. I would love to hear from you via a comment below, and I know the rest of the Live Simply Family would love this as well. Share anything you're particularly loving right now: a recipe/DIY project, a book, a routine, a park, a brand, a store/market, an apron, a shirt. Anything!