Looking for a natural mascara? Today we're going to take a look at why you should ditch conventional mascara, common chemicals found in mascara, and how to choose the best natural mascara.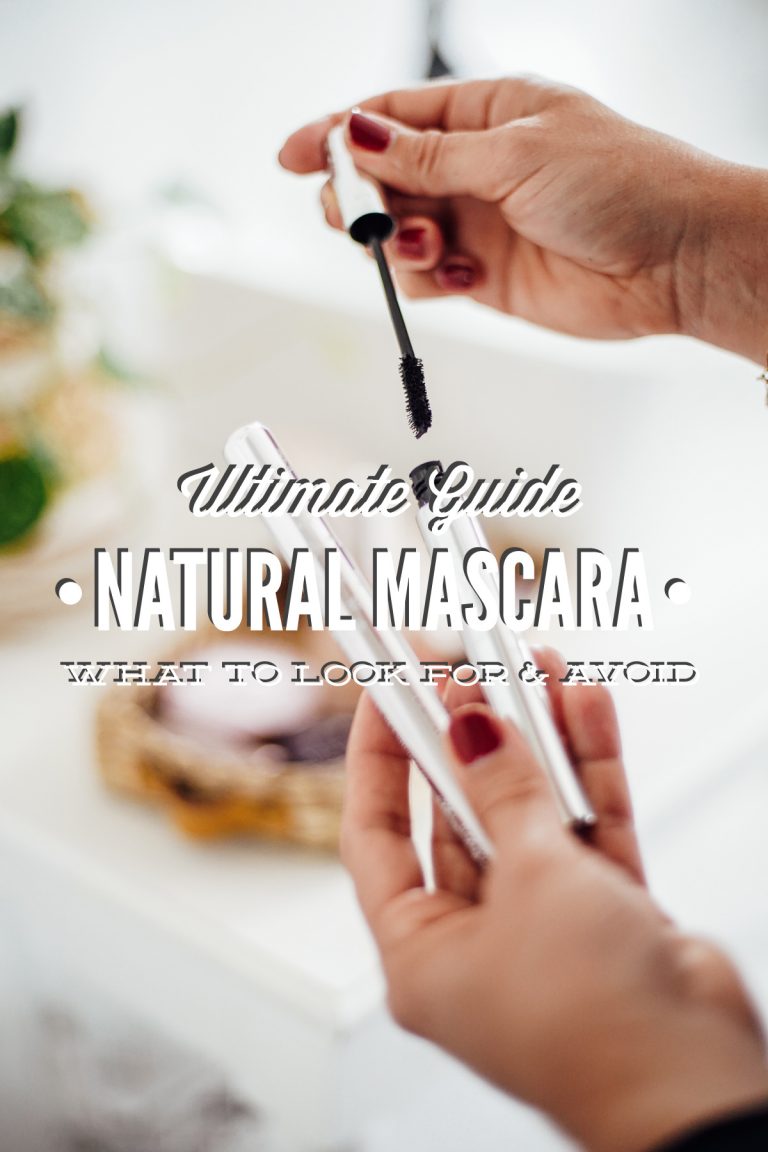 Switching to natural and non-toxic makeup can be overwhelming. There's so much to think about and making a complete  overhaul of your products can be quite costly. So let's simplify this… When you're first making this change, focus on the products you use most often and the ones that remain on your skin the longest.
Foundation and mascara are two of the best places to start as many of us wear these products daily. Swapping out these products for natural, non-toxic options will immediately reduce your exposure to chemicals of known concern.
Knowledge is power, so today we're going to break down everything you need to know about making the switch to natural mascara. I've partnered up with 100% Pure, a natural makeup and body brand, to create this guide.
I've been using 100% Pure makeup for years and have come to appreciate the brand as a trusted resource in the natural beauty world. The CEO of 100% Pure, Ric Kostick, is an advocate for transparency and safety in the beauty industry, having just supported the Safer Beauty Bill Package (which calls for reducing unsafe ingredients used to make personal care products and bringing transparency to the industry). This advocacy is reflected in the company's formulations, products, and consumer education.
Why You Should Ditch Conventional Mascara
If you're going to make the switch to natural mascara, you must first know why you're ditching conventional mascara. To do this, let's take a look at a few of the concerning ingredients used to make mascara…
Parabens: A family of chemicals used as a preservative in conventional mascara and other cosmetic products. While safety with a preservative is necessary, the problem is parabens are a known endocrine disruptor. Parabens mess with your hormones and raise breast cancer concerns. This is particularly concerning when you take a look at the number of products that contain parabens–talk about overload on the body!
Propylene Glycerol: A petroleum derived ingredient used in mascara and other products (including brake fluid). The FDA considers this ingredient safe, but it is a known skin irritant and allergen.
Vitamin A Acetate: A toxic synthetic vitamin A used for moisturizing properties. This ingredient is a known reproductive toxicant, recognized by the FDA.
Aluminum Powder: A metallic ingredient containing aluminum particles that are used to give mascara its color. A known neurotoxin and allergen.
Carbon Black: Carbon black can also go by the name acetylene black, thermal black, lamp black, furnace black, pigment black 6 or 7, or channel black. Classified as being potentially toxic to human organs. Carbon Black is no longer authorized to be used in cosmetics, by the FDA, particularly those near the eye area. But this ingredient can still be found in some eye makeup products.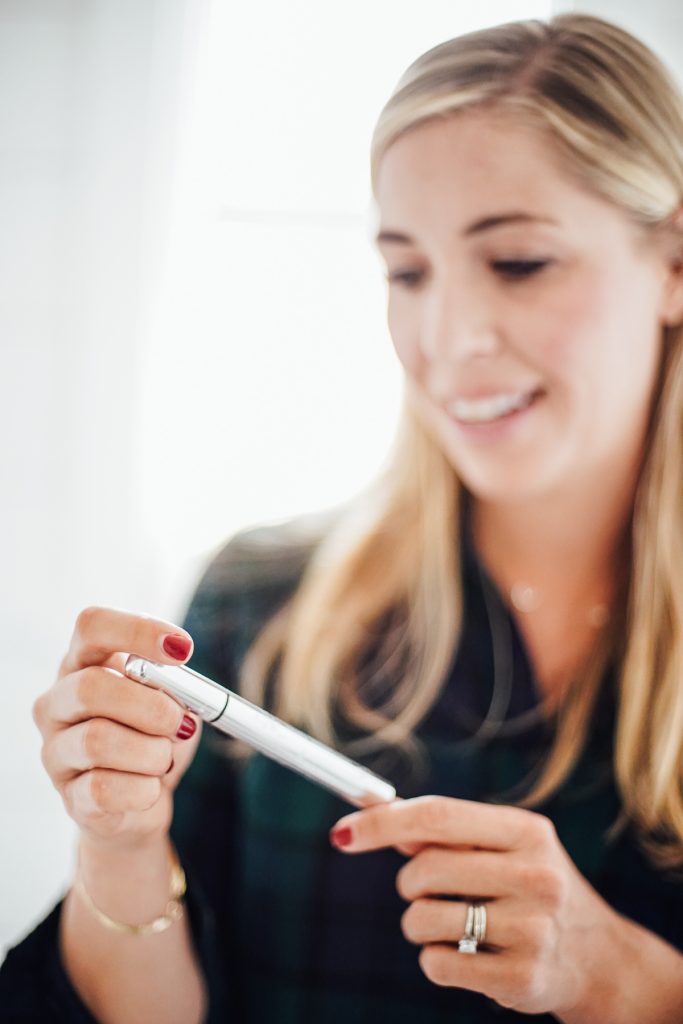 Among the most concerning ingredients used to make mascara are PFAS chemicals, also known as"forever chemicals" as they don't break down and remain in the environment and people for decades!
According to Harvard, "Most of the waterproof mascara, liquid lipsticks, and foundations tested in a recent study contained high levels of fluorine—suggesting the likely presence of toxic chemicals known as per- and polyfluoroalkyl substances (PFASs)." Out of 231 makeup products tested, 75% contained these chemicals!
What's the big deal with PFAS chemicals in mascara and makeup products?
Used for water (and stain) resistant properties, particularly in "long-lasting" and "water-resistant" formulations
Linked to health concerns: endocrine disruption, increased cholesterol, weight gain in children and dieting adults, cancers
Harmful to nearly every human organ
Damage our water system as they are "forever chemicals" that don't break down
Even some "clean beauty" makeup brands use PFAS in their formulations
What is Natural Mascara?
The good news is that you don't have to settle for these toxic chemicals or ditch mascara all together. Instead, by making the switch to a natural and non-toxic mascara (sometimes referred to as "clean mascara") you'll eliminate these toxic chemicals from your daily makeup routine. While there aren't any regulations behind the word "natural" or "non-toxic" in the makeup world, there are definitely ways to spot a truly natural mascara and avoid harmful toxins.
How to Choose a Natural Mascara
When choosing a natural mascara, the first thing to look for is the absence of the ingredients we talked about above: PFAS, parabens, toxic petrochemicals, etc. A brand who is creating an effective product with safe and non-toxic ingredients should be transparent and proud of not only what's missing from their formulation but also how their mascara is made and the safety (and testing) of these ingredients and formulations.
That's what I love about 100% Pure and why they've been a one-stop shop for me, for years. I've attached a screenshot of the 100% Pure Ultra-Lengthening Mascara ingredient list below (taken from their website) as an example of what a natural mascara ingredient list looks like! Also, you'll find a glossary detailing every ingredient used in their products online–hello, transparency!
As a consumer, I can look at this list and know exactly what's used to make 100% Pure mascara: no PFAS, parabens, and other toxins regularly found in conventional mascara. Instead, I see a list of proven-to-be safe ingredients such as cocoa butter, vitamin E, black tea, and natural fruit pigments.
100% Pure also retests their mascara formulas (along with other products like lipsticks, eyeshadows, etc.) to make sure they are bringing the healthiest products to customers, and they disclose this testing to customers! This is what transparency looks like and what we should aim for when selecting natural mascara.
How to choose a natural mascara…
Look for a fully disclosed ingredient list (the ingredient list doesn't lie and is your best source for knowing what's in a product)
Avoid products using ingredients of known concern
Buy from a trusted and transparent company who is proudly using proven-to-be-safe ingredients
If you're ready to switch to natural mascara, 100% Pure has graciously offered a coupon code to Live Simply readers.
My favorite Makeup Products from 100% Pure…
See the full makeup look using these products in this Instagram video. 
Have you made the switch to non-toxic mascara? Tell me about your experience.