There are a few meals from my childhood that really stand out to me as memorable: casseroles, savory pot roasts with potatoes and carrots, warm apples and cinnamon-spiced oatmeal, homemade banana bread, and soft chocolate chip cookies.
A tender roast with glazed carrots and potatoes? Sign me up.
Warm apples and oatmeal? Yes, please!
Homemade banana bread? I'll take two slices.
Soft chocolate chip cookies? Ummm, yes!!
Casseroles?
Well, I wasn't ever a fan of casseroles. In fact, they didn't appeal to anyone in our family (a fact that we all just recently disclosed), but casseroles were the '80s thing to make. Just like Velveeta Cheese was the "cheese" to eat. And overalls and tie-dyed shirts were the clothes to wear.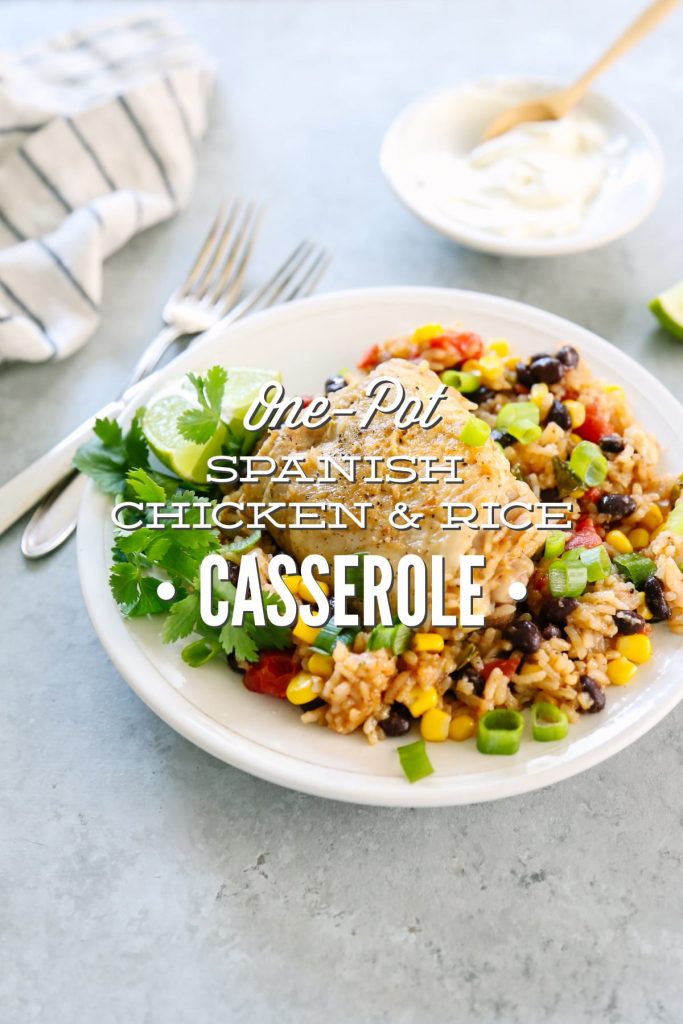 I'm not picking on casseroles, the '80s, or my family's cooking (trust me, we've had a good laugh about some of the food we ate "back in the day").
Casseroles are an amazing way to pack a ton of hearty ingredients into one meal, and one casserole can feed a ton of people for just a few dollars. I think the casseroles of my childhood were lacking one flavorful and nourishing element: real ingredients!
Casseroles have come a long way from the condensed soup recipes we all grew up spooning onto our plates. (I'm just assuming the casserole "love" wasn't isolated to our home.)
Today, casseroles have been reinvented in the form of one-pot meals, or even the same casserole meals from the '80s, but with slightly different ingredients. The casseroles of 2016, at least the ones I think most of us gravitate towards, are made with real food ingredients, like: tomatoes, homemade broth (or even a homemade version of condensed soup), quality protein, veggies, and real cheese.
All of this casserole talk brings me to today's recipe: One-Pot Spanish Chicken and Rice Casserole.
This casserole, which we're going to talk about right now (you were waiting for this former casserole-hating gal to see the light, right?! The casserole plot thickens…), is just one of the casseroles that I've enjoyed over the past year. Yes, enjoyed! It's the perfect example of how a casserole can be simple, flavorful, and nourishing.
One-Pot Spanish Chicken and Rice Casserole starts with simple and fresh veggies: onions and poblano peppers. The fragrant combo then takes a backstage role as the chicken, the main protein in this dish, takes center stage. Thanks to the bones and skin, the chicken remains super moist, even if the chicken cooks a bit longer than recommended (yep, it tends to happen when the dinner rush is on #momlife). Once the chicken browns, the rice, broth, and spices are added, and then the real magic happens.
Trust me, friend, it's okay to just walk away and let the magic of a casserole happen. That's why Mom embraced this thing we call a casserole, and why we should do the same. Tend to the dirty lunchboxes, the children, or sit down and enjoy the wine that's been waiting for you in the pantry. Let that pot show off its casserole magic.
Thirty minutes later–and a few extra ingredients: beans, corn and tomatoes–a nourishing, flavorful casserole awaits! Now that's how you embrace (and enjoy) a casserole!
One-Pot Spanish Chicken and Rice Casserole
One-Pot Spanish Chicken and Rice Casserole starts with simple and fresh veggies: onions and poblano peppers. The fragrant combo then takes a backstage role as the chicken, the main protein in this dish, takes center stage.
Ingredients
8

chicken thighs

bone-in and skin-on

3

TB

butter

divided

1/2

medium

yellow onion

diced (1/2 cup once chopped)

1-2

poblano pepper

seeds removed and diced (3/4 cup once diced)

1 1/2

cups

white jasmine rice

1

tsp

paprika

1

tsp

dried oregano

1

tsp

salt

to taste

1/2

tsp

garlic powder

1/2

tsp

black pepper

1/4

tsp

cumin

14.5

oz

diced tomatoes

See the note about separating the juice and tomatoes in the recipe.

2

cups

chicken broth

15

oz

black beans

drained and rinsed

1

cup

frozen corn

chopped cilantro

optional garnish
Instructions
TOMATOES NOTE: Place a strainer over a 4-cup measuring cup. Drain the canned tomatoes into the measuring cup, then set aside the tomatoes. Add enough chicken broth to the tomato juice to have 3 cups of total liquid.

Add 2 tablespoons of butter to a large Dutch oven. Melt the butter over medium-high heat.

Add the onions and pepper to the pan and saute until softened and translucent, about 5 minutes.

Remove the veggies from the pan, and set aside.

Add 1 tablespoon of butter, if needed. Add the chicken thighs, skin-side down. Cook the chicken until brown, about 10 minutes.

Flip the chicken and cook an additional 5 minutes. It's okay if it isn't cooked through at this time.

Add the seasonings (I like to first mix the seasonings in a small bowl), rice, cooked onion and pepper, and chicken broth/tomato mixture to the pan. Make sure the rice is fully submerged in the broth. Bring the broth to a boil, then reduce to a lively simmer, cover, and cook for 30-35 minutes until the liquid is mostly absorbed and the rice is tender. The chicken should also be fully cooked.

Remove the chicken thighs and place them on a plate.

Add the diced tomatoes, black beans, and corn to the pot, and stir until heated through.

Serve the rice on plates, and top with the chicken thighs.
Nutrition
Calories:
696
kcal
Carbohydrates:
66
g
Protein:
36
g
Fat:
32
g
Saturated Fat:
10
g
Cholesterol:
162
mg
Sodium:
1047
mg
Potassium:
942
mg
Fiber:
8
g
Sugar:
2
g
Vitamin A:
635
IU
Vitamin C:
30.4
mg
Calcium:
79
mg
Iron:
4.1
mg
Ingredient Notes
Some folks may call this a Mexican-inspired dish, and I completely understand why. I debated the description of this casserole a few times. In the end, I went with Spanish because it reminds me of a chicken and rice dish from a local Spanish restaurant–so good! The concept for this casserole was originally inspired by that dish.
The final rice will resemble more of a risotto versus a dry rice. This makes it perfect for leftovers, and reheating, since the rice won't dry out.
The saltiness of this dish will vary depending on your broth (if it's salted or unsalted) and the canned tomatoes (again, salted or unsalted). If you're not using salted broth or tomatoes (read the ingredient list on the can), you'll probably need to add more salt to the final dish. I recommend sticking with the one teaspoon of salt, and then adding more salt to the final dish before serving. It's always better to under-salt in the beginning since you can add more salt to taste once the casserole is ready to be served.
You're welcome to use brown rice in this casserole; however, the amount of liquid may need to be increased. I haven't tested this recipe with brown rice since we typically stick with white rice (it's easier to digest).
This dish is really hearty with the beans, rice, and chicken. It will serve eight people, if each person is served one piece of chicken. You can certainly customize this casserole by adding toppings before serving, such as: sour cream, shredded cheese, guacamole or sliced avocados, and sliced green onions.