Note: This series isn't about endorsing any particular company or brand. My goal is to cover major stores, where most Americans shop, to show people that just making a switch in the products they purchase is a huge first start in adopting a real food lifestyle–this only requires changing what you put in your cart. Once this hurdle is conquered, other options may be explored–farms, co-ops, and local health stores. Small, but practical changes lead to a doable lifestyle! Learn more about shopping for real food under the "Shopping 101" section on the blog.

You won't believe where our real food field trip is going to take this week–the very last place I expected to find real food. I'm sure you've guessed our destination by now (hint hint: the store name is in the title of the post and image above): Walmart.
I'm going to be totally honest. When we started to bounce around the idea of a real food shopping series, Dustin insisted on investigating Walmart. I've never been much of a Walmart shopper (just being totally honest), and any thoughts that cross my mind when Walmart is discussed usually look like this…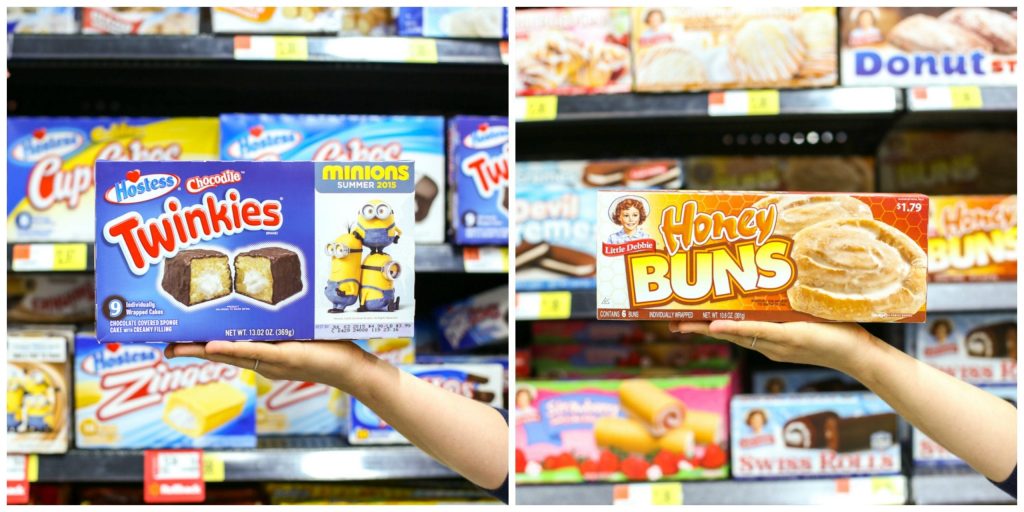 Truthfully, I thought a post about real food and Walmart would be very short and sweet. But sometimes it's good to listen to others, particularly your husband, so I agreed to include Walmart in the series with one contingency: I had to find at least ten real food options.
Last week, I ate my thoughts, words, bias…you name it, I ate it.
Walmart has seriously stepped up its real food game. Not only did I find more than ten real food options at Walmart, I also found a number of items I currently purchase from other stores for much less. For example: Bob's Red Mill Almond Flour costs $9.98 at Walmart. The same bag costs $14.95 at Whole Foods. That's almost a $5 per bag savings.
I think Walmart still has a long way to go in the real food department, but they definitely offer enough choices to make a shopping trip worth the time/drive.
Remember, I'm not affiliated with any food company. I haven't been paid by any store or brand. The selection highlighted in this post includes my top food picks based on the Live Simply definition of real food and my visit to a Walmart Neighborhood Market (Super Walmart may offer a greater selection). While everyone defines "real" in various ways, here's my definition: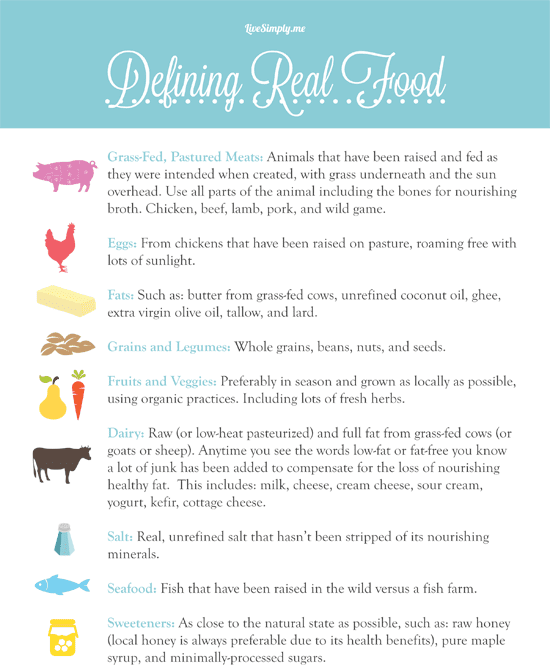 Practical Shopping Tips
1. Prioritize Food Choices and Understand the Limitations:
Some real food options may be limited to just a handful of items. This means prioritizing or compromising in a few areas may be necessary. For example: The real food yogurt selection at Walmart is limited. Stonyfield Lowfat French Vanilla Yogurt was the only option at the Walmart I visited. I prefer to purchase plain whole milk yogurt. If  organic lowfat yogurt was my only option, and I didn't want to or couldn't make my own, this would be my best choice versus conventional "fruit-flavored" varieties.
2. Scout the Store:
I first visited the Walmart Neighborhood Market in my area for a scouting trip with a pencil and paper. I've provided my list at the bottom of this post via a printable shopping guide. While the guide is meant to help you find real food choices, I highly recommend visiting a store without kids or time limits. Walk down each aisle and scan the shelves, taking note of the real food options available. A scouting trip with your real food guidelines in mind is the best way to get a feel for how and what to shop for at Walmart.
3. Shop Wild Oats:
Wild Oats is the in-house organic brand at Walmart. I was pleasantly surprised at the price, clean ingredient list, and large selection of organic products.
4. Shop the "Buy Organic" List:
Walmart offers organic produce; however, the selection (at the time of writing this post) was limited. If you plan to shop for produce at Walmart, I recommend shopping according to the "Buy Organic" list (based on the Environmental Working Group's Dirty Dozen). This list includes the top fruits and veggies to prioritize when making the decision to purchase organic produce.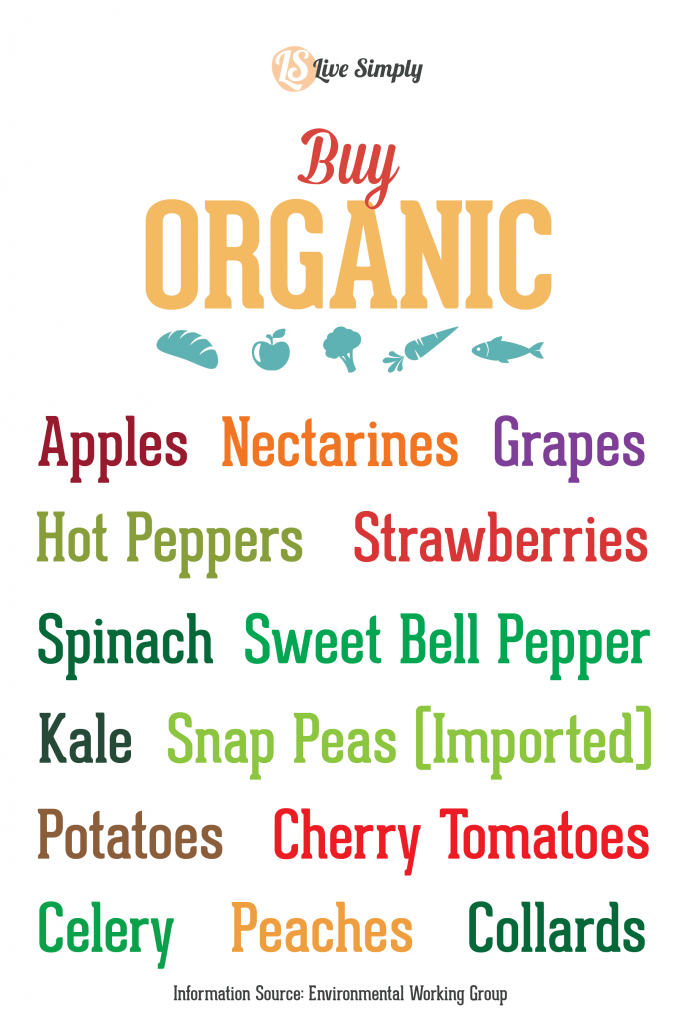 Shopping for Real Food at Walmart: My Top Picks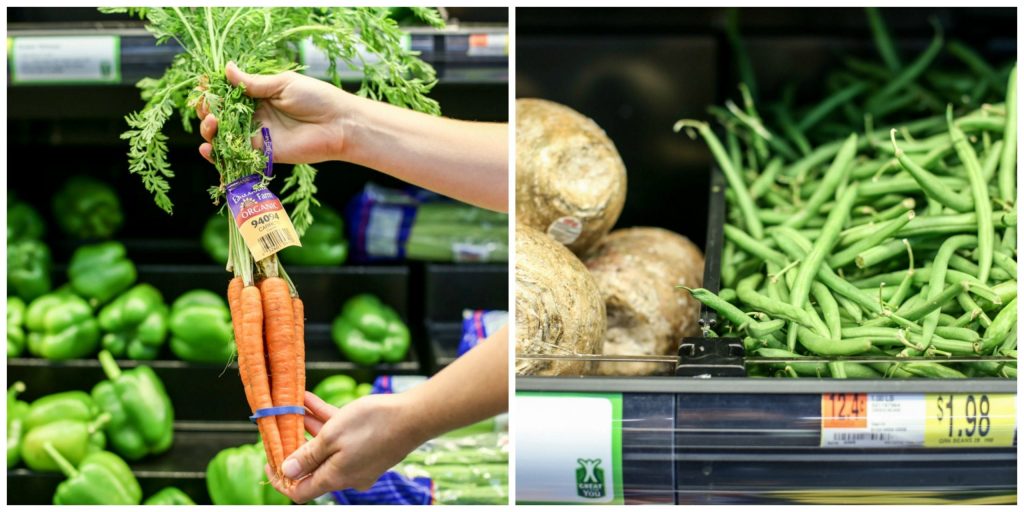 1. Produce:

Walmart offers both organic and conventional produce options. To help keep the budget in check and prioritize produce options, shop from the "Buy Organic" list (see above). The organic produce is usually wrapped in plastic and most of the leafy greens are washed and sold in sealed boxes.
2. Frozen Produce:

Walmart also offers frozen fruits and veggies. Purchase fruits and veggies with clean ingredient lists (just the fruit or veggie listed) versus packages containing special sauces or "smoothie blends."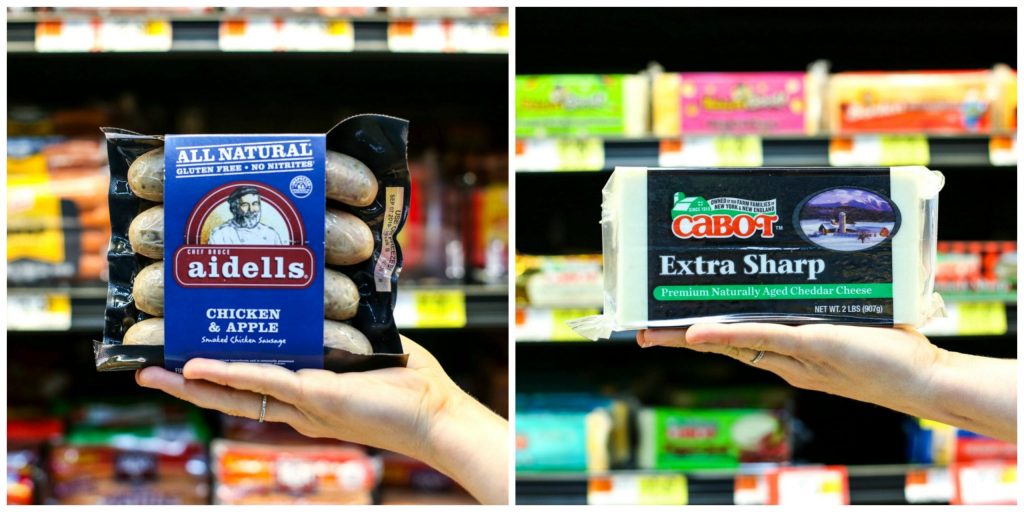 3. Meat and Seafood:
I was disappointed by the meat and seafood selection at the Walmart in my area. Hopefully, as Walmart continues to grow its real food options, organic or even pastured meat selections will be offered in the future. I found two options, one compromise and the other an exciting find: aidells sausage (the compromise: nitrate-free and clean ingredient list, but owned by SaraLee and made from conventionally-raised animals) and Oceans Natural's Skipjack Tuna (excited about this one!).
This department may vary with stores and regions. This observation is based off my shopping experience at the Walmart Neighborhood Market in my area.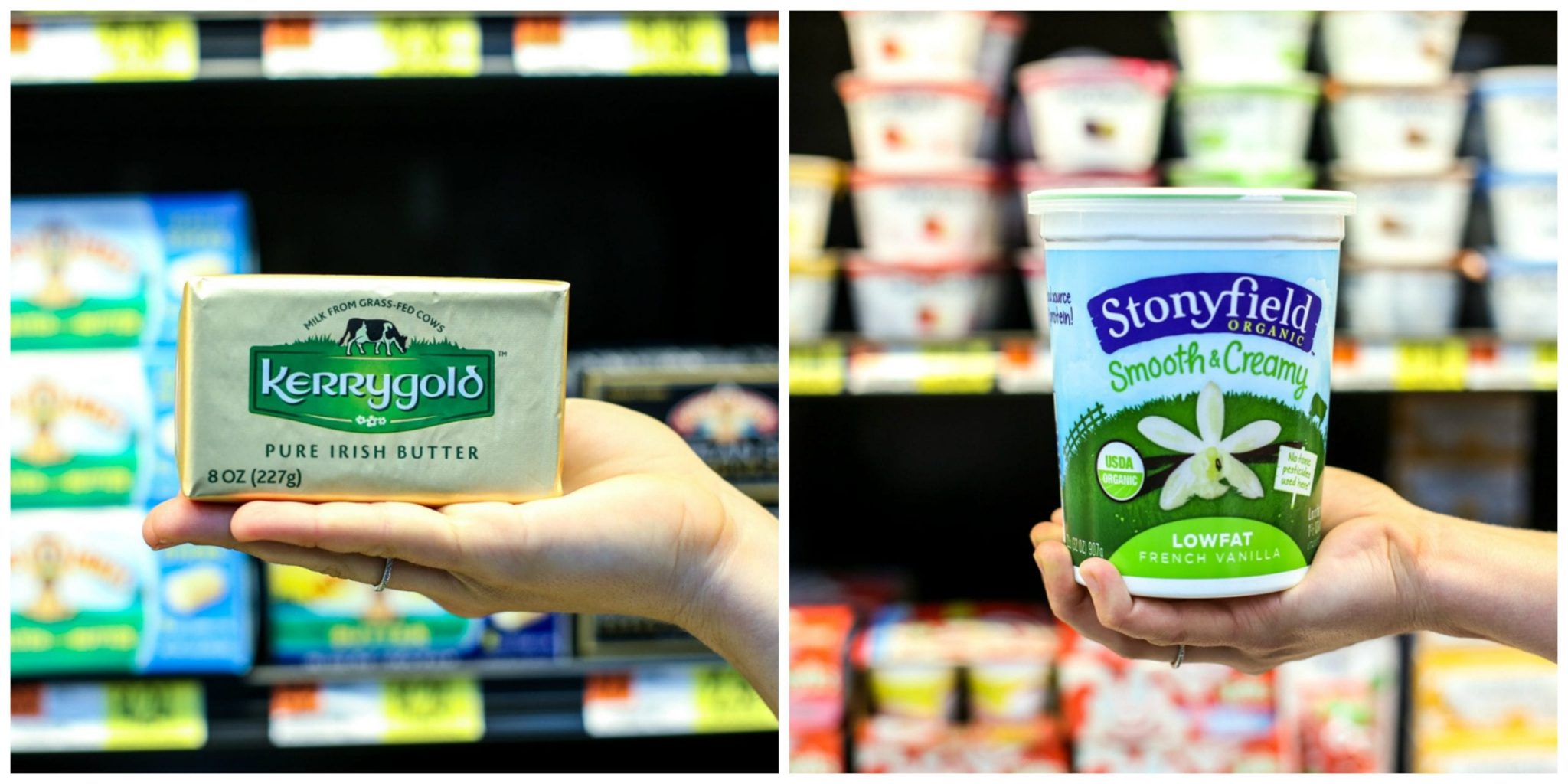 4. Dairy:
Walmart sells my favorite store-bought butter: Kerrygold. While Kerrygold has come under scrutiny in the past for not being 100% grass-fed (more like 90 something), I still believe this butter is the best store-bought option, and the one I purchase and use in my home.
The Walmart in my area only sold one yogurt product I would purchase: Stonyfield Organic Lowfat French Vanilla. Although I would prefer a whole milk plain yogurt, this was definitely a better real food choice than the "fruit-flavored" conventional options.
The real food cheese selection is also limited. I recommend purchasing blocks of Cabot Cheese and a good cheese grater.
This department may vary with stores and regions. This observation is based off my shopping experience at the Walmart Neighborhood Market in my area.
5. Eggs:
Okay, huge kudos to Walmart! After visiting the limited real food meat and dairy departments, I wasn't feeling very confident about the egg options. To my delight, Walmart sells pastured eggs. I know, complete shock! I did a bit of investigating and it appears The Happy Egg Co. is the real deal. Pastured eggs from Walmart cost $4.99/dozen.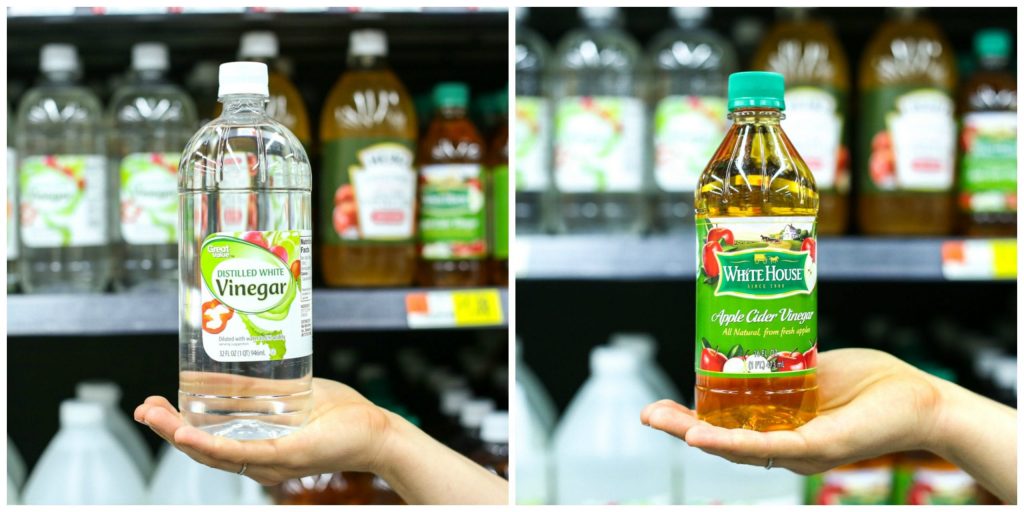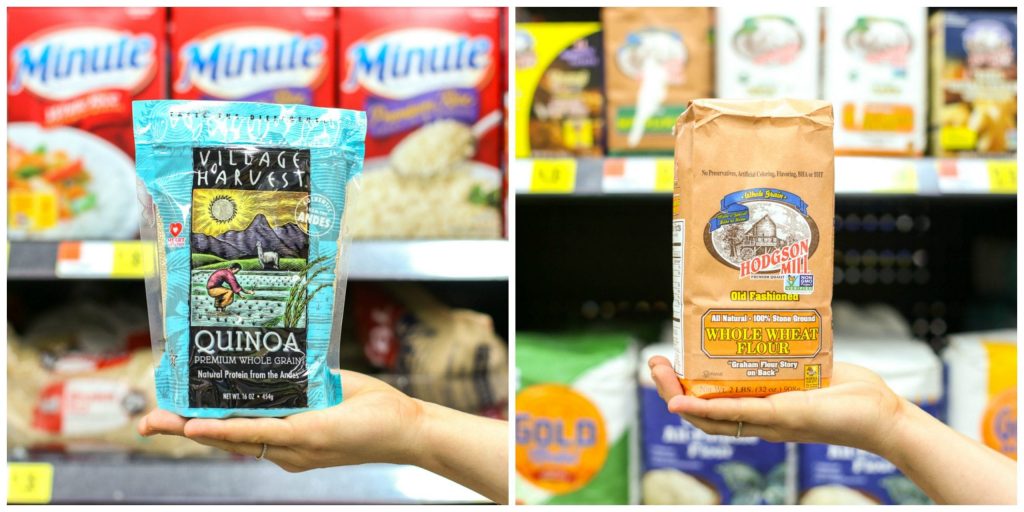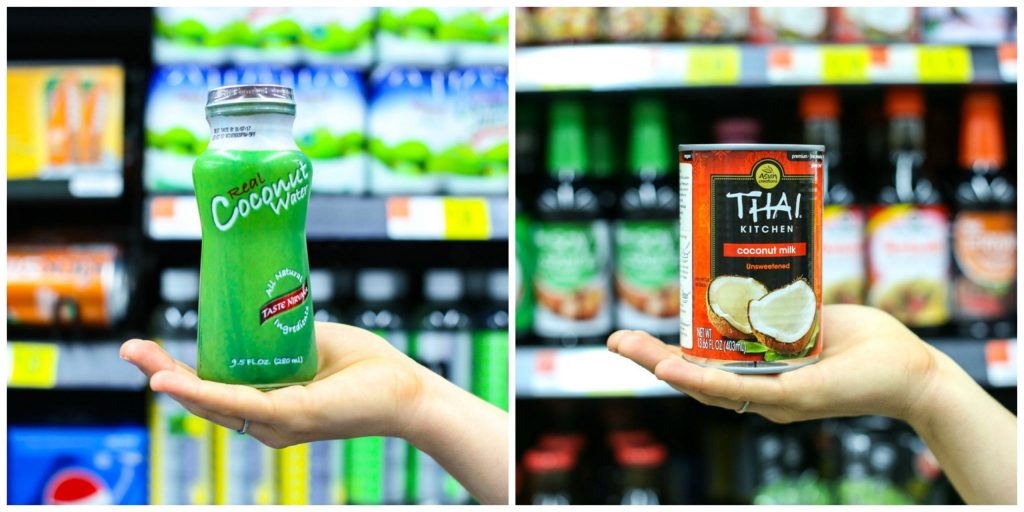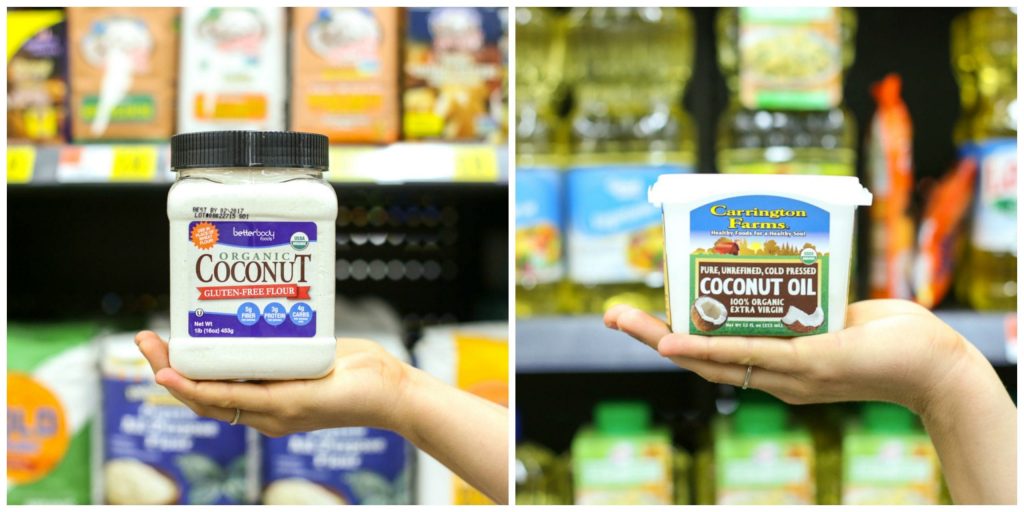 6. Dry Goods:

Again, I was really skeptical about the real food "dry" options at Walmart. I pictured rows of Twinkies and Little Debbie Cakes. To my surprise, Walmart sells a large selection of products I already purchase from other stores. The selection I found includes: organic tomatoes (cartons and canned), coconut milk, almond flour, whole wheat flour, coconut flour, rolled oats, canned beans, virgin coconut oil, coconut water, dried herbs, coconut sugar, dried beans, pure maple syrup, raw honey, chocolate chips, quinoa, rice, organic and brown rice pasta, and more! I've listed my favorite items and some brands in the printable shopping guide.
7. Beauty and Health Products:
Walmart offers a few DIY ingredients: witch hazel (Anti-Itch Cream, Hand Sanitizer, Two-Ingredient Makeup Remover, Reusable Cleaning Wipes, etc.), rubbing alcohol (DIY All-In-One Glass Cleaner, Hand Sanitizer), and epsom salt (Sleepy Time Bath Salts).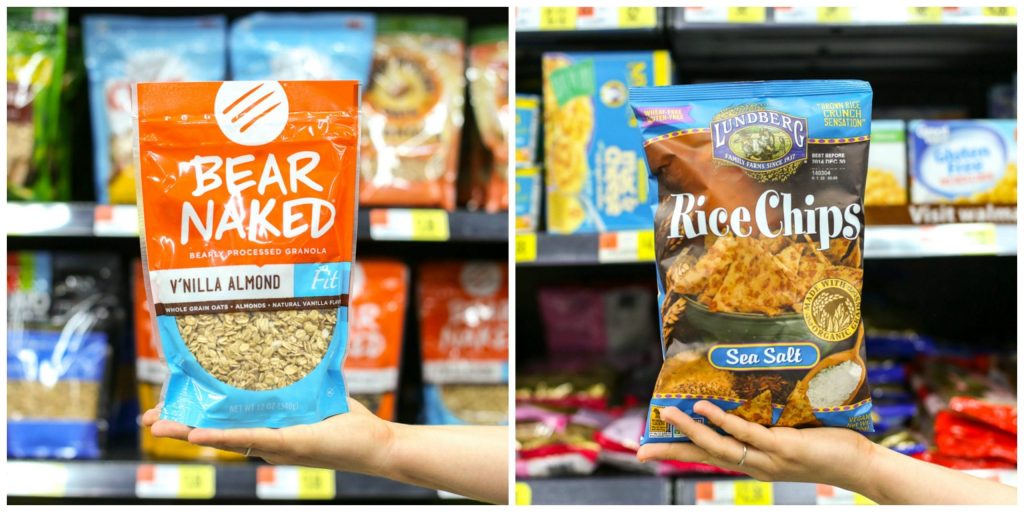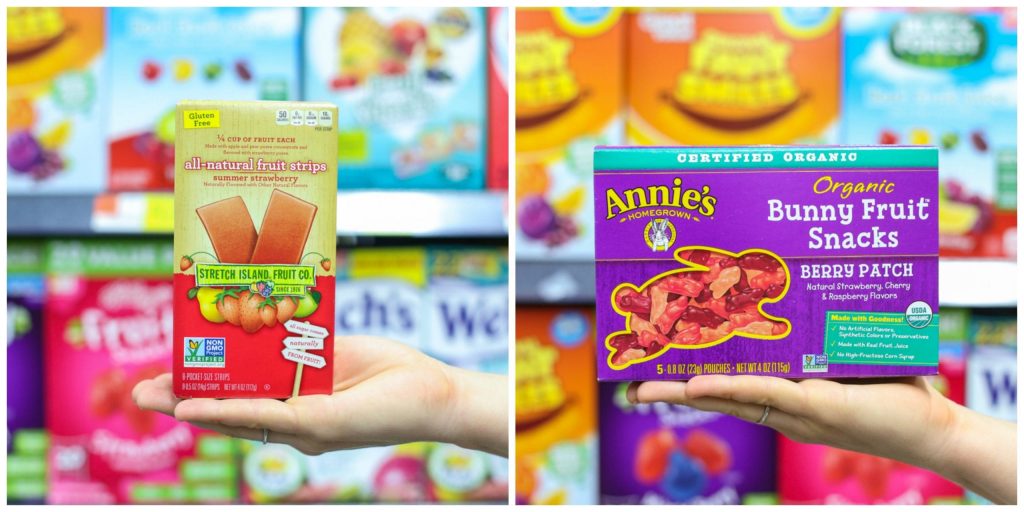 8. Treats and Convenience Foods:
While I don't like to purchase processed organic food regularly, I believe these products can have a time and place in a real food lifestyle. And yes, Annie's is now owned by General Mills, but their ingredient list (although still very processed) is much cleaner than the conventional alternatives. Here are a few options I found for treats/convenience foods at Walmart: So Delicious Coconut Ice Cream, Annie's Bunny Fruit Snacks, Stretch Island Co. Fruit Strips, Lara Bars, Lundberg Rice Chips.
My Walmart Shopping Guide
Thank you so much for joining me today for our second field trip. I can't wait to go shopping with you again next week.  Before we part ways, I want to leave you with a special gift- a way to remember our field trip– a printable shopping guide!
Click on the image below to download and print your shopping guide.
Special Note: Thank you to Walmart for granting us permission to come in and take photos at the Walmart Neighborhood Market in our area.