Contributor post written by Renee from Raising Generation Nourished
So how are those New Year's resolutions going?
After the first couple of weeks of "eating better," excitement can wear off. Sometimes everyone is ready for a little meal change, especially if you have kids in the house. Keeping the meals healthy but still fun, is important unless you want some food battles. We all have different dietary goals, but the one common denominator that I think colors just about every eating plan is the goal of eating more veggies, specifically leafy greens.
I consider myself an expert at deliciously getting greens into just about any meal in my house.
Why? 
Because honestly, leafy greens are not even close to my favorite vegetable, but they are so important. Leafy greens are packed with vitamins, minerals, and fiber. And daily greens help fuel mineral balance in the body keeping organs, hormones, and metabolisms working the way they should.
I think the best part about working with greens, like spinach and kale, is that they have such a neutral taste, so greens can take on the flavor of whatever it is you are cooking them in. Giving a leafy green even just a quick cook also wilts them down in size, so getting in a large amount isn't so overwhelming. Since leafy greens are so easy to incorporate into meals, I chop and wilt them into soups, bake them into casseroles, stir fry them, or make something like Easy Vegetarian Spinach Quesadillas!
Kitchen prep time is also important, and I kept that in mind while creating these spinach quesadillas. I timed myself from start to finish, including the chopping and clean-up. The total time required to make these easy quesadillas was about 20 minutes. That is definitely doable on a week night!
Just a couple of notes to keep in mind…
I made these quesadillas for lunch one weekend. This recipe made enough to feed my 3 kiddos, 6 years-old and under. Double the recipe to make 2 full quesadillas if you're feeding a whole family. You could also add a side of 15 minute tortilla soup to go accompany your quesadillas for a quick and hearty dinner meal!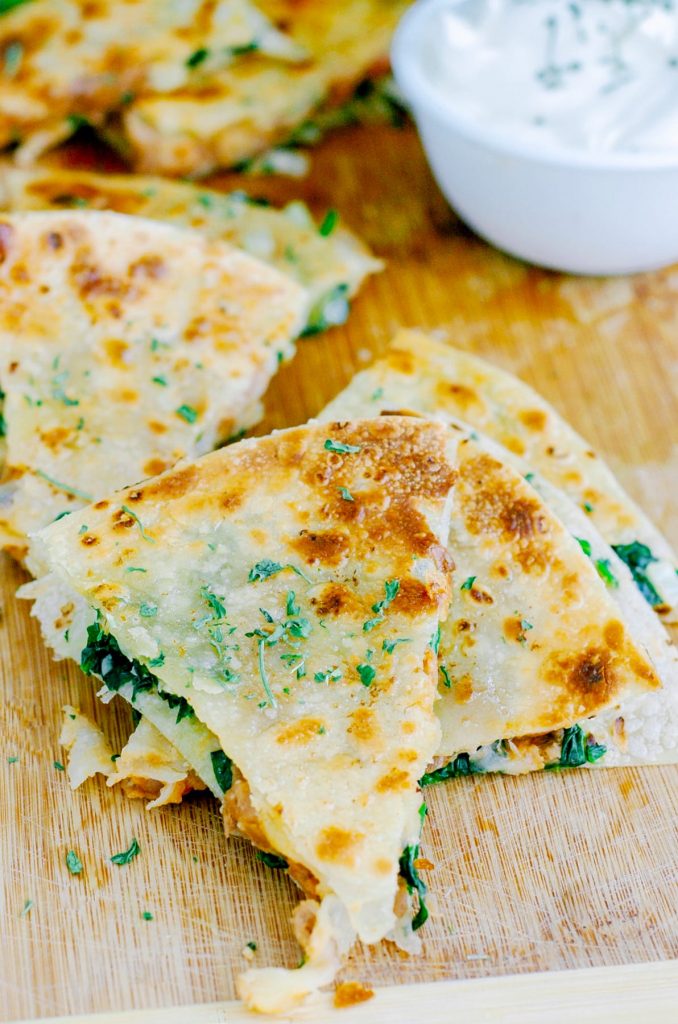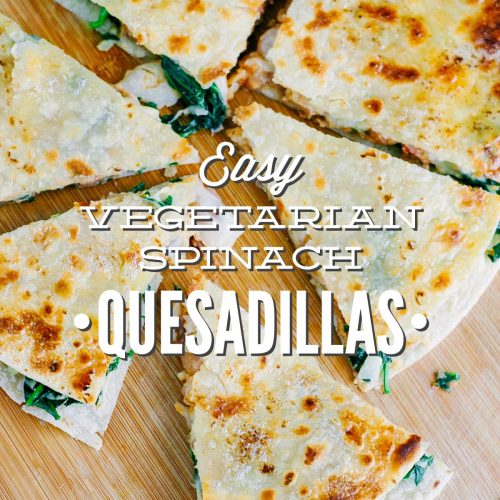 Veggie Quesadillas
I made these quesadillas for lunch one weekend. This recipe made enough to feed my 3 kiddos, 6 years-old and under. Double the recipe to make 2 full quesadillas if you're feeding a whole family.
Ingredients
3

TB

butter

or another friendly fat (ghee, coconut oil, avocado oil, etc.)

1/2

medium

yellow onion

diced

3

large

garlic cloves

chopped

3

handfuls

baby spinach

roughly chopped

1 1/2

cups

pinto beans

home-cooked or canned (I keep cooked sprouted pinto beans in my freezer for quick easy meals)

3

TB

organic chunky salsa

I use Costco's organic salsa - homemade would be so great too!

3/4

cup

shredded cheddar cheese

or more if you like it really cheesy.

2

tortillas

toppings

sour cream, guacamole, extra salsa, cilantro, chives, or parsley., optional
Instructions
Melt the butter in your skillet, add the onion, garlic, and spinach along with a big pinch of sea salt. Cook over medium heat for about 2-3 minutes, until the spinach has wilted.

Set the spinach mixture aside and add another tablespoon of butter, the beans, and salsa and cook over medium high heat for about 4-5 minutes, until the beans soften. You can press the back of your wooden spoon on the beans to squish them up a bit, making them more like refried beans. If the mixture gets dry just add a splash of water.

Spread the spinach mixture over a tortilla, then the bean mixture, and then sprinkle with cheese.

Spread a thin layer of butter over one side of the other tortilla and place it butter side up on top of the shredded cheese. The butter on the tortilla will help it to crisp and brown nicely.

Place the prepared quesadilla on a wire rack, set on a baking sheet, and put under the broiler in the oven. Broil the quesadilla(s) on high for 4 minutes or until the top is browned and crisp. Take a peek after 2 minutes in case your broiler runs hotter than mine.

Cut the quesadilla(s) into triangles and serve with sour cream,

guacamole

, or salsa! Garnish with chopped cilantro, chives, or parsley.
Nutrition
Calories:
1257
kcal
Carbohydrates:
112
g
Protein:
53
g
Fat:
68
g
Saturated Fat:
41
g
Cholesterol:
180
mg
Sodium:
1699
mg
Potassium:
2029
mg
Fiber:
28
g
Sugar:
8
g
Vitamin A:
10610
IU
Vitamin C:
33.3
mg
Calcium:
921
mg
Iron:
10.6
mg
Look for tortillas with a cleaner ingredient list, like Food for Life or Stacey's. Or make homemade tortillas and freeze extras in the freezer for a quick meal.