This post may contain affiliate links. Affiliate links come at no extra cost to you. These links allow me to share the products I authentically recommend (and use) and support Live Simply by receiving a small commission.
"The best!"
Seriously…
"The Best!" 
Guys, I realize that's some pretty braggy (that's an official word today) language. Trust me, it's not a term I wave around frequently, although I'm pretty sure that pumpkin spice latte needs a "best" label. Definitely in the bestest (also an official word today) ever category!
Brace yourself, friend! Today's recipe is truly the best homemade applesauce ever. Plus, the fact that all the hard work is done in the slow-cooker (or crock-pot, whichever term you go with), makes this applesauce not only the best, but also the simplest, easiest homemade applesauce ever!
Really, bestest ever!
Okay, let's put the bragging aside. The bottom line is: you need to make this applesauce! This isn't a suggestion, it's a must!
If you've read my book, Real Food Planning Challenge, then you know based on the What to Buy vs. What to Make printable chart (page 92) that I recommend buying applesauce. Homemade applesauce is not very cost or time efficient compared to the many other tasks I need to accomplish in my kitchen. It's not on my priority list, so the majority of time, if we want applesauce, I buy a good organic brand (which can be expensive at $3.99-4.99 for jar).
While I recommend buying applesauce, I'm also a huge advocate for eating seasonally and stockpiling seasonal foods in a practical way. My pantry isn't overflowing with seasonal veggies and fruits, but I try my best to take advantage of nature's bounty and freeze seasonal surplus, or at least enjoy as much as possible throughout the season.
In the fall, apples are plentiful and cheap. It's their time to shine along with over twenty other fruits and veggies. Apples hit a rock bottom price in their peak season which makes them affordable and nourishing. So each year in the fall, I forget my applesauce-buying ways and embrace homemade applesauce.
Note: You can find a huge printable list of seasonal fruits and veggies for all the seasons in my book on page 84. 
In order to make homemade applesauce worth the little bit of effort involved, it's important to use a lot of apples! In fact, the more apples the merrier. I freeze extra homemade applesauce and enjoy the surplus for baking, snacking, mixed with yogurt, poured over the top of pastured pork chops, and spooned over pancakes and waffles.
Before we proceed, I'll warn you, homemade applesauce  is simply amazing, "the best." It's hard to go back to anything else once the last jar in the freezer is consumed. Even if you're not an applesauce fan, I beg you in the name of the goodness of fall, to try making a batch of homemade applesauce. I promise, you won't regret it!
How to Make the Best Slow-Cooker Homemade Applesauce
Ingredients
14 cups apples (I used Red Delicious this year due to a sale. Gala, McIntosh, Golden Delicious, Fuji, or Cortland will also work well)
2 lemons juiced
3/4 cup water
2 tsp ground cinnamon
1/3 cup honey
Instructions
Peel the apples and chop into small-medium equal size pieces. Place all the apples in a large bowl or the base of your slow-cooker with the heat turned off.

Squeeze the lemon juice from the two lemons over the top of the apples. Toss the apples in the lemon juice.

Sprinkle the cinnamon and honey over the top of the apples, along with the water. Turn the slow-cooker on high and let the apples cook for 3 hours. You'll need to come back in an hour and a half to stir and mash the apples. Note: If you don't like cinnamon you can leave it out or reduce the amount called for in this recipe.

After an hour and half of cooking, stir the apples with a wooden spoon and then mash the apples with a potato masher. This will take about 2 minutes. The apples will still be chunky and a bit hard. Return the lid to the slow-cooker and allow the apples to finish cooking for an hour and a half.

Now it's time to make the applesauce. After three hours of cooking your apples are ready to meet their final destiny! Puree the apples with an immersion blender. Blend the apples until you reach the desired consistency. For me, this means a super smooth store-like applesauce.
Recipe Notes
Note: I peeled and chopped the apples by hand this year because I couldn't find my apple peeler, but if you have one (like this) I highly recommend using it!
Note: An immersion blender (like this) is the trick to creating an applesauce that's creamy and smooth! You can also use your immersion blender to make creamy soups, bean burritos, and lattes. 
This recipe makes 5 cups of creamy homemade applesauce. You can easily double this recipe if you have a slow-cooker large enough to handle the extra apples. Homemade applesauce will keep in the freezer for 12 months (when stored in freezer-safe containers). Keep homemade applesauce in the fridge for up to 2 weeks.
 More Apple Recipes You May Like:
 Homemade Caramel Apples (Real Food Style)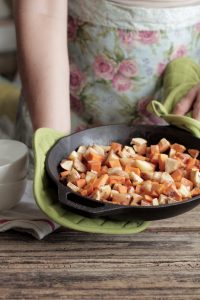 If you make this recipe, be sure to snap a photo and hashtag it #LIVESIMPLYBLOG. I'd love to see what you make!
My Free Crash Courses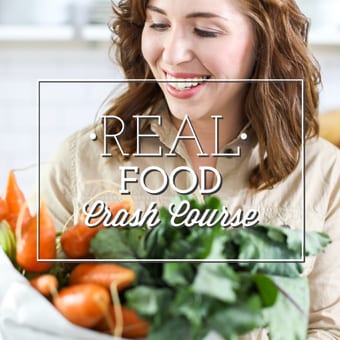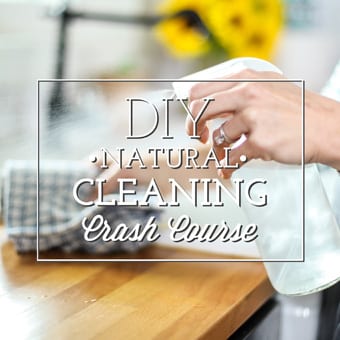 Subscribe to download the Courses