This post may contain affiliate links. Affiliate links come at no extra cost to you. These links allow me to share the products I authentically recommend (and use) and support Live Simply by receiving a small commission.
Yesterday, I invited you into my real food pantry. Today, we're going to get a bit more personal. I'd like to invite you into my bedroom.
"The bedroom? I thought you were all about real food and natural living around here?" 
Yes, this post is a bit off-topic for Live Simply. That happens from time to time around here. Remember the time we talked about making money on a blog? And then there was the time I invited you into my studio. "Off-topic" sometimes happens. And as always, I have a perfectly good explanation…
Last month I posted a picture on Instagram. By the way, are you following Live Simply on Instagram?? You really should! The picture was of a custom headboard Dustin had built over the weekend from salvaged wood pallets. The excitement over his weekend project was contagious. Many of you commented, "I need one! Directions??"  Men, I thoroughly apologize for the DIY envy I sparked in all the ladies out there.
FREE Natural Cleaning Crash Course
Hold on, let's talk about cleaning for just a sec. What if I told you it's possible to clean your entire home with just a few simple, natural ingredients? Yep, no more expensive or toxic cleaning products.
Here's what to expect:
a downloadable pdf
natural cleaning ingredient checklist
3 cleaner recipes you can make right now
emails from me to help you along with a natural wellness lifestyle
I've received multiple requests since posting that simple black and white picture of our DIY headboard. Many of you have asked for directions and a tutorial. So today, we're taking a little break from Easy Crock-Pot Shepherd's Pie (which is currently cooking in my crock-pot) and DIY Milk and Honey Body Wash. Get your power tools and salvaged wood ready, let's make the uber-popular Instagram headboard.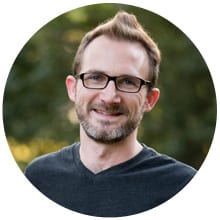 To guide you through this project I asked Dustin to share a complete step-by-step tutorial.
Dustin, they're ready!
Hey, it's Dustin here!  First, let me apologize to all the men out there. I'm sorry Kristin posted this project on Instagram, creating hundreds of hours of work for the husbands or handy DIY ladies.  Hopefully this post isn't coming in the middle of your favorite sport's season.  The hard work will be worth it in the end, I promise. Rewards await! 
DIY Distressed HeadBoard
You really should! The picture was of a custom headboard Dustin had built over the weekend from salvaged wood pallets.
Prep Time 10 hours
Total Time 10 hours
Ingredients
5 wood pallets
1 3/8 in plywood sheet cheaper alternatives: OSD or chipboard
circular saw
hammer
pry bar
nails 3/4" - 1" depending on the thickness of the wood pallet boards
paint
paintbrush
sandpaper 80 grit
3 heavy duty wall anchors to secure a pallet board to the wall
2 wood screws to secure the header board to the pallet board
optional, if you'd like to add lights:
2 wall sconces with on/off switch at the light fixtures
2 lightbulbs 25 watt
1 staple gun to secure the extension cord to the board
Recipe Notes
The "where to buy" links provide links to the actual products I use. As always, I recommend shopping around online and at local stores for the best prices and products you love.
Step 1: Measure
First, measure the size you'll need for your headboard based on the size of your bed. You can make the headboard any width or height you desire. I decided to make our headboard a bit thinner than our actual bed size. We have a king-size bed, so for us the final dimensions were 60 inches wide x 42 inches high.
I don't have a full workshop in my garage, so I had my local hardware store cut a sheet of plywood out to those dimensions. I used plywood as the backing support for all of the wood pallet boards which later were nailed to the plywood. Cheaper alternatives to plywood are OSD or chipboard. 
Step 2: Source and Cut the Wood
You can get wood pallets for free from local businesses around your area (check Craigslist). I prefer wood pallets because this type of wood is a rough-cut which allows you to create a very distressed look after the headboard is painted and sanded. Using wood pallets can be labor intensive since you have to disassemble the woods boards yourself.
Cut the pallets next to the ends with a saw so you don't have to bother pulling out all the nails. This saves a lot of time since you only have to concentrate on pulling out the nails from the middle section of each pallet. It took three pallets to cover the the dimensions for our king-size bed.
Step 3: Secure the Wood
Lay out the pallet boards on the plywood to get the pattern you desire. I staggered the ends of the boards to create a rustic look instead of squaring off the ends in a straight line. Before you nail the boards to the plywood you can paint the plywood black where the seems will be. The black paint hides the lighter colored plywood behind the boards if they don't perfectly line up.
In addition to nailing the pallet boards to the plywood, gluing the boards to the plywood with wood glue is another option for durability. After gluing, I used a brad electric nail gun to secure the pallet boards to the plywood. The length of the nails will depend on the thickness of the pallet boards. I used 3/4-inch nails for our headboard.
Step 4: Paint
Once all the pallet boards are secured to the plywood you're ready to paint. I chose an antique white color paint with a satin finish. Our headboard only needed one coat of paint to achieve the look we desired. I let the paint dry overnight. The next day, once the paint was fully dry, I used a hand sander, with 80 grit sandpaper, to achieve the distressed look.
Step 5: Add Lights and Hang the Board
One of the main issues we've had in our bedroom is the lack of soft lighting at night. Kristin likes to read before bed but we only have a ceiling fan and closet light, so I decided to add wall sconces to the headboard. I used a simple 15-foot electrical extension cable to tie the connections together and stapled the cable to the backside of the plywood with a staple gun.
Finally, I secured an extra wood pallet board to the wall, using heavy duty wall anchors, and then rested and secured, with two-two-inch wood screws, the headboard on the pallet board.
More DIYs You May Like:
 DIY Homemade Milk and Honey Body Wash
See my lifestyle in real life